If you took only 60 seconds to research the differences between Barrell Craft Spirits' regular $90 bottle of Seagrass and their new, $250 bottle of 16-year-old Gray Label Seagrass, you may come to the conclusion that the increase in proof and 16-year age statement seem to justify the jump in price. After all, 16-year-old rye whiskey bottled at 130 proof is something that is a very unusual sight on any liquor store shelf.
But if you begin to dig just a little bit deeper, you'd find out that this 16-year-old rye whiskey comes from Canada. And judging from what little we do know about Barrell and their sources, it is almost certain that the same barrels that were previously used in 2020's 14-year-old single barrels of rye whiskey.
Those single barrels were known for their extremely high proof, one of which I bought and reviewed here (it was almost 154 proof!). Barrell identified each barrel with a four-digit code that started with the letter "V" which was code for the "Valleyfield" distillery in Quebec.
Valleyfield Distillery's main product is a light whiskey made from primarily corn that is a main component for Crown Royal products. But they also make (or at least age) rye whiskey on the premises to blend into the light whiskey to achieve the optimal flavor profiles they're looking for.
The rye whiskey that has come from there over the last couple years contains a low rye mashbill that is thought to be around 53% rye, 39% corn and 8% malted barley. It probably enters the barrel at a proof much higher than bourbon or even traditional US Light Whiskey's; probably around 155 to 160 proof. This results in a rye whiskey that is much lighter, grassy and floral than American ones.
All of this leads me back to Barrell Craft Spirits' decision to use this rye whiskey in this year's inaugural Gray Label Rye Whiskey release. Why would they use this one-dimensional Canadian rye whiskey over other rye whiskey sourced from Indiana, Kentucky or Tennessee? The US versions they use are typically rich and full-bodied. They can stand up to barrel finishing treatments well because their backbone is sturdy with all of the tannins from aging in new oak barrels.
Early on when I saw the label for this new label, I felt uneasy about the use of this type of whiskey because I feared it would be easily washed away after being finished in the Madeira, Rum and Apricot Brandy barrels. But maybe Barrell knew something I didn't know, so I was full of anticipation to try this bottle when it was released. Would the sum of its parts be greater than the pieces? Let's find out. I poured this neat in a glencairn.
Tasting Notes
Nose: The nose on this whiskey is top tier in terms of complexity. Loads of waxy vanilla candles, fresh cut stone fruit, toffee, mulled wine and tiki drinks conjure up scents similar to standard Seagrass rye, but much more noticeable. Speaking of rye whiskey scents, I feel as if they are mostly hidden. Still, traces of mint, herbs and a grassy field give a distinct Canadian feel to the nose, never letting you forget where it came from.
Palate: Much like standard Seagrass, it is the apricot flavors that seem to be the most dominant on the tongue. Those are followed by spearmint gum, cinnamon spice, pears and clove. Other flavors include mint, oregano, alkaline chocolate, grass and peppercorns.
I am finding sweet, sugary notes along the way that act as a kind of "binder" tying together each of the flavors of the finishing barrels to the rye whiskey. The mouthfeel has a decent creaminess to it that I am chalking up to the finishing barrels more than the underlying rye whiskey. For being 130 proof, it doesn't taste all that more hot than standard Seagrass does (which is around 118 proof).
Finish: A sweet and sugary finish coats the tongue and helps to mute the explosion of fresh herbs that seem to have detonated after the sip is complete. If the proof was pretty much in check when my mouth was closed, then opening it is like fanning the coals of a fire, revealing its high proof a bit more readily at the end.
Score: 8.1/10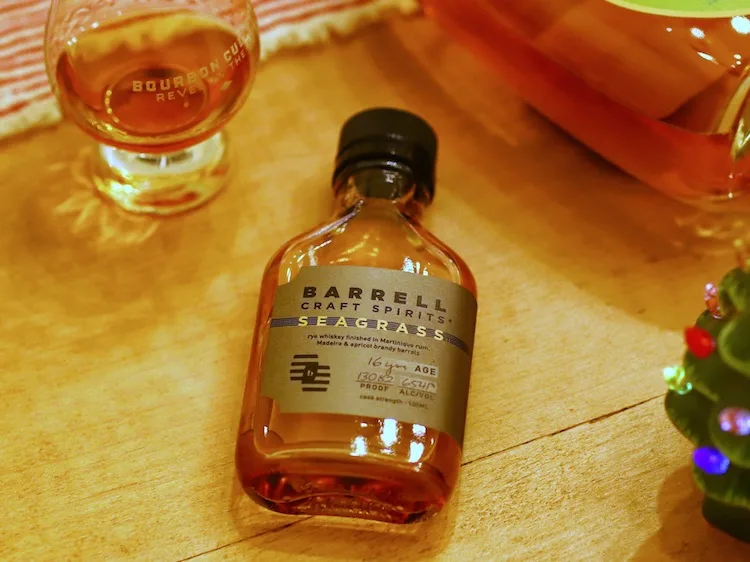 Shock Jocks get paid to voice their "Hot Takes" over the radio waves, so I apologize if this comment seems to fall under that same realm; Gray Label Seagrass is not better than its standard Seagrass counterpart. This became more and more obvious as I was drinking through it.
The answer as to why I feel this way is almost entirely dependent on the rye whiskey that was chosen for the base of this product. This Canadian rye whiskey that Barrell sourced is inferior to MGP rye whiskey at half its age, even though they should cost about the same. In fact, I have recently seen this exact same distillate pop up under a Backbone (Bone Snapper) label for $90.
It was 120 proof and 16 years old too. It started out as a cheap rye whiskey that was used to flavor other Canadian whiskies and ended up setting in the barrel for much longer than it was intended. This didn't make it more valuable in the eyes of the Valleyfield distillery, so they decided to sell it and see what happened. The American market is so hungry for any kind of aged whiskey that this stuff has been able to sell regardless of how it actually tastes.
Final Thoughts
Out of all of the super-premium labels that have come from Barrell in 2021, the 16-year Seagrass is by far the worst value for your money. I can kind of understand why the other Gray Labels are around the $250 per bottle (or $500 in the case of Gold Label) but this 16-year Seagrass is, at most, a $130 bottle.
The thing that makes regular Seagrass so delicious was the underlying rich and flavorful MGP and KY rye whiskey that was used. But by forgoing those two for such a thin and one-dimensional Canadian rye is the reason why this product will never be as good as its predecessor that costs almost 1/3 less. Rest easy skipping on this one and let's hope that in the future, if Barrell ever wants to charge a premium for a rye whiskey, that they at least start with one made in the USA.
Ratings Breakdown
1 | Disgusting | Drain pour (Example: Jeffers Creek)
2 | Poor | Forced myself to drink it
3 | Bad | Flawed (AD Laws 4 Grain BiB, Clyde Mays anything)
4 | Sub-par | Many things I'd rather have (Tincup 10 year)
5 | Good | Good, solid, ordinary (Larceny, Sazerac Rye)
6 | Very Good | Better than average (Buffalo Trace, OGD BiB)
7 | Great | Well above average (Old Ezra Barrel Proof, Old Weller Antique)
8 | Excellent | Exceptional (Michter's Barrel Proof Rye, Four Roses Barrel Strength)
9 | Incredible | Extraordinary (GTS, 13 Year MGP or Canadian Rye)
10 | Insurpassable | Nothing Else Comes Close (William Larue Weller)
Featured Products
Description:

The Aged & Ore Neat Traveler is a complete travel kit for spirits. We combined our widely praised Neat Glass with one of our 3oz Flight Bottles and housed them together in a custom EVA travel case. Perfect for a night away with your favorite pour. The tie
Description:

The Aged & Ore Bottle Flight is a premium set of 4 custom silicone wrapped glass bottles designed to transport and share samples of your favorite spirits. The flight bottles come in a custom EVA travel case that fits perfectly in any small bag. An Aged &
Description:

This Bundle combines two of our crowd favorite products, creating the ultimate travel bundle to bring along your favorite spirits and glassware. Bundle Includes: Neat Traveler (Gray) Bottle Flight (Gray) Note: This bundle is only available in gray and col
*Bourbon Culture is reader-supported. When you buy through links on our site, we may earn an affiliate commission.