*Bourbon Culture is reader-supported. When you buy through links on our site, we may earn an affiliate commission.
Distilled by Multiple
Bottled by Compass Box
Region: Multiple
Type: Blended Malt
ABV: 46%
Age: NAS
Color: light gold
Orchard House is Compass Box Whisky's newest addition to their Malt Whisky line (which is their core whisky line). It joins the ranks of The Spainiard, Peat Monster, Oak Cross, etc.
This 2021 release is a blended malt with the majority of the whisky coming from Linkwood (39%), Clynelish (29%) and Benrinnes (20%) distilleries, the remaining 12% from "a distillery near the town of Aberlour" (8%), Caol Ila (2%) and their Highland Malt blend (2%) which Compass Box uses in all their core line to varying degrees.
As Compass Box is a quality independent bottler, Orchard House is bottled without chill filtration or added coloring.
Tasting Notes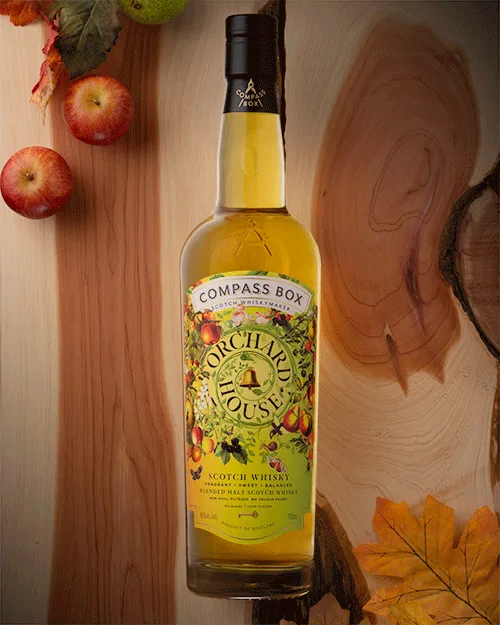 Nose: Initially spice-driven with some pepper and nutmeg, the nose eventually transitions to lightly salted almonds followed by cotton candy (or candy floss). Bushels of fresh cut honey crisp apple and pear notes really capture the scents that the bottle is named after.
Palate: Pleasant weight for a 46% ABV whisky. It starts with more of the peppery spice from the nose before the almond note returns in the form of Amaretto. With each sip, the fresh fruit flavors return.
Finish: Decent length with apple orchard flavors stealing the show. This whisky lives up to its name! Scads of apple and pear flavors on the finish combine with delightful and delicious toasted oak and vanilla notes.
Rating: 7/10, Very Good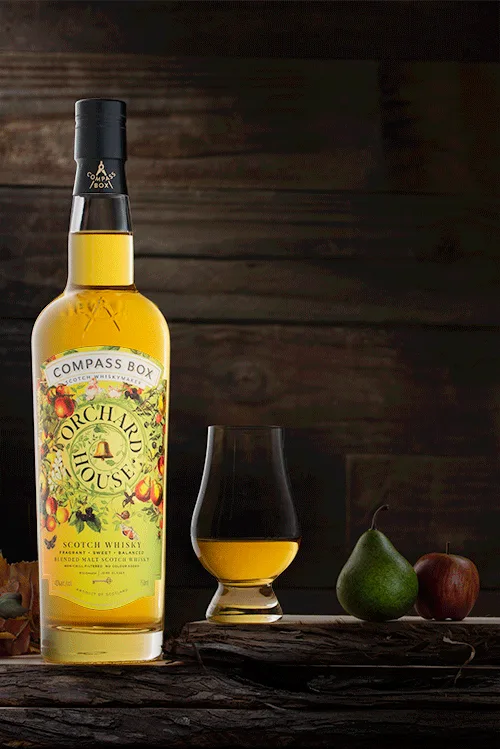 Conclusion: Orchard House is a good whisky at a great price. I put this right up there with Peat Monster as the two stars of Compass Box' core lineup. If you've enjoyed the King Street releases, Orchard House is a great step up in quality and depth and can absolutely hold its own against single malts in this price range.
For roughly $50 USD, you're getting a sweet, fruit forward whisky with some interesting spice and wood character. Although this is not an overly complex dram, it is a nicely balanced, delicious whisky and more than worthy of its place in their core line.
Ratings | Description
1 | Undrinkable
2 | Bad
3 | Poor
4 | Below Average
5 | Average
6 | Above Average
7 | Very Good
8 | Great
9 | Excellent
10 | Perfect
Featured Products
Description:

The Aged & Ore Neat Traveler is a complete travel kit for spirits. We combined our widely praised Neat Glass with one of our 3oz Flight Bottles and housed them together in a custom EVA travel case. Perfect for a night away with your favorite pour. The tie
Description:

The Aged & Ore Bottle Flight is a premium set of 4 custom silicone wrapped glass bottles designed to transport and share samples of your favorite spirits. The flight bottles come in a custom EVA travel case that fits perfectly in any small bag. An Aged &
Description:

This Bundle combines two of our crowd favorite products, creating the ultimate travel bundle to bring along your favorite spirits and glassware. Bundle Includes: Neat Traveler (Gray) Bottle Flight (Gray) Note: This bundle is only available in gray and col
*Bourbon Culture is reader-supported. When you buy through links on our site, we may earn an affiliate commission.