*Bourbon Culture is reader-supported. When you buy through links on our site, we may earn an affiliate commission.
I do not often say these things in the company of bourbon and rye whiskey enthusiasts, but American whiskey products are getting kind of boring these days. That's not to say I don't still love them, but I find their general profiles so similar, especially since I've begun to dabble in various Scotches.
The flavors and scents I find in quality bottlings of Scotch are ten times as many that I can find in bourbon or rye whiskey. #sorrynotsorry
Part of the problem stems from the list of rules that must be followed to be called a bourbon or a rye whiskey. When these two distinct whiskies are put into a new charred oak barrel, they begin to extract a lot of the same flavors and scents from the wood.
The industry has seen very little in the way of innovations in the way whiskey is made over the last century aside from barrel finishing and blending techniques.
The Three Chamber Still
If bourbon or rye whiskey are to ever change, then it will take distillers coming up with new ideas on how they distill and age their whiskey. One such distiller, Leopold Bros out of Colorado, has revived a unique "three chamber still" to create a style of rye whiskey that has not been experienced in almost a century.
The story of how they created this rye whiskey using their custom still and an unusual strain of rye is very interesting. I encourage everyone to read about it on their website.
Leopold Bros Three Chamber Rye Whiskey achieved its notoriety in large part because of the price tag that was attached to its inaugural release earlier this year. $250 for a 100 proof rye whiskey that was only four years old got the attention of many enthusiasts.
This made many of us hold off on buying a bottle until we could hear more reviews.
A surprise came around in late 2021 when a collaboration was released between Leopold Bros and an unlikely bedfellow: Cascade Hollow. Cascade Hollow, makers of George Dickel, already sells a rye whiskey that they don't make at their distillery in Tennessee. It is sourced from MGP after aging for 5 to 6 years.
Then it is transported to a plant owned by Diageo in Illinois where it undergoes a kind of "reverse Lincoln County Process" filtration whereby the aged distillate passes through a layer of sugar maple charcoal. This is designed to replicate the filtered taste and texture of the Lincoln County Process that is commonly used in Tennessee.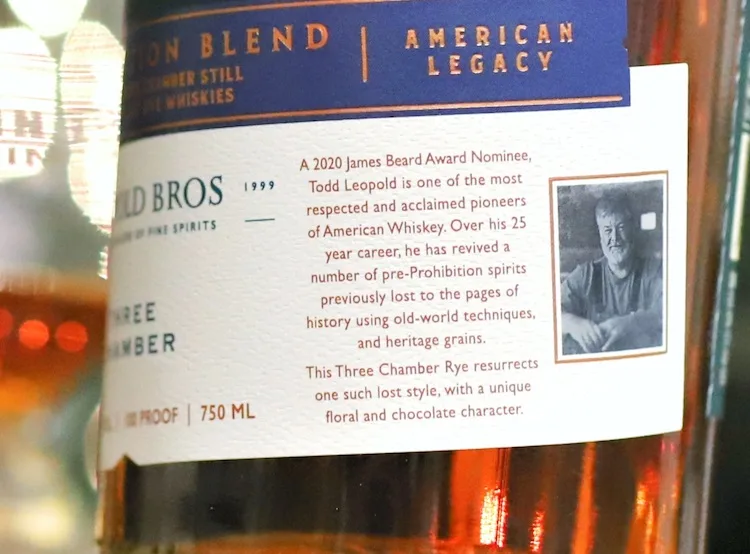 For years, the story that Cascade Hollow interviewees would stand by was that their fermentation and distillation equipment was not set up to create rye whiskey which is why they sourced it from Indiana. But in 2021, we found out that was a lie.
It turns out that Cascade Hollow was producing a rye whiskey after all when news of their collaboration with Leopold was first announced. Apparently, the chief strategists for Dickel deemed their own rye whiskey unworthy of being bottled under any of their labels.
My speculation why that is revolves around Diageo and their contract with MGP and how each side doesn't want to leave this lucrative contract they've had going on for many years now. So in the meantime, Cascade Hollow has been learning how to distill their own rye whiskey and then selling it off to various barrel brokers (middlemen who buy and sell barrels of whiskey to non-distiller producers (NDPs)).
I've already seen sourced Tennesse rye whiskey show up in various products (to include Barrell Craft Spirits) for a few years now and assumed that it was being incorrectly labeled. Now we finally know the truth.
Not much is known about this Dickel rye whiskey except that it's made on a column still (which is what Dickel Tennessee Whiskey/bourbon is made on). I think it's safe to assume that it is charcoal filtered using the Lincoln County Process before entering the barrel and that the barrel entry proof is the same 115 proof that Dickel uses.
One review website listed the mashbill as being 95% rye whiskey and 5% malt. I am not sure if that's accurate or if the reviewer was getting confused with the mashbill that MGP uses for the rye whiskey they source to Dickel.
Another thing to look at is the proof this collaboration is bottled at. Leopold uses a low barrel entry proof of 100 proof and I already covered what I believe Dickel is using. Even after 4-5 years of aging, the proofs are likely not too different which would make the final batch proof somewhere around 110 if I had to guess. This means that there wasn't much water added to the final product once all was said and done.
This draws attention to the $100 retail pricetag, I'm also not sure if what I'm about to drink is supposed to be elite-tier rye whiskey or if I'm just paying to see the results of an experiment.
The story behind this collaboration is that the guys at Leopold learned that, historically, the three-chamber rye whiskey from the early 1900s was usually cut with a lighter column still rye whiskey to suit the tastes of the time.
This is what guided them to collaborate with Dickel and their rye whiskey since it has a very light style to it as well. I was baffled by that story but I'm a sucker for Americana, so I'm going to take their word on it. After all, Hochstatder's Slow and Low Rye Whiskey claims they add rock candy to their rye whiskey as a nod to the way that old-timey bars used serve customers their rye whiskey.
They'd apparently give them a dish of rock candy to add to their rye whiskey so that they could sweeten it up to a level that suited them. I guess truth is stranger than fiction.
So enough talking, let's get down to tasting. I tried this neat in a glencairn.
Tasting Notes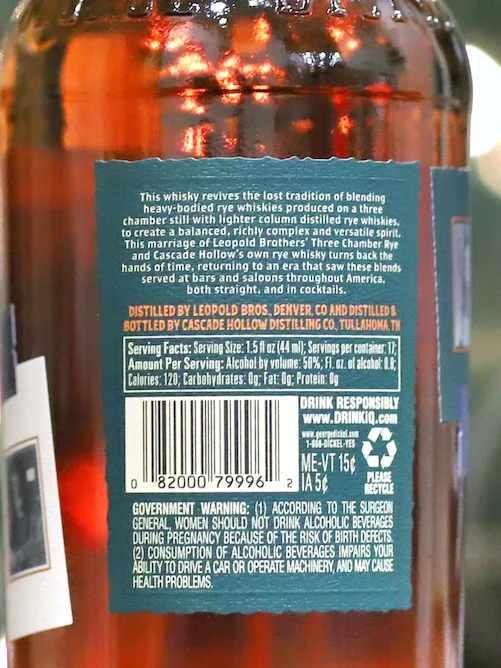 Nose: Notes of raw honey combine with lemon and orange hard candies. Is this the start of a Hot Toddy? All joking aside, I can't help but notice a note that smells like copper pennies.
It's very strange and I have no idea why that has come up. Other scents include chocolate coupled with savory herbs like oregano, marjoram and a bit of mint. A youthful scent that I sometimes get in craft whiskies shows up which smells like yeast rolls. It doesn't make me think the who dram is young, but it does pop up from time to time.
Palate: A rich and oily mouthfeel takes over with each sip along with the combination of lemon and orange flavors. They're as thick as syrup but not as sour as you'd think. I find notes like chocolate sauce covering peppermint stick ice cream that hint to the duality of being both a rye and having the thick oiliness that Leopold products are known to have.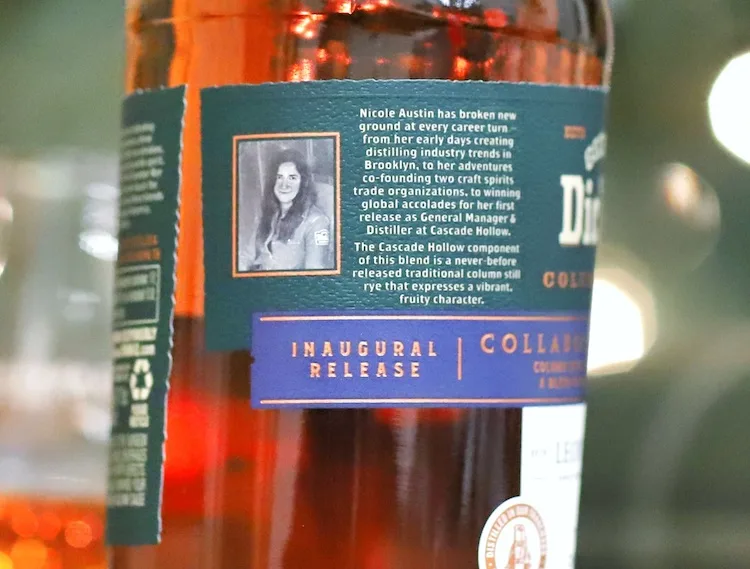 The grassy notes I would've expected from a young rye are missing but notes of twine, oregano and flat Ginger Ale also make this more interesting with each sip. There is a bit of rye spice heat in the form of smoldering chili powder. If the proof was just a little bit higher, I would bet that this whiskey would become simply magical. As it stands, it succeeds at being pretty good.
Finish: The finish ends on a somewhat simple and thin note. I wish it lasted longer, but the parts that do last are pleasantly sweet.
Up until this point, I was not picking out anything that had a defining sweet trait within this whiskey. Lingering notes of citrus rind, pine sap, menthol and cooked orchard fruits remain behind giving this all the telltale finishing notes of a great rye whiskey.
Score: 7.6/10
I'm fairly certain that the rye whiskey used in this blend doesn't exceed 5 years old just based on taste alone. But everything seems to work so well together. The notes of chocolate and savory herbs seem to give it a uniqueness that I don't usually get from other products.
I also didn't detect the infamous Dickel multivitamin taste although I have talked to other reviewers who say it's still there. Overall, I am happy with my purchase because I think it's a worthwhile sipper and a captivating conversation piece. For those last two points alone, I would conclude that the price I paid is worth it. This isn't something I was thinking I would say when I first bought this bottle.
Final Thoughts
If I were to guess the ratios of rye whiskey used here, I'd wager that this blend is about 1/3 Leopold rye and 2/3 Dicke rye. This is solely based on the price of the Leopold Bros rye whiskey they bottled themselves. But even at that ratio, I feel that's still a fair price.
It allows you to experience enough of each rye whiskey to see what makes them great. I also feel like the sum of the parts is greater than its components, which may seem like heresy to fans of Leopold Bros.
I'd still love to get my hands on some unblended Cascade Hollow-distilled rye whiskey to see for myself what it tastes like, but for the time being this is as close as I'm going to get.
For those of you who are like me and never bought that $250 bottle of Leopold Bros, this is a worthy second choice. I feel like you still get to experience the parts that made it unique while also getting a hint of what they're cooking up at Cascade Hollow. With this one whiskey you're getting a taste of the past and the future all at once.
Ratings Breakdown
1 | Disgusting | Drain pour (Example: Jeffers Creek)
2 | Poor | Forced myself to drink it
3 | Bad | Flawed (AD Laws 4 Grain BiB, Clyde Mays anything)
4 | Sub-par | Many things I'd rather have (Tincup 10 year)
5 | Good | Good, solid, ordinary (Larceny, Sazerac Rye)
6 | Very Good | Better than average (Buffalo Trace, OGD BiB)
7 | Great | Well above average (Old Ezra Barrel Proof, Old Weller Antique)
8 | Excellent | Exceptional (Michter's Barrel Proof Rye, Four Roses Barrel Strength)
9 | Incredible | Extraordinary (GTS, 13 Year MGP or Canadian Rye)
10 | Insurpassable | Nothing Else Comes Close (William Larue Weller)
Featured Products
Description:

The Aged & Ore Neat Traveler is a complete travel kit for spirits. We combined our widely praised Neat Glass with one of our 3oz Flight Bottles and housed them together in a custom EVA travel case. Perfect for a night away with your favorite pour. The tie
Description:

The Aged & Ore Bottle Flight is a premium set of 4 custom silicone wrapped glass bottles designed to transport and share samples of your favorite spirits. The flight bottles come in a custom EVA travel case that fits perfectly in any small bag. An Aged &
Description:

This Bundle combines two of our crowd favorite products, creating the ultimate travel bundle to bring along your favorite spirits and glassware. Bundle Includes: Neat Traveler (Gray) Bottle Flight (Gray) Note: This bundle is only available in gray and col
*Bourbon Culture is reader-supported. When you buy through links on our site, we may earn an affiliate commission.