*Bourbon Culture is reader-supported. When you buy through links on our site, we may earn an affiliate commission.
Earlier this year, Barrell Bourbon hosted a giant event for customers that were looking to purchase single barrels of their products. The customers would arrive at the top secret Barrell facility just east of the Louisville International Airport for an evening of sampling the best barrels that they could choose from. Big Red Liquors, a popular liquor chain in central Indiana, live-streamed some of the event and showed off their selection of a barrel of bourbon and a barrel of rye.
These single barrel ryes, first launched in late 2018/early 2019, were sourced from an unnamed distillery in Canada (rumored to be from Gimli Distillery, owned by Diageo and distillers of Crown Royal products). Last year, the single barrels were given a number designator that started with "L" and were all 13 years old. A very small handful of those barrels were HAZMAT (140 proof or higher) and became very sought after on the secondary. Fast forward to this year, and Barrell has now branded these new barrels with the designator "V" and they are now 14 years old and most of them are packing much higher proofs. How high? Well I currently can find 3 different retailers selling their single barrel ryes above 145 proof if that tells you anything.
What's with the high proof?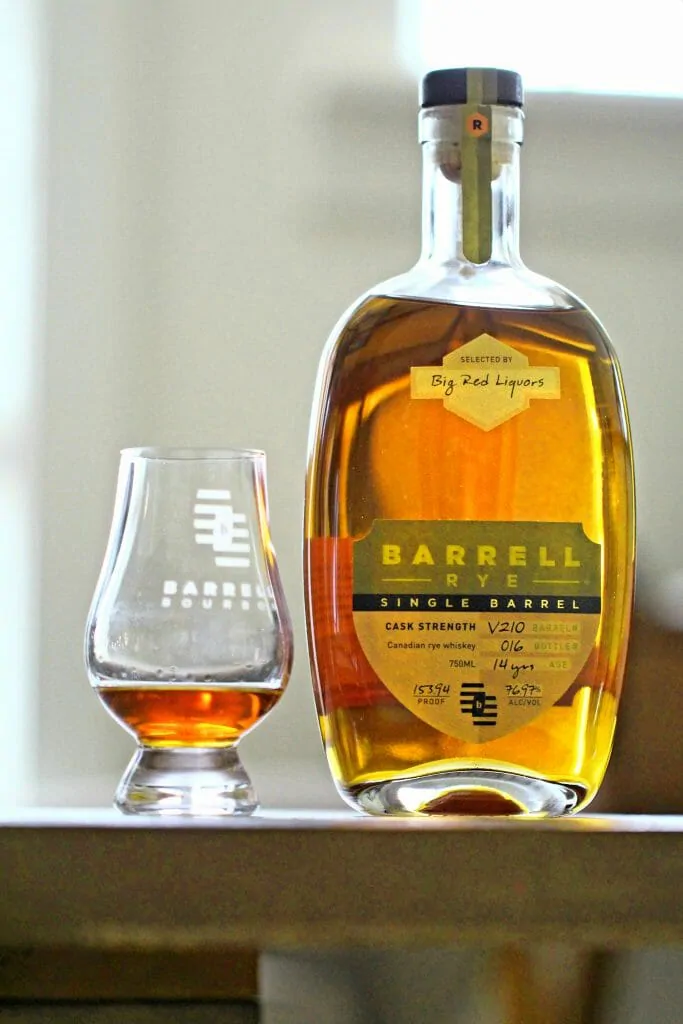 So what's with the high proof? Well for starters, one of the main reasons may be because the barrels have spent a year aging in Kentucky. Depending on which warehouse they were aged at (Barrell leases warehouse space at many different distilleries across the state of KY), it seems as if they chose a higher level because more water got cooked off inside the barrel than would normally occur in the colder regions of Canada. Secondly, many theorize that this whiskey started its life as a sort of "light whiskey."
Let me explain. You may be familiar with MGP's Light Whiskey, which is 99% corn and 1% malted barley. Its primary purpose was to be used as a Grain Neutral Spirit to add into blended whiskies that would reduce the cost of the finished product. Grain Neutral Spirits don't have to be aged, but many were filled into a used barrel anyway so that it doesn't impart heavy flavors, but still creates a very blendable whiskey type product. Why do they put the word "Light" in front of whiskey? Well that's because normal whiskey made in the US and Canada cannot come off the still higher than 160 proof.
Many distillers make it come off even lower to retain a heavier body anyway. Then it's cut with water and goes into the barrel at no more than 125 proof. However, Light Whiskey usually comes off the still at 180 to 190 proof, which strips a lot of the body and character from the spirit. It still doesn't go into the barrel higher than 125 proof, but in taste and scent, it's much lighter meaning it's almost up to the barrel to impart whatever flavors it's going to get. And with light whiskey, it's almost always going into a used barrel.
So while this bottle in front of me today isn't exactly labeled as a Light Whiskey (it's labeled as a rye whiskey), it's still light in color and scent for being aged 14 years. But what does a fire breathing 153.9 proof whiskey even taste like? Will I be able to handle it? Let's sample it to find out…
Tasting Notes
Nose: The nose has a beautiful light aroma that is surprisingly devoid of waves of ethanol fumes that I would expect. There's cinnamon spiced Bartlett Pears, light brown sugar and not-quite-ripe green apples. There's a fair amount of spices like star anise and clove to add to the mix. But just like the 13 year single barrel I had last year, the nose really shines with a bouquet of flowers, particularly rose petals and a very grassy aroma that reminds me of spring. And if I search hard enough, I do detect a very tiny bit of butterscotch taffy, further adding to the sweetness on the nose.
Palate: The nose translates a lot onto the palate. There are lots of pear and apple flavors, particularly the skins of those fruits. But at almost 154 proof, there's no escaping the intense punch of heat with loads of ground white pepper and a sort of wasabi (not the horseradish kind) firey heat. I'm actually surprised I can hold this in my mouth for as long as I can. There's lots of spice-driven flavors to go along with it like licorice and flat ginger ale. There's even a hidden layer of sweetness that reminds me of a slightly burnt toffee. I wasn't expecting that for something this hot. Interestingly, I kind of like this palate. It's challenging but I can sort through everything here and not, well, die. Your palate will be toast after this glass is done however.
Finish: The finish jumps out to a strong start with some charred oak, dry cinnamon, fresh apples and pears and a little bit of sour apple Jolly Rancher. But as the dram goes on, it quickly turns into a more drying affair (probably because the taste buds on your tongue are dying en masse). There's drying oak and green wood at the same time (reminds me of young green sapplings) The finish slowly turns into a dry, sour and slightly tannic affair. That's not to say it's bad, but for a drink that had so much light-ness this whole time, I was surprised the finish didn't stay like it. And yes, the heat is definitely still here with your throat feeling like a slip and slide for hand warmers as they slowly descend into your stomach.
Score: 8/10
Let's be honest, most will buy this whiskey because it is fun to show off the staggering proof. Most have not ever had any experience with a proof like this unless it came straight from a Mason Jar (if you know, you know). Some will even talk about how you can't drink this without water or ice, but that's heresy. If you can't stand the 154 proof, then buy a bottle with less proof.
Final Thoughts
This is just one of those whiskies where you take it to tastings and push others to try it in a game of chicken. Surprisingly, it has some very good flavor and drinks more like a high 130 proof whiskey. It almost doesn't taste like a traditional high-rye mashbill Rye Whiskey (there's a notable absence of pine needles for me). But you don't buy this bottle willy-nilly because you happened upon it. You bought it because you wanted to taste a whiskey that's on another level. And for that, this one is worth every penny.
Ratings Breakdown
1 | Disgusting | Drain pour (Example: Jeffers Creek)
2 | Poor | Forced myself to drink it
3 | Bad | Flawed (AD Laws 4 Grain BiB, Clyde Mays anything)
4 | Sub-par | Many things I'd rather have (Tincup 10 year)
5 | Good | Good, solid, ordinary (Larceny, Sazerac Rye)
6 | Very Good | Better than average (Buffalo Trace, OGD BiB)
7 | Great | Well above average (Old Ezra Barrel Proof, Old Weller Antique)
8 | Excellent | Exceptional (Michter's Barrel Proof Rye, Four Roses Barrel Strength)
9 | Incredible | Extraordinary (GTS, 13 Year MGP or Canadian Rye)
10 | Insurpassable | Nothing Else Comes Close (William Larue Weller)
Featured Products
Description:

The Aged & Ore Neat Traveler is a complete travel kit for spirits. We combined our widely praised Neat Glass with one of our 3oz Flight Bottles and housed them together in a custom EVA travel case. Perfect for a night away with your favorite pour. The tie
Description:

The Aged & Ore Bottle Flight is a premium set of 4 custom silicone wrapped glass bottles designed to transport and share samples of your favorite spirits. The flight bottles come in a custom EVA travel case that fits perfectly in any small bag. An Aged &
Description:

This Bundle combines two of our crowd favorite products, creating the ultimate travel bundle to bring along your favorite spirits and glassware. Bundle Includes: Neat Traveler (Gray) Bottle Flight (Gray) Note: This bundle is only available in gray and col
*Bourbon Culture is reader-supported. When you buy through links on our site, we may earn an affiliate commission.