*Bourbon Culture is reader-supported. When you buy through links on our site, we may earn an affiliate commission.
At the beginning of August 2021, a new label from Barrell Craft Spirits showed up on the Government's TTB website. The label sported a new, golden color and listed a few surprises for the brand.
For starters, the front label claims that the bourbon inside had undergone a second maturation in new toasted oak barrels (a process similar to Michter's Toasted Barrel releases).
The rear label indicates that the usual suspect of sourced bourbons (Indiana, Kentucky and Tennessee) were present and a bit older than the ones used in Barrell Craft Spirits Gray Label 15-Year-Old Bourbon line (BCS15 for short). What was Barrell up to?
We didn't have to wait long before K&L Wine Merchants in California listed the first bottles for sale. The retail price was an astonishing $500; more than double the cost of BCS15.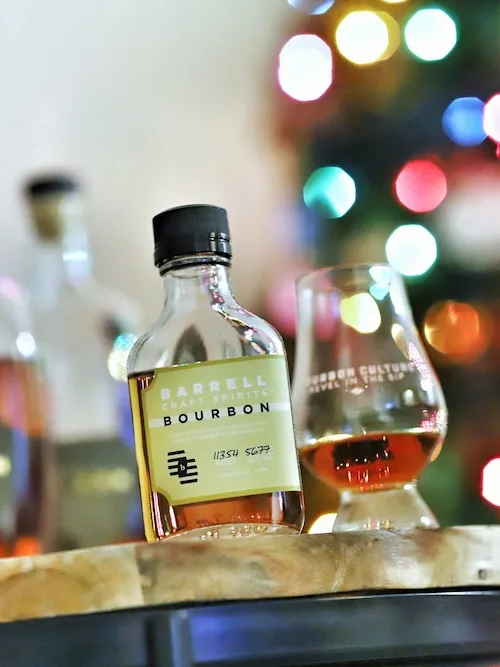 For those that had thought that Gray Label was the cream of the crop, Barrell just proved that their ceiling was much, much higher. The biggest question on everyone's minds was if the bourbon inside justified a 100% price increase.
Barrell Gold Label
To understand Barrell Gold Label, we must first look back at its predecessor. For years, Barrell Craft Spirits Gray Label 15-Year-Old Bourbon had been declining in quality.
This is just my opinion, but the continued release of low proofed batches seemed to indicate that Barrell's remaining 15-year-old barrels were probably the "leftovers" that barrel brokers sell at a discount. Why would other Non-Distiller Producers (NDPs) not want those 15-year-old barrels?
There are multiple reasons why low-proof barrels aren't desirable, but the big picture is that most consumers see higher proof barrels as a direct correlation to the barrel's flavor intensity and rareness.
Don't believe me? Here's a list I came up with in 30 seconds that show how very high proof releases fetch a premium because of they are more desirable than their lower proofed counterparts:
A. Smith Bowman Cask Strength Batch 1 coming out at 141 proof
Any year when George T Stagg came out with a HAZMAT (or close to it) release
Jack Daniel's Coy Hill single barrels are fetching 7 times their retail cost for only being (in some cases) 5 more proof points than their gold label counterparts
My previous reviews on the 2019 and 2020 BCS15 Bourbon releases specifically call out their low proof as one of the biggest factors why they were not on the same level as other brand's special releases.
All of that brings us front and center to Gold Label's biggest attraction; the proof. This may sound like I'm making it up, but Barrell's bourbons generally taste much better if they're above 110 proof.
All of the most awarded batches seem to be above that proof. If I was forced to speculate why that is (aside from more impactful flavors), I'd say that higher proofs tend to lessen the multivitamin taste from the Dickel bourbon that repels many bourbon drinkers.
Before I get to the tasting notes, let's dive into the composition of Barrell Gold Label. Barrell's website tells us that they used a blend of 16- and 17-year-old barrels. I find no reason to think that these barrels are anything other than MGP, Barton and Dickel.
All of those producers have 16–17-year-old barrels that still pop up among other NDPs. Barrell split the barrels into 4 distinct batches of flavor profiles: a cherry-bomb batch, a nutty, oak forward batch, a high proof/complexity batch (likely Barton) and a milk-chocolate batch. The latter batch is one that I'd like to concentrate on because that's the batch of barrels that saw finishing in secondary toasted barrels.
I have little doubt in my mind that the milk-chocolate profile barrels are Dickel. This is a flavor note I routinely get from that distiller but sometimes I find it more similar to Nesquik powder. If you think about it, Nesquik powder can have a distinctly multivitamin taste to it due to the other ingredients that it contains that prevent clumping and increase the mixability.
This is why Barrell decided to finish this subset in toasted oak barrels. The toasted oak seems to "coat" everything in a soft, marshmallow-y texture that should hide a majority of the vitamin notes. If my theory is accurate, this is actually a really smart move by Barrell because they know that deep down, consumers avoid their products when they see and taste Dickel in their blends.
So now that we are all caught up on why Barrell has created Gold Label and what steps they've taken to ensure this product is worthy of a $500 price tag (by mitigating the multivitamin notes and increase the proof), the final question is "Is it worth it?" Let's find out. I sampled this neat in a glencairn.
Tasting Notes
Nose: The toasted barrel finishing is immediately apparent to me as a sweet vanilla whipping cream scent is the first thing I detect. In fact, it is so smothering that other scents aren't immediately recognizable.
After a few sips, my nose becomes more in-tune with what I'm dealing with: maraschino cherries, golden-toasted marshmallows and chocolate mousse are all light and delicious. The 16- and 17-year-old barrels tannins seem cloaked, giving off only soft oak scents. More complex notes like honey, poached pears and apples and even sweet pipe smoke give it an exquisite and luxurious intensity.
Palate: The opening salvo of flavors is pure butter and sweet oak. The tannins are smooth and supple with notes of rich leather and cherry pipe tobacco. I'm surprised to find some rye notes within like mint jelly. Fruity notes abound with the flavors of raspberries, cherries, banana runts, plums and orange sherbet.
Baking spices hint to flavors of cinnamon rolls with vanilla frosting, sour cream donuts, caramel sauce and chocolate ganache. The nuttiness of peanut butter fudge feels familiar, and the heat is very well controlled (as it should be for this price point). Most importantly, any Dickel multivitamin notes seem to be hidden.
Finish: Lingering notes of nutty marzipan, cherry cordials and light chocolate sauce keep the finish sweet and fruity. Additional notes of honey, toasted oak, lemon meringue and marshmallow fluff all hit the right spot. There's nothing that seems out of place or off-profile.
Score: 8.5/10
Barrell Craft Spirits has created one of the most pleasant, crowd-pleasing bourbons ever in their short 8 years in business. I can tell that this is their "piece de resistance" just by the taste. It combines all the best attributes of what a bourbon lover desires.
I personally gravitate towards more of their big, brash bottlings from the past (Bourbon Batches 005 and 009 are amazing) but those kinds of profiles aren't for everybody. The thing with Gold Label is that it seems like it's got something for everybody. It's hard to find any fault with the liquid inside.
However, if you know me, you know that there's always a "but." Surprisingly, it doesn't revolve around just the price. The price is going to keep most people away from the bottle and even this review. Instead let's concentrate on the real issue at hand: What does the existence of Gold Label say to the devoted followers of Barrell?
For years now, we've accepted that we are going to pay $80 to $100 per release for a bottle of Barrell. That is a small price to pay because BCS gives us something different and unique every time. We kept buying because we wanted to support their endeavors in creating the next best thing.
Then Barrell released the Gray Label line in 2018 which shocked many of us with its $250 price tags. But for a yearly treat to ourselves, that seemed to be an acceptable gamble for the price. I stopped feeling that way in 2020 because it felt like Barrell had used up their best 15-year barrels in the previous batches and were now hoping that we'd look past the quality decline and just be happy with the high age statement. If it wasn't for the release of Gold Label and all of the attention that came with it, that might just have worked.
Looking closely at Gold Label, there are two things that caught my eye that I cannot unsee. If you paid attention to my opening introduction where I discussed the correlation between quality barrels and their proof, this next part should make sense.
When I saw that the 2021 BCS15 had dropped down to 100.4 proof (previously it averaged around 105) and when I saw that BCS Gold Label had a proof point of 113, it seems obvious that Barrell plundered its own high proof, highly aged barrels to create Gold Label at the expense of the Gray Label line. To put it bluntly, Barrell has robbed Peter to pay Paul.
Final Thoughts
For a Barrell product, the proof is one of the most deciding factors in how it's going to taste. They did the right thing by ensuring that Gold Label was above 110, but they did so by taking away the best barrels from this year's Gray Label. The $500 pricetag for Gold Label is just the cherry on top of a giant snub to the true Barrell fans out there. We've effectively been priced out of this release while also getting an inferior BCS15 product.
Gold Label may help Barrell pick up a couple more fans who are more well-to-do than their typical customers, but they're doing it at the expense of losing those who have been hoping for an improved Gray Label product. It's sad to say, but it's hard to see BCS move away from the fad of ultra-premium, ultra-priced releases in the future. Perhaps there is a Platinum Label brewing that will come out at 118 proof and use 18 year old barrels that make Gold Label irrelevant.
It's hard to tell when this will all stop, but for now Barrell Gold Label is the product that BCS15 should have been from the start but for a price that now makes both lines irrelevant.
Ratings Breakdown
1 | Disgusting | Drain pour (Example: Jeffers Creek)
2 | Poor | Forced myself to drink it
3 | Bad | Flawed (AD Laws 4 Grain BiB, Clyde Mays anything)
4 | Sub-par | Many things I'd rather have (Tincup 10 year)
5 | Good | Good, solid, ordinary (Larceny, Sazerac Rye)
6 | Very Good | Better than average (Buffalo Trace, OGD BiB)
7 | Great | Well above average (Old Ezra Barrel Proof, Old Weller Antique)
8 | Excellent | Exceptional (Michter's Barrel Proof Rye, Four Roses Barrel Strength)
9 | Incredible | Extraordinary (GTS, 13 Year MGP or Canadian Rye)
10 | Insurpassable | Nothing Else Comes Close (William Larue Weller)
Featured Products
Description:

The Aged & Ore Neat Traveler is a complete travel kit for spirits. We combined our widely praised Neat Glass with one of our 3oz Flight Bottles and housed them together in a custom EVA travel case. Perfect for a night away with your favorite pour. The tie
Description:

The Aged & Ore Bottle Flight is a premium set of 4 custom silicone wrapped glass bottles designed to transport and share samples of your favorite spirits. The flight bottles come in a custom EVA travel case that fits perfectly in any small bag. An Aged &
Description:

This Bundle combines two of our crowd favorite products, creating the ultimate travel bundle to bring along your favorite spirits and glassware. Bundle Includes: Neat Traveler (Gray) Bottle Flight (Gray) Note: This bundle is only available in gray and col
*Bourbon Culture is reader-supported. When you buy through links on our site, we may earn an affiliate commission.