*Bourbon Culture is reader-supported. When you buy through links on our site, we may earn an affiliate commission.
There are exactly three facilities in the United States that have the power to print money. The first two are the Bureau of Engraving and Printing at Fort Worth Texas and Washington D.C. The third is located in Bardstown Kentucky at the Willett Distillery bottling plant.
For years now, the only bourbon brand that seemed to universally increase heart rates and open up wallets has been Willett. It didn't matter if the whiskey was rumored to come from this hallowed distillery or if it actually carried the Willett name on the label, it was always given the benefit of the doubt to be worth whatever the price tag said it was.
Willett's true fame came from the incredible selection of barrels they sourced from Kentucky distilleries during the glut period of the 90's and early 2000's.
Even Kulsveen, Willett's owner, had the foresight to buy up the oldest and best bourbon that money could buy and stuff them into his small warehouses until he felt like bottling them. I've had the opportunity to taste some of these amazing bottles and there is simply nothing else that can rival them.
Fast forward to 2012 and Even and his family re-opened the distillery and began to make their own bourbon and rye whiskey. Their warehouses were rapidly emptying as the bourbon scene began to heat up and they knew the time was right to begin distilling their own products again.
When their products began to come of age, the name and crest has served the brand well as bottles were sold (at retail) for about $20 per year aged.
The secondary market only piled onto those insane valuations and before you knew it, anything that said Willett Family Estate on the front label never touched store shelves again. They were all sold through the good ol' boy network or to valued customers and friends.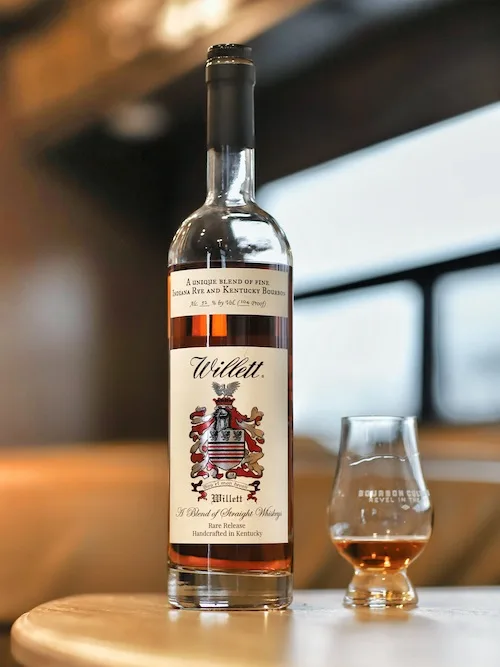 That's why 2021's explosion of Willett collaborations are so befuddling. Willett supposedly allowed their own whiskey to be sold under other Non-Distiller Producers (NDPs) nameplates. And it wasn't just a trickle either.
Those companies took full advantage of the Willett name by making sure the public knew what was in the bottle. In turn, the public would gobble these up like hotcakes. Here are the releases that contained Willett that have come out in the last 12 months:
Old Kirk – contains 6-year-old bourbon whiskey from Willett
Blackened – used 4- to 8-year-old rye whiskey for their collaboration release and finished them in Madeira casks
Wolves of California – A California group that blended sourced Willett rye whiskey with MGP rye whiskey
Hirsch – Purchased anywhere from 50 to 100 barrels of 6 to 7-year-old Willett bourbon for their own single barrel release
This flood of sourced whiskey was eagerly snatched up by a public eager for Willett products. But it produced a nagging question of why Willett was letting so much whiskey out into the market when they barely had enough to sell under their own label in the first place. Were they selling off unsatisfactory barrels? Were they secretly amping up their contract distilling operations? We'll never know because of how tight lipped they are about their operation.
Willett: A Blend of Straight Whiskeys
The latest new product to be associated with the Willett name was actually released under their own brand: Willett: A Blend of Straight Whiskeys. There's no hiding what's going on here because it's plastered on the front AND back of the bottle. This bottle contains a blend of 10-year-old MGP rye whiskey and 6-year-old Willett bourbon. It was then bottled at 104 proof. An age stated blend of whiskies with a respectable proof seemed to be an amazing idea and one that enthusiasts would eat up.
Mixing bourbon and rye whiskey together is not a new concept. It's something that High West made famous with their Bourye label. It was then copied by the likes of Wild Turkey (Forgiven), Stoll and Wolfe (Whiskey), Wyoming Whiskey (Outryder) and perhaps most famously by Michter's Celebration Sour Mash Whiskey. All of those have earned their share of cheers or jeers based on how they turned out, but let's see how this Willett product fares. I sampled it neat in a glencairn.
Tasting Notes
Nose: The nose is light and refreshing with floral notes, pine needles and sweet cream pie. Berry cobbler with brown sugar chunks combine with cinnamon and vanilla. The one note that gets more apparent as the session goes on is a grainy sort of cornmeal, which is a telltale sign of Willett bourbon.
Palate: The palate seems like it leans towards a rye profile for the majority of the time its on your tongue. Grassy notes accompany the wildflower notes from the nose. There is caramel sweetness, but it's somewhat sharp and thin. Cinnamon-spiced honey and a hint of "fruit cup in lite syrup" are likeable, but not particularly complex.
In a way, it tastes like the Willett bourbon is actively fighting against the classic thick and pungent MGP rye whiskey. Notes of mint, grass and vanilla might seem like the doing of MPG rye whiskey, but I am a firmly believe that it's actually from the young Willett bourbon based on what I've had of theirs in the past.
Finish: Light tannins remain but it's the rye notes that take center stage. Cinnamon and sugar dusted honeycakes easily overpower the light oak notes while pepper, ginger root and mint give a refreshing rye finish that reminds me almost of mouthwash.
Score: 6.4/10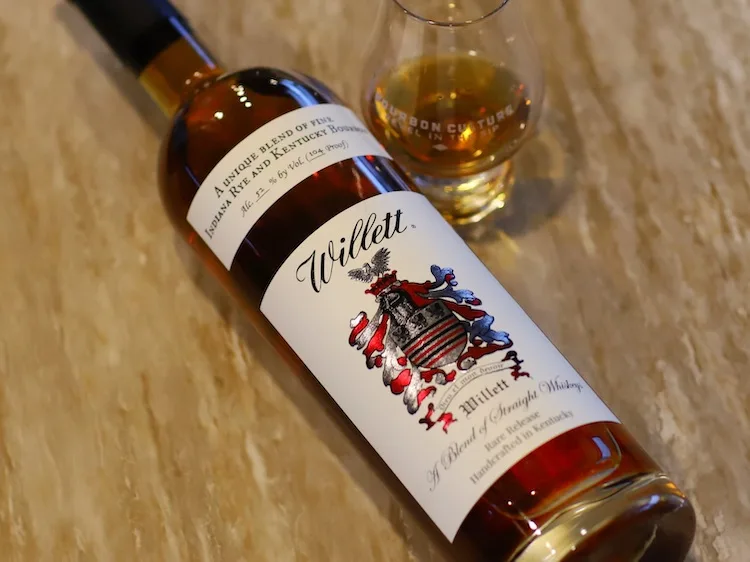 The one thing that surprised me most about this Willett Collaboration is just how much it regressed as the session went on. For a whiskey that started out with strong rye whiskey notes, it quickly devolved into a young, high-rye bourbon profile that gave off serious notes of "craft whiskey."
Grassy, somewhat lacking in sweetness and thinner than I would have expected, this was one of the more boring releases of 2021. I'm shocked to admit that.
It's a good thing Willett released this in the middle of the busiest season for bourbon too. It's going to get lost in all the dust that is getting kicked up by the taters attending lotteries and raffles. Why is that a good thing for Willett? Because if this was released in April (where there's a drought of new releases), then it would have been instantly exposed for being the flop that it is.
Final Thoughts
I'm not alone on this judgement either. The people I've talked to that have sampled this have arrived at the same conclusion; the blend just didn't work well together. The parts and pieces seem like they have their own separate agendas and they're leaving your mouth to figure them out.
While there was nothing inherently poor about the final product, the fact that I kept getting "craft whiskey" flavors or scents while jotting down my notes doesn't speak highly to either of the whiskies used. This doesn't seem like something that is possible with a distillery where each product they put their name on is a guaranteed success. But believe me when I tell you that this is one whiskey you can safely ignore this hunting season.
Ratings Breakdown
1 | Disgusting | Drain pour (Example: Jeffers Creek)
2 | Poor | Forced myself to drink it
3 | Bad | Flawed (AD Laws 4 Grain BiB, Clyde Mays anything)
4 | Sub-par | Many things I'd rather have (Tincup 10 year)
5 | Good | Good, solid, ordinary (Larceny, Sazerac Rye)
6 | Very Good | Better than average (Buffalo Trace, OGD BiB)
7 | Great | Well above average (Old Ezra Barrel Proof, Old Weller Antique)
8 | Excellent | Exceptional (Michter's Barrel Proof Rye, Four Roses Barrel Strength)
9 | Incredible | Extraordinary (GTS, 13 Year MGP or Canadian Rye)
10 | Insurpassable | Nothing Else Comes Close (William Larue Weller)
Featured Products
Description:

The Aged & Ore Neat Traveler is a complete travel kit for spirits. We combined our widely praised Neat Glass with one of our 3oz Flight Bottles and housed them together in a custom EVA travel case. Perfect for a night away with your favorite pour. The tie
Description:

The Aged & Ore Bottle Flight is a premium set of 4 custom silicone wrapped glass bottles designed to transport and share samples of your favorite spirits. The flight bottles come in a custom EVA travel case that fits perfectly in any small bag. An Aged &
Description:

This Bundle combines two of our crowd favorite products, creating the ultimate travel bundle to bring along your favorite spirits and glassware. Bundle Includes: Neat Traveler (Gray) Bottle Flight (Gray) Note: This bundle is only available in gray and col
*Bourbon Culture is reader-supported. When you buy through links on our site, we may earn an affiliate commission.