*Bourbon Culture is reader-supported. When you buy through links on our site, we may earn an affiliate commission.
For the last four years, Barrell Craft Spirits has consistently released a 15-year-old limited edition bourbon near the end of the year. This year they have officially given this line of bourbon, whiskey and rum the title "Gray Label." Enthusiasts were basically calling it this from the very beginning as they had a tough time differentiating between each line as they all have the same bottle shape. Barrell has now decided to adapt that name.
Each year their batch is made up of bourbon from Kentucky, Indiana and Tennessee. The previous three releases of BCS15 have seen an average batch proof around 105. My speculation on why it's so low has to do with random information that Barrell's founder Joe Beatrice has leaked throughout the years as well as some casual observations.
Beatrice has led on that he is setting on a pile of highly-aged MGP barrels that clock in under 90 proof. Keep in mind that this is at cask strength! These are the kinds of barrels that most other Non-Distiller Producers (NDPs) pass on. Why is that? Well for starters, if they decide to proof it down before bottling to stretch their profits, there isn't much there to proof it down to. Secondly, serious enthusiasts who would spend large amounts of money on that kind of age statement are probably looking for higher proofs.
Barrell Craft Spirits wasn't turned away by those low-proof barrels because they have mainly used them as a way to add additional layers of complexity in each batch, not to stand by themselves. Plus, when they blend it together with younger, higher-proofed Kentucky and Tennessee bourbon, it's not as easy to tell in the end.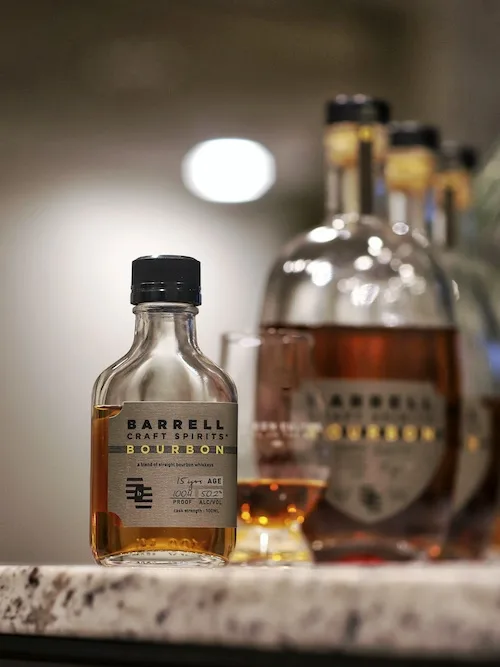 The one time when owning this many low-proof barrels becomes a liability is when you're creating blends of 15-year-old bourbon (or older). The issue here is that a majority of Barrell's double digit aged barrels of bourbon are low in proof. Don't believe me? Just take a look at their 14 year old single barrels of bourbon from Tennessee. You'll notice almost all of them are under 107 proof. If you didn't know this before, George Dickel goes into the barrel at 115 proof which means that more barrels than not end up being much lower in proof than their Kentucky counterparts.
So if the MGP and Dickel barrels are so low in proof, then we can only assume that it's probably the Barton bourbon from Kentucky that has carries the most weight on what the final proof will be. But Barton barrels are increasingly harder to source (and getting very expensive), so it's a safe assumption that if Barrell releases a lower proofed bourbon, that it has less Kentucky sourced bourbon in it.
I had to get all of that information out of the way so that you can understand that when the specs for the 2021 BCS15 were released, I was immediately crushed. It had lost almost 5 proof points from the year before. This is a big deal when the proof was already so low and when you're looking at the trifecta of price, proof and age. This is why BCS15 commonly sets on liquor store shelves long after they've been released. The low proof doesn't set enthusiast's world on fire.
So it is with this knowledge that I reluctantly headed into this tasting to see if my experience with this year's release can top my expectations. I sat down and sampled this neat in a Glencairn.
Tasting Notes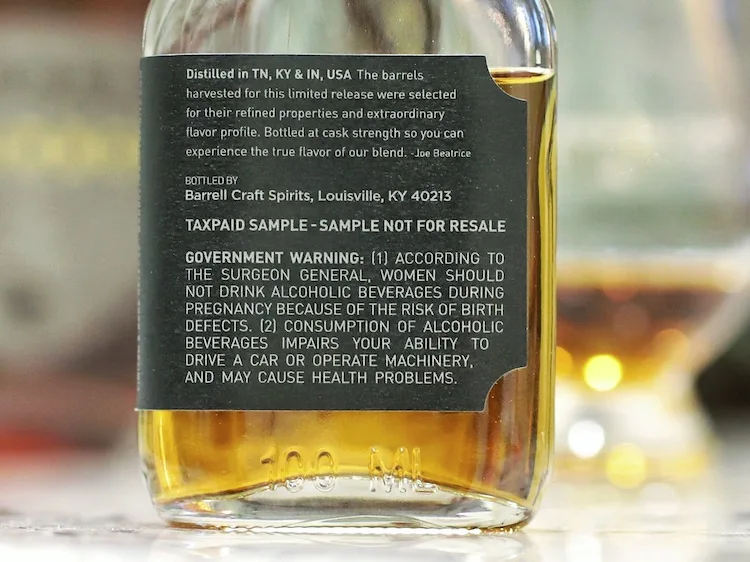 Nose: Pleasant scents of chocolate fudge and vanilla latte hit right away. There is a creaminess to the nose that is unexpected, but delightful. For being just a smidge above 100 proof, it seems much more layered than I thought it would be.
Peanut brittle and strawberry cheesecake provide a continuance of dessert notes. A bit of pine, orange jelly and lemon zest provide some bright rye notes in an otherwise sweet and oaky affair.
Palate: Strawberry milkshake flavors interact with crushed peanuts, dark chocolate and a sprinkling of espresso beans. The caramel is borderline crispy and oak notes are both somewhat bitter and soft at the same. Complex notes of crushed stone, Hi-C fruit punch powder, a handful of Jellybeans are interesting and unique and point towards the Dickel influence.
Other oddities include sour Gummy Worms and dry tobacco. Tons of complex layers are a hallmark of BCS15 and this one does not disappoint.
Finish: Oak, leather and tobacco all bunch together on your tongue after the sip is complete, drying out the back of my tongue. Citrus notes (heavy on the grapefruit and lemon notes) couple with pine sol and cinnamon stick.
Score: 8.2/10
I am ready to apologize for being wrong and admit that this year's BCS15 Gray Label is better than last year's (which scored an 8/10). However, nothing has been able to top the magic of 2018's BCS15 for me (yet). This year's release exhibited much better balance in terms of how each layer interacted with the next and deserves kudos.
Somehow, the brighter "high-rye" characteristics stood out and made themselves known. If it wasn't for them, this would've been a bourbon that centered only on tannins and chocolate. If you're saying to yourself "well that doesn't sound so bad," I must point out that is what made last year's release somewhat boring. But due to the high-rye flavors I found, it came off as drinking a little bit stronger than its 100.4 proof would indicate.
In my Barrell Craft Spirit Gold Label Bourbon review, I mentioned how I believe that Barrell took away a majority of the high-proof barrels destined for this year's BCS15 batch and used them for their new Gold Label. This left BCS15 with a proof that is officially the lowest one recorded for any batched Barrell product ever. By that metric alone, I feel like this belongs in Barrell's standard bourbon lineup.
Wouldn't that mean that there would be no 2021 BCS15 then? Yes, I am arguing the case that it should have been skipped. Barrell does have precedence in skipping Gray Label releases until they have a product worthy of release. In previous years they have sometimes skipped the rum and whiskey batches from their BCS Gray Label line, making this a line that adapts and changes as the situation dictates.
Final Thoughts
For all the more BCS15 may be complex and layered, it's missing that jolt that only a higher proof can provide. Layers mean little if each one is thin and lacking in intensity.
There's also the issue of most bourbon drinkers being unable (or not having the patience) to set down and find those layers with each sip. If you find yourself as one of those drinkers, then the allure of BCS15 will likely be lost on you.
So while BCS15 succeeds in most of the things it sets out to do, it will never be able to live up to the price it commands. Buy this if you like a multi-layered whiskey to study (and have the money to buy it), but don't let it eat you up if you decide to skip this year's batch.
Ratings Breakdown
1 | Disgusting | Drain pour (Example: Jeffers Creek)
2 | Poor | Forced myself to drink it
3 | Bad | Flawed (AD Laws 4 Grain BiB, Clyde Mays anything)
4 | Sub-par | Many things I'd rather have (Tincup 10 year)
5 | Good | Good, solid, ordinary (Larceny, Sazerac Rye)
6 | Very Good | Better than average (Buffalo Trace, OGD BiB)
7 | Great | Well above average (Old Ezra Barrel Proof, Old Weller Antique)
8 | Excellent | Exceptional (Michter's Barrel Proof Rye, Four Roses Barrel Strength)
9 | Incredible | Extraordinary (GTS, 13 Year MGP or Canadian Rye)
10 | Insurpassable | Nothing Else Comes Close (William Larue Weller)
Featured Products
Description:

The Aged & Ore Neat Traveler is a complete travel kit for spirits. We combined our widely praised Neat Glass with one of our 3oz Flight Bottles and housed them together in a custom EVA travel case. Perfect for a night away with your favorite pour. The tie
Description:

The Aged & Ore Bottle Flight is a premium set of 4 custom silicone wrapped glass bottles designed to transport and share samples of your favorite spirits. The flight bottles come in a custom EVA travel case that fits perfectly in any small bag. An Aged &
Description:

This Bundle combines two of our crowd favorite products, creating the ultimate travel bundle to bring along your favorite spirits and glassware. Bundle Includes: Neat Traveler (Gray) Bottle Flight (Gray) Note: This bundle is only available in gray and col
*Bourbon Culture is reader-supported. When you buy through links on our site, we may earn an affiliate commission.