*Bourbon Culture is reader-supported. When you buy through links on our site, we may earn an affiliate commission.
For years now, the biannual release of Stagg Jr presented many enthusiasts with their only chance to grab up a barrel proof version of a Buffalo Trace whiskey. All other barrel proof options, from Buffalo Trace Antique Collection releases to EH Taylor Barrel Proof, had become too rare and too expensive for the average person to be able to obtain. And that's just the way it was.
No 2021 George T. Stagg Release
But in late 2021 Buffalo Trace announced the unthinkable; they were not going to release a 2021 version of the popular George T. Stagg bourbon. George T Stagg was released with 4 other very limited and rare bottles as part of the BTAC release.
Panic ensued and enthusiasts and taters alike bum-rushed their local stores to buy up those bottles at any price they were marked at. A second whammy hit the community shortly thereafter where Buffalo Trace had filed a new label to the TTB that showed what appeared to be the next generation of Stagg Jr labels without the "Jr." on it.
The only logical theory that many people arrived at was that Buffalo Trace was getting rid of both the GTS label from BTAC and the Stagg Jr. label.
New Stagg Product?
In their place would be a new Stagg product that would combine young and old barrels but would likely be much higher in price. No longer will Stagg Jr have to remain artificially inexpensive to compensate for GTS's already low retail price.
While that theory seems preposterous to me, there's currently no better one out there. Is it true that Harlen Wheatley isn't all he is cracked up to be at making bourbon?
This would have been the first year that GTS would have been 100% his own creation. It just reached 15 years old and this has given his tenure as Master Distiller a giant black eye.
Buffalo Trace fanboy's heads will explode if they heard that theory out loud, but all I can say is that the tasters and blenders and barrel specialists at Buffalo Trace must have really low moral right now knowing that such an important release was cancelled.
So what became of the GTS barrels that didn't meet the high standards to get put into the 2021 batch of GTS? Would Buffalo Trace let them age another year to see if they get better?
That seems unlikely. The thing is that Buffalo Trace probably knew that these 15-year-old barrels wouldn't see the light of day in a GTS bottle back in January 2021. So they decided to blend (at least some of) them into the upcoming releases of Stagg Jr.
Is that really as far-fetched as it sounds? Maybe the tasting notes will give us an answer to our questions. I sampled this neat in a glencairn.
Tasting Notes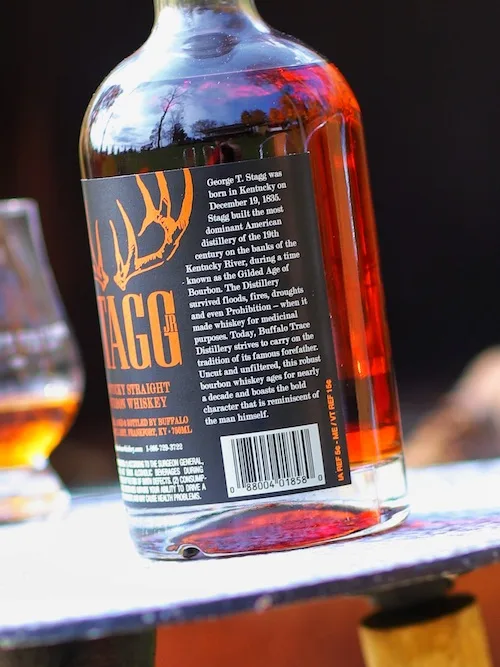 Nose: Molasses cookies with cinnamon, cardamom and brown butter give initial sweet and spicy notes. For the first time ever in a Stagg Jr batch, I'm detecting more baked apple notes than I am of cherries.
Notes of chocolate and vanilla also stand out as being particularly powerful.
Palate: Even upon first sip, I can tell that this is oakier and has more tannins than previous Stagg Jr releases. The sweetness is a bit more toned down than it normally would have been but the fruits (cherry and peach) are just as dense.
Stagg Jr. Batch 15 had a sweeter palate with more brown sugar notes but nowhere near the amount of oak this one has. What also surprises me is that there seems to be much more rye spice impact than I've ever found before.
It's absolutely delicious for me but young drinkers who lean towards the sweet stuff may feel turned off. Peppermint, allspice and cardamom are all found. There's also notes of chocolatey brownies too which is a fun surprise.
Finish: The enjoyable compliment of baking spices hangs around throughout the finish as well. Lots of oak and tobacco remain, which hints to some extra age being present here.
The sweetness is just right and doesn't let the oak get away with drying out the ending. I'm still picking up on a lot of chocolate and vanilla at the end and must say that these are notes I typically don't find in previous batches. Absolutely fantastic
Score: 8.5/10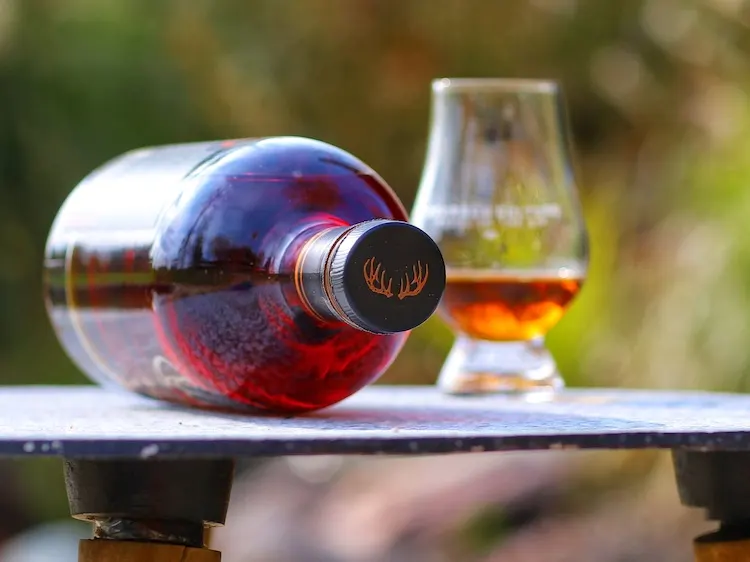 This is one hell of batch. If the Stagg Jr line ended with Batch 16, it would be going out with a bang. In fact, Batch 16 may be better than any previous batch going all the way back to the legendary Batch 9… and that's saying something.
So let's address the elephant in the room. This one is going to stir up some debate, but according to everything I just smelled and tasted, this batch definitely has some older barrels than usual.
It's been said that Stagg Jr contains a makeup of 7 to 9 year-old barrels. Some critics say those barrels dip down as low as 5 years old (because of a category that it got put into one year at the San Fransisco World Spirits Competition) and some reviewers say that they can go all the way up to 10 years old.
But with the amount of chocolate and tobacco I found throughout, there is no doubt in my mind that some 15-year-old barrels made its way into this batch.
Final Thoughts
I feel no fear in spreading the theory that this batch of Stagg Jr has much older barrels in it. The secondary has already risen/adjusted accordingly.
This had more to do with the price of previous year's GTS releases going up, but I feel it already factors in the uncertainty surrounding both labels. With that being said, if you want the oldest tasting and best release in the last few years, this is one batch of Stagg Jr you don't want to miss.
Ratings Breakdown
1 | Disgusting | Drain pour (Example: Jeffers Creek)
2 | Poor | Forced myself to drink it
3 | Bad | Flawed (AD Laws 4 Grain BiB, Clyde Mays anything)
4 | Sub-par | Many things I'd rather have (Tincup 10 year)
5 | Good | Good, solid, ordinary (Larceny, Sazerac Rye)
6 | Very Good | Better than average (Buffalo Trace, OGD BiB)
7 | Great | Well above average (Old Ezra Barrel Proof, Old Weller Antique)
8 | Excellent | Exceptional (Michter's Barrel Proof Rye, Four Roses Barrel Strength)
9 | Incredible | Extraordinary (GTS, 13 Year MGP or Canadian Rye)
10 | Insurpassable | Nothing Else Comes Close (William Larue Weller)
Featured Products
Description:

The Aged & Ore Neat Traveler is a complete travel kit for spirits. We combined our widely praised Neat Glass with one of our 3oz Flight Bottles and housed them together in a custom EVA travel case. Perfect for a night away with your favorite pour. The tie
Description:

The Aged & Ore Bottle Flight is a premium set of 4 custom silicone wrapped glass bottles designed to transport and share samples of your favorite spirits. The flight bottles come in a custom EVA travel case that fits perfectly in any small bag. An Aged &
Description:

This Bundle combines two of our crowd favorite products, creating the ultimate travel bundle to bring along your favorite spirits and glassware. Bundle Includes: Neat Traveler (Gray) Bottle Flight (Gray) Note: This bundle is only available in gray and col
*Bourbon Culture is reader-supported. When you buy through links on our site, we may earn an affiliate commission.