*Bourbon Culture is reader-supported. When you buy through links on our site, we may earn an affiliate commission.
What else is there to say about Stagg Jr that has not been said? Before 2022, the answer was "not a whole lot." But the people in charge at Buffalo Trace decided to rebrand this iconic label and drop the "Jr." from the front.
Now enthusiasts have to clarify that they're talking about Stagg Jr instead of George T. Stagg when we want to talk about this new release. Yay.
Buffalo Trace didn't come out and say why they decided to take off the Jr, but by the sounds of it, their procurement department was surprised too. The rumor is that Buffalo Trace still had ten of thousands (possibly more) of empty Stagg Jr bottles ready to go in their warehouse waiting to be filled.
But marketing picked the absolute worst time to get cute with name changes seeing as how 2022 saw an industry-wide glass shortage. Not only was Buffalo Trace setting on piles of unusable glass, but the newest release had to be delayed.
If I were in charge of logistics there, I would be furious. As a result, a full year went by between the release of Batch 17 and Batch 18.
Dropping the Jr.
Another rumor that's been out there for a while now is that Buffalo Trace intends to eventually streamline all of its products into a specific format that closely resembles the Weller line.
What I mean by that is each line will have obvious entry-level bottles while offering increasingly rare and more expensive ones.
Those kinds will have more proof, more age or be a single barrel variant. Ideally the capstone of each product line would end with a Buffalo Trace Antique Collection variant.
I do not see how this can apply with some of their labels – like Benchmark – which already has 6 different versions but probably will never see a BTAC equivalent. But I do see this being able to be accomplished with the EH Taylor line as well as the Sazerac line.
With the Stagg line, we already know of three variants after the inclusion of a very limited number of single barrels being released from 2020, onwards. Will we see something else like a 12 year age-stated version or maybe a Full-Proof variety? Time will tell.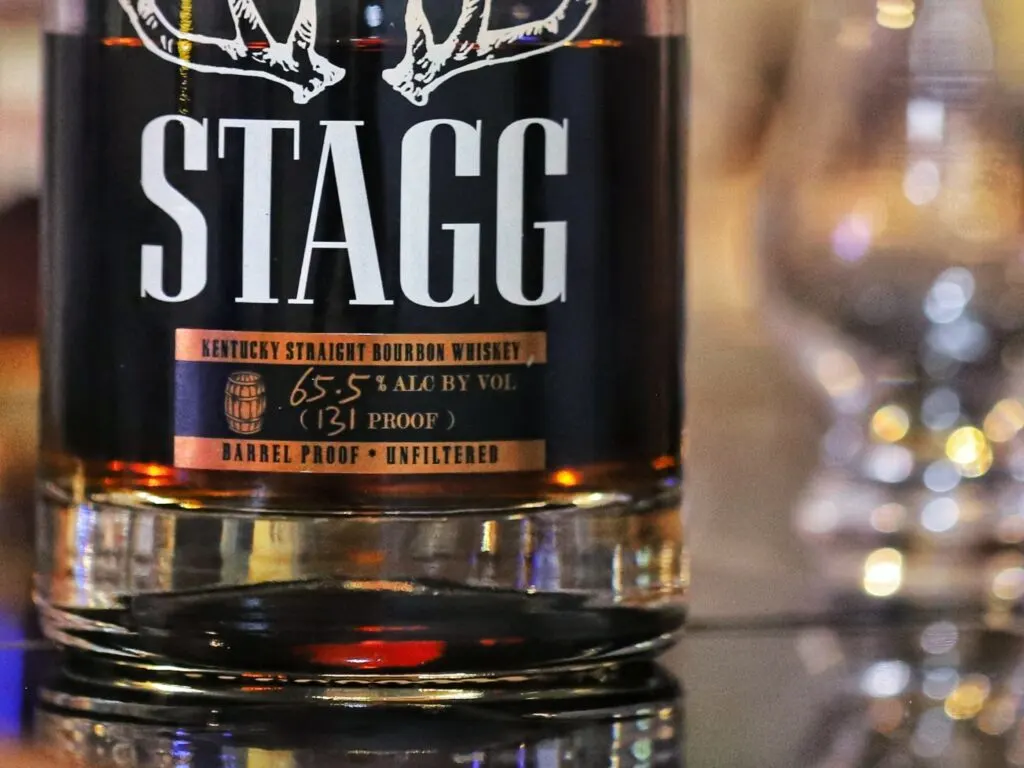 Stagg Jr, err, Stagg has always been the cheapest way to get a taste of something Buffalo Trace makes at barrel proof. Its profile has always been different enough from its dad (George T. Stagg) due to the difference in age.
GTS always uses barrels that are a minimum of 15 years old while Stagg Jr has been rumored to consist of barrels aged between 7 and 9 years. You can't convince me that Stagg Jr batches 16 and 17 didn't contain older barrels in the blend.
Not only did I taste a difference but there is also the convenient situation of where the barrels went to that were supposed to be in the 2021 GTS release (that never was released). If they weren't good enough in 2021, they weren't ever going to be good enough, so where did Buffalo Trace dump them?
Since 2022 had a GTS release, does that mean that Stagg will go back to its old ways of using younger barrels? There's only one way to find out. It's time to try this bottle of Stagg and see how it's grown up. I sampled this neat in a glencairn.
Tasting Notes
Nose: Much more chocolate and oak than I am accustomed to for a Stagg Jr product. The oak has an older feeling to it and really leans into the varnish aspect of the spectrum.
I'm also smelling a decent amount of citrus, which leans more towards lemon for some reason. This is odd. Sweet notes fit somewhere between caramel and semi-burnt toffee.
But to be perfectly honest, the entire nose seems much, much different from Stagg Jrs of the past. It's just hard to put into words what feels so off about it.
Palate: Hot! This is a spicy boy. The cinnamon notes seem through the roof on this one. There is also a touch of floral notes that bounce around.
Let's see if those stay for the entire session because if they do, that would be very odd. Raspberry and cherry flavors are here, but harder to find than usual.
They're nowhere near the cherry-bomb levels that I am used to from Batches 8 to 17. I'm surprised because "cherry" is practically a hallmark of previous batches of Stagg Jr. With each sip, I find the fruit to be much more tart than I was expecting.
The oak is powerful, but errs on the side of thin. It's also much more dry than it has been in the past. That's disappointing. The sweetness is toned down a bit from Staggs of the past. Toffee would be the best way to describe it, but it doesn't come off as sweet.
Finish: The finish may be one of the worst traits of this bottle of Stagg. It's dry and lacking in sweetness – dry leather comes to mind. The taste of barrel char abounds. The cinnamon spice joins with some other spices (allspice?) that feel like they were toasted on a hot surface for too long. There's black pepper everywhere. Even the fruit seems to disappear. What happened?!
Score: 6.5/10
I'm kind of at a loss for words on this batch. For sure this can't be Stagg (Jr), right? Did Buffalo Trace change the barrel selection – and therefore profile – when they decided to drop the Jr?
What's going on here? Stagg Jr's from the past used to taste like an alcoholic Cherry Cola with some sweet oak and maybe a bit of chocolate. Batch 18 tastes nothing like it.
I did find some cherries, but they're few and far between. If you were expecting a classic Buffalo Trace fruitiness, you'll have to find it elsewhere.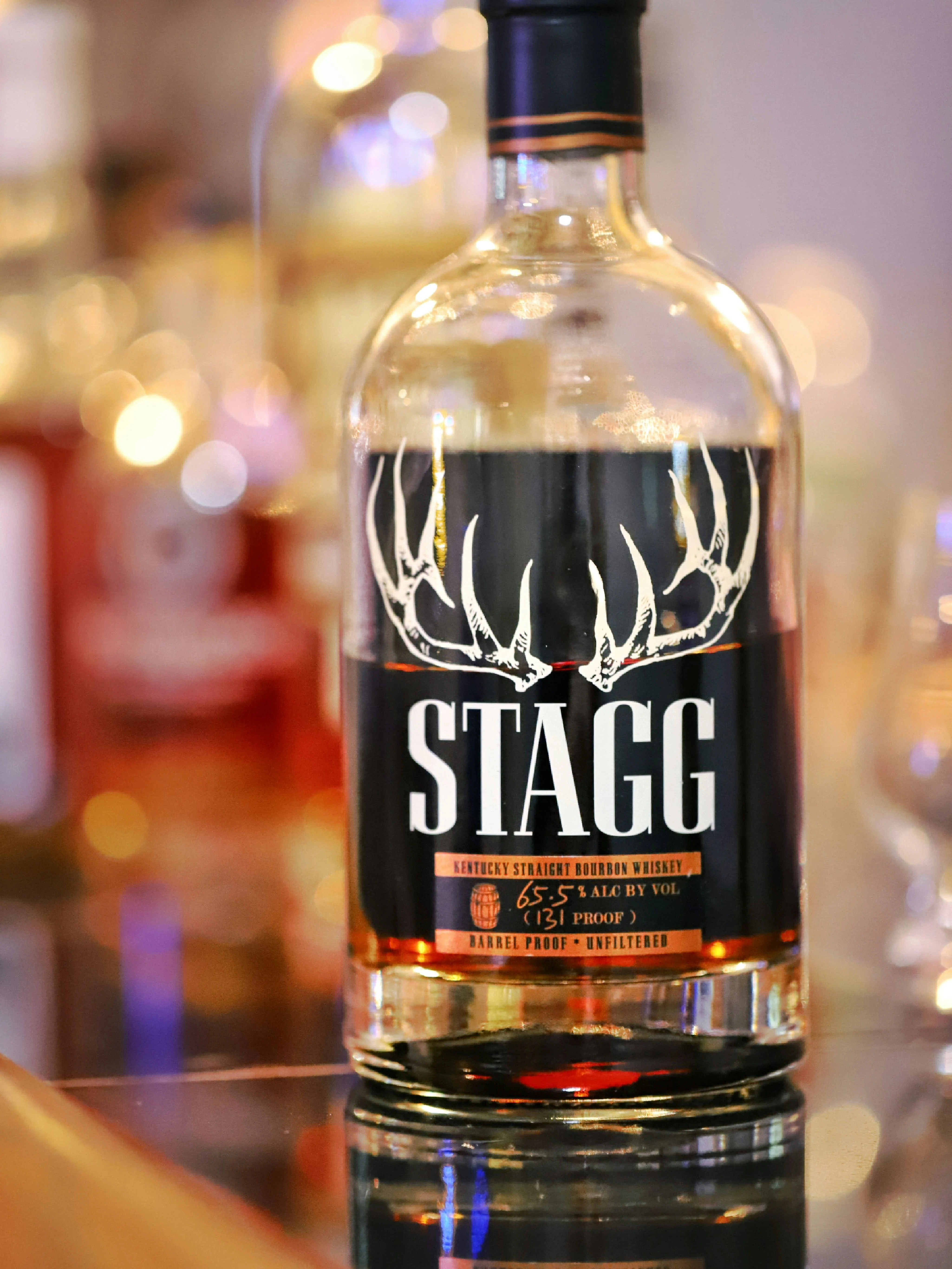 Final Thoughts
I can't believe what I'm about to say, but if you are looking to buy a bottle of Stagg (Jr), don't make it this one. Batch 16 and 17 were damn close to perfection.
But I haven't had a batch this flat and uninspired since Batch 7. I am struggling to put a clever anecdote at the end to make it sound like I could be taking my opinions too far but… I'm not.
I even looked through other reviews on this Batch and they're all mostly echoing the same thing. It makes me want to go out and find a Batch 19 (which is called 022 for a very stupid reason I'll get to in that review) just to calm myself down that Buffalo Trace didn't royally screw the whole line up by changing the profile to this.
So until I do, please, look for any other batch except for this. It's not worth your time and would only be an acceptable purchase at regular retail price (around $60).
Featured Products
Description:

The Aged & Ore Neat Traveler is a complete travel kit for spirits. We combined our widely praised Neat Glass with one of our 3oz Flight Bottles and housed them together in a custom EVA travel case. Perfect for a night away with your favorite pour. The tie
Description:

The Aged & Ore Bottle Flight is a premium set of 4 custom silicone wrapped glass bottles designed to transport and share samples of your favorite spirits. The flight bottles come in a custom EVA travel case that fits perfectly in any small bag. An Aged &
Description:

This Bundle combines two of our crowd favorite products, creating the ultimate travel bundle to bring along your favorite spirits and glassware. Bundle Includes: Neat Traveler (Gray) Bottle Flight (Gray) Note: This bundle is only available in gray and col
*Bourbon Culture is reader-supported. When you buy through links on our site, we may earn an affiliate commission.