There are lots of companies out there producing finished whiskies these days. It's such a hot trend that they'd be foolish not to capitalize on the popularity.
It's also a good way to get rid of mediocre whiskey without having to mark down the price, but that's a story for another day.
Chances are, if there's a barrel out there that stored something other than whiskey inside of it, there's a whiskey producer who wants it next. This brings us to one of the hottest barrels on the market right now – Amburana Wood.
In Brazil, there is a tree variety known as "Brazilian Oak" which is used to age a spirit called Cachaça. Cachaça is a drink native to Brazil. It's sort of like a rum seeing as how it starts as fermented sugarcane before it gets distilled.
Amburana Wood, aka the "Brazilian Oak"
It's usually aged in barrels made from Amburana wood, aka the "Brazilian Oak" I just mentioned. This wood is interesting because of just how fragrant and spice-laden it comes off as.
It is said that there are certain varieties of Amburana where if you were to cut off a piece and put it into a cup of hot water, it would immediately begin to release a yellowish trail of color into the liquid – almost like a teabag.
If you were to drink that liquid after a few moments, you'd find it would begin to take on flavors and an aroma similar to common baking spices. This is a major reason why Amburana is so popular for beverages of all kinds in South America.
In the United States, Amburana was relatively unknown until about 5-8 years ago. A few breweries got their hands on some barrels and began to age their beer in it.
They found it imparted an unbelievable amount of scents and flavors similar to the baking spices I mentioned earlier. Another surprise was just how quickly the liquid would extract those notes from the wood.
The beer seemed to only need days rather than months to extract noticeable amounts of spice notes. Early attempts at using the wood resulted in more than a few batches that were too saturated with the flavors, basically ruining the beer.
Starlight Distillery Starts Finishing Whiskey In Amburana Barrels
On the distilling side of things, it was Starlight Distillery located in Indiana who first adopted the practice of finishing their whiskey in Amburana barrels.
They began to finish their rye whiskey and bourbon in it early on in 2020. They call this line "Cigar Batch." It should be mentioned that Cigar Batch brought more recognition to the Starlight brand than any other product they had released to that point.
Whiskey Producers Hit Roadblock in Securing their own Amburana Barrels
Other whiskey producers saw this and began to inquire about getting their own Amburana barrels. But they kept running into a major wall when they went looking for them – Brazil only allows so many of these desirable barrels to be exported each year.
To be fair, it wasn't like Starlight was getting many more either, but they found out that they could re-use them year after year. It would still impart the same great flavors but it was slightly more tame.
To many people who have had each year's releases, this was seen as a good thing. In 2022, after their third use, they finally retired the original ones they had initially purchased.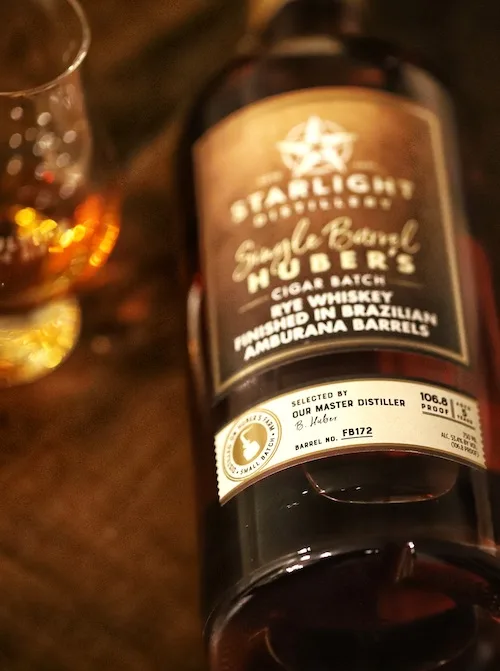 Other distilleries have now started to receive their own Amburana barrels, but it's not like they've gotten significantly easier to obtain.
Many producers found a shortcut by just buying Amburana wood chips and throwing them in a barrel (or vat) with the liquid. I've personally tasted a rye whiskey that used wood chips like this and can confirm it provides the same experience.
Now that the secret is out, there's about to be a flood of Amburana-finished whiskey hitting the market. Depending on when you're reading this, it may already have arrived.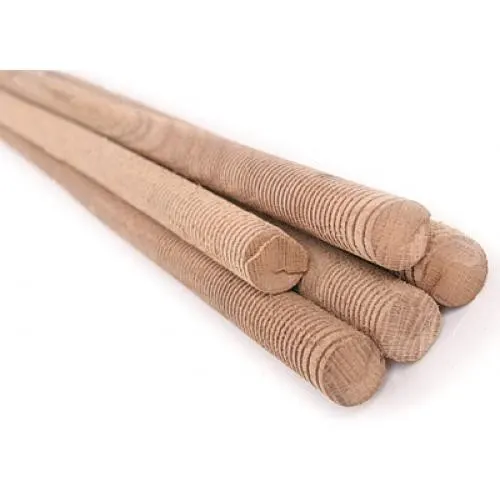 So what can you expect from Amburana finishes? Personally, I think it tastes just like gingerbread. In fact, after you've tasted a whiskey finished with this wood, you'll be able to pick it out of a blind lineup every time. It's that impressionable.
But I will caution you on this, it can get a bit heavy-handed after more than one glass. What I'm trying to say is you're not going to want to drink too much of it in one session, but it is fun while it lasts.
Amburana wood may not be the final frontier of exotic woods that can enhance a whiskey's profile, but it's certainly the most stand-out one I've had so far.
If you're in the mood to try something like this, be on the lookout for these labels:
Starlight Rye Whiskey or Bourbon Cigar Blend
Spirits of French Lick (a yet-to-be-released rye whiskey finished with Amburana chips)
Nulu Single Barrel Bourbon finished in Amburana Casks
Rare Character (multiple releases finished in Amburana Casks)
Koval Rye Whiskey Amburana Finished
Seelbach's Private Reserve Amburana Finished Bourbon
Featured Products
Description:

The Aged & Ore Neat Traveler is a complete travel kit for spirits. We combined our widely praised Neat Glass with one of our 3oz Flight Bottles and housed them together in a custom EVA travel case. Perfect for a night away with your favorite pour. The tie
Description:

The Aged & Ore Bottle Flight is a premium set of 4 custom silicone wrapped glass bottles designed to transport and share samples of your favorite spirits. The flight bottles come in a custom EVA travel case that fits perfectly in any small bag. An Aged &
Description:

This Bundle combines two of our crowd favorite products, creating the ultimate travel bundle to bring along your favorite spirits and glassware. Bundle Includes: Neat Traveler (Gray) Bottle Flight (Gray) Note: This bundle is only available in gray and col
*Bourbon Culture is reader-supported. When you buy through links on our site, we may earn an affiliate commission.