The Antique Collection that Never Was
A couple weeks ago, the most interesting picture was passed around on social media with a link to an auction of rare whiskey bottles.
https://www.sothebys.com/en/buy/auction/2023/fine-rare-whisky/the-rare-american-whiskey-selection-5-bt-70cl
It's safe to assume that only a handful of eyes had ever gazed upon these bottles prior to this auction. These 5 bottles, all wearing strange yet vaguely recognizable names on their labels, seemed like some alternative-universe's Buffalo Trace Antique Collection.
But what are they exactly? Many of the distillery names have been defunct for so long that their histories are hard to find information on, let alone be the topic of conversation at your local bottle share.
I'm going to attempt to dissect each one so we can all share a greater understanding of these unique, historical bottles. First let's dive into the description of what Sotheby's tells us before I expand on the rest of the story behind each bottle.
Of note, the dates provided at the end of the bottle description appear to be the dates that the barrels were first filled.
All of them culminate (aka were dumped) in 1997 to create the bottles you see here. Production and distribution never happened because Diageo (which was formed months after this inception) cancelled the project.
From the Auction Description:
The Rare American Whiskey Selection 1976-1982
This extraordinary and unique set of five prototype bottles created in the mid 1990s represents the rarest American whiskey ever seen at auction.
These bottles were originally produced as the prototypes for the world's first collectable ultra-premium US whiskey series to exclusively feature closed distilleries in America. The 5 bottle which comprise this set are:
Old Quaker Indiana Corn Whiskey 21 Year Old Limited Edition Barrel Proof 65.0 abv 1976
Stitzel-Weller Kentucky Straight Bourbon Whiskey Limited Edition 17 Year Old Barrel Proof 53.5 abv 1980
Taylor-Williams Kentucky Straight Bourbon Whiskey Limited Edition 17 Year Old Barrel Proof 56.0 abv 1980
George T Stagg Kentucky Straight Rye Whiskey Limited Edition 16 Year Old Barrel Proof 57.0 abv 1981
Buffalo Springs Kentucky Rye Mash Whiskey Limited Edition 15 Year Old Barrel Proof 62.5 abv 1982
The project was the initiative of The Classic Kentucky Bourbon Company, a subsidiary of United Distillers (UD) in 1997. At the time, UD owned the Bernheim Distillery and Stitzel-Weller.
On the point of The Rare American Whiskey Selection project receiving approval for launch, UD merged with another company, International Distillers & Vinters to create United Distillers & Vintners, forming the spirits division of Diageo. At this point the project was shelved, never to be revived.
The original premise of the Rare American Whiskey Selection project was to create an annual release of five very different barrel proof, high age statement whiskies. The project got as far as bottling 2 examples of each of the selected whiskeys, with prototype labels, but filled with the actual liquid to show the finished product as it would be sold.
The whiskeys were tasted not just within UD, but also by respected industry critics at the time (see tasting notes by Dave Broom below from 1997).
The 2 sets of liquid were split up and, ironically, one set was sent to the Stitzel-Weller distillery for safekeeping, while the other set remained at the company HQ in the UK for the European market (hence the 70cl bottle size).
It is believed that the set at the SW distillery were destroyed in the distillery fire, making this set the only one that still remains in existence.
This series of whiskeys, initially to be released in a limited run of 6,000 bottles per release, would have been a landmark in the history of premium American Whiskey.
The project would have preceded the Buffalo Trace Antique Collection by a number of years, and seen the footprint of US Whiskeys in whisk(e)y collector circles change dramatically. These bottles represent not only ultra-rare liquid from now closed distilleries, but a crucial element of the story of rare American Whiskey's history that has until now gone untold.
Old Quaker Indiana Corn Whiskey 21 Year Old Limited Edition Barrel Proof 65.0 abv 1976
Distilled in Lawrenceberg, Indiana, ullage: very top shoulder, front label slightly worn
Original Tasting Notes by Dave Broom:
'Pale Yellow. Fragrant and gentle with cream and clover aromas. Gentle and smooth to start, then an astringent bite which yields to mellow stweetness on the finish.'
Seeing Corn Whiskey and Lawrenceburg Indiana in the same sentence will immediately make people think that Old Quaker was a whiskey brand of Seagram's. That would be wrong. Old Quaker was actually its own separate distillery located on the property line just north of the Seagram's campus.
In fact, the Seagram's Distillery was DSP-IN-1 and Old Quaker was DSP-IN-2. A few decades after Old Quaker went under, MGP – the owners of Seagram's campus – purchased the land that Old Quaker distillery inhabited. Many of the original 16 warehouses still remain too.
MGP rehabilitated the ones that they could and filled them back up with whiskey. Fun Fact: Old Quaker was originally owned by the Squibb brothers, which is part of the reason why the large distillery complex is now known as "The Ross and Squibb Distillery."
What has me most confused is the proof on this bottle of Corn Whiskey: 130 proof. It is my understanding that each bottle in this collection was bottled at the "original barrel proof" which is another way of saying barrel entry proof.
This is not to be confused with the term "barrel proof" which is the term of the total proof after maturation is complete. The maximum barrel entry proof for bourbon was set at 125 in 1962.
Corn Whiskey is not beholden to the same rules as Bourbon, but it was still my understanding that corn whiskey couldn't enter the barrel any higher than 125 proof (62.5% ABV).
So did Old Quaker skirt the rules on this? Or were the people at United Distillers mistaken when they created this label? I'll update this if I ever find out the answer.
Stitzel-Weller Kentucky Straight Bourbon Whiskey Limited Edition 17 Year Old Barrel Proof 53.5 abv 1980
Distilled in Shively, Kentucky, level: into neck, front label slightly worn
What more needs to be said about Stitzel Weller Bourbon? Perhaps one of the most famous wheated bourbons ever produced, this bottle's label seems to indicate that the bourbon was aged with a barrel entry proof of 107.
This was the previous proof barrel entry point and it was later changed to 114 sometime between 1972 and 1992 when they eventually closed. My money is on the change happening in early to mid-1980's. If this release is to be believed, Stitzel Weller was still using 107 as the barrel entry proof in 1981.
Regardless, this is likely a bottle everyone will know about due to the reputation of the brand. Aside from the George T. Stagg labeled bottle (which is a rye whiskey!), the other 3 whiskies in this group are relatively unknown outside of the most die-hard bourbon nerds.
Taylor-Williams Kentucky Straight Bourbon Whiskey Limited Edition 17 Year Old Barrel Proof 56.0 abv 1980
Distilled in Jackson County, Kentucky, level: into neck, front label slightly worn and raised on one side
The person who typed this information from United Distillers has put a hyphen in place of the ampersand (&). So if you're trying to do your own research on Taylor-Williams, you won't get too far.
However, there is plenty of information for Taylor & Williams most well-known bourbon; Yellowstone. Yellowstone, as well as the entire distillery, was sold to Glenmore (who also owned the Medley Distillery in Owensboro) in 1944.
Sadly, it was shuttered in 1985. Yellowstone was one of the most popular bourbons in Kentucky up until the early 70's when its popularity declined.
Eventually Glenmore had to make a choice on which distillery it should put money into to create more bourbon and decided on "neither." Eventually, the last remaining functional warehouse of the distillery's campus was sold to Angel's Envy which then sold it to Barrell Craft Spirits in 2022.
Even though Yellowstone bourbon was considered a low-tier bourbon in the 1970s and 80s, it was anything but.
Out of all of the whiskies compiled in this collection, this may be the most underrated one. Granted, it's tough to say that a 17 year old bourbon bottled at 112 proof would be considered underrated, but you know what I mean. Also, check out that strange barrel entry proof – that's one you don't see everyday.
George T Stagg Kentucky Straight Rye Whiskey Limited Edition 16 Year Old Barrel Proof 57.0 abv 1981
Distilled in Frankfort, Kentucky, level: bottom neck, front label slightly worn
Original Tasting Notes by Dave Broom:
'Pungent and powerful. Lemon balm/lime zest leaning to aftershave. Clean, bitter chocolate spiciness that hits the mouth and then explodes and expands. Stunning, but not for the faint-hearted.'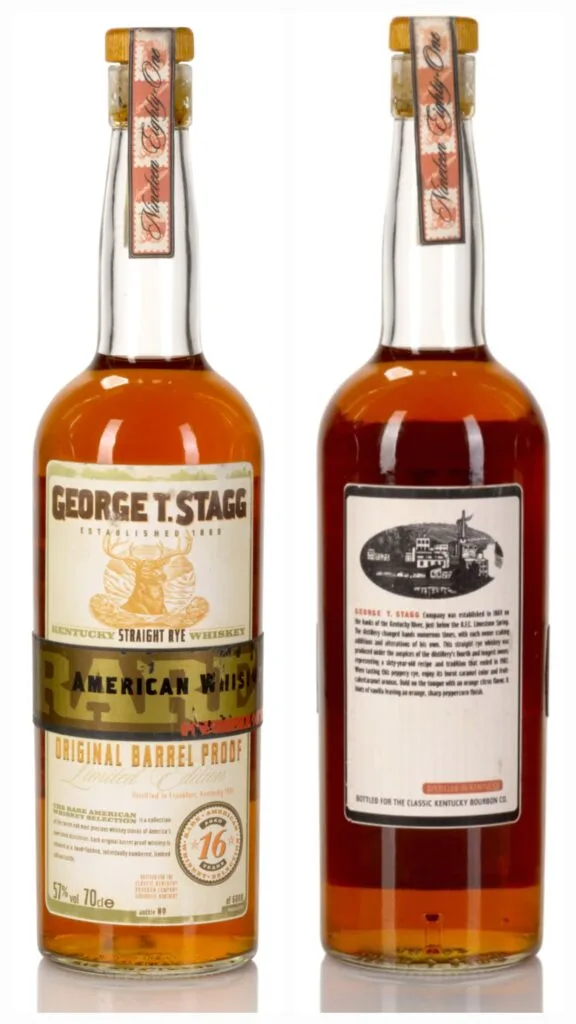 If you're a fast reader, you likely skimmed right over the fact that this bottle of George T. Stagg is a RYE WHISKEY. That's right, not a bourbon. A 16 year old rye whiskey made in 1981 is a pretty rare site to behold.
Rye whiskey was in a huge slump from the 1950s to about 2000 when it began to finally pick back up again. There are a lot of rare whiskies in this collection, but this is one I couldn't find much info on.
All I know is that the barrel entry proof was 114 and it was produced at the George T Stagg Distillery before it was sold to Age International in 1983 (and before it became the Buffalo Trace Distillery in 1992). The back label didn't have much more to say about it either. Here's the excerpt:
George T Stagg Company was established in 1869 on the banks of the Kentucky River, just below the OFC Limestone Spring. The distillery changed hands numerous times, with each owner making additions and alterations of his own. This straight rye whiskey was produced under the auspices of the distillery's fourth and longest owner, representing a sixty-year-old recipe and tradition that ended in 1982 (writer's note: the rear label could say 1962 but is too pixelated to be 100% sure). When tasting this peppery rye, enjoy its burnt caramel color and fruit-concentrated aromas. Bold on the tongue with an orange citrus flavor it hints of vanilla leaving an orange, sharp peppercorn finish.
Buffalo Springs Kentucky Rye Mash Whiskey Limited Edition 15 Year Old Barrel Proof 62.5 abv 1982
Distilled in Franklin County, Kentucky, level: into neck, front label slightly worn
This bottle is especially interesting. What we have here appears to be just a "whiskey." It is not a bourbon and it is not a rye whiskey. The color would indicate that it was matured in a used barrel for all 15 years of its life. Buffalo Springs Distillery should not be mistaken for what is now Buffalo Trace Distillery. The two were completely separate entities whose locations were 15 miles apart.
What is most interesting is that United Distillers has indicated that this whiskey was produced in 1982. That couldn't be the case because the distillery was abandoned by then.
Through my research, I found one article that claimed that the distillery shut its doors in the 1970s while this article from Michael Veach seems to indicate it stopped producing in the 1960s. Later I found a picture of a historical marker in Stamping Grounds, KY that says it closed in 1968.
The best summary I can come up with as to why United Distillers gave this whiskey a "distilled in 1982" date is that it was actually dumped into a vat (a non-reactive receptacle made from metal or plastic) in 1982.
This would coincide with the timeline of the distillery closing in 1968. If the liquid inside was distilled in 1967 (realistically the last year of production) and then aged for 15 years, that would confirm the "1982" date that United Distillers put on the label.
Alternatively, I could be wrong and maybe the barrels sat in a vat for much longer (all barrels had been moved from Buffalo Springs sometime in the 1970s) OR United Distillers could be wrong and if the barrels were found in 1982 and dumped in 1997 for this release, they could be closer to 30 years old. We'll probably never know.
One more piece of info that is at odds with the provenance of this whiskey is that the bottle claims it is a "product of Franklin County, KY." Buffalo Springs Distillery was located in Scott County, KY.
Now I don't think that this wording absolutely means it was distilled in Franklin County as much as it probably means that it was the last place the barrel was stored before it was dumped.
Franklin County is the site of the George T Stagg/OFC/Age International/Buffalo Trace Distillery (depending on what year we're talking about) which was owned by United Distillers before being sold to Sazerac in 1992, so it was possible all of the barrels from Buffalo Springs Distillery were transported to that location after it closed.
Featured Products
Description:

The Aged & Ore Neat Traveler is a complete travel kit for spirits. We combined our widely praised Neat Glass with one of our 3oz Flight Bottles and housed them together in a custom EVA travel case. Perfect for a night away with your favorite pour. The tie
Description:

The Aged & Ore Bottle Flight is a premium set of 4 custom silicone wrapped glass bottles designed to transport and share samples of your favorite spirits. The flight bottles come in a custom EVA travel case that fits perfectly in any small bag. An Aged &
Description:

This Bundle combines two of our crowd favorite products, creating the ultimate travel bundle to bring along your favorite spirits and glassware. Bundle Includes: Neat Traveler (Gray) Bottle Flight (Gray) Note: This bundle is only available in gray and col
*Bourbon Culture is reader-supported. When you buy through links on our site, we may earn an affiliate commission.