*Bourbon Culture is reader-supported. When you buy through links on our site, we may earn an affiliate commission.
Bluegrass Distillers is one of those distilleries that has a familiar-sounding name, like you have tasted something from them before, but you just can't put your finger on it. It probably has a lot to do with the fact the name is about as Kentucky as it comes.
Since they've been in operation for over a decade now, perhaps you have had some of their whiskey and just didn't realize it. They got their start in 2012 in a small warehouse in Lexington Kentucky with minimal equipment to begin distilling.
Rather than having a huge influx of cash to create a giant operation, Bluegrass Distillers has instead chosen the path of slow, incremental growth that has seen them continue to refine their craft.
Recently, Bluegrass has acquired a secondary location in Midway – about 20 minutes away. They are only in the opening stages of creating a vision of what they expect to be both a tourist destination and a means to grow, distill and mature everything needed for more whiskey.
Recently the brand has given their products a facelift and feature a much-improved label compared to their previous one (which looked like ClipArt if you ask me).
From my count, Bluegrass has five distinct whiskies that they bottle under their name: Wheated Bourbon, High Rye Bourbon, Toasted Barrel finished Bourbon, Maple (Cask) Finished Bourbon and a Pickle Brine Finished Bourbon. I am not making up that last one.
Bluegrass Distillers Bottled in Bond Bourbon made with Blue Corn
Today I'll be reviewing their wheated bourbon which is made with a blue corn varietal. It makes up 75% of the mash bill while wheat makes up 21% and malted barley makes up the other 4%.
The blue corn component is what I assume will draw most consumers' eye to the bottle in the first place. It's not like blue corn will make a blue colored distillate, but it should introduce flavors and scents that are different from traditional Yellow Dent Corn.
Bluegrass Distillers produces all of their whiskey on a pot still that I couldn't find a lot of information on. I did notice that they utilize a variety of different barrel entry proofs when looking through their pictures and counted no less than four: 96, 102, 120 and 125 proof.
I could not decipher if those barrel entry proofs were dependent on what kind of bourbon they were making or not. I know that wheated bourbon typically is better off entering the barrel at a lower proof prior to maturation, but I'll publish an update later if I find out if that's true with the bottle I'm reviewing today.
For a long time, Bluegrass Distillers used a variety of barrels to age their whiskey in to include 5, 25 and 53 gallon barrels. I don't think that they use the smaller ones anymore but I'm not 100% sure about that.
Some of these barrels are aged on-site at their small Lexington distillery location but almost all of them are aged at nearby Wilderness Trail due to a lease agreement. The barrels, from what I've found out, are also sourced from Kelvin Cooperage and have a #4 char level.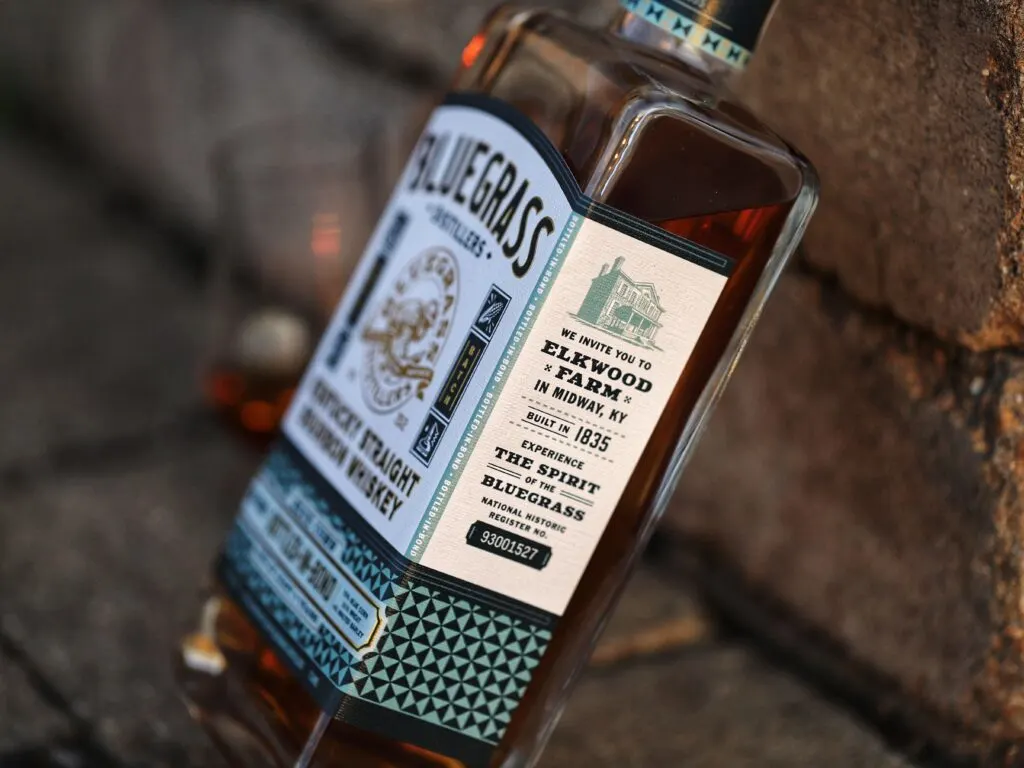 So it seems as if all the right building blocks are in place for a great bourbon. But it goes without saying that it's not always about having the right pieces in place if you don't have the skill to distill it well.
Thanks to Bluegrass Distillers for sending a bottle my way because that's what I hope to find out today. I am sampling it, as usual, neat in a glencairn.
Tasting Notes
Nose: Scents of milled hominy (uncooked grits) combine with a very earthy scent. This may sound weird, but the earthiness is "cleaner" than a lot of other earthy smelling whiskies I've had. There is sweetness from store-bought caramel apples and also vanilla frosting.
But the one thing that shows me how much more time this bourbon needs in the barrel are the collection of off-profile scents I am finding. Latex paint, construction paper, flannel sheets and a touch of vintage Sanford permanent marker (the old kind that contained toluene and xylene) combine two kinds of distinct petrochemical and processed raw materials scents.
It's not exactly what I want to find in my whiskey. Tannins come by way of fresh sawn wood and have me wishing for a few more years to see if it would turn into something more.
Palate: If you just read my notes for the nose, get ready for more of the same on the palate. The flavors vary wildly from traditional bourbon to "where did that come from?"
I'm immediately transported to flavor memories like licking the back of a stamp, tongue depressors, ethanol, potpourri and more of that strange old-school permanent marker note. To be fair, the marker notes are something that I do find a lot in young wheated bourbon.
There are some more traditional bourbon notes that don't make the sip a total miss like malted milk balls, vanilla extract and some candy from grandma's candy dish that may or may not contain fennel or anise notes.
Finish: At this point, either you're with me or you're not on the flavors and scents I described above. I am about to throw a curve ball for the noes on the finish when I say that it turns decidedly more acidic.
Lingering flavors of apple cider vinegar and Marsala Wine come out of nowhere and offer a strange twist to an already strange bourbon. There is sweetness present like honey and fig jam but I can't get around this sensation that I just finished drinking a malt whiskey.
For a bourbon with minimal malted barley, why does it taste this way? Other finish notes include lemon oil extract and a bit of oak. The finish is not what I would classify as bad, just one that is very strange and doesn't seem like it came from the same bourbon that I was talking about above.
Score – 4.6/10
This bourbon contained so many twists and turns, I practically felt dizzy when my glass was empty. But I think that there is an explanation behind all of the strange flavors and scents. For instance, the permanent marker note that I talked about is usually the result of young wheated distillate.
I don't know what it is about wheat, but unless it's from a distillery that really understands how to make it, they all seem to get this note. As for the earthy and processed raw material notes (construction paper and flannel sheets), they probably come from the blue corn.
The 4 years it spent in a barrel is probably why the barrel char hasn't filtered and corrected a lot of the other off-notes. I don't have an explanation for the weird wine/acidic flavors on the finish except they match up with my notes on a Scotch produced by Blair Athol I had recently that was finished in a Marsala Wine Cask.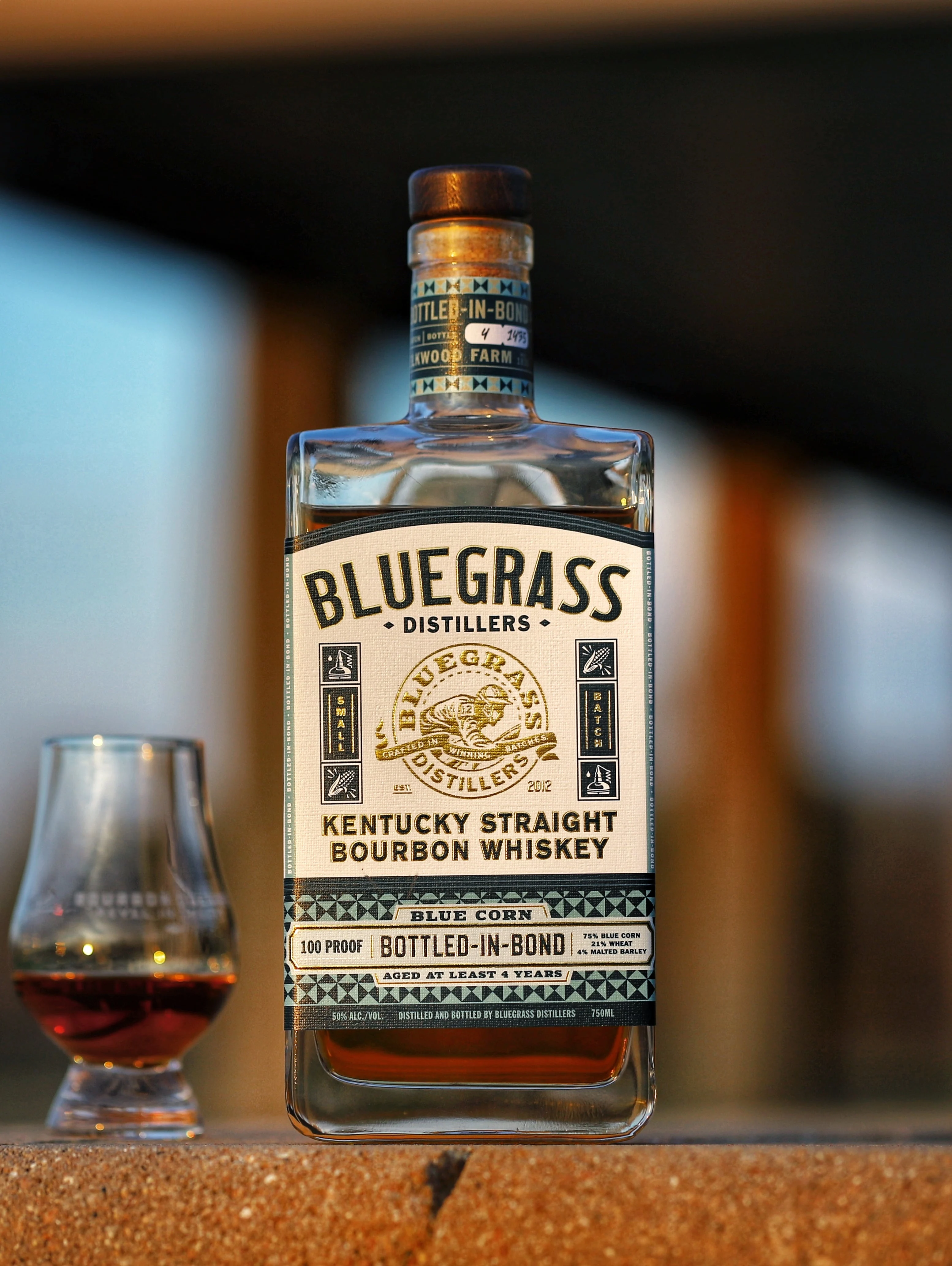 All of these things together didn't stop me from bringing the glass up to my mouth again and again so it's not like it was totally unlikable. If nothing else, this bourbon should be viewed as polarizing rather than straight up undrinkable.
I didn't have much input on which bottle the people at Bluegrass Distillers sent me, but I could probably see the high-rye being more in my wheelhouse with the toasted barrel being a close second. What I'm trying to say is that you shouldn't pass on Bluegrass as a whole just because of my review on one of their products.
Final Thoughts
Bluegrass Distillers has taken the right steps to get their bourbon recognized on the big stage. They are distilling with unique ingredients, doing unique finishes and have a very down-to-earth vibe for their brand. I like what they're doing as a company.
They even let comedian Trevor Wallace shoot a funny video on-site at their distillery basically roasting modern whiskey snobs (like me) who take their whiskey too seriously. That video draws a parallel to real life that is appropriate for the summary of this whiskey: if you're the kind of person who takes their whiskey way too seriously, this probably isn't for you.
But if you enjoy trying new things and are willing to look past some of its flaws, then this bottle of Blue Corn Bottled in Bond Bourbon could be for you.
Featured Products
Description:

The Aged & Ore Neat Traveler is a complete travel kit for spirits. We combined our widely praised Neat Glass with one of our 3oz Flight Bottles and housed them together in a custom EVA travel case. Perfect for a night away with your favorite pour. The tie
Description:

The Aged & Ore Bottle Flight is a premium set of 4 custom silicone wrapped glass bottles designed to transport and share samples of your favorite spirits. The flight bottles come in a custom EVA travel case that fits perfectly in any small bag. An Aged &
Description:

This Bundle combines two of our crowd favorite products, creating the ultimate travel bundle to bring along your favorite spirits and glassware. Bundle Includes: Neat Traveler (Gray) Bottle Flight (Gray) Note: This bundle is only available in gray and col
*Bourbon Culture is reader-supported. When you buy through links on our site, we may earn an affiliate commission.