*Bourbon Culture is reader-supported. When you buy through links on our site, we may earn an affiliate commission.
Sam Houston Bourbon is yet another label from Non-Distiller Producer Western Spirits Beverage Company. They are part of a larger portfolio of other bourbon's bottled by Three Springs Bottling Company located in Bowling Green, KY. The other brands in that portfolio are Calumet Farms, Lexington Bourbon Whiskey and Bird Dog.
The one thing they all have in common is that they source barrels of bourbon from Barton Distillery. They are even related to Castle Brands, which was owned by the Jefferson's brand until it was purchased by spirits giant Pernod Ricard.
Breaking Down Sam Houston Bourbon
For a while, I used to think that Sam Houston and Calumet Farms were the same bourbon wearing different labels. It turns out that it's not quite that simple. Calumet tends to batch their barrels of bourbon together based on the concept of using every barrel from a single rack in a warehouse (usually containing 18 barrels).
Sam Houston, on the other hand, uses only three barrels at a time per batch. These extremely small batches are released with a designator that identifies the state it was made for and the batch number. Today I'll be reviewing "IN-1" otherwise known as the first batch of Sam Houston 15 bottled for the state of Indiana.
Every year since the 2020 release of Sam Houston 14 Year sees another release that's another year older. That means that this 15 year old bottle of Sam Houston was released in 2021. The label also helps with this because it shows the year and month the barrels were distilled, this one being April, 2006.
As I mentioned earlier, Sam Houston sources from Barton Distillery in Bardstown, Kentucky and although they don't say that on the label, it does mention the mash bill used to make the bourbon is 74% corn, 18% rye and 8% malted barley – a mash bill known to be from Barton. As a final specification, each year Sam Houston bourbon, much like Calumet Farms, bottles the batch at a different proof. For 2021, they settled on 103 proof.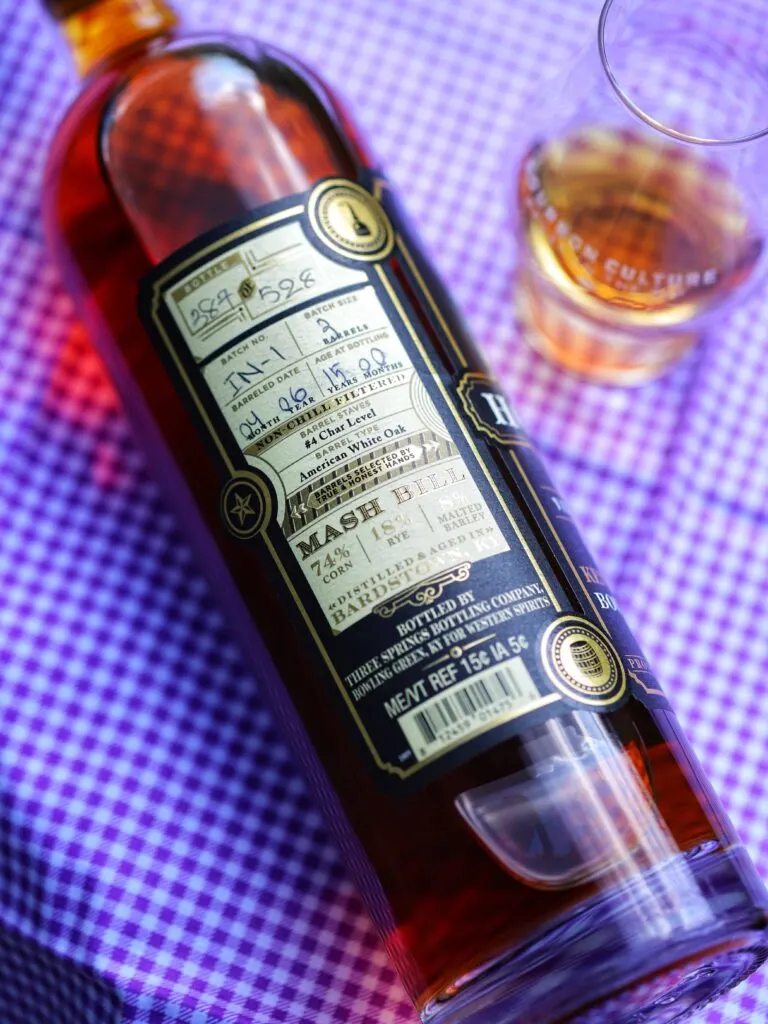 My main concern with the Sam Houston brand is that it's just an excuse to sell more bottles under a different name. I have already been generally unimpressed with the 14 and 15 year old versions of Calumet Farms that I've had (bourbons which I think are pretty good, but not great). And when we're talking over $120 per bottle, I would hope you'd be getting something great.
Those bottles of Calumet are the perfect example of a generic, highly aged bourbon but for the price I want more than that. So does Sam Houston actually break the mold of boring Barton? Let's find out. I sampled this neat in a glencairn.
Tasting Notes
Nose: I'm impressed and surprised by this blast of perfume that I'm smelling right off the bat. This is a much lighter and more delicate nose than I was expecting for 15 years in oak. WIth that being said, cherries, vanilla flan with caramel on top and orange peel can be found.
There's even a note similar to Tres Leches cake. Cinnamon combines with some oak for a nice contrast in aroma. I find the nose to be fantastic overall. It's nowhere near what I would've thought a 15 year old bourbon would smell like, but it's great at what it does.
Palate: I'm shocked to find fruit leading the way again. Berry flavors (blueberry and raspberry) combine with lemon and orange citrus. Light brown sugar keeps the sweetness along with a bit of caramel while some rye-forward notes like licorice and fennel seed come out.
This is a high-rye mash bill after all, but I was not expecting to find those. Finally, the age begins to expose itself with notes of leather and seasoned oak. This is overall much better than Calumet Farms 15 Year.
Finish: The aged flavors of oak and leather begin to assert themselves even more now. At this point, they are at least on par with the fruit notes of orange, lemon and cherry. I'm surprised how long the fruit seems to last though. It's really the standout profile note of this dram. Peppermint sting hangs around a bit but what is most impressive at the end is how there is a sort of vanilla buttercream note that hangs around. The finish does a lot of things so well.
Score: 8.2/10
I'm a person who is not easily impressed by double-digit aged Barton. But dammit if Sam Houston 15 Year didn't find a way to hit all the right notes and thoroughly earn the score it achieved. A common note that came up as I was tasting through this bottle was how similar I found it to be to Blanton's Gold. The mash bill may not be too far off, but the ages are.
Still, it tastes closer to that than the last bottle of Calumet Farms 15 Year I had. Whereas I think Calumet focuses more on oak and vanilla notes at the sacrifice of brighter flavors that pop – this bottle of Sam Houston is the opposite. There are much more fruit and rye spice notes overall. I guess they really do make an effort to sort through the barrels to make a different product.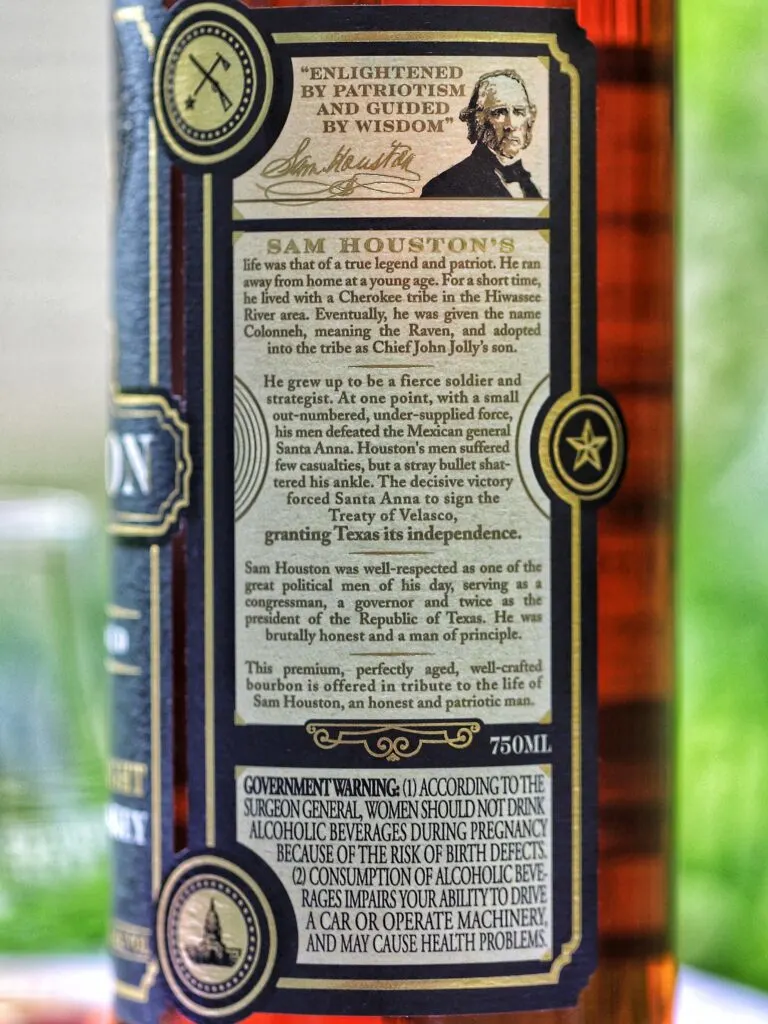 Final Thoughts
Sam Houston bourbon is usually in shorter supply than Calumet Farms based on the limited batches that are released each year. I don't know this next part to be a fact, but I think that maybe around 15 states get distribution of the Sam Houston label whereas Calumet Farms is double that.
Plus, I see Sam Houston bottles sold out long before Calumet bottles are, so I know there are less of them overall than their kin. I used to think it was because of the simple math that less bottles produced overall will result in it selling out quicker. Now I wonder if the customers who scoop these up don't already know the secret.
I honestly believe that the choicest barrels are used in Sam Houston whereas Calumet is relegated to using more average ones in their batch. This would make sense because Calumet uses an entire rick worth of barrels and a bad barrel or two stands a better chance at getting covered up. With Sam Houston, you cannot mask a bad barrel in a three barrel batch.
Based on what I tasted in this particular bottle and batch of Sam Houston, I would recommend you buy this over Calumet Farms if you see them setting next to each other in the store. I know the prices are very similar, but even if the Sam Houston was $20 more for a bottle, the increased quality makes it worth it. To anyone looking at a bottle on the shelf in the store right now, feel confident in your purchase.
Featured Products
Description:

The Aged & Ore Neat Traveler is a complete travel kit for spirits. We combined our widely praised Neat Glass with one of our 3oz Flight Bottles and housed them together in a custom EVA travel case. Perfect for a night away with your favorite pour. The tie
Description:

The Aged & Ore Bottle Flight is a premium set of 4 custom silicone wrapped glass bottles designed to transport and share samples of your favorite spirits. The flight bottles come in a custom EVA travel case that fits perfectly in any small bag. An Aged &
Description:

This Bundle combines two of our crowd favorite products, creating the ultimate travel bundle to bring along your favorite spirits and glassware. Bundle Includes: Neat Traveler (Gray) Bottle Flight (Gray) Note: This bundle is only available in gray and col
*Bourbon Culture is reader-supported. When you buy through links on our site, we may earn an affiliate commission.