*Bourbon Culture is reader-supported. When you buy through links on our site, we may earn an affiliate commission.
Sometime around 2018, Jack Daniel's received the green light from Brown Forman to start releasing experimental projects to the public. This move was made after it was noticed the growing fanfare and recognition that Woodford Reserve (Jack Daniel's sister brand in Kentucky) was getting for their "Distillery Series" line of whiskey. Old Forester, which is also a Brown Forman brand with Woodford and Jack, was also directed to produce a similar line of whiskies which they would end up calling the "117 Series." The theme of all three distillery's new lines was to create small runs of whiskies that were unique to the brand and could be sold only at the distillery (or at least in the distillery's home state). They also would come only in 375ml bottles. The idea was that tourists could fly easier with them back home and also that the smaller bottles could stretch the limited liquid made for each batch so it could reach more customers.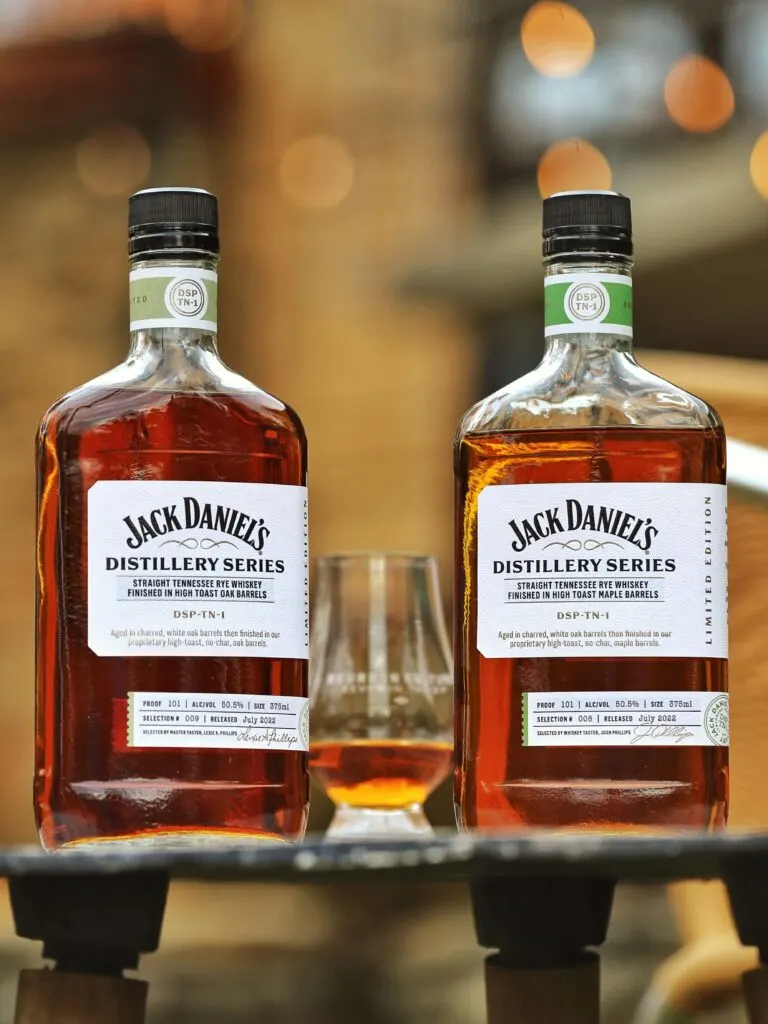 Jack Daniel's initially called this new line of whiskies the "Tennessee Tasters" series. The 375ml bottle was in the shape of an elongated flask complete with the slight curvature that is commonly used to fit around your hip or butt. The label listed all of the details about the liquid inside. The first 7 examples revolved around using finishing barrels, finishing staves and blends. One even went on to become 2020's "Special Release" edition; Jack Daniel's Barrel Proof Rye Whiskey.
Jack Daniel's Tennessee Tasters become Jack Daniel's Distillery Series
In October 2022, the 8th and 9th release were dropped only in the state of Tennessee. For these two whiskies, the name had been changed from Tennessee Tasters to "Distillery Series" along with slight tweaks to the label. Selection #008 was a straight rye whiskey that was finished in a secondary toasted maple wood barrel. Selection #009 was the same thing except it was finished in a secondary toasted oak wood barrel.
You might think that a 53 gallon barrel made out of maple sounds unique, if not unprecedented. But it's actually been around in the Jack Daniel's arsenal for a while now. It first found use in the Jack Daniel's Old No. 27 Gold label Tennessee Whiskey. Unfamiliar with that bottle? It has been an ongoing release that sees Jack Daniel's take their standard 4 to 5 year old Tennessee Whiskey and putting it through the Lincoln County Process for a second time (i.e. filtering through sugar maple charcoal) before re-barreling it in maple wood casks. As a side note, it's unknown if those maple wood casks are charred or just toasted like this one is. Then it's bottled at 80 proof.
Getting back to the whiskies at hand, Jack hasn't produced a toasted barrel finished whiskey yet, but they have their own cooperage so anything is possible. Both the oak and the maple barrels were not charred on the inside, just toasted. I'm not a scientist on this stuff, but the point of toasting wood rather than charring it is because it will allow the creation of more vanillin compounds on the surface of the wood. This will be absorbed more freely by the whiskey. If you've ever drank a toasted barrel finished whiskey, you've likely noticed an increased amount of vanilla. For me, I get more of a marshmallow cream flavor.
After finishing the rye whiskey in these two types of barrels for 6 to 12 months, they are proofed down to 101 proof. In a previous article where I examined 3 different bourbons that had been finished in secondary toasted barrels, I determined that the toasted flavor actually comes out more on the bottles that had been proofed down more. At or near cask strength makes the toasted finish almost imperceptible. This bodes well for Jack's rye whiskey at 101 proof because I think we'll find the finishing to be much more noticeable. But just how noticeable can we expect? Let's find out. I sampled these neat in a glencairn.
Tasting Notes
Jack Daniel's Straight Rye Whiskey Finished in a High Toast Maple Barrel
Nose: Honeynut cheerios, maple creamstick donuts and Banana's Foster start the nose off on an enticingly sweet note. True to form, Jack Daniel's rye's lack a majority of the herbal, floral or botanical notes that other rye whiskies are known for. It leans more toward a bourbon. As an aside, what's crazy about that is that Jack's rye whiskey recipe uses more rye grain than almost all other Kentucky distilleries (70% compared to ~51%). The barrel char and wood notes can't be mistaken for anything other than new charred oak being responsible for aging the whiskey. One interesting scent that sticks out throughout the session is this sort of savory marjoram-like herbal note. Or maybe it's faint ground-up rosemary. I don't know how else to describe it, but it's interesting to find.
Palate: For all the more the rye spice traits were missing on the nose, the palate has plenty of them. Peppermint candies, clove, gingerbread and cinnamon are all easy to find and are wrapped up in the sweetness of honey and a dash of maple syrup. The wood notes are everywhere, although at 101 proof they're not overwhelming. It has a great presence and I know that's partly due to the maple wood finishing barrel.
Finish: The finish on this one is predictably sweet with honey and maple notes that linger on for a while. Peppermint tags along all the way to the end as well as its spice companions cinnamon, allspice and nutmeg. There's even some charred oak remaining at the end.
Score: 7.3/10
Final Thoughts: At 101 proof, I was not expecting any sort of overpowering heat from the proof and that stayed true to form. I did expect to find a decent amount of sweetness and I got my wish, plus a little bit more. The spice added nice depth and the maple wood did add a telltale maple flavor and scent although you should not take that as me trying to say it was like drinking maple syrup. It was still very much just an "essence" that could be detected. Overall, this was polished and well made, but needed a bit more depth to score a rating that would make me label it as truly "Great."d a tiny bit more. For rye lovers, they'll be left wanting something a little bit more. It's not offensive in any way, but needs a bit more depth
Jack Daniel's Straight Rye Whiskey Finished in a High Toast Oak Barrel
Nose: The nose is sweet and a bit more "bourbon-forward" than the toasted maple barrel finish I just drank. This one leans more towards traditional caramel. There is sweet oak and plenty of ground cinnamon to find. I'm still getting that savory-herb note that I found in the maple barrel too. The fruits also make themselves known with aromas of figs and raisins… a mincemeat pie perhaps?
Palate: Plenty of caramel flavors come early and often at the start of the sip. The toasty wood notes are undoubtedly a result of the secondary barrel influence. But since this is a rye, I'm not surprised when , some generic earthy notes and cinnamon stick are eventually found. The mouthfeel on this high toast oak finish seems a bit more oily than the maple wood finished barrel and why that is, I have no idea. I also am tasting more vanilla overall than the previous dram and I'm wondering if that is because toasted maple does not produce as much vanillin when toasted compared to the oak.
Finish: A bit sweeter ending than the previous dram, I get more caramel and honey rather than honey and maple from my first glass. Rye notes carry all the way through to the end with cinnamon, gingersnap and peppermint stick ice cream. There is even a hint of leather that follows the oak tannins until the end.
Score: 7.2/10
Final Thoughts: As much as I was thinking that the toasted oak finished rye whiskey was going to be inferior to the toasted maple finish, the truth is that they're both great at doing their job of imparting additional flavors. Additionally, one doesn't seem clearly superior over the other. This version of finished toasted oak rye whiskey brings with it a bit more oily texture along with more caramel and vanilla notes, which I find I still enjoy immensely. I was thinking that Michter's Toasted Barrel Rye Whiskey would be a good competitor to this particular bottle while I was drinking it, but I must admit that Michter's does it better (and it's barrel strength). You won't likely find these two in a matchup though, but it helps to put into context what Jack was trying to accomplish. This is still a damn good rye for sipping.
Summary
I like that Jack Daniel's went down the path of toasted barrel finishes with their rye whiskey. I know that these days, toasted barrel finishes are everywhere it seems. But I also think that we are reaching "peak toast" and soon we'll see consumers rejecting the trend of dumping every kind of whiskey in a toasted barrel and marking it up with higher prices. Enthusiasts seem to want a whiskey that speaks to them with new experiences. The toasted maple wood barrel certainly does the trick and makes me wonder just how many other wood species you can make a barrel out of.
Tennessee Tasters, now called the Distillery Series, is sometimes a peek into the world of "what's the next big thing?" for Jack Daniel's. I fully expect to see something like these toasted barrels used for a future iteration of their annual Special Release series of whiskey. Don't get me wrong, I'll be a buyer if this is the case. But if the secondary gets too high on it, I'd rather just find myself a bottle of Michter's Toasted Barrel Rye Whiskey instead. These finishes from Jack Daniel's work well, but they are not something that needs to be pursued at ridiculous prices.
Featured Products
Description:

The Aged & Ore Neat Traveler is a complete travel kit for spirits. We combined our widely praised Neat Glass with one of our 3oz Flight Bottles and housed them together in a custom EVA travel case. Perfect for a night away with your favorite pour. The tie
Description:

The Aged & Ore Bottle Flight is a premium set of 4 custom silicone wrapped glass bottles designed to transport and share samples of your favorite spirits. The flight bottles come in a custom EVA travel case that fits perfectly in any small bag. An Aged &
Description:

This Bundle combines two of our crowd favorite products, creating the ultimate travel bundle to bring along your favorite spirits and glassware. Bundle Includes: Neat Traveler (Gray) Bottle Flight (Gray) Note: This bundle is only available in gray and col
*Bourbon Culture is reader-supported. When you buy through links on our site, we may earn an affiliate commission.