*Bourbon Culture is reader-supported. When you buy through links on our site, we may earn an affiliate commission.
It's hard to believe that 2022 marks the sixth year in a row that the good people at MGP (I just can't bring myself to call them Ross and Squibb) have released a Remus Repeal Reserve batch. The Remus line had flown under the radar for a solid four years before the fifth release projected it into the stratosphere. This was mainly due to the fact that about 1/3 of the total blend was 15+ year old bourbon. Those 15–16-year-old barrels are from a timeframe that is generally recognized by enthusiasts to be the golden era of Indiana bourbon (the remaining 2/3 was bourbon that was at least 13 years old). The reasons would take a while to explain, but boil down to a master distiller named Larry Ebersold being in charge of all whiskey production at the facility before his departure in early 2007. He seemed to create a distillate that tastes fundamentally different from the distillate produced after 2008 – even though it all uses the same recipes and facilities.
Remus Repeal Reserve VI
For 2022's sixth release (or VI), Remus Repeal Reserve sees its blend get considerably younger. Close to half of the blend (44%) is only 10 years old whereas 54% is only 8 years old. And because we don't know exactly which month the barrels were created or dumped to make this blend, the barrel ages could realistically be only 7 and 9 years old.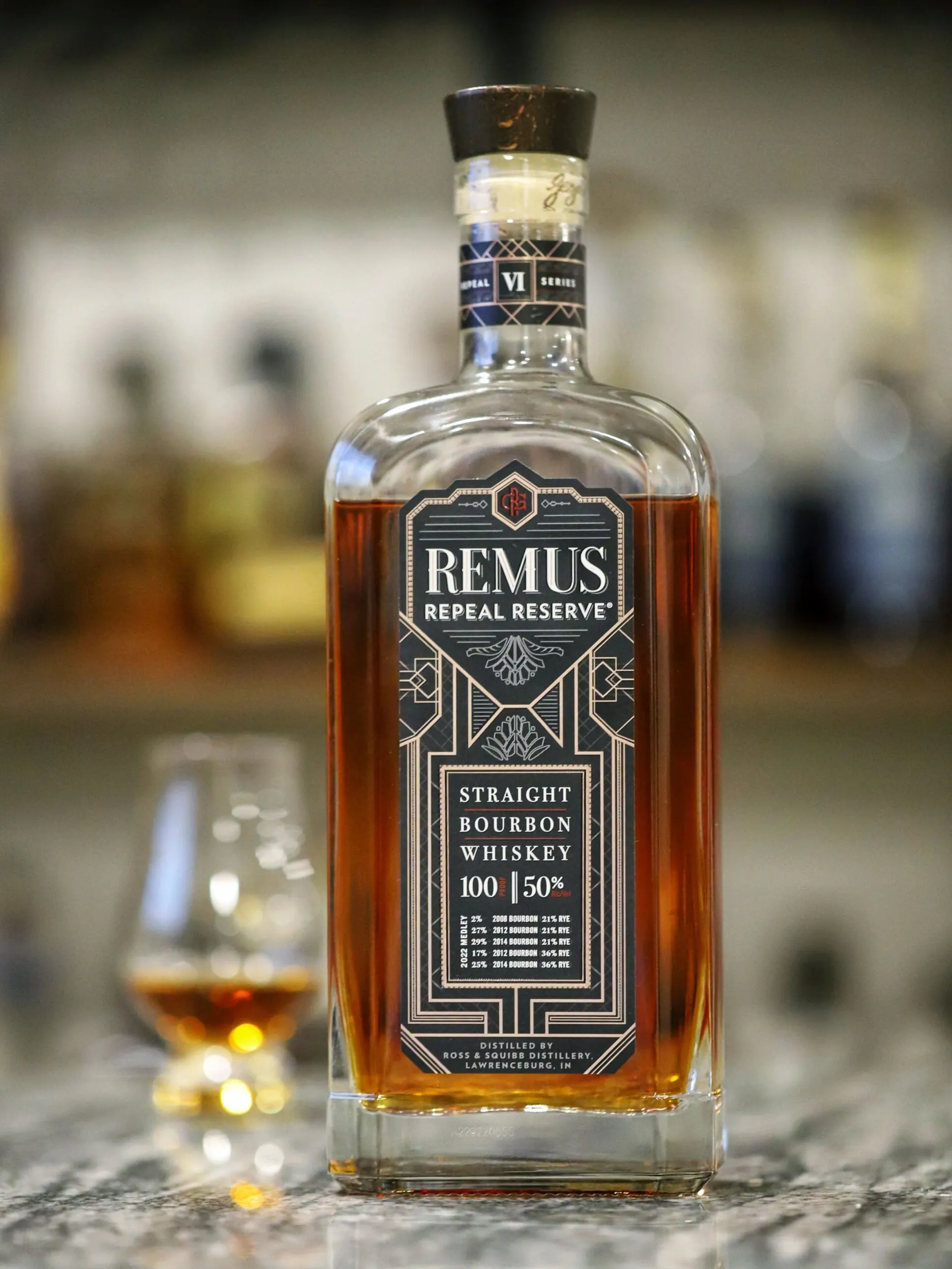 Due to Remus's popularity after the fifth release, MGP was feeling good about itself and kept the price right where it was at. I know many people paid in the neighborhood of $90-100 retail for these bottles, but there were several pictures of Costco's having them on the shelf around $70. This disparity in price is enough to make enthusiasts pause and contemplate if it was worth the money at the higher price point, especially since MGP bourbon is generally considered to cost around $10 per year aged. But if they paused too long, they found that the shelves were cleared when they returned to buy it. The momentum of the brand from the Remus V release certainly bled over into the Remus VI release even though the average age of the barrels plummeted by about 50%.
If you talk to any rep from MGP, they'll tell you that age is only a number and that it's all about the blend and final result. That's why MGP actually employs a very large team of Master Blenders. I don't know the exact amount, but it's a higher ratio than most Kentucky distilleries. As an aside, I'd like to take a moment to compliment all of the Master Blenders out there who sometimes go unrecognized even though they are directly responsible for the product that ends up in the bottle. A Master Distiller can distill the perfect distillate, but the aging process can treat every barrel differently. You can still get some stinkers out of a lot of very good barrels. But it is the Master Blender that acts as the quality control between making exceptional products or making a batch that tastes nothing like what it's supposed to, ruining the experience for the customer.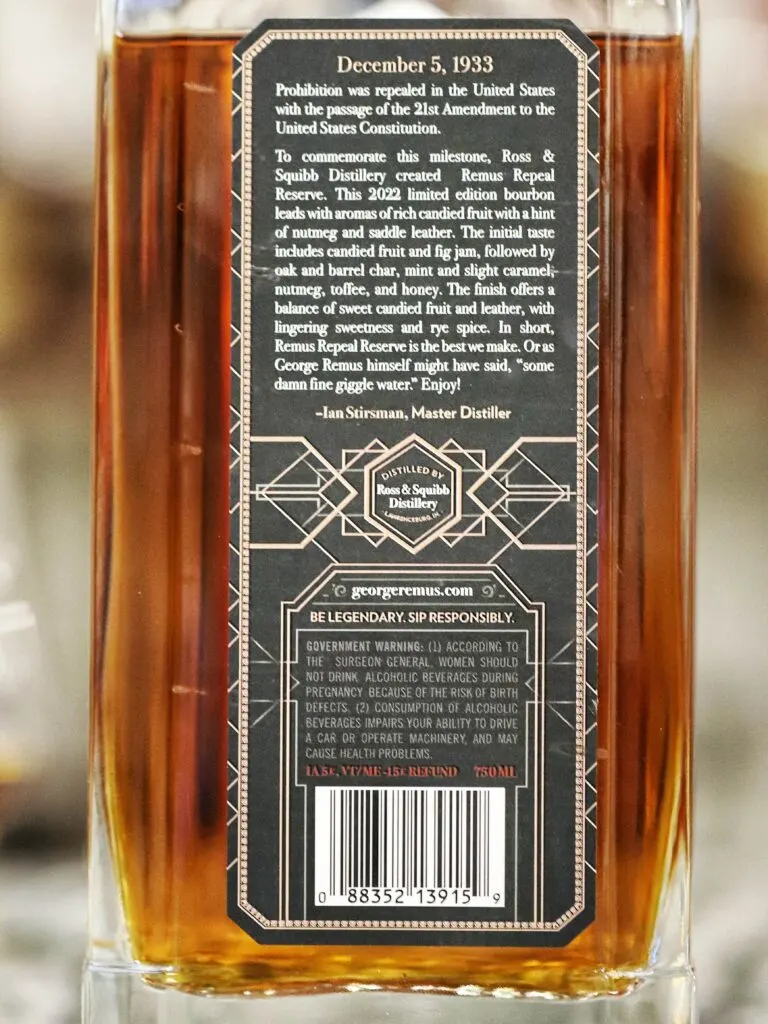 What I'm looking at today is why did the blending team at MGP decide that such (comparatively) young barrels were worthy of the next Remus label? What did they see in them that made them so confident to make it their crowing achievement of 2022? Let's find out. I sampled this neat from a glencairn.
Tasting Notes
Nose: For the combined ages of the barrels, I am surprised to find such old oak notes; it's like smelling dusty old wooden furniture. There is a sweet caramel scent like a newly opened bag of Candy Corn that comes with brown sugar and vanilla. With the additional aged elements of old leather and pipe tobacco, this almost smells about as old as Remus V did. Strange!
Palate: While the aged notes were the highlight of the nose, the tastes shift decidedly towards high-rye notes. Herbal notes are easy to find and are a combo of spearmint and citrus (orange and lime) flavors coupled with cinnamon and pine. The alkaline taste of baker's chocolate is faint but it adds a nice layer I wasn't thinking I'd find. Sweet notes of maraschino cherries, honey butter and cooked apple also follow. Tannic notes slowly develop as the session goes on with oak, cigar wrapper and leather book notes.
Finish: A nice lingering sweetness that also wraps up nicely with the baking spices I find. Those spices seem just right and aren't too hot or spicy. Pine needles, sweet citrus, brown sugar and more oak all take turns showing you their lingering flavors as the finish slowly fades away.
Score: 8.1/10
It's no secret that I was unimpressed by the overall stats of Remus VI. But after tasting what the blending crew came up with, I must admit that it holds up nicely to its predecessors. MGP gets more complex as it ages, yet these barrels show they have what it takes to hang with the older generations. I'm happy to report that this bottle was a success and should earn a spot on anyone's shelves. I also want to be fully upfront that with this batch, I did not feel as if MGP was breaking the mold from their other releases too terribly much, so that is why the rating I gave it generally falls in line with the other previous Remus batches. It's a damn good drink, it's just not one that is going to dramatically change your opinion about the label.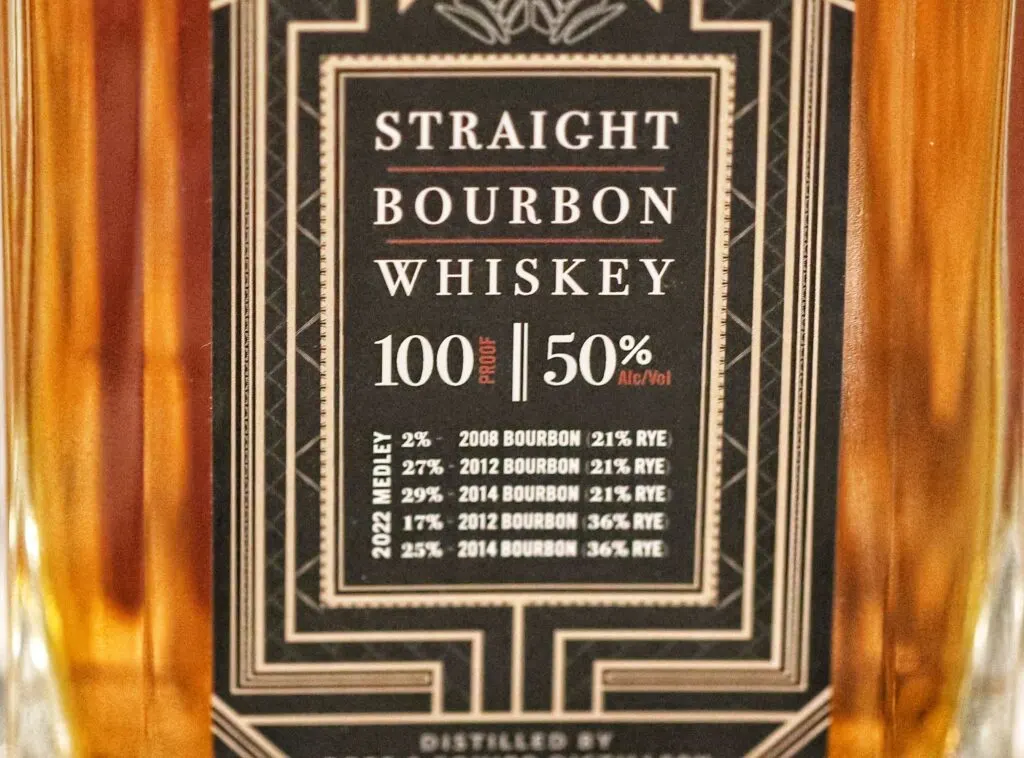 Final Thoughts
I usually expand on a bottle for a few paragraphs after my tasting notes, but words are failing to come to me. Should I continue singing it praises? Instead, I think I'll make one suggestion to the MGP crew that blends these Remus batches and other products. It is obvious that a lot of care was taken to perfect each year's blend. The sheer amount of barrel "lots" shows that more thought process is given than the typical "blend 500 barrels together and get this batch out the door!" operation that so many other distilleries are guilty of. With that being said, why not allow Remus batches to be bottled at different proofs? Hear me out.
The team at Old Forester famously does this with every release of Birthday Bourbon. Each year before the release is bottled, a panel sits down with glasses in front of them all from the same batch, but proofed down to various proofs from (probably) 80 to barrel proof. Realistically, I think they only concentrate on proofs ranging from 94 to 110, but I digress. Anyway, the proof that Birthday Bourbon is released at each year represents the proof that the panel thought was where the bourbon tasted the best. Why can't MGP do that with Remus? It's obviously a premium product that shows that a certain level of craftsmanship is required for every blend, so why not take that last step? I would bet that it would be a home run if they ever did. So now that I've got that off my chest, it's time to finish the rest of this Remus VI in my glass as I look forward to next year's batch and what surprises it will bring.
Featured Products
Description:

The Aged & Ore Neat Traveler is a complete travel kit for spirits. We combined our widely praised Neat Glass with one of our 3oz Flight Bottles and housed them together in a custom EVA travel case. Perfect for a night away with your favorite pour. The tie
Description:

The Aged & Ore Bottle Flight is a premium set of 4 custom silicone wrapped glass bottles designed to transport and share samples of your favorite spirits. The flight bottles come in a custom EVA travel case that fits perfectly in any small bag. An Aged &
Description:

This Bundle combines two of our crowd favorite products, creating the ultimate travel bundle to bring along your favorite spirits and glassware. Bundle Includes: Neat Traveler (Gray) Bottle Flight (Gray) Note: This bundle is only available in gray and col
*Bourbon Culture is reader-supported. When you buy through links on our site, we may earn an affiliate commission.