*Bourbon Culture is reader-supported. When you buy through links on our site, we may earn an affiliate commission.
I like to keep politics out of my reviews and concentrate on what's in my glass. I find it keeps things focused even though I'm a person who loses focus easily. But when I read more into this bottle of whiskey from Du North Social Spirits, I felt it was necessary to talk a bit about the lack of diversity in the distilled spirits scene. You'll know what I mean if you have gone to any allocated bottle raffle or toured the bourbon trail recently. The landscape feels mostly homogonous in terms of the clientele who frequent them. My point is that if bourbon is America's native spirit, then why does it not feel like all of America is represented when it comes time to drink?
Lately, there have been an uptick in new brands who proudly proclaim their distillery as African-American owned. Most notably, there are two Kentucky distilleries (Brough Brothers and Fresh Bourbon Distilling Co) who distinguish themselves as the first of their kind in that state. There's also the Tennessee-based Uncle Nearest brand – which celebrates the untold history behind a slave named Nearest Green who showed Jack Daniel how to make whiskey. Du Nord's founder, Chris Montana, wants to be a part of distilling history too. He claims his Minnesota-based distillery is the first black-owned distillery in the United States.
The whiskey that I received is named "Mixed Blood" which is a double entendre meant to highlight the fact that this is a blend of whiskies. It also is rooted in a vision of the future where communities can come together towards common goals, regardless of their differences. This was made apparent to Chris after the death of George Floyd in the same city as Du Nord. Chris and his wife even set up a foundation that Addresses social justice through economic justice, wealth and prosperity. If you want to learn more about it, I encourage you to visit www.dunordfoundation.org to see how you can help.
Du Nord Mixed Blood Whiskey
Du Nord makes a variety of spirits, but what I'll be focusing on today will be their whiskey. From what I can tell, Du Nord Mixed Blood Whiskey is not your typical sourced whiskey. Their website is somewhat vague about its origins, but we know that this is a blend of their own whiskey and an unspecified sourced whiskey. The age statement says that it's not aged more than 2 years and the mash bill contains no malted barley at all. That last fact seems to rule out a lot of the usual suspects when it comes to who they sourced their whiskey from. Apparently, the mash bill comes out to 60% corn and 40% rye. It is also not explicitly stated why this is a whiskey instead of a bourbon, but I have two theories. The first is that this could be a blend of rye whiskey and bourbon (or corn whiskey). The second theory is that the distillate might be aged in used barrels. I suspect it's the latter because of this excerpt on their website: "To complement its spicy notes, we select whiskey barrels that deliver sweetness and depth." I don't know how a person would go about selecting a barrel with these characteristics before it ever ages whiskey inside of it, so I'm wondering if they didn't source barrels from a distillery whose bourbon they enjoy and re-use them. Both of these points may also be the reason why this is labeled a whiskey and not a bourbon.
But if it's distilled from grain and aged in a barrel, I'm going to want to taste it – so when this arrived at my doorstep courtesy of their distillery, I opened it up to see what it was all about. As usual, I sampled this neat in a glencairn.
Tasting Notes
Nose: This has an interesting nose that leans heavily towards a low-proof, sherried single malt Scotch (which is ironic because the mash bill contains no malt). It's sweet but has virtually no oak influence. The two main notes I find are vanilla creme and warm honeybuns.
Palate: A viscous mouthfeel is an unexpected treat to find. Flavors of sweetened cherries and apricots, flat Sprite and a touch of honey follow. There is not a single tannic note to be found, so the whiskey has to rely on other tricks to impress the drinker. There is very little alcohol burn to be picked up on, but I was somewhat expecting that with the low proof. If anything, there are a few rye spice pops that help round out the experience by adding ground pepper and a bit of cinnamon candy.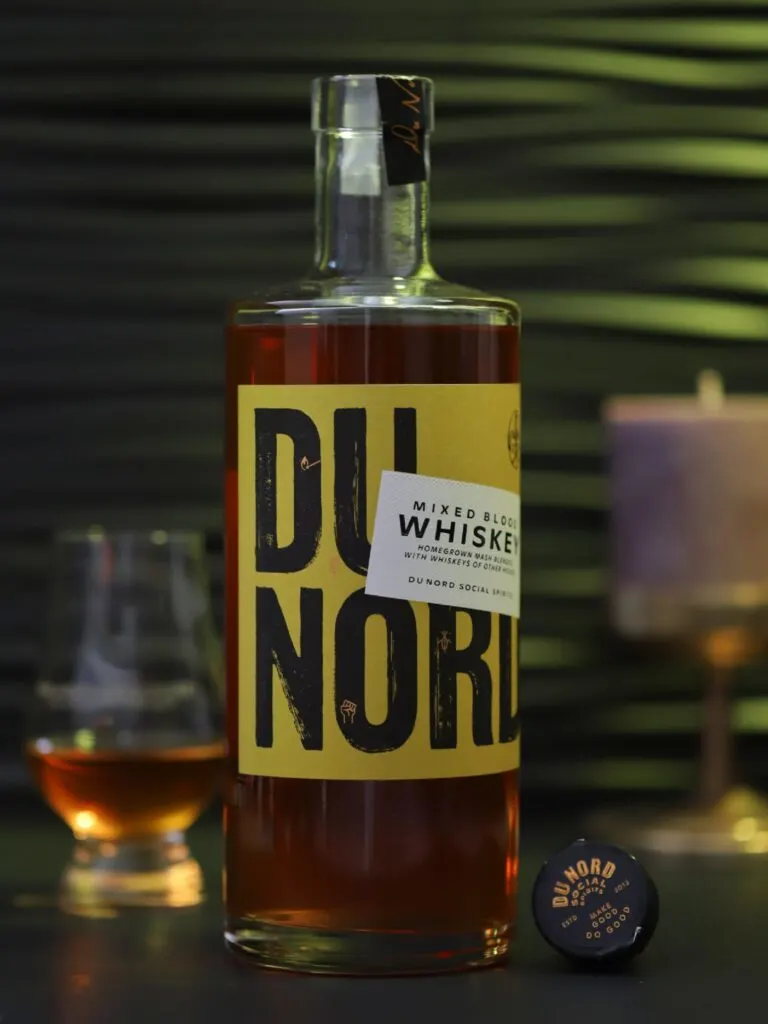 Finish: Sweet spoonbread notes linger for a short period of time followed by more of the ground pepper and cinnamon. The finish is simple, yet balanced, but only lasts for a short amount of time before disappearing.
Score: 5.5/10
I need to remember my audience for a spirit like Du Nord. That probably does not include enthusiasts that have cupboards and closets full of high proofed, high aged bourbons. But it should appeal to the cocktail maker and occasional straight sipper. It's also worth noting that it's not like Du Nord is marketing this bottle towards anything other than people who are looking to have a good time in a social setting, not discuss the tasting notes and story behind the brand. In that case, they've succeeded.
Final Thoughts:
If you're looking for a reason to buy Du Nord Mixed Blood Whiskey above more widely known and available whiskies out there, consider the following: Most 80 proof whiskies have had flavors and coloring added to their final product to achieve a sense of drinkability. What makes Mixed Blood so different is that on top of those likeable flavors, there is a mouthfeel that you don't find in your normal bottle of Seagrams/Crown (or whatever your 80 proof whiskey of choice is). This is attributed to a "cold cook" process that Chris Montana says they implement. I tried to look up more information on what that is exactly, but found nothing. Suffice to say, if it's creating a mouthfeel like this on an 80 proof whiskey, it's good enough for me.
But the real reason you'll want to support Du Nord is how they're trying to create a better community through making spirits aimed at the social aspects of drinking adult beverages. And perhaps if we all shared a little bit more and talked with people that don't hold the same views as we do over a drink or two, maybe the world will be a little bit better of a place to live.
Featured Products
Description:

The Aged & Ore Neat Traveler is a complete travel kit for spirits. We combined our widely praised Neat Glass with one of our 3oz Flight Bottles and housed them together in a custom EVA travel case. Perfect for a night away with your favorite pour. The tie
Description:

The Aged & Ore Bottle Flight is a premium set of 4 custom silicone wrapped glass bottles designed to transport and share samples of your favorite spirits. The flight bottles come in a custom EVA travel case that fits perfectly in any small bag. An Aged &
Description:

This Bundle combines two of our crowd favorite products, creating the ultimate travel bundle to bring along your favorite spirits and glassware. Bundle Includes: Neat Traveler (Gray) Bottle Flight (Gray) Note: This bundle is only available in gray and col
*Bourbon Culture is reader-supported. When you buy through links on our site, we may earn an affiliate commission.