*Bourbon Culture is reader-supported. When you buy through links on our site, we may earn an affiliate commission.
New Riff is back at it again, releasing yet another "Whiskey Riff" release. The summer of 2021 saw a distillery-only release of a 6 year old rye whiskey with the unique trait of using close to 100% malted rye in the mash (in reality, there is a tiny percentage of un-malted rye that is used; 5%). Malted rye is unique just by itself, but a whiskey made completely out of it? It's never been done to my knowledge. After its release, New Riff announced that it would become a permanent addition to their lineup.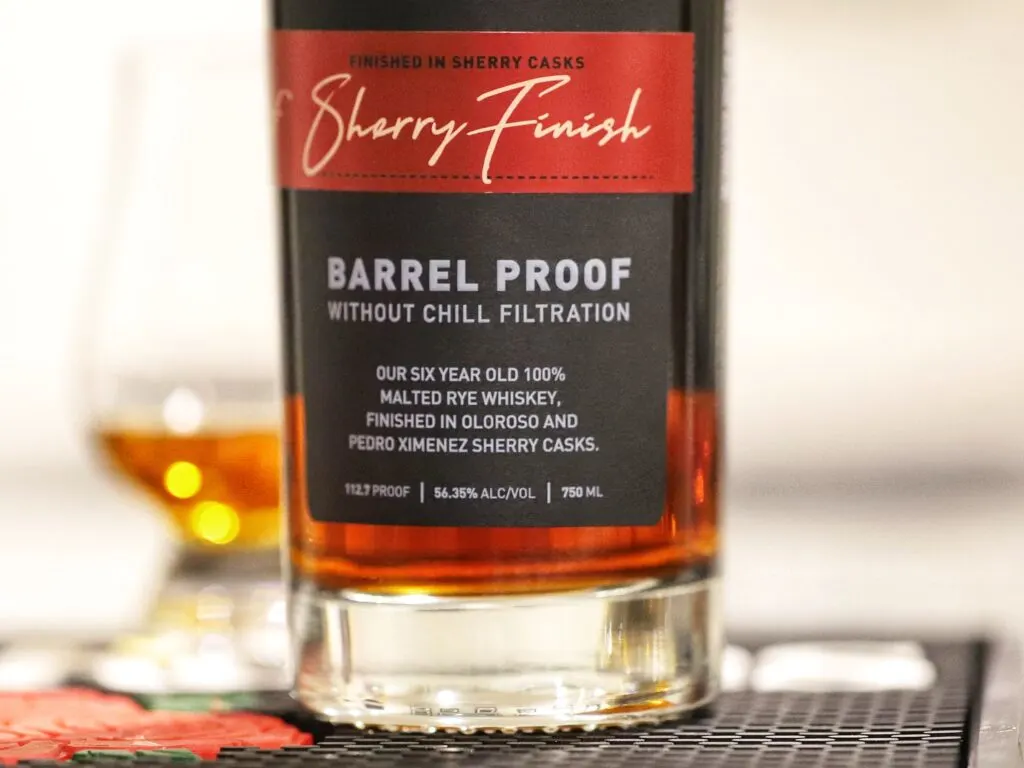 Looking back on the previous Whiskey Riff's, it has always been the standard practice to bottle them under the rules of the Bottled in Bond Act of 1897. This makes New Riff's decision to release this new Sherry-Finished Malted Rye Whiskey at cask strength so intriguing. Why choose this release to be bottled at cask strength? Why not do it with Balboa Rye or Backsetter? Whatever the reason is, I hope that it becomes a trend.
New Riff Sherry Cask Finished Malted Rye Whiskey
Taking a closer look, New Riff has sourced 15 Sherry Casks to finish the rye whiskey in. But these aren't ordinary Sherry Casks from Europe that are typically over 130+ gallons – these are 53 gallon sized barrels. Huh? New Riff offers no explanation on this, but I think it's because these barrels were seasoned with Sherry Wine after they were used in their other life. Or maybe they're brand new and had some Sherry added in to soak the wood a bit? Regardless, there is more than one way to skin a cat and New Riff seems to have came into this special bottling with a plan from the start.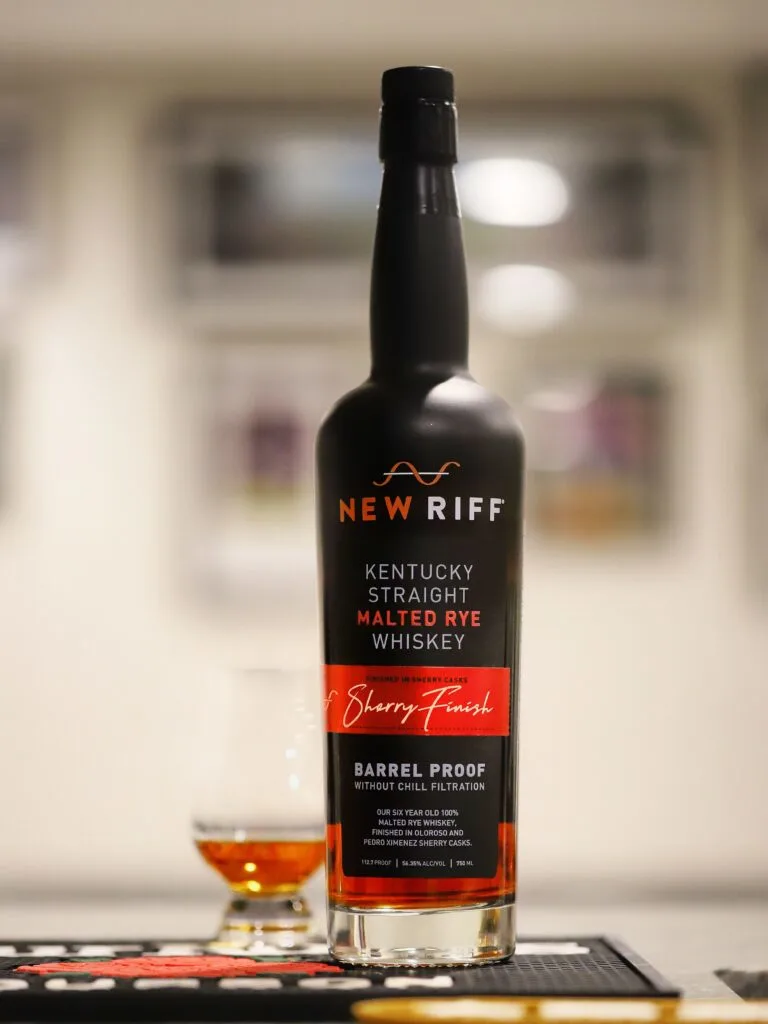 One more item to discuss in regards to the Sherry barrels (I don't know what to call them, casks or barrels) has to do with the kind of Sherry that was used. There are 7 main types of Sherry styles out there. If you're into Scotch, you would typically assume that if a product is labeled just "Sherry Finished" that it would mean it was Oloroso Sherry. If it was anything other than Oloroso, that type of Sherry would typically be spelled out on the label (my favorite tends to be Palo Cortado). But New Riff has mentioned that only 12 of the 15 sherry barrels were Oloroso. The remaining 3 were Pedro Ximenez, the sweetest kind of Sherry in my opinion. There must have been a reason for why they decided to do a split, and I hope by tasting this bottle it'll show me why.
So without further ado, let's taste this and see how they did. Anything has to be better than last winter's release of Red Turkey Wheat, right? Here we go. I sampled this neat in a glencairn.
Tasting Notes
Nose: I kind of expected this, but the first scent I detect is sweet red wine notes. There is also a fair amount of tangy acidity that springs up from the glass. Savory herbal notes pair well with sweet brown sugar cookies too. All of the bright and heavy finishing notes seem to obstruct a majority of the oak though.
Palate: The funky malted rye notes I found in a previous review of the 6 year unfinished version seem to be much more toned down now (but still are present). There are lots of sweet, condensed stone fruit notes (apricot!) as well as ample dessert wine flavors. White grape juice and orange marmalade continue the fruity onslaught. I still can't find much oak, but leather is noticeable and maybe the only tannic note I get out of this. In other words, there's no youthfulness, but there's no aged qualities that seem to have developed yet.
Finish: More of the same on the finish, the sweet fruit notes are everywhere. Cherry, grape concentrate and mulled wine. Allspice and toasted cinnamon stick also join the party and add a nice finish of spice that was somewhat lacking from the nose or palate. It's very pleasant.
Score: 7.8/10
Looking back at my previous notes for the 6 year old malted rye that was released the year before this, it was obvious that I was not as impressed with the profile. The malted rye removed much of the spice that drinkers have come to love about rye whiskey while also replacing it with a degree of musty funk, herbal notes and strange earthy qualities. There were also plentiful espresso bean and chocolate notes that may be welcomed by some, but not me. It didn't seem as put together as other whiskies that have used portions of malted rye in their mash bills. Luckily with this release, the Sherry notes really help mask the odd funkiness of that malted rye and turn it into a rather enjoyable tasting whiskey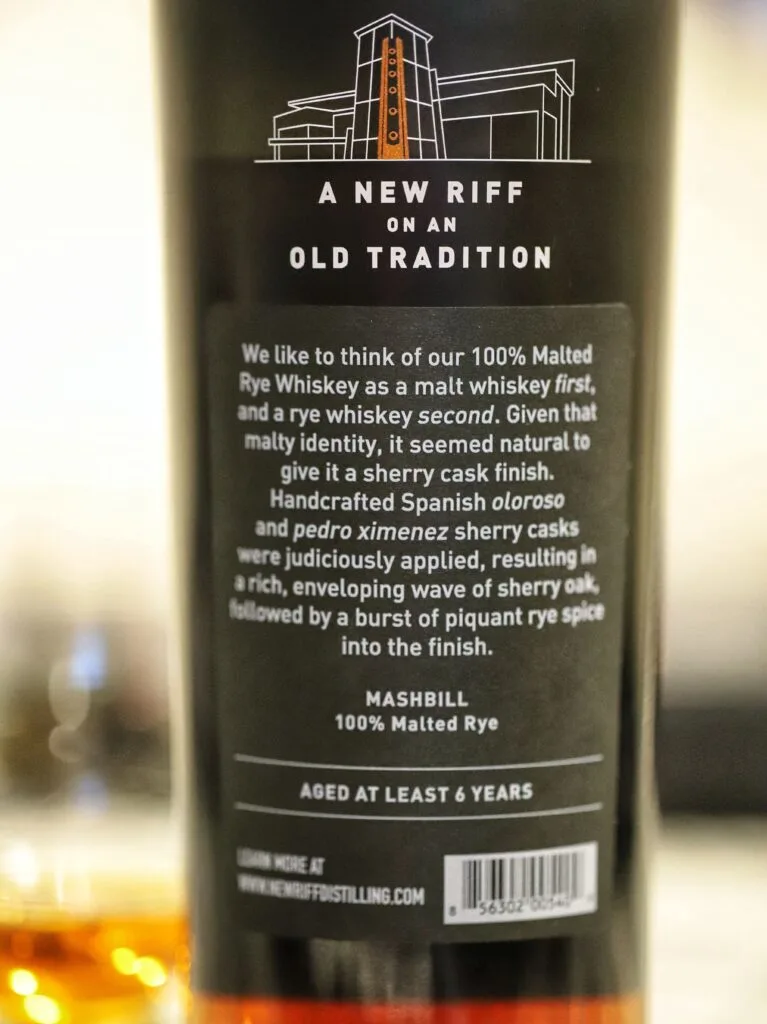 Final Thoughts
The added proof of this release gives this bottle of New Riff exactly what the enthusiasts have been clamoring for. The only way to get cask strength versions from this Newport, KY distillery so far has been to buy the 4 year old versions of bourbon or rye whiskey. So congratulations are in order to the person who got the green-light from Ken Lewis (New Riff's founder) to let them finally bottle something older at cask strength. I could imagine this being a knockout if it was bottled at 9 or 10 years old.
As it stands, this bottle just barely misses the mark to earn a "great" rating. However, for the first time in a while, I will admit that this Whiskey Riff release is a bottle that is well worth the asking price (around $70) and more. That's not something I often say about these semi-annual releases. I do have one suggestion if the team at New Riff is reading my review right now: why did you feel compelled to use the malted rye whiskey to finish in those Sherry barrels? Why not your regular rye whiskey recipe or Balboa? The malted rye was certainly an acquired taste, but apparently enough customers liked it for you to add it to your permanent portfolio of whiskies. Why then cover up most of those funky notes with Sherry? It's just a thought I had, but one that shouldn't stop you from enjoying a pour (or buying a bottle) of this if you are a person who loves fruitier tasting ryes.
Featured Products
Description:

The Aged & Ore Neat Traveler is a complete travel kit for spirits. We combined our widely praised Neat Glass with one of our 3oz Flight Bottles and housed them together in a custom EVA travel case. Perfect for a night away with your favorite pour. The tie
Description:

The Aged & Ore Bottle Flight is a premium set of 4 custom silicone wrapped glass bottles designed to transport and share samples of your favorite spirits. The flight bottles come in a custom EVA travel case that fits perfectly in any small bag. An Aged &
Description:

This Bundle combines two of our crowd favorite products, creating the ultimate travel bundle to bring along your favorite spirits and glassware. Bundle Includes: Neat Traveler (Gray) Bottle Flight (Gray) Note: This bundle is only available in gray and col
*Bourbon Culture is reader-supported. When you buy through links on our site, we may earn an affiliate commission.