*Bourbon Culture is reader-supported. When you buy through links on our site, we may earn an affiliate commission.
A month or so ago I did a review where I compared a bottle of Noah's Mill that was bottled in 2010 versus one from 2020. The differences were striking and highlighted how much the bourbon inside had changed over a span of 10 years.
The big reason behind that change was the fact that in 2010, Willett was still sourcing all of their whiskey from other distilleries to create their products. By time 2020 rolled around, virtually all of their products were created using distillate that was made and aged at their own distillery in Bardstown.
Rowan's Creek Bourbon
This exact same story applies to Rowan's Creek. Rowan's Creek was always considered to be a step below a label like Noah's Mill – carrying less proof and less overall age(once upon a time, Rowan's Creek was age stated 12 years old) for less money. But that didn't mean it was an inferior product – just one whose appeal was in its easier drinkability and easier on the wallet.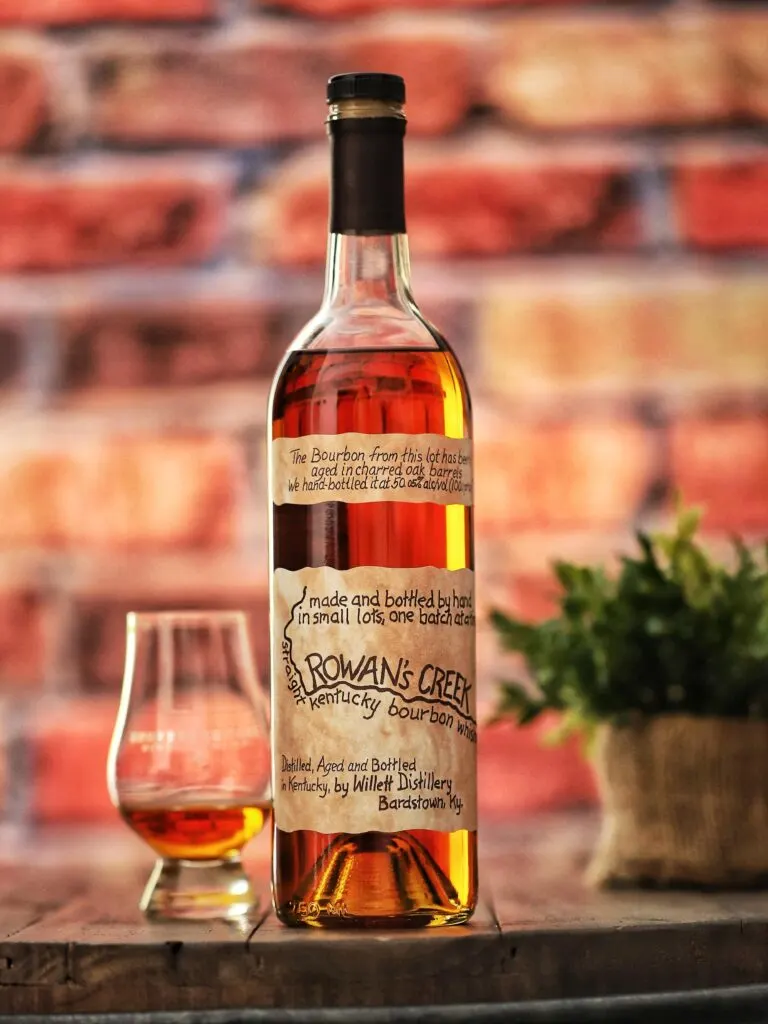 With this review today, I would like to compare this 2021 bottle of Rowan's Creek shown in the picture to an older batch, but I do not have access to one at the moment. Still, knowing what we know about Willett and their switch to bourbon made with their own sweat and blood, this should show us if this 100.1 proof, non-age stated $40 bottle is a good value considering other bourbons on the market today.
Back in the 90's, 00's and early 10's, Rowan's Creek, along with the other 6 standard batched labels that Willett produced, was made of a blend of various sourced bourbon. The likely source of a majority of the bourbon came from the Bernheim Distillery in Louisville.
It also carried with it a 12 year age statement for a small time, likely ceasing around 2006 just like Noah's Mill did. Willett wanted to create differences between each core label that they made so they created four distinct bourbon mash bills.
They are 72/17/15, 79/7/15, 52/38/10 (corn/rye/malted barley) and one wheated recipe that is 65/20/15 (corn/wheat/malted barley). Willett has said that modern version of their Pot Still bottle contain the wheated recipe while Johnny Drum uses the incredibly high-rye 52/38/10 version. Having had modern Noah's Mill, I can only assume that Rowan's Creek uses one of the two "high-corn" ryed mash bills although to be honest, all of their modern bourbon recipes taste high-rye to me.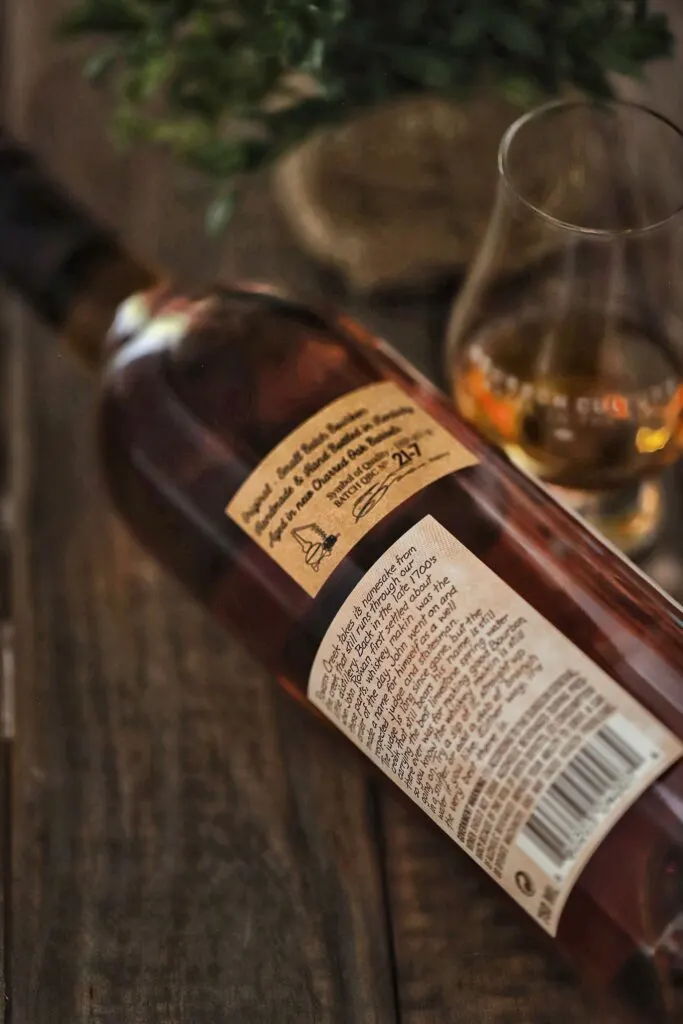 So with all of this in mind, it's time to get down to tasting this bottle to see what it's like. I sampled it neat in a glencairn.
Tasting Notes
Nose: The nose starts off very grassy and rye-forward. Caramel and honey add a sweetness to all of those earthy, outdoors-y scents that tell you that this might have a higher rye content than normal. Mint, hay and underdeveloped oak meet spices like cinnamon, black licorice and fennel seed.
There's even the dual combo of Jasmine Tea and coffee grounds. Frankly, it has a lot of traits that a craft distillery-produced bourbon would have.
Palate: Sweet flavors of honey and Ricola Cough Drops on the tongue compete with lots of raw spice (cardamom, cinnamon and peppercorns). Notes of ginger tea, mint and pine needles keep the rye-forward traits going along with orange peel for a fruity effect. Honestly, drinking this makes me wonder if this isn't what a 4 year old version of Four Roses OBSF recipe would taste like.
Finish: Youthful flavors remain upon the finish, but the heat and intensity die down a bit exposing more of a relaxed sip that isn't trying to do so much at once. Cinnamon, honey and vanilla combine with peppermint candy cane and a bit of oak. For all of the loose ends that the nose and palate contained, the finish actually wraps them up kind of nicely.
Score: 6.3/10
If Rowan's Creek was a $40 bottle of NAS bourbon from a nearby craft distillery, I'd have no problem buying it to support a local business. It shines in some areas and is rough in others, but overall doesn't have any off-putting traits to make me pour it out.
The proof seemed perfect for what it was and I was cool with it tasting more like a rye whiskey than it should have. But knowing that it's a Willett brand, there's little chance I'll be running out to buy a bottle of my own. The value proposition of a bourbon like this just doesn't stack up against other more competent bottles at this proof and price point.
Final Thoughts
If you're new to my reviews, then you should know that Willett has taken full advantage of the recognition and hype that their history has on products carrying these old names. Rowan's Creek was a great product back in the day when it was sourced from other distilleries and wore a 12 year old age statement.
But times have changed and all of that delicious old bourbon and rye whiskey has dried up now. This has made Rowan's Creek lose its luster. At the current price it's sold at ($40), the list of other competitor's bottles that can match and beat it is rather long.
All of this is to say that if you are like me and keep passing by bottles of Rowan's Creek on the shelf and thinking to yourself "I need to buy that sometime to see what it's like," then worry no more. It's not something that will expand your world more or give you a revelation when you drink it. What it really needs is some more time in the barrel so that it can become a better version of itself in the future.
Now we'd like to take a minute and talk about this posts sponsor, Enamelpin.com. There's nothing like the subtle nod of lapel pin. Show support for your favorite distillery or brand with a custom enamel pin. Enamelpin.com offers a free online design system to help producers complete their customizations and ship them quickly.
Featured Products
Description:

The Aged & Ore Neat Traveler is a complete travel kit for spirits. We combined our widely praised Neat Glass with one of our 3oz Flight Bottles and housed them together in a custom EVA travel case. Perfect for a night away with your favorite pour. The tie
Description:

The Aged & Ore Bottle Flight is a premium set of 4 custom silicone wrapped glass bottles designed to transport and share samples of your favorite spirits. The flight bottles come in a custom EVA travel case that fits perfectly in any small bag. An Aged &
Description:

This Bundle combines two of our crowd favorite products, creating the ultimate travel bundle to bring along your favorite spirits and glassware. Bundle Includes: Neat Traveler (Gray) Bottle Flight (Gray) Note: This bundle is only available in gray and col
*Bourbon Culture is reader-supported. When you buy through links on our site, we may earn an affiliate commission.