*Bourbon Culture is reader-supported. When you buy through links on our site, we may earn an affiliate commission.
The entirely reimagined Benchmark line of bourbons was launched right around the time that the pandemic forced a nationwide lockdown in 2020. As a resident of Indiana, I believe that we were the only state that received the new range of bottles for at least the first 12 months that they were on the market. That's an odd precedence that I don't think we've had the privilege of before.
This new Benchmark lineup is yet another attempt at streamlining labels of a particular brand to the vision that Buffalo Trace has mapped out. What I mean by that is that Buffalo Trace is trying to have every label they produce offer several versions. These will span multiple proofs, ages and price points. Weller was the first and most famous for having 6 different versions. Next is EH Taylor who will also have 6 different labels after the release of Barrel Proof Straight Rye comes out. And now it looks like the Stagg brand is getting ready to do the same thing.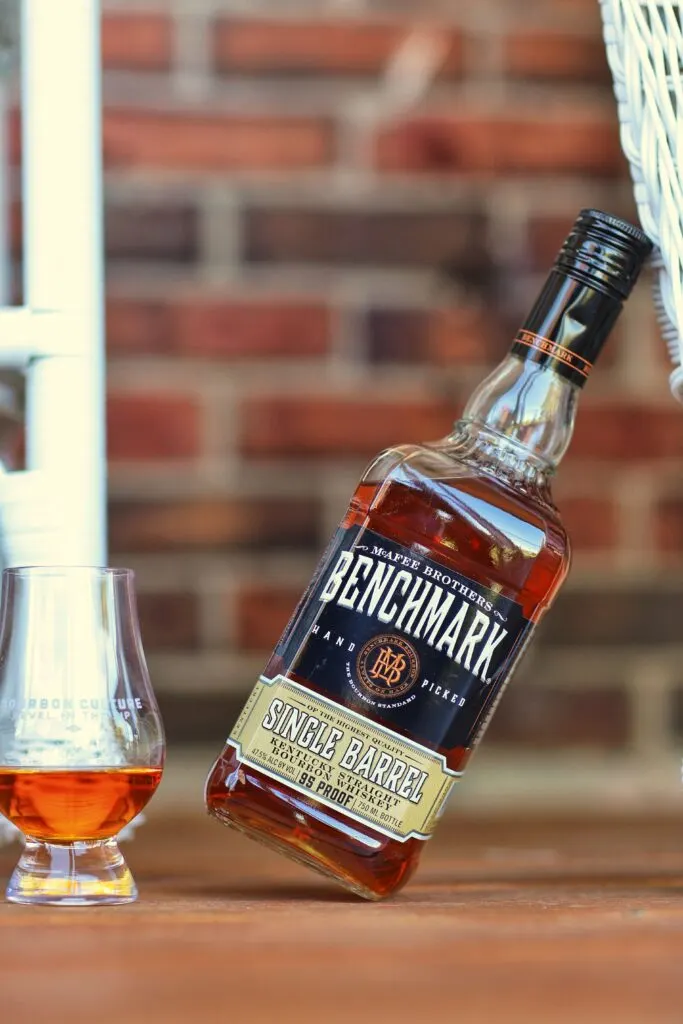 Benchmark Single Barrel Bourbon
The Benchmark line of bourbon is the most budget-conscious version to follow this form with 6 different versions designed to satisfy every kind of drinker. The standard 80 proof bottle remains but now there are Small Batch, Top Floor, Single Barrel, Bonded and Full Proof versions. All are priced under $25 at retail (if your store has it for more, it's because they're trying to make more profit).
This review has been a long time coming because I've been procrastinating. I have thought favorably of the other bottles in the lineup as a whole because of how good they have been for the price. Will my thoughts remain the same for the Single Barrel? Let's take a look. I sampled this neat in a glencairn.
Tasting Notes
Nose: The nose is somewhat simple and straightforward. At 95 proof, there isn't a lot of strong scents, but the ones I do find are very nice. Cherry syrup, vanilla and light brown sugar paint this bourbon as a bit on the sweeter side. Amazingly, no really youthful notes catch my attention. Strangely enough, I get a passing whiff of butterscotch; a scent I typically find in bottles of EH Taylor Barrel Proof. That's exciting!
Palate: The mouthfeel is somewhat thin. That's probably to be expected on a 95 proof, chill filtered bourbon like this. But the flavors are still nice and rounded. I can find flavors of cinnamon spiced apples, cherries and vanilla. Coupled with a sort of crème brulee taste, I would say that this bourbon is pretty perfectly balanced as far as sweet notes go. There's even a bit of toasted oak. My expectations have been exceeded at this point.
Finish: Lingering oak spice couples with a bit of leather. There's a bit of residual caramelized sugar for sweetness. The fruit notes kind of disappear on the finish, which is disappointing, but sometimes I feel like I can still taste a bit of the apples from the palate.
Score: 6.2/10
This is a very well-done budget bourbon. Benchmark Single Barrel is supposed to be a bit more costly at retail than Full Proof (despite being 30 proof points less) which may hint to better barrels being chosen for it. I don't know this to be entirely true because Buffalo Trace, like other Kentucky distilleries who produce budget single barrel bourbons, provides no identifiable information on warehouse info or barrel location during the aging. However, I would say that this bottle should win in an overall budget-bourbon showdown with all other bottles at the $25-and-under price point.
Final Thoughts
This bottle of Benchmark Single Barrel can compete with a standard bottle of Buffalo Trace despite the latter costing $5-10 more depending on where it's being sold. That's a pretty good value for the money. I'm not saying it's going to be able to beat Buffalo Trace in a blind comparison, but I am saying that it'll be close. A typical bottle of Buffalo Trace is a blend of barrels aged from 7 to 9 years old (typically) while this bottle of Benchmark Single Barrel is certainly no older than 5 years old, hence the absence of oak I noticed throughout. But through the magic of filtration, I noticed an absence of youthful notes while it highlighted fruit and other sweet notes. This bottle could wear the nametag "Buffalo Trace Jr" and get away with it because the quality is certainly there.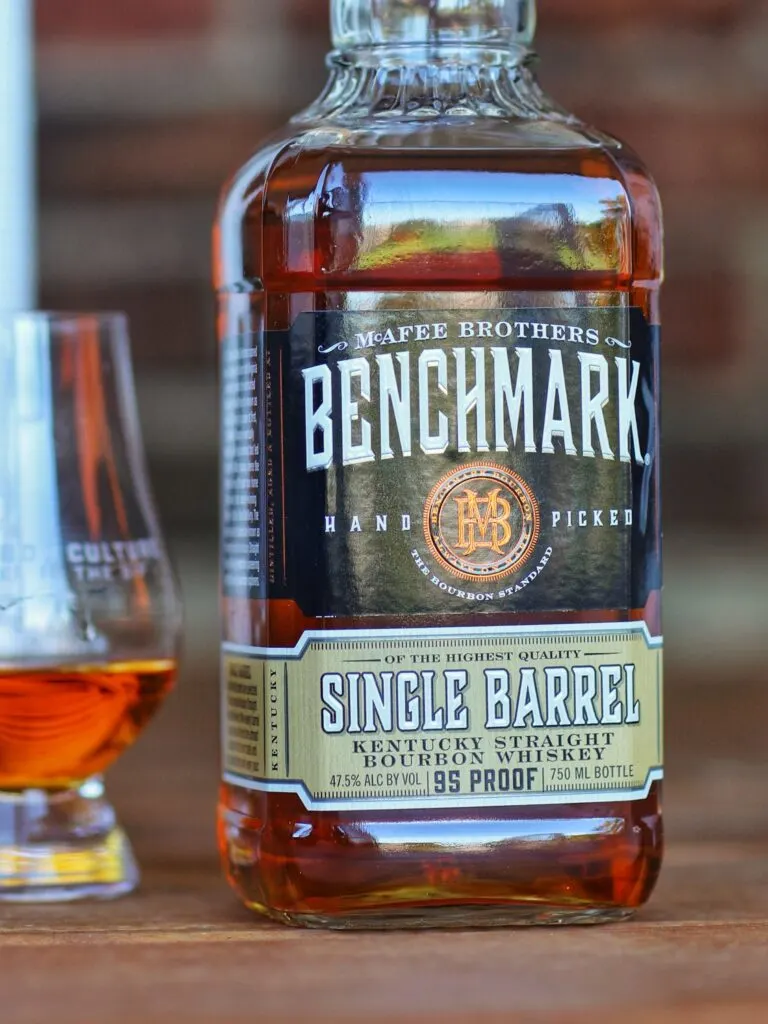 Compared to other budget single barrel bourbons, none really come close in price. They're all at least $10 more expensive while most are $20 more. Elijah Craig Single Barrels (the 94 Proof version) comes close, but starts at $30. Evan Williams Single Barrel (which is just under $40 and is now only available in Kentucky) is also in the conversation. But for the majority of competitors that are bottling single barrel bourbon, all seem to exceed the $40 price point. 4+ year old MGP bottlers, Jim Beam's entry level single barrel bourbon, Four Roses SiB, Wild Turkey Kentucky Spirit, Old Forester 100 Proof Single Barrel and Bulleit picks all are much more expensive. What this proves is that Buffalo Trace has decided to not only come into a niche market (budget single barrels), but to dominate it. So if you're looking for the best kind of bottle to stock your bar with this holiday season, one that can be either a sipper or a guilt-free mixer, then look no further than Benchmark Single Barrel. It's a steal of a deal.
Featured Products
Description:

The Aged & Ore Neat Traveler is a complete travel kit for spirits. We combined our widely praised Neat Glass with one of our 3oz Flight Bottles and housed them together in a custom EVA travel case. Perfect for a night away with your favorite pour. The tie
Description:

The Aged & Ore Bottle Flight is a premium set of 4 custom silicone wrapped glass bottles designed to transport and share samples of your favorite spirits. The flight bottles come in a custom EVA travel case that fits perfectly in any small bag. An Aged &
Description:

This Bundle combines two of our crowd favorite products, creating the ultimate travel bundle to bring along your favorite spirits and glassware. Bundle Includes: Neat Traveler (Gray) Bottle Flight (Gray) Note: This bundle is only available in gray and col
*Bourbon Culture is reader-supported. When you buy through links on our site, we may earn an affiliate commission.