*Bourbon Culture is reader-supported. When you buy through links on our site, we may earn an affiliate commission.
Belle Meade's Craftsman Cask Collection was full steam ahead at the end of 2019. The first seven releases were met with increasing fanfare and increasingly longer lines at the distillery on release day. The idea was simple: Take their aged stocks of MGP bourbon (averaging around 11 years old) and find unique casks to finish it in. Then release them as single barrels. As certain finishes became more popular, they began to release multiple single barrels of them with each drop.
Belle Meade Brandy Finished Bourbon
The eighth release was somewhat different. This would be the first time that the Craftsman Cask Collection saw a batched release (but more on that later). For whatever reason, Belle Meade decided that the finished product was not worthy of single barrel bottlings. The cask of choice this time around would be Spanish Brandy and it has a pretty interesting history behind them. Belle Meade tells us that the four casks they purchased date back to 1940 when a Spanish ship was enroute to Norway (perhaps to sell to a retailer) during the initial months of World War II. After leaving Spain, but before docking at port, the Germans had invaded Norway and captured (or were attempting to capture) their shipping ports. The captain of the ship decided to turn back around rather than risk the uncertainty that came with docking at a port during active war. Once these casks were back home, they were off-loaded and used for 75 more years to make Spanish Brandy until they were retired and sold.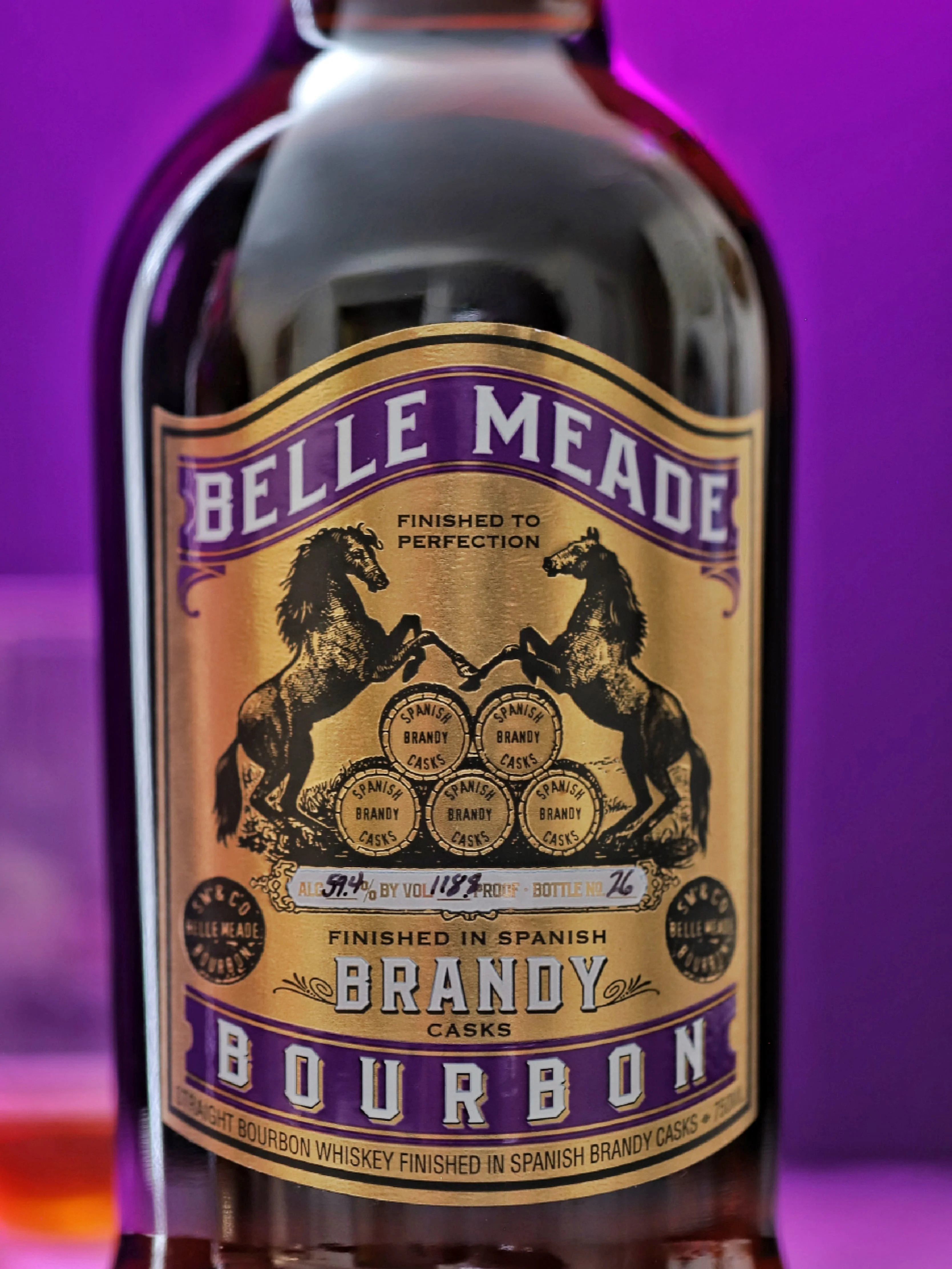 No details were given about the exact origins of these casks. There are many Spanish Brandy producers and I'm unfamiliar with all of them, so I don't even have a hunch about which one these would have come from. I even checked to see if Constellation Brands (which have been involved with the brand since 2016 before purchasing a majority stake in 2019) owned any brandy companies. I came up with none. We don't even know how large the casks are. They likely aren't 53 gallon, like the standard American barrel size.
If you've never been to the Belle Meade Craftsman Cask homepage, then here's what you're missing out on. The information is, at best, not updated. At worst, it's inaccurate. The website entry for this release of Spanish Brandy Cask indicates that the November 30, 2019 release was a single barrel release. Later on, I found out that the release actually contained two single barrels, one that was 118.8 proof and one that was 121.4 proof. The website declares that these were finished for 3 years. The release advertisement posted in October, 2019 on Twitter indicates that the barrels had been finished for 40 months; that's consistent with the website saying it was finished for 3 years, so far so good…
But where it gets really murky is that Belle Meade updated their website in 2020 to indicate that they were releasing a second round of Brandy bottles that had been aged an additional 12 months for a total of 42 months. Not only does this fly in the face of what the initial release stated, it would also be only 2 months older than the first release. They claimed it was a batch consisting of the other 2 barrels blended together (remember, they started with 4). This release was gradually put out at the gift shop in 2020 (and rumor has it, 2021) and wore a round, gold "DSP-TN-5" sticker on the right side of the label. It was also bottled at 118.8 proof. Wait a minute, so this release was the exact same proof as one of the single barrels from the initial release, despite being aged for longer and a blend of two barrels? That seems unbelievable.
I mention this because whenever there is a coincidence at Belle Meade, there is usually some kind of trickery going on. I don't know why the information on their website is so sketchy, but there is a pattern of incorrect or misleading information dating all the way back to the original 2018 Mourvèdre Cask release (where a photographer filled in an incorrect proof for Cask 4208) all the way to the 2022 release of Nelson Bros Honey Cask where they tried to disguise the fact that they were blending younger Kentucky bourbon in with MGP bourbon.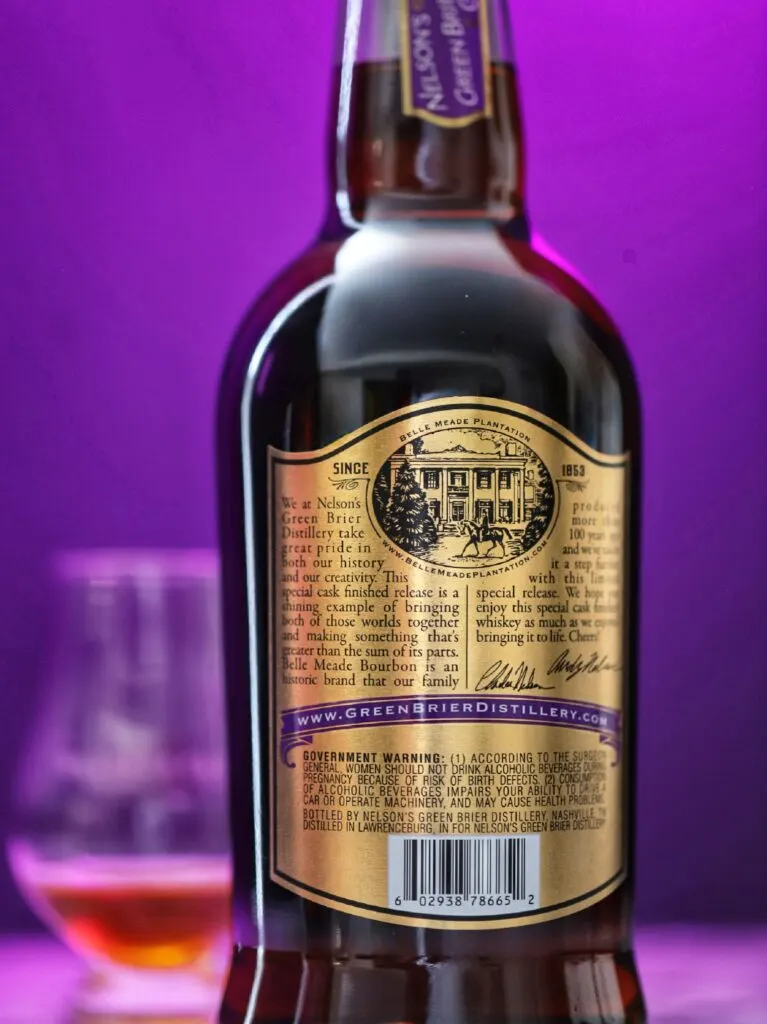 So with my sleuthing at a dead end (for now), how about I just shut up and try this bottle? I will start with a pretext that the tasting notes were done from a blind sample. I only found out what it was afterwards and I must admit, I was quite stunned. Here's what I thought. I tasted this neat in a glencairn.
Tasting Notes
Nose: If this isn't a bottle of Dickel, then I'm going to eat my hat. It's like I crushed up a bottle of Flintstone Vitamins and snorted them through a $10 bill. It is overwhelming. The fruits on this are incredibly robust, almost artificially so. Cherries, grapes and sweetened stone fruits all lead the way. I get a sweet nuttiness (caramel + peanuts?) and roasted corn. It's not young at all judging by this chocolate fudge scent I'm getting. I know there is a deep, mellow oak note but it's getting covered up by these darn vitamins.
Palate: Burnt toffee accompanies the multivitamin/mineral flavors. The fruit that I found on the nose turns into the dried variety (ala Trail Mix) and are very sweet. The chocolate notes have a hint of something tangy and acidic to it. I can't quite put my finger on it. Whatever it is, it's coming off as less sweet than it was on the nose. Due to the strange flavors being smothered with multivitamins, it's hard to tell if there is much oak overall. I haven't had a bourbon that shared these traits since my last bottle of Smooth Ambler Old Scout Single Barrel Select (13 Year Dickel).
Finish: The color and flavors of this sample reminds me of this dark, almost black looking bourbon that ended up being a Penelope bourbon (MGP) finished in PX Sherry Casks. It's just as fruity too. At this point, I'm thinking this is a finished Dickel product. But which one? The tangy-ness is not exactly like Sherry. In a way, it's more like the Bardstown Bourbon Company Goodwood Brown Ale finished bourbon that ended up being 9 Year Old Dickel finished in brown ale casks. Perhaps the ale/beer is giving it this weird vitamin tang effect. That's what I'm going with.
Score: 4.9/10
As I was contemplating a closing opinion on this bourbon, I was trying to decide if the vitamin notes were too polarizing to make me outright hate this bottle or not. In full disclosure, I am a bit of a Dickel lover, so I didn't immediately hate it. Hate would be a strong word anyway because as I continued to drink it, I just thought for sure what I was drinking was Dickel, albeit it some of the most vitamin-forward Dickel I've had in years. But when it was revealed that it was actually 11-year-old MGP bourbon that was finished for ~40 months in a Brandy Cask, I felt as if the bourbon had become more of an abomination to its original form. I would have guessed so many other distilleries over MGP being the base for this whiskey. The brandy casks had altered the entire character of it. Additionally, why did they let it finish so long in these casks? This tastes like it should have been dumped at the 6-month mark.
Final Thoughts
There has never been a whiskey that my friends (who have tried it) and I have come to a unanimous decision on before Belle Meade Brandy Cask came out. But as they all got a taste, they all had the same opinion; this is the worst Craftsman Cask release that Belle Meade has put out. Ask any Belle Meade nut to list the order of finishes from best to worst and Brandy is consistently at the bottom. For barrels that had such a fascinating story with such rich history, that's sad to admit.
Craftsman Cask Collection bottles tend to have a decent secondary market value ever since it was announced that the Belle Meade brand was ceasing to exist. But the Brandy Cask has consistently dropped in value. If you must know what I paid for mine, I didn't, I traded it for a Blanton's Straight From The Barrel. Looking back, I regret that trade now but at least I have a bottle that has a little bit of history behind even if it tastes like medicine. But it's a shame that the bourbon inside is so bad, because that makes it hard to swallow.
Featured Products
Description:

The Aged & Ore Neat Traveler is a complete travel kit for spirits. We combined our widely praised Neat Glass with one of our 3oz Flight Bottles and housed them together in a custom EVA travel case. Perfect for a night away with your favorite pour. The tie
Description:

The Aged & Ore Bottle Flight is a premium set of 4 custom silicone wrapped glass bottles designed to transport and share samples of your favorite spirits. The flight bottles come in a custom EVA travel case that fits perfectly in any small bag. An Aged &
Description:

This Bundle combines two of our crowd favorite products, creating the ultimate travel bundle to bring along your favorite spirits and glassware. Bundle Includes: Neat Traveler (Gray) Bottle Flight (Gray) Note: This bundle is only available in gray and col
*Bourbon Culture is reader-supported. When you buy through links on our site, we may earn an affiliate commission.