*Bourbon Culture is reader-supported. When you buy through links on our site, we may earn an affiliate commission.
Smoke Wagon saw a meteoric rise in popularity in the Fall of 2019 as consumers caught on to the fact that they were selling older, age-stated MGP bourbon while other sources were drying up. Ever since Smooth Ambler began to run out of the huge stockpile of barrels they had in 2016, MGP-nuts jumped from brand to brand to get their fix. Chattanooga, Belle Meade, Blaum Bros, Litchfield and Boone County all saw their inventory drained almost overnight.
One of the secrets, or maybe it was an advantage, was that Smoke Wagon wasn't sold in that many markets at that point (and they still aren't). This meant that less people had access to them meaning they'd last longer at the locations they were sold. But eventually even Smoke Wagon ran out of aged stock and is forced to play the waiting game (for new-fill barrels of MGP to finish aging) like so many others.
Smoke Wagon Private Barrel Bourbon
You can view MGP's rise and fall of age-stated bourbon through their Private Barrel program. "Private Barrel" was the name given to their single barrel selection program and was denoted by wearing a red wax seal on the front of their bottles. In the beginning, Smoke Wagon was selling 10 year old (but also a few 9 year olds that were released to the local casinos) bourbon that was bottled at cask strength. Most of these releases stayed local to Las Vegas liquor stores or were sold in California. However, 2019 saw a wave of 12 year old barrels begin to trickle out to the other states that they started to expand to, including the East Coast. Consumers were so fast to buy them up that businesses (Crazy Naz in particular) were known to "steal" another group's Private Barrel.
As with all of the previously mentioned Non-Distiller Producer Companies, Smoke Wagon saw the end of their supply coming. This resulted in a last-gasp effort to bottle up some 13-year-old barrels and also briefly finding a Lot of 8-year-old barrels that they could use too. Those 8-year-old Private Barrels still sold out just as quickly as the double-digit aged barrels from the previous few years.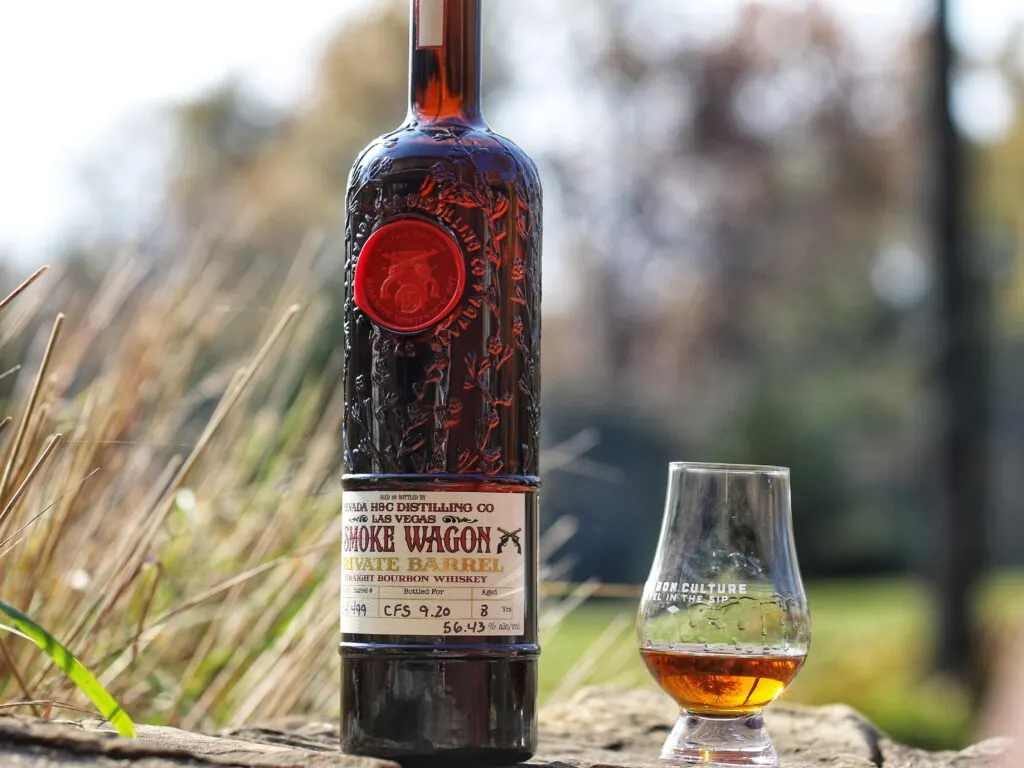 Today's review centers around one such 8-Year-Old Private Barrel that was picked by Canal's Liquor Store in New Jersey in September, 2020 (hence the 9.20 on the label). And although I'm not 100% sure about this, I believe the Warehouse "WC4" indicates that it came from Warehouse C (which is one of the old brick Seagram's warehouses in Lawrenceburg, IN) on the fourth floor and was stored on the west-facing side of that floor. Of course, just like all Smoke Wagon bourbon's, it uses the 60/36/4 high-rye bourbon mash bill from MGP as well as uses the "V" Yeast strain that is shared between them and Four Roses. A quick fun fact is that all of Smoke Wagon's private barrels that are marked with a warehouse designator seem to come only from Warehouse's C or G (G is the giant warehouse that you see at the front gate of MGP) and between floors 3 and 5.
Having been impressed by 10, 12 and 13 year examples of Private Barrels in the past, I want to see how this 8 year old one stacks up. Is it just as good? Let's find out. I sampled this neat in a glencairn.
Tasting Notes
Nose: The nose carries its high-rye recipe well with notes of brown sugar, mint and citrus (orange) zest that reminds me of the classic 95/5 rye whiskey notes. It's still plenty sweet with a good amount of fruit to be found throughout like black cherries and some raisins. The "buttery" trademark scent is easy to detect and comes off like an all-butter pie crust. I can even detect a nice layer of vanilla too. The one thing that isn't as strong as I thought it would be on the nose? Oak. It's still there, but nowhere near as dominant as it was on the 10-13 year old barrels I've tried in the past.
Palate: The fruit notes stand out first with more cherries and citrus fruit flesh. The spices amp up with notes of cinnamon and anise (licorice). But whereas the nose didn't impress me with its oak, the flavors I find on the palate show that they are all still here. Seasoned oak, barrel char and leather add a nice depth of age. Honey keeps things sweet and vanilla cream round everything else out. This is a hard-hitting, classic MGP bourbon right here.
Finish: The finish, just like the palate, maintains that fruit-forward flavor profile with cherries, citrus, raspberries and even apple pie filling all coming together with a sprinkling of baking spices. The brown sugar keeps it all nice and sweet while toasted oak adds the age that is needed for a great finish.
Score: 8.2/10
This 8-year-old example of a barrel that spent its life in Indiana before making the trip to the Las Vegas facility shows just how good they can be. Of course, Aaron sorts through them (by tasting each one) to find the ones that stand out and I'd say that this one passed with flying colors. It has the perfect package of well-aged notes, the perfect amount of heat and rye influence and showed off just how fruit-forward MGP's 36% rye bourbon mash bill can be.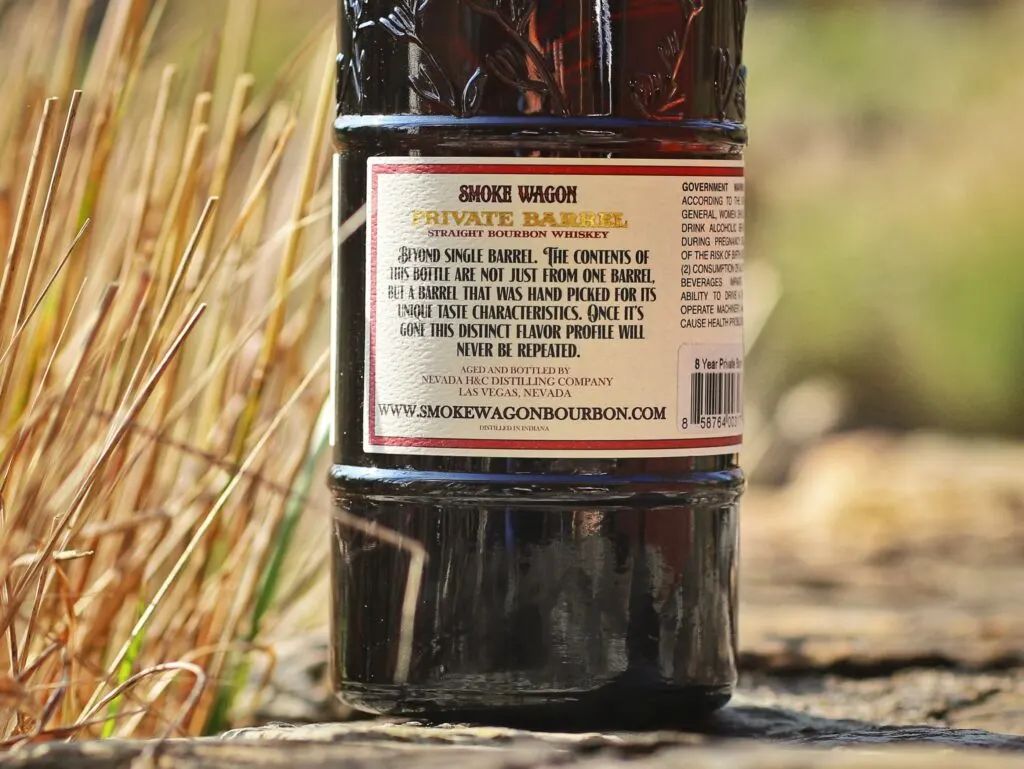 Final Thoughts
Even though the end of 2020 saw the Private Barrel program disappear, or at least get put on hiatus, I believe it will be back before we know it. MGP didn't just start to fill barrels in the last few years, they have had a massive effort at churning out lots of new distillate starting in 2013 which was matched by a massive warehouse expansion project which saw the building of new metal warehouse at the Lawrenceburg facility, the purchasing of Old Quaker brick warehouses that butt up against the MGP campus and the purchase of more warehouse space being bought in the surrounding communities of Indiana and Kentucky. If I were a guessing man, I'd say that by at least early 2024 we should see a resumption of the Private Barrel Program using, at a minimum, 8 year old barrels.
These initial Smoke Wagon Private Barrels were reasonably priced when new, but have taken on a life of their own on the secondary afterwards. Some 12 or 13 year old barrels have hit crazy highs of $800 or more for them in 2021. The newly-developing secondary crash (or at least, droop) that is going on right now in late 2022 is seeing those prices drop, but there is still a rabid fanbase that not only sets the tone for these valuations but also seems to buy and sell internally to one another. That is why you rarely see these pop up in more mainstream secondary market sites. So while I will gladly tell you how good these can get, I will absolutely not condone the stupid-high prices these fetch on the secondary market. If you are worried about missing out, hold on a little while longer and you should be able to start to see the Private Barrels back on the market in more quantity than before.
Featured Products
Description:

The Aged & Ore Neat Traveler is a complete travel kit for spirits. We combined our widely praised Neat Glass with one of our 3oz Flight Bottles and housed them together in a custom EVA travel case. Perfect for a night away with your favorite pour. The tie
Description:

The Aged & Ore Bottle Flight is a premium set of 4 custom silicone wrapped glass bottles designed to transport and share samples of your favorite spirits. The flight bottles come in a custom EVA travel case that fits perfectly in any small bag. An Aged &
Description:

This Bundle combines two of our crowd favorite products, creating the ultimate travel bundle to bring along your favorite spirits and glassware. Bundle Includes: Neat Traveler (Gray) Bottle Flight (Gray) Note: This bundle is only available in gray and col
*Bourbon Culture is reader-supported. When you buy through links on our site, we may earn an affiliate commission.