*Bourbon Culture is reader-supported. When you buy through links on our site, we may earn an affiliate commission.
Continuing down the Turkey trail from yesterday's review, let's focus our attention to another Wild Turkey Master's Keep release from years ago. Six years ago to be exact. That's when the second release of Master's Keep was announced and released; cementing the Master's Keep label as a permanent fixture for the company. This release was named "Decades" and celebrates not only Eddie Russell's 35th Anniversary working for Wild Turkey, but a collaboration of both Jimmy and Eddie in selecting the 10 to 20 year old barrels that would make up the final blend. Rarebird101 notes that this was the release that hinted to an unspoken "passing of the torch" from father to son.
Wild Turkey Master's Keep Decades
A few things make Decades interesting to behold. The first is that all of the barrels used in this release came from the warehouses on McBrayer Campus. Where is McBrayer you may ask? Go to Four Roses Distillery and Gift Shop in Lawrenceburg, Kentucky, get out of the car and turn around and look across the street. Those metal-clad warehouses up on the top of the hill are owned by Wild Turkey. Four Roses ages all of their barrels an hour away in Bardstown. Anyway, metal-clad warehouses will surely have a different profile from the traditional wooden ones at Tyrone and Camp Nelson. Even more so when it was also published that the barrels for this release came from the center and top floors.
Up next was the fact that the bourbon used for the final product would have spanned 3 different eras of Wild Turkey distillation. What I'm talking about is that Wild Turkey had kept distilling with the same entry proof that they always used (107 proof) up until 2004. Then a change was made to increase it to 110 proof. And for whatever reason, they raised it again 2 years later in 2006 to 115 proof. With Decades, we're going to effectively taste a true blend of three different styles of Turkey.
I'm unsure if the final bottling proof, which is 104, was close to barrel proof or not. I understand that the barrels used may not reach the levels of their Kentucky distilling brethren (simply because most of the other guys have a 10 proof point head start), but to me, aging in the middle and top floors of metal clad warehouses seems like a recipe to get high proofed barrels. And if the final batch proof was high but they had to cut the proof with a ton of water to get it down to 104, then it's going to taste washed out. But if I'm wrong and the barrels were actually low in proof once they were batched, then this is going to taste pretty rich. Reading other reviews across the internet seems to offer no consensus on which direction Decades takes. A perfect example of this would be to look at the reviews by Breaking Bourbon and Rarebird101. It's like they were drinking two different products.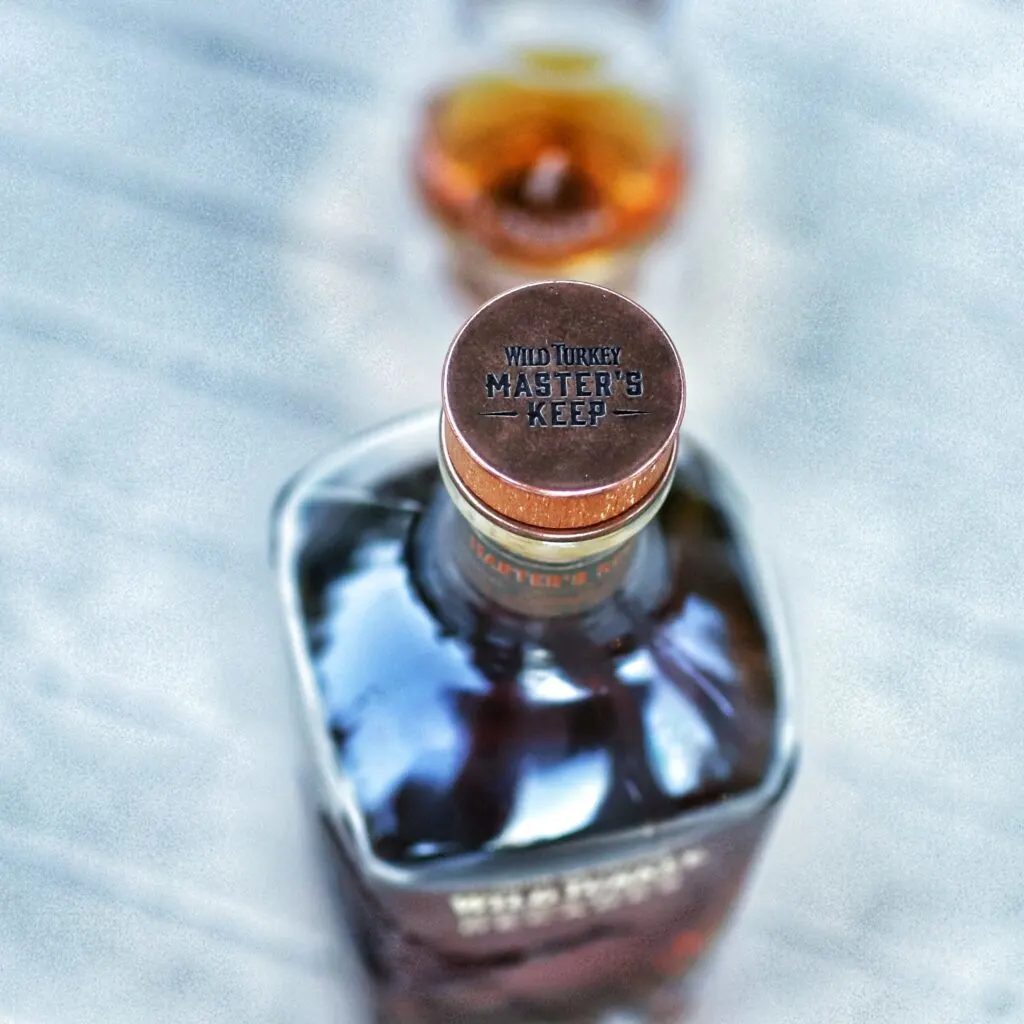 At this point, there's only one thing to do to settle this debate: have a pour. I should mention before I get into my tasting notes that the bottle I have in front of me is a Batch 001. According to Rarebird101 (visit his website here) there is a second batch of Decades out there. He asked Eddie Russell if the makeup was the same as Batch 001 and Eddie admitted the second batch did NOT contain all McBrayer barrels in it. We can assume that since Jimmy and Eddie were responsible for the blends that they were picking similar profiled barrels, but in the sense of a collector, they may value Batch 001 over 002. Anyway, it's time to get to tasting. I sampled this neat in a glencairn.
Tasting Notes
Nose: Rich, seasoned oak and leatherbound books open up the nose with surprising age. Caramel and honey wrap their own layer of sweetness around each individual component while scents of nut butter, nougat and nutmeg add depth. There is fruit, but it's more the orchard variety (apples and pears) that have been poached and sprinkled with cinnamon. Truthfully, while the age is present on this, I feel like Russell's Reserve 13 Year has a more aged (and "Dusty-esque") nose overall. Let the tomatoes fly on that comment.
Palate: The mouthfeel is very oily, just like I like it. Oak is back and it's lovely how much it blankets the other flavors I'm finding, but once again I must point out that I don't feel like I'm getting much in the way of truly old barrels here. What I'm tasting so far is similar to a 12 year old bourbon at most. Moving on, I find that the fruit on this bottle of Decades has far more than I was expecting. The apples and pears carry over, but there are some extra notes of dried figs and bit of cherries too. Baking spices abound with cinnamon and clove with a smoldering layer of ground peppercorns throughout.
Finish: It is the fruit notes that stand out so much on the finish. Baked orchard fruits drizzled with spiced honey and sprinkled with more cinnamon. For the first time, I'm detecting a bit of peppermint mixed with chocolate chips. The oak is delicate and well rounded, but not as oaky as I was hoping for.
Score: 8/10
I had hoped to find two things in this bottle of Decades. The first was a large amount of high-rye flavors. And unless they manifested themselves as the orchard fruits I found throughout, they were mostly subdued. The second profile note I hoped to find was that musty wood and wood varnish note that previous decades of Wild Turkey contained. I also found very little of that, if any at all. But for all the more my two main desires were not met, I did find a lot to like in this bottle. Everything was superbly balanced and each flavor complimented the other. For a blend of ages, everything tasted like it had mingled for the right amount of time. It was enjoyable and dare I say, great. Right around where a great bottle of Russell's Reserve Single Barrel would be.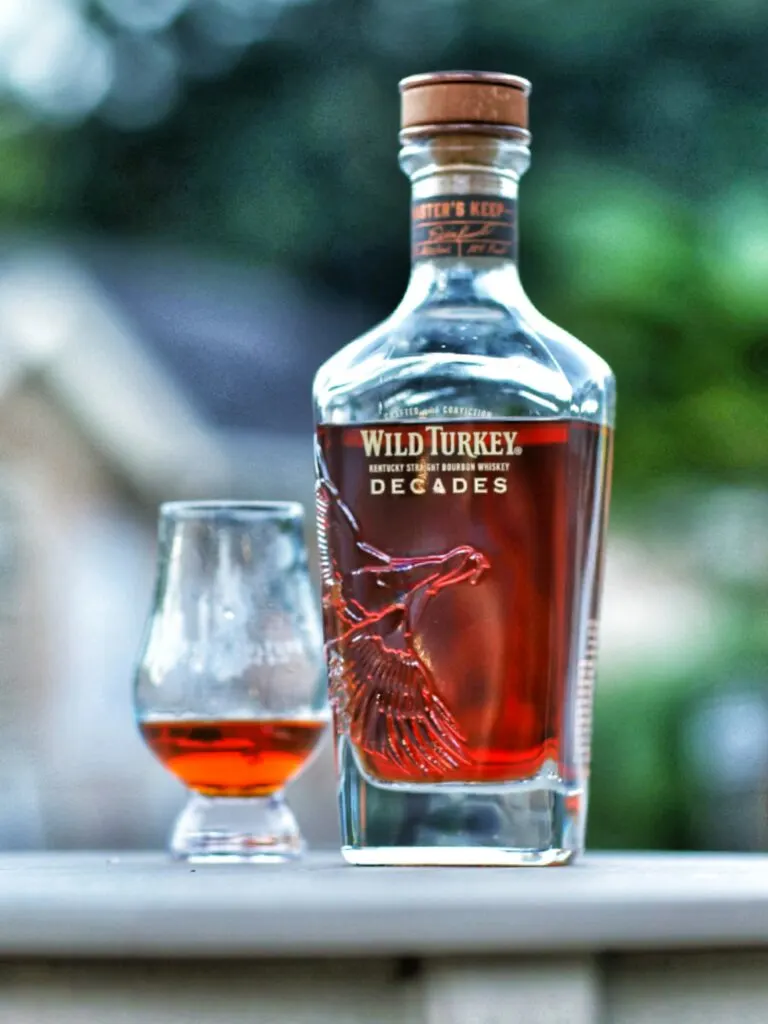 But I needed to take myself out of the moment and think of the situation like I was back in the liquor store, staring at a pricetag of $150 (or looking through a secondary site with a pricetag more than double) to make me realize that it's not really worth the price or hype. Maybe it doesn't even deserve the WTMK designation. This would make a great $75 bottle but it wasn't special enough to achieve a rating any higher than what I gave it.
Final Thoughts
This review is coming 6 years too late for anyone considering to purchase this bottle. I honestly wasn't into bourbon back then, so I'm making up for lost time now. And the only way you make up for lost time is by either buying bottles from the past at secondary prices or paying secondary prices for a pour at a whiskey bar. And while I'll always encourage expanding your horizons by trying before you buy, maybe this review will tamper some of those expectations. So here's my simple piece of advice for those of you looking for the ultimate modern-day Turkey experience: Russell's Reserve 13 Year and Wild Turkey 101 – the 12 year old age stated export version, are two of the best modern releases of Turkey you can get. So if you're thinking of dropping over three bills on something that makes you gobble, I wouldn't pick Decades if I were you. It's a great story and a nice drink overall, but it doesn't live up to the hype, scarcity and price would have you believe.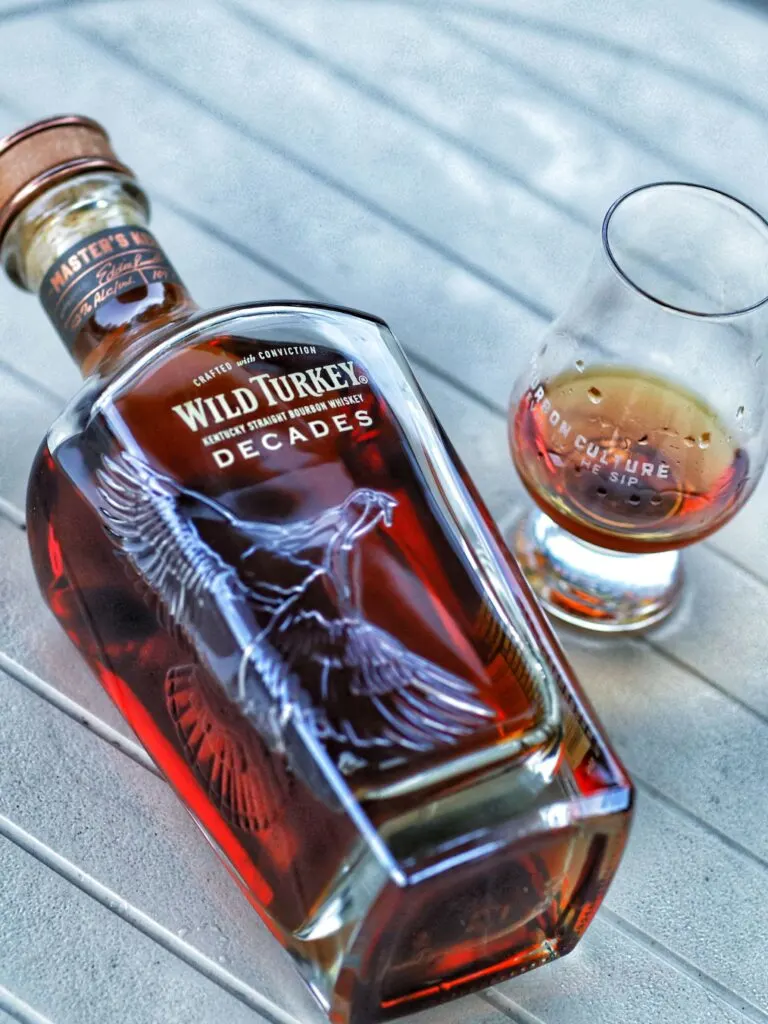 Featured Products
Description:

The Aged & Ore Neat Traveler is a complete travel kit for spirits. We combined our widely praised Neat Glass with one of our 3oz Flight Bottles and housed them together in a custom EVA travel case. Perfect for a night away with your favorite pour. The tie
Description:

The Aged & Ore Bottle Flight is a premium set of 4 custom silicone wrapped glass bottles designed to transport and share samples of your favorite spirits. The flight bottles come in a custom EVA travel case that fits perfectly in any small bag. An Aged &
Description:

This Bundle combines two of our crowd favorite products, creating the ultimate travel bundle to bring along your favorite spirits and glassware. Bundle Includes: Neat Traveler (Gray) Bottle Flight (Gray) Note: This bundle is only available in gray and col
*Bourbon Culture is reader-supported. When you buy through links on our site, we may earn an affiliate commission.