To finish up my three bottle series of Penelope, I'll be diving into a bottle of Penelope Barrel Strength Bourbon (Batch 13 to be exact). Unlike their Toasted Barrel or Architect series, Barrel Strength has no finishing-barrel tricks up its sleeve. It does use Penelope's proprietary "4-Grain Mash Bill" which sees a blend of MGP 21% rye bourbon, MGP 99/1 bourbon and MGP 45% wheat bourbon. Each barrel used in the blend has been aged for at least 4 years (it says so on the label) but probably not any more than 5.
Penelope's Success Pays Off
Penelope's Master Blender has been fine-tuning his Four Grain blend for a few years now. His skills got the attention of MGP earlier this year and they were approached with an offer that they couldn't refuse. Since then, I've seen the fanfare around the brand explode.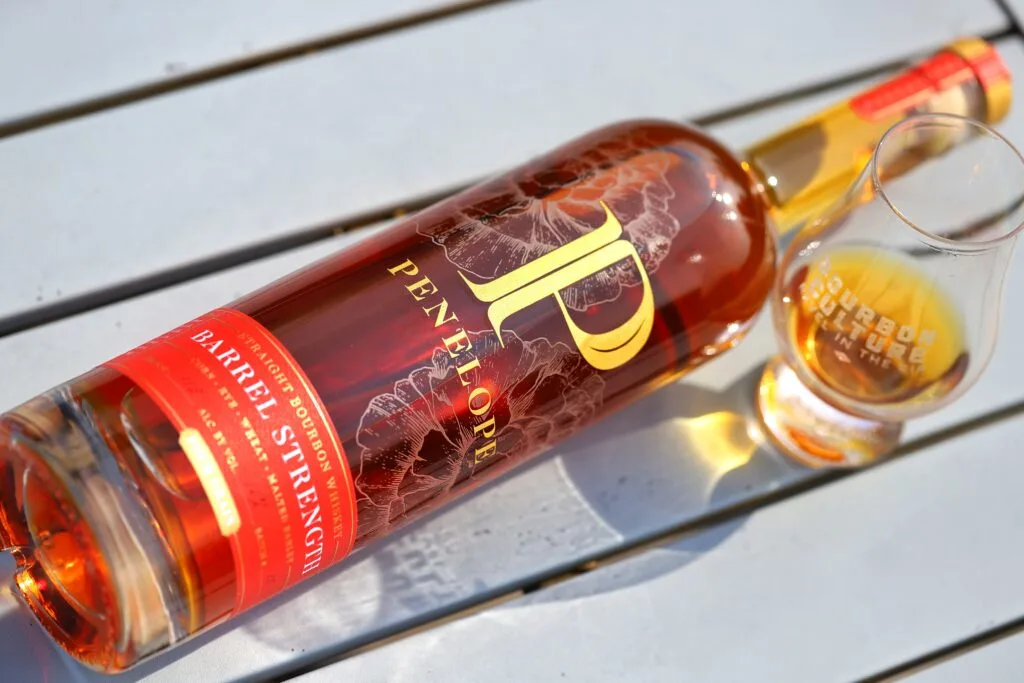 Part of the reason why I think people are gravitating to the blends they make is because of the price. Penelope has been keeping prices very competitive compared to other companies that source MGP bourbon.
I think it helps that they found a way to incorporate the bourbon barrels that use 99% corn and 1% malt as its mash bill because those will bring the total cost of the blend down.
I'm intrigued to try this bottle out because I thought very highly of Penelope Architect (which had French Oak finishing staves added to the barrel for additional maturation) and thought very poorly of Penelope Toasted (which was exceedingly tannic and burnt tasting).
Will my time with the Barrel Strength version strengthen or weaken my opinion of the company as a whole? Let's find out. I sampled this neat in a glencairn.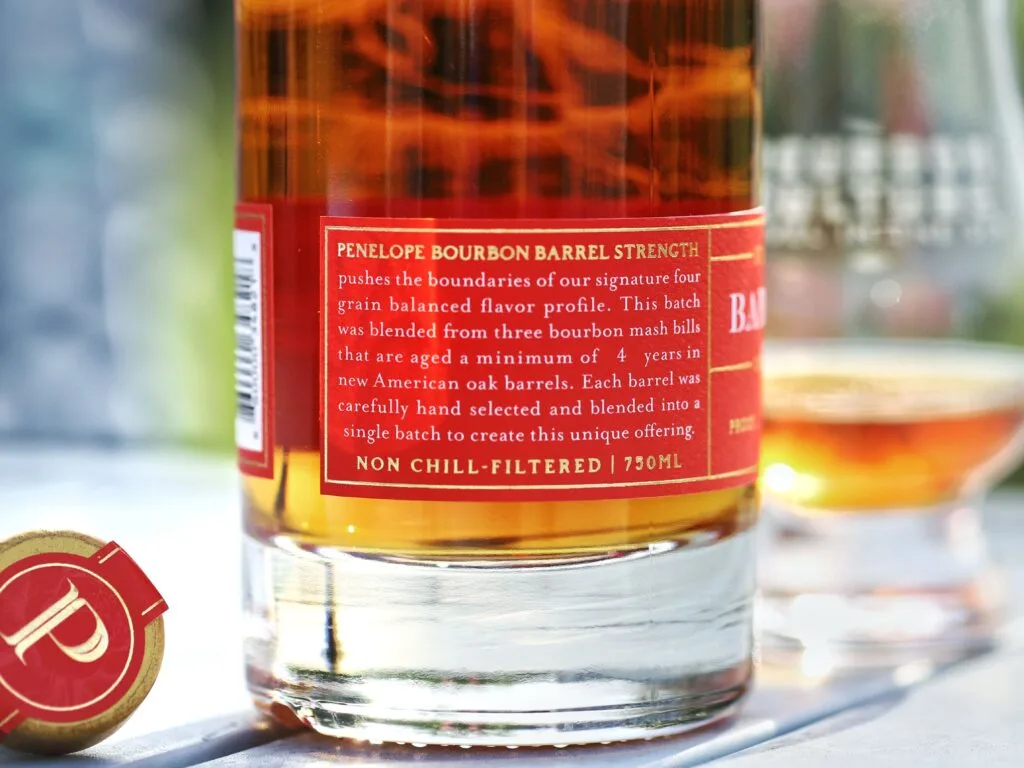 Tasting Notes
Nose: The first scents I come across are that of a youthful bourbon with wood notes that aren't fully developed and somewhat green. There is a vegetal scent that permeates throughout too. The spices aren't particularly harsh, which is nice.
Instead, I'd describe it more as cinnamon and allspice. There's even brown sugar for sweetness. I can tell this bourbon was just starting to turn into a better, more refined product before it got dumped.
Palate: Based on the nose, I was expecting a bunch of youthful flavors. That's not the case. In fact, it's sweeter than I expected. Flavors like brown sugar, cherry, sweetened apricot bits and lemon extract wash across my tongue.
The spice is complimentary with soft cinnamon powder and spicy red pepper flakes. The rye content comes through as somewhat botanical with a hint of menthol. The oak isn't really developed and I taste barrel char and a little bit of bitter tannins. That makes each sip somewhat rough around the edges.
Finish: The finish is very nice, but is somewhat short in length. That's odd to find in a barrel strength product. Once again, brown sugar provides a good amount of sweetness and is accompanied by table syrup. Raisins and cinnamon linger for a while as does a hint of mint. The finish is less bitter than the palate but some of that note still remains.
Score: 6/10
Penelope Barrel Strength Bourbon is a perfectly fine bourbon that takes a few dings for being youthful in its approach. The value makes up for it in some ways, but otherwise I must admit that it's not one I'd search out as a "must-buy."
Why do I put it like that? Partly because I feel like the Four Grain Mash Bill – although unique – is somewhat lacking in the experience that MGP's regular ryed bourbon recipes offer. I really enjoy MGP's wheated bourbon too.
But put them both together (along with the high corn mash bill) and some of the experience is lost. It might make it more approachable for people who are new to bourbon, but for the ones who have been hooked on the big, robust flavors of MGP's 21% or 36% rye, there is no substitute.
Final Thoughts
I feel like I should wrap up this review with an overall assessment of Penelope as a brand. It seems like they are the brand that you start drinking bourbon with – not necessarily the one you graduate to.
If you're like me and have already been hooked by Remus Repeal Reserve batches or single barrels of Backbone Bourbon, then you're probably too far gone to fully appreciate the more delicate approach of Penelope. If you're just getting started, then I'd recommend you start here.
Time will tell if Penelope will shift their image from being more of a beginner's bourbon a bourbon company that is known for their new and old bourbon offerings.
I say this because MGP will certainly let them have more access to their warehouse inventory which in turn might yield some older blends. But until then, I hope you find this review helpful in deciding what the right bottle to buy is.
Featured Products
Description:

The Aged & Ore Neat Traveler is a complete travel kit for spirits. We combined our widely praised Neat Glass with one of our 3oz Flight Bottles and housed them together in a custom EVA travel case. Perfect for a night away with your favorite pour. The tie
Description:

The Aged & Ore Bottle Flight is a premium set of 4 custom silicone wrapped glass bottles designed to transport and share samples of your favorite spirits. The flight bottles come in a custom EVA travel case that fits perfectly in any small bag. An Aged &
Description:

This Bundle combines two of our crowd favorite products, creating the ultimate travel bundle to bring along your favorite spirits and glassware. Bundle Includes: Neat Traveler (Gray) Bottle Flight (Gray) Note: This bundle is only available in gray and col
*Bourbon Culture is reader-supported. When you buy through links on our site, we may earn an affiliate commission.