*Bourbon Culture is reader-supported. When you buy through links on our site, we may earn an affiliate commission.
If you know my style as a reviewer, then you probably already know I like to make big deals about small things. Sometimes I do it because I'm genuinely hyped and sometimes I do it because there's not much to write about a particular bottle and I have to reach for something to say. Today's review on Old Forester's 117 Series Bottled-in-Bond is going to be the former.
Old Forester may have chosen the perfect label to release this bourbon under. The 117 Series have always been small releases of unique products sold only at their distillery on Whiskey Row. That means that the number of people who can buy it is limited and – therefore – so will be the hype. But the Bottled-in-Bond version serves as a peak into the future of Old Forester and the direction they may be heading as a whiskey producer. Changes are coming.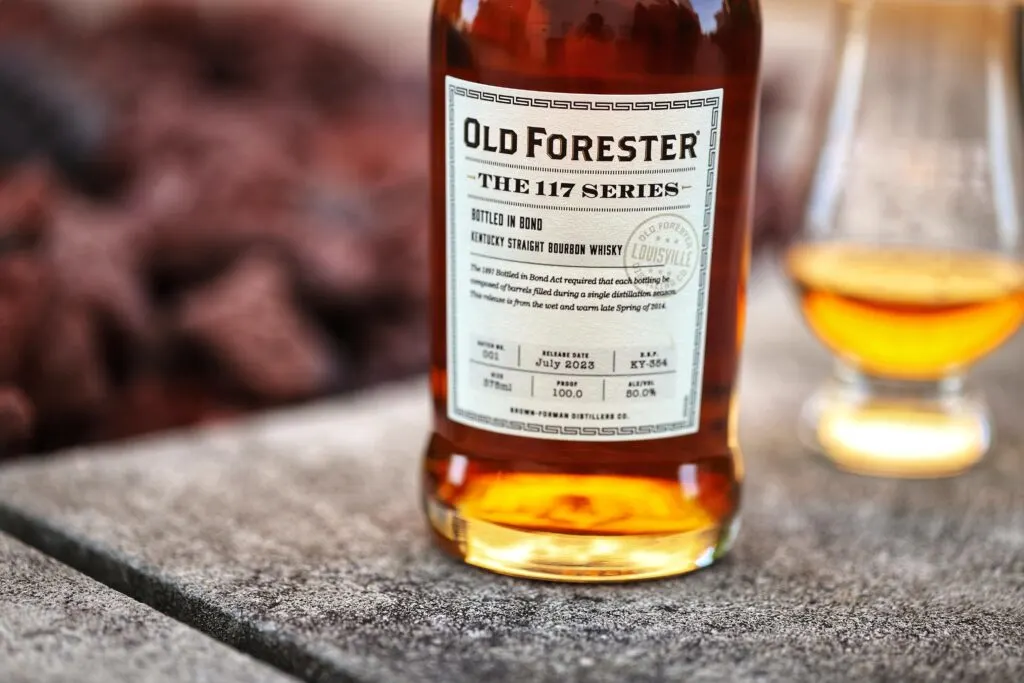 If you don't know what I'm talking about right now, then let me spell it out for you. The changes I'm talking about are age statements. Old Forester (and almost all Brown-Forman products) does not use age statements often. Old Forester Birthday Bourbon has one (of course) but outside of that, there are only a handful of products that contain them. King of Kentucky and President's Choice are the only other. But those three I just mentioned are rare and expensive. If you can't buy them at retail prices, you're going to be in for a shock when you see their prices on the secondary market. Part of the reason why they are so expensive is because they carry old age statements.
Most distilleries are killing off age statements – Old Forester is adding them
Brown-Forman doesn't typically put age statements on their products because – to the uninformed consumer – they'd look like a terrible value next to a bottle of Knob Creek 9 Year on the same shelf. Since Brown-Forman products have traditionally been aged in a heat-cycled warehouse, they mature at a faster rate. That means that a 4 year-old bourbon will taste much older than a bourbon aged in a standard warehouse. If brands like Old Forester allow their bourbon to be aged much over 6 years in those kind of warehouses, they run the risk of runaway evaporation or an over-oaked final product. Both of those equates to lost revenue.
But what if Old Forester decided to stop heat-cycling their warehouses in an attempt to see how their bourbon would age under normal conditions? They'd certainly be able to age a barrel for longer without fear of losing up to 10% of the liquid each year to evaporation (naturally aged barrels tend to lose 4-5% per year). And their heating bills would be way lower because Mother Nature would now be in charge of the maturation speed.
I believe this is how we got a 9 year age statement on this bottle of 117 Series Bottled-in-Bond. I believe that the barrels (which there were only 20-30 that made up this batch) they plucked for this batch spent some time in a non-heat cycled warehouse. Which warehouse? Well I'm glad you asked – I just so happened to have wrote extensively about them all in this article. Warehouse G and H have not been heat-cycled for years now. I go on to observe the impact of aging barrels in a heat-cycled warehouse versus ones that are not in this article. Bottom line: the average barrel proofs are measurably different – which probably tells us evaporation isn't happening as quickly.
All of this is to say this – I believe that the 117 Series BiB release and the upcoming 10 Year Old Old Forester 1924 release are bellwether's for the future of products coming from Old Forester. They hint to more products having higher age statements. Not all of their products, mind you, but certainly more will be on their way.
Now that I've gone over how this bottle came to be, let's get down to tasting it. As usual, I am sampling this neat in a glencairn.
Tasting Notes
Nose: Layered notes of chocolate, graham crackers and vanilla start the nose off on the right foot. There is plenty of well-aged oak, bordering on antique in quality. It's not quite "Birthday Bourbon" levels, but it's close. Sweetness comes from brown sugar and a macchiato. Scents similar to the remnants of a campfire couple nicely with cedar cigar box scents. Behind all of these more robust notes, I'm able to detect a slightly floral scent to show just how much there is as I peel back the layers.
Palate: The nose has me expecting a similar level of complexity on the tongue. I am not let down. Flavors like brownie ends, toasted coconut, cooked pear and agave syrup light up my tastebuds. There's even notes of black cherry, hazelnut spread and French vanilla. Additional tannins show off the age like cigar wrapper and seasoned oak. They're not going to punch you in the mouth, but they add a very balanced approach. This tastes over 12 years old to me. Finally, I should point out that some telltale rye grain notes are found like menthol and cinnamon. What a fantastic sip.
Finish: Vanilla chases brown sugar while baking spices like cinnamon and nutmeg poke out to offer some warmth once the sip is complete. Fruit notes come by way of poached orchard fruits and coconut shell. Toffee provides sweetness as the sip fades away.
Score: 8.3/10
The 117 Series Bottled-in-Bond offers a dazzling array of flavors and scents – all somewhat toned down by the 100 proof point it was bottled at. Granted, this is roughly the average that Birthday Bourbon is bottled at, so it would only make sense then that this tasted like a Birthday Bourbon Jr. Maybe these barrels were destined to be used in a batch of Birthday Bourbon at some point? It kind of tastes that way.
All of that is to say that the comparison between the two is noticeable. Since the total cost of two bottles (they're 375ml) was just shy of $120, that means they cost about the same as a bottle of Birthday Bourbon at retail too. The only difference was that I could order these online for delivery whereas I'd never get that chance with the OFBB. I'd gladly take these any day over the hassle to hunt for the bottle shaped like a cake with a candle sticking out of it.
Final Thoughts
Sorry if I keep going on about the comparison to Birthday Bourbon, but how could you not? I will point out that I was expecting a little bit more wood varnish notes for the age, but this comes very, very close to the quality of some Birthday Bourbons out there. Another bonus is that the 117 series has a cool bottle shape that takes up very little room on my shelf. Thank you for that, Old Forester.
Many people gripe and moan about not being offered one of these when they took a tour in the month of July and August (which I totally get! I wasn't offered a bottle on my tour either), but after the dust has settled, the secondary market is still under-valuing these. I'm seeing $130 for a bottle which means that sellers don't know what they have and neither do potential buyers. That's why I hate to fan the flames of the secondary market, but you need to buy these up if you see them for that price. And if you need justification for that, just remember how much I've already compared it to Birthday Bourbon – whose secondary price is over $800 (ridiculous!). So while the two may compare almost 1:1 at retail (remember, you'd have to buy 2 bottles of the 117 series to have the same amount of liquid), on secondary you'd be getting a product that's really close to OFBB for a third of the price.
Or, if you want to avoid the pain of it altogether, just wait a few more months and see what other age-stated product that Old Forester is going to roll out with; like the upcoming 1924 release for example. Happy hunting!
Featured Products
Description:

The Aged & Ore Neat Traveler is a complete travel kit for spirits. We combined our widely praised Neat Glass with one of our 3oz Flight Bottles and housed them together in a custom EVA travel case. Perfect for a night away with your favorite pour. The tie
Description:

The Aged & Ore Bottle Flight is a premium set of 4 custom silicone wrapped glass bottles designed to transport and share samples of your favorite spirits. The flight bottles come in a custom EVA travel case that fits perfectly in any small bag. An Aged &
Description:

This Bundle combines two of our crowd favorite products, creating the ultimate travel bundle to bring along your favorite spirits and glassware. Bundle Includes: Neat Traveler (Gray) Bottle Flight (Gray) Note: This bundle is only available in gray and col
*Bourbon Culture is reader-supported. When you buy through links on our site, we may earn an affiliate commission.