*Bourbon Culture is reader-supported. When you buy through links on our site, we may earn an affiliate commission.
Old Weller Antique (commonly referred to as OWA) has been the Goldilocks of the Weller lineup for years now. OWA is older than Weller Special Reserve and has a higher proof than Weller 12.
It's also priced right in the middle of those two in terms of secondary pricing, which is where a majority of people are going to be buying it from.
Aged typically around 6 years, the 107 proof potency gives a more powerful sip as well. But the ability to get OWA in a single barrel form has existed for a number of years now (same with Special Reserve, but that's a story for a different day).
Old Weller Antique
What makes the OWA single barrels so desirable though, is that they have the option to be non-chill filtered (NCF). The dirty secret of Buffalo Trace is that they chill filter basically all of their products.
While this may not be such a terrible thing to the masses, bourbon purists across the US are fixated on wanting non-chill filtered products on their shelves.
To omit this filtration step, many claim that they can taste the difference in the depth of the distillate. This is interesting and I've decided to put this to the test by comparing both the standard release and a single barrel release.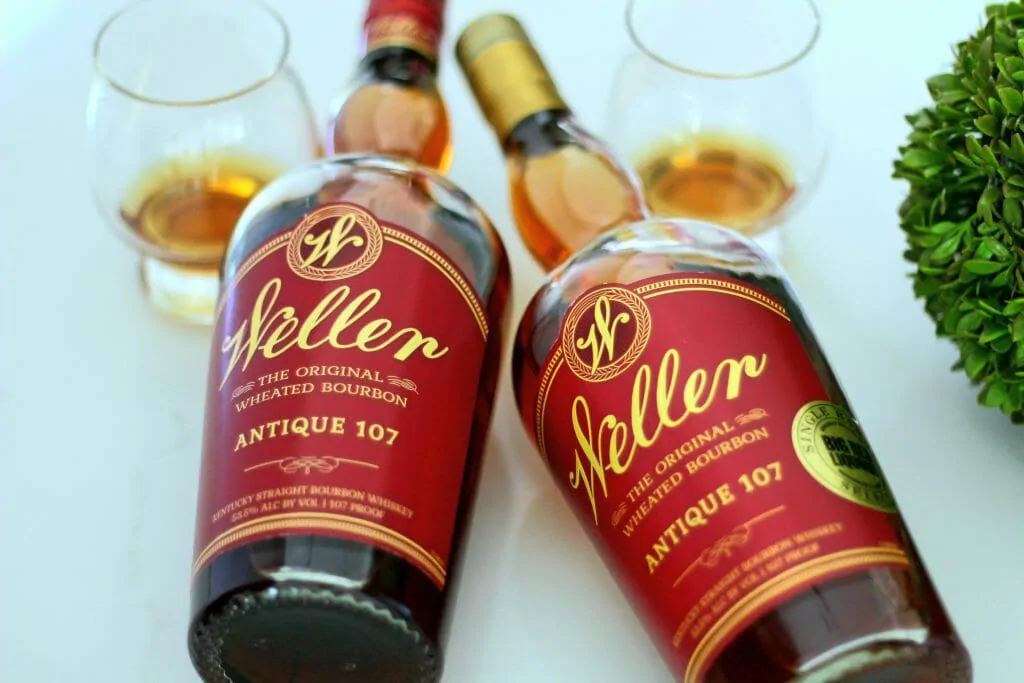 For this semi-blind review, I have a bottle of standard OWA (from 2018) and was gifted a bottle of single barrel OWA that was selected by the local Indianapolis liquor behemoth, Big Red Liquors for their annual bourbon expo that occurred at the end of 2019.
I do not know a ton about this bottle except that it reads that it was selected from a barrel in Warehouse O and from the 5th floor. It's a foregone conclusion that it's also been NCF.
Let's see how these stack up against each other. I sampled them semi-blind, neat and from a Glencairn.
Blind Glass 1
Nose: A nice hit of cinnamon Red Hots candies and some oak spice. The sweet treats are very prominent with caramel, raisin and apple strudel and butterscotch even.
There's some light vanilla if you really search for it, otherwise, this nose is classic and rich with every scent that a bourbon should have.
Palate: The sharp cinnamon scent transfers over to the tongue and also rubs in a little bit of clove. Each sip is sweet, with caramel and vanilla cupcakes enveloping your mouth, but this toasted pecan note really steals the show.
The smoldering heat of red pepper flakes is still very present in this sip, but it's rewarding to fight through because I found some great cherry and orange peel notes the longer I let it set in my mouth.
Finish: The finish packs a load of baking spices that is mixed up with creamy, rich caramel coats that sticks around for a while.
There are also some raisins and dates for additional sweetness. The tannins are well done too with wet tobacco and charred oak adding some very nice depth.
Score: 7.7/10
Blind Glass 2
Nose: If the nose on Glass 1 was a NASCAR race, then Glass 2 is more like a Sunday drive. The flavors are a little more subdued and relaxes.
There's pleasant notes of vanilla that is softer and easier to find along with some fruit scents like spiced apple cider and cherry pie filling. I do not detect much spice or tannic scents overall.
Palate: Each sip provides more sweetness and less spice than what I experienced in Glass 1. The spice that is present floats around some black pepper flakes and cinnamon, but those are restrained by the sweetness from soft baked apples and sweet cherries.
There's a nice layer of really sweet and mild oak spice as well.
Finish: The cinnamon spice is still present, but a cooling menthol gives a nice contrast. The finish stays sweet with caramel that leans more towards crème brulee.
There's a small amount of oak, but it's not a main component to this finish.
Score: 7.1/10
Blind Reveal:
Glass 1: OWA Single Barrel Big Red Liquors
Glass 2: OWA (standard)
Winner: OWA Single Barrel!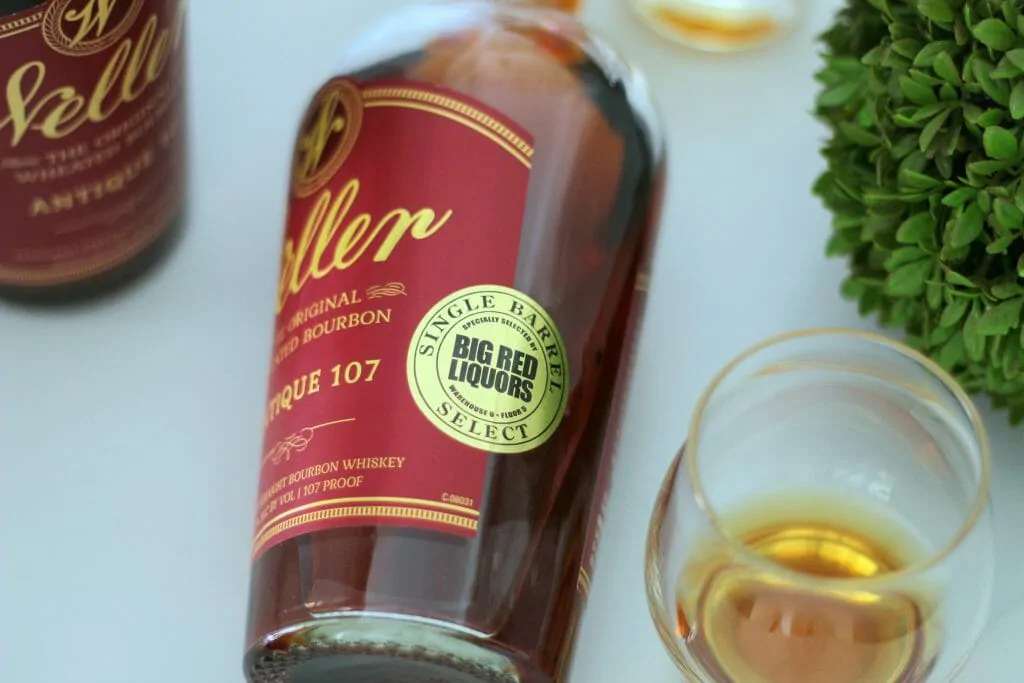 I am happy to see that this single barrel stood up so well against its batched brethren. I have an unpopular opinion that recently, I've been noticing that a majority of Buffalo Trace Single Barrel products are not as good as their batched brethren.
This isn't to say they're bad, but that they tend to highlight only a few good notes and the rest of the notes stay very muted. In cases like that, the batched product almost always shines.
But in the case of this single barrel OWA, the profile was amplified across the board.
Final Thoughts
This is just another example of trying any single barrel before you buy it (if possible) but in this instance, the gamble was worth it and this turned out to be a great bottle.
Ratings Breakdown
1 | Disgusting | Drain pour (Example: Jeffers Creek)
2 | Poor | Forced myself to drink it
3 | Bad | Flawed (AD Laws 4 Grain BiB, Clyde Mays anything)
4 | Sub-par | Many things I'd rather have (Tincup 10 year)
5 | Good | Good, solid, ordinary (Larceny, Sazerac Rye)
6 | Very Good | Better than average (Buffalo Trace, OGD BiB)
7 | Great | Well above average (Old Ezra Barrel Proof, Old Weller Antique)
8 | Excellent | Exceptional (Michter's Barrel Proof Rye, Four Roses Barrel Strength)
9 | Incredible | Extraordinary (GTS, 13 Year MGP or Canadian Rye)
10 | Insurpassable | Nothing Else Comes Close (William Larue Weller)
Featured Products
Description:

The Aged & Ore Neat Traveler is a complete travel kit for spirits. We combined our widely praised Neat Glass with one of our 3oz Flight Bottles and housed them together in a custom EVA travel case. Perfect for a night away with your favorite pour. The tie
Description:

The Aged & Ore Bottle Flight is a premium set of 4 custom silicone wrapped glass bottles designed to transport and share samples of your favorite spirits. The flight bottles come in a custom EVA travel case that fits perfectly in any small bag. An Aged &
Description:

This Bundle combines two of our crowd favorite products, creating the ultimate travel bundle to bring along your favorite spirits and glassware. Bundle Includes: Neat Traveler (Gray) Bottle Flight (Gray) Note: This bundle is only available in gray and col
*Bourbon Culture is reader-supported. When you buy through links on our site, we may earn an affiliate commission.