*Bourbon Culture is reader-supported. When you buy through links on our site, we may earn an affiliate commission.
If you have been scanning the shelves of liquor stores across the US in the last 24 months, you would find only a handful of rye whiskey that carry an age statement over 10 years old. And if you look even harder at those bottles, you'd notice that they're generally all Canadian Rye Whisky or rye whiskey from MGP. Kentucky Rye Whiskies, on the other hand, are generally bottled around 4-6 years old.
The outliers of this are Kentucky Owl and Michter's, who seem to have cornered the Kentucky Rye Whiskey market with bottles that are above the 10 year-old threshold. But in early 2020, Beam Suntory announced that a new limited edition release of their Old Overholt label would be available only in Ohio and Pennsylvania. The most impressive part? It would carry an 11 year-old age statement.
Jim Beam Rye Whiskey
Jim Beam has been producing rye whiskey for a while now under various labels. Jim Beam Rye Whiskey and Old Overholt were considered entry-level labels while Knob Creek Rye versions were designed to be more premium (Single Barrels, Double Barreled and a Cask Strength version). To be honest, all of these labels are generally not as well received as other brands of rye whiskey. I personally find most Beam-style rye whiskies to be hot, nutty and peppery.
But Beam announced that they selected these 11 year old barrels from a very limited lot of only 50 barrels that yielded 600 cases after being proofed down to 92.6. For packaging, it was decided to use the Old Grandad 114 bottle and retain the natural cork, which is kind of a big deal because all Beam products use a synthetic cork.
Regardless of your thoughts on Beam's previous attempts at rye whiskey, this one just feels different. So I sought one out to see if it was worth it. Here are my thoughts:
Tasting Notes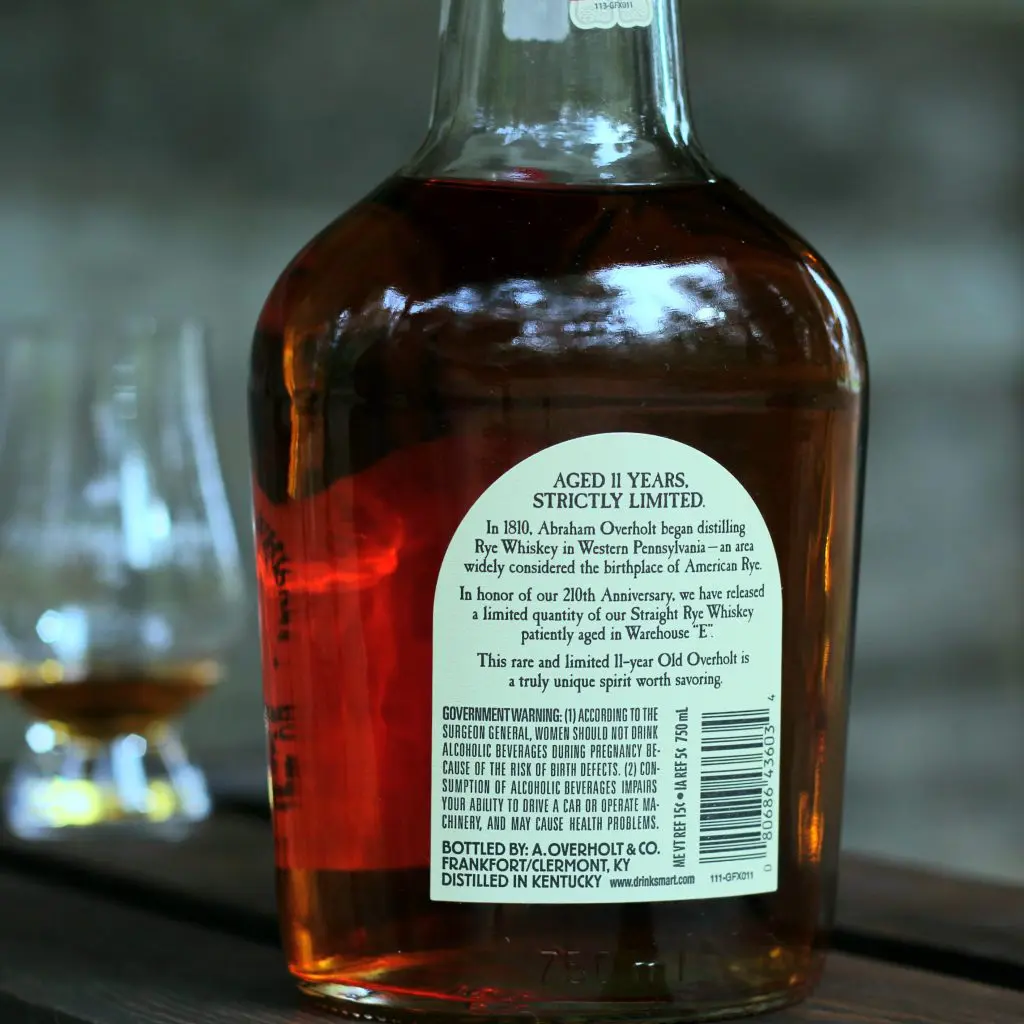 Nose: Scents of fresh baked Pumpernickel bread, bubblegum, roses, vanilla and cinnamon rolls with caramel icing. I'm also getting some wood on the nose, but rather than being oak, it smells more like a fragrant cedar wood. It's a really elegant and layered nose that draws you in every time you take a sip.
Palate: Pine needles, mint and some citrus zest (lemon and orange) flavors stand out immediately and let you know this is a rye whiskey. This is important to me because past Beam rye products have generally tasted like bourbons. I get more of the bubblegum notes that I experienced on the nose, which is fun and enjoyable. There's also honey sweetness coupled with cloves and cinnamon. One of the more enjoyable notes to pick out is the well-rounded tannins like old leather and oak.
Finish: Warming spice notes and some seasoned oak start off the finish with nutty toffee keeping things just sweet enough. There are lots of lingering herbal flavors with mint taking the lead all the way to the finish. The finish is over a little quicker than I expected, but is very pleasing nonetheless.
Score: 8.5/10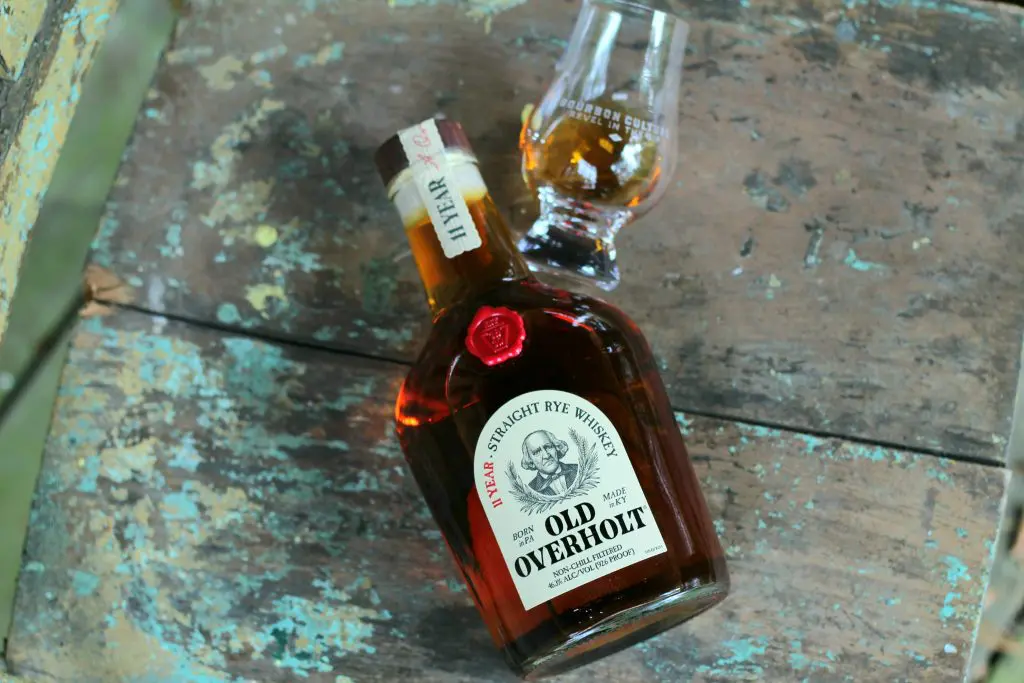 Old Overholt 11 Year Rye is a flavorful sipper that is all about balance. The levels of spice were always well controlled while the variety of scents and tastes provided a wholly enjoyable session. If I had drank this blind, I would've guessed the proof would have been around 100. This is a testament to the impact of the flavors and not to its overall heat.
Final Thoughts
Overall I found this to be a fantastic rye whiskey and one that I never thought could come out of Beam's stocks. In fact, I'd like to say that this could go head-to-head against Michter's 10 Year Rye (which is only .2 proof points higher, but $100 more in price) or perhaps a very old bottling of High West's Rendezvous Rye.
The only downfall of this bottling is its limited availability. But if this continues to have the fanfare that it's enjoyed so far, I would hope that it will push Beam to release more products like it in the years to come.
Rating Breakdown
1 | Disgusting | Drain pour (Example: Jeffers Creek)
2 | Poor | Forced myself to drink it
3 | Bad | Flawed (AD Laws 4 Grain BiB, Clyde Mays anything)
4 | Sub-par | Many things I'd rather have (Tincup 10 year)
5 | Good | Good, solid, ordinary (Larceny, Sazerac Rye)
6 | Very Good | Better than average (Buffalo Trace, OGD BiB)
7 | Great | Well above average (Old Ezra Barrel Proof, Old Weller Antique)
8 | Excellent | Exceptional (Michter's Barrel Proof Rye, Four Roses Barrel Strength)
9 | Incredible | Extraordinary (GTS, 13 Year MGP or Canadian Rye)
10 | Insurpassable | Nothing Else Comes Close (William Larue Weller)
Featured Products
Description:

The Aged & Ore Neat Traveler is a complete travel kit for spirits. We combined our widely praised Neat Glass with one of our 3oz Flight Bottles and housed them together in a custom EVA travel case. Perfect for a night away with your favorite pour. The tie
Description:

The Aged & Ore Bottle Flight is a premium set of 4 custom silicone wrapped glass bottles designed to transport and share samples of your favorite spirits. The flight bottles come in a custom EVA travel case that fits perfectly in any small bag. An Aged &
Description:

This Bundle combines two of our crowd favorite products, creating the ultimate travel bundle to bring along your favorite spirits and glassware. Bundle Includes: Neat Traveler (Gray) Bottle Flight (Gray) Note: This bundle is only available in gray and col
*Bourbon Culture is reader-supported. When you buy through links on our site, we may earn an affiliate commission.