*Bourbon Culture is reader-supported. When you buy through links on our site, we may earn an affiliate commission.
There isn't much to remember fondly about in 2020. But one of the rare moments I look back on and laugh was when I was perusing the bottom shelf of the bourbon aisle and saw the familiar Jeppson's label staring back at me. Doing a double take, I realized this wasn't their infamous "Malort," but instead the word "Bourbon" was on the label.
As I looked it over, I was surprised to find a decent amount of information that indicated I should buy this now. The first one was 100 proof, then on the back was the age statement that it was aged for at least 4 years followed by the fact it was non-chill filtered. At $25, I took the chance and figured the reward was probably worth the risk.
Later when I got home, I did some research to find out that Jeppson's wasn't making their own bourbon, nor were they sourcing it from a local Illinois distillery like Koval or Blaum. Instead, they had sourced more than 500 barrels of OZ Tyler bourbon (no, not their Terrepure whiskey) and MGP bourbon. They then blended this together and produced the bottle you see here. So the pedigree should be pretty solid, but how does it taste? Let's take a look.
Tasting Notes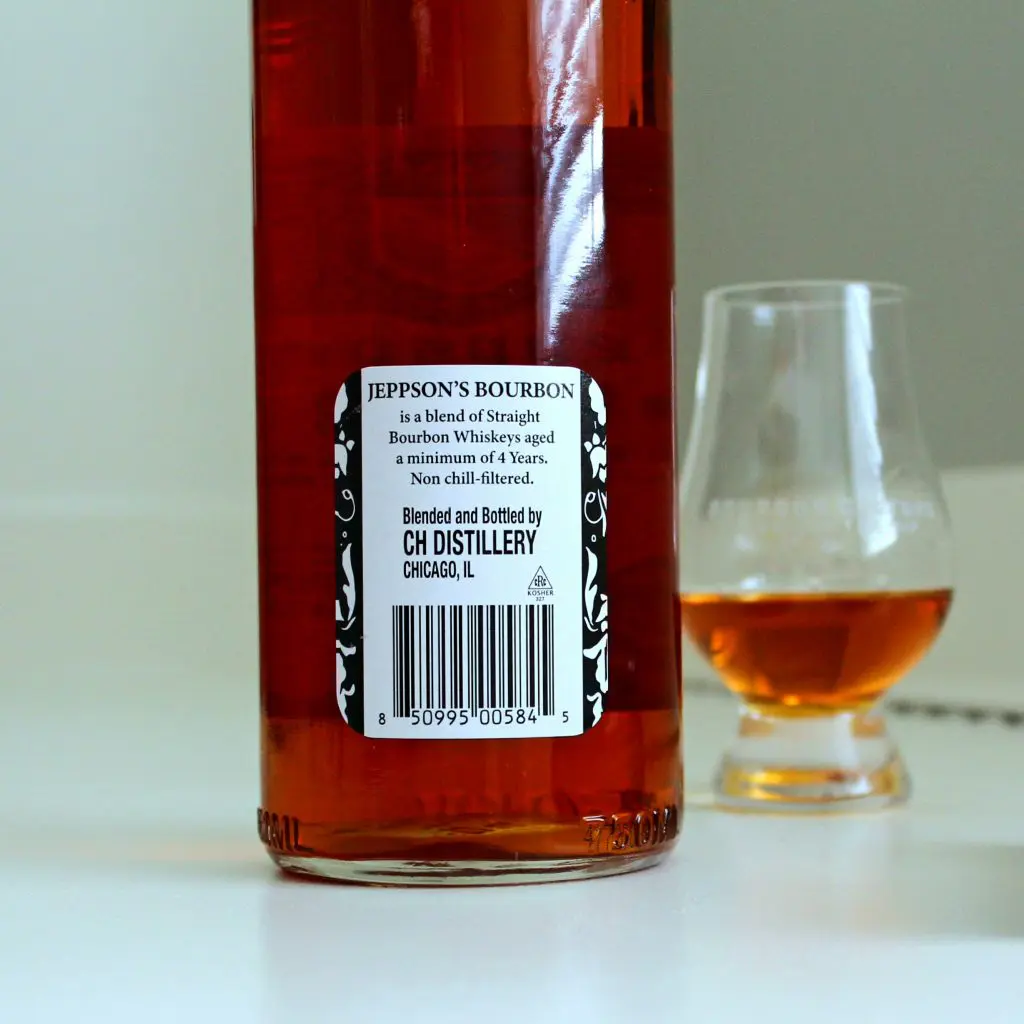 Nose: The nose doesn't come off as young as you'd think, with notes of corn bread being one of the few young traits that I smell. There are plenty of warm cinnamon baking spice notes and the sweet scents of vanilla and brown sugar. This is very much a classic bourbon nose, if not slightly generic.
Palate: Sweet vanilla pudding with caramel and some slight baking spice flavors all serve up more of that traditional bourbon profile that I found on the nose. There is some buttery cornbread and a small amount of seasoned oak that I'm able to taste. Fruit is somewhat absent overall but I do find some citrus notes if I roll it around in my mouth a bit. No doubt this comes from the higher rye content of whatever MGP bourbon mashbill they used.
Finish: The oak on the finish becomes more pronounced than it was on the palate while baking spices are on full display. The finish is sweet enough with no offensive young notes and the orange peel citrus notes lingers around for a while too.
Score: 6/10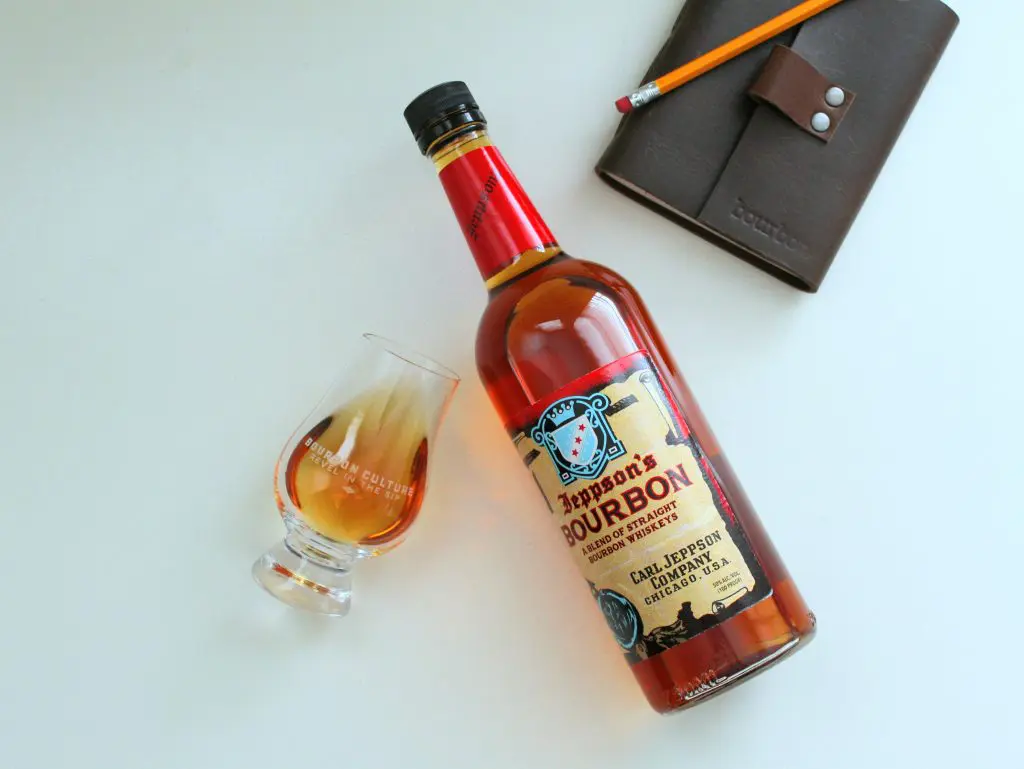 Jeppson's Bourbon is a nice jack of all trades for a four year old bourbon. And while I can't say that I was blown away by any part of it, I didn't find any serious flaws to make me not recommend it. In a land full of 100 proof bottom shelf whiskies, this one is a great contender. However, the $25 price tag is actually on the high side of this segment.
There are many Heaven Hill products out there that share these same specs (while being bottled in bond) and come in $10 less. But whereas the Heaven Hill products tend to be a little grainier and a little nuttier, the Jeppson's bottle is content on settling on a more neutral bourbon profile.
Final Thoughts
This would be a great bottle to own for those of you who have fond (or not so fond) memories of Malort, the city of Chicago and want to support a local brand that is looking to branch outwards. Plus, you have to give them kudos for being so open and transparent about the source of their whiskey in a time when it seems that NDPs are trying to be more sneaky than ever.
Rating Breakdown
1 | Disgusting | Drain pour (Example: Jeffers Creek)
2 | Poor | Forced myself to drink it
3 | Bad | Flawed (AD Laws 4 Grain BiB, Clyde Mays anything)
4 | Sub-par | Many things I'd rather have (Tincup 10 year)
5 | Good | Good, solid, ordinary (Larceny, Sazerac Rye)
6 | Very Good | Better than average (Buffalo Trace, OGD BiB)
7 | Great | Well above average (Old Ezra Barrel Proof, Old Weller Antique)
8 | Excellent | Exceptional (Michter's Barrel Proof Rye, Four Roses Barrel Strength)
9 | Incredible | Extraordinary (GTS, 13 Year MGP or Canadian Rye)
10 | Insurpassable | Nothing Else Comes Close (William Larue Weller)
Featured Products
Description:

The Aged & Ore Neat Traveler is a complete travel kit for spirits. We combined our widely praised Neat Glass with one of our 3oz Flight Bottles and housed them together in a custom EVA travel case. Perfect for a night away with your favorite pour. The tie
Description:

The Aged & Ore Bottle Flight is a premium set of 4 custom silicone wrapped glass bottles designed to transport and share samples of your favorite spirits. The flight bottles come in a custom EVA travel case that fits perfectly in any small bag. An Aged &
Description:

This Bundle combines two of our crowd favorite products, creating the ultimate travel bundle to bring along your favorite spirits and glassware. Bundle Includes: Neat Traveler (Gray) Bottle Flight (Gray) Note: This bundle is only available in gray and col
*Bourbon Culture is reader-supported. When you buy through links on our site, we may earn an affiliate commission.