*Bourbon Culture is reader-supported. When you buy through links on our site, we may earn an affiliate commission.
In 2019, demand for Smoke Wagon bourbon began to explode all across the nation as bourbon enthusiasts (or people who are impressed by a fancy bottle) quickly became aware of the newest producer that was sourcing well-aged MGP bourbon. Smoke Wagon was happy to oblige their many customers with single barrels ranging from 10 to 12 years old.
It wasn't until early 2020 that Aaron Chepenik began to realize that demand was so out of control, that he was running out of stock. If you know anything about MGP bourbon, it's common that bottlers will eventually find themselves selling products that disappear faster than they can replace them.
But in their heyday, many of these single barrels from Smoke Wagon made their way to California and went straight to the shelves of major retailers around the state. This particular bottle that I'll be reviewing today is from a 12 year-old barrel that was specially selected by spirits behemoth K&L. K&L's strong point is a website that gives in-depth notes on the products that they're selling. But I wanted to know more about this particular bottle, so what better way to do that than to crack one open and see for myself. I sampled this neat and from a Glencairn to find out.
Tasting Notes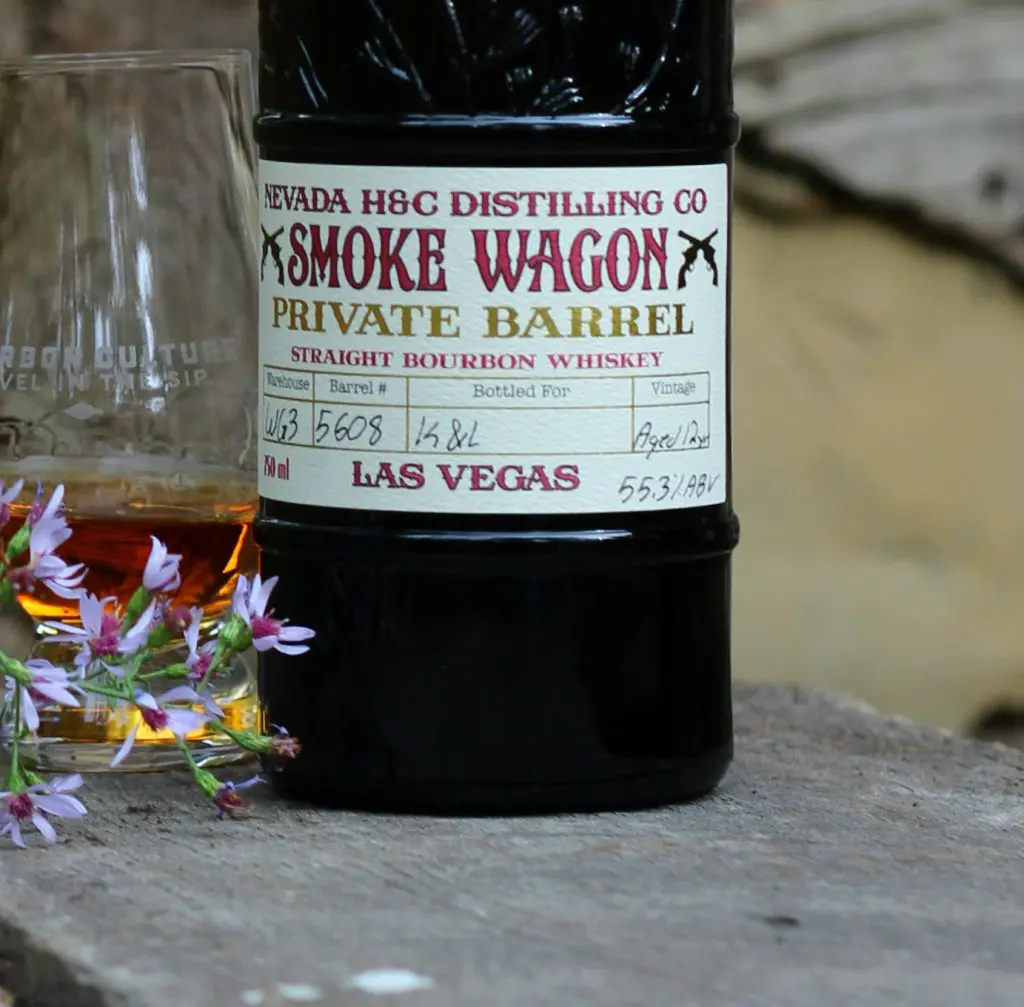 Nose: Sharp, but sweet rye spice notes give notice that this bourbon has a high rye mashbill. There are plenty of sweets like cooked red fruits, coffee cake and vanilla. I'm able to detect other fruits as well like orange oil extract and even the scent of raspberry cheesecake.
Palate: Flavors of cinnamon Red Hot candies light up your tongue immediately while dark brown sugar is there to somewhat tame it. Make no mistake, this one has some spice on it! But the heat always feels manageable. In fact, the more I sip, the easier the heat is controlled and the more fruit notes began to expose themselves. There are more cooked red fruits along with citrus flavored Gummi Bears. Tannic notes of light tobacco also pop up showing off the aged side of this whiskey.
Finish: Vanilla custard (where did that come from?) and caramel apples start the finish off on a sweet note before turning spicy. The rye spice offers plenty of peppery burn with the cool sensation of a peppermint patty. Oak and cinnamon spice also linger around for a long and satisfying finish.
Score: 8.4/10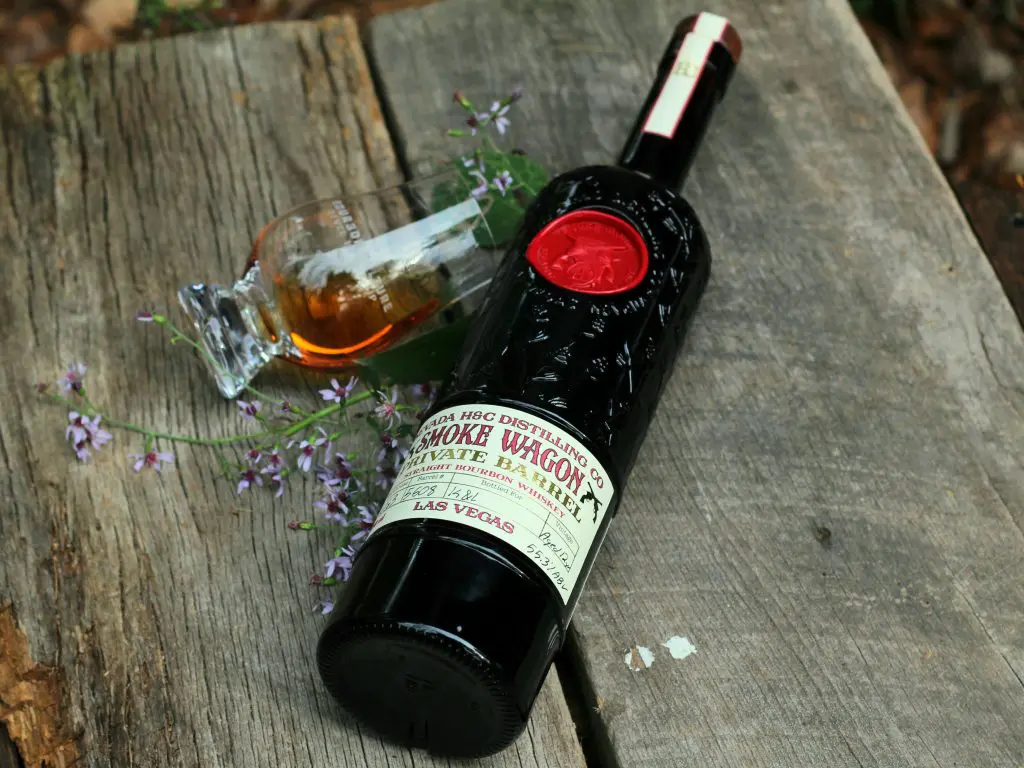 This barrel of MGP bourbon is fantastic and memorable. The sheer power of the flavors and how layered they all were really impressed me throughout. Sometimes with high-rye MGP bourbon, I find more fruit notes than actual spice, but this one was memorable for being so challenging and intriguing.
I would buy another bottle of this in a heartbeat just because it is probably one of the spiciest version I have encountered out of all of the 12 year-old MGP bourbon that I own.
Final Thoughts
The sad part is that Smoke Wagon is temporarily putting the brakes on their single barrel program at this time, but I hope that in another few years we'll be able to see more barrels like this one back on the shelves. If there has been one elite bottler of MGP bourbon recently, Smoke Wagon is it and their reputation has been validated yet again with Barrel #5608.
Rating Breakdown
1 | Disgusting | Drain pour (Example: Jeffers Creek)
2 | Poor | Forced myself to drink it
3 | Bad | Flawed (AD Laws 4 Grain BiB, Clyde Mays anything)
4 | Sub-par | Many things I'd rather have (Tincup 10 year)
5 | Good | Good, solid, ordinary (Larceny, Sazerac Rye)
6 | Very Good | Better than average (Buffalo Trace, OGD BiB)
7 | Great | Well above average (Old Ezra Barrel Proof, Old Weller Antique)
8 | Excellent | Exceptional (Michter's Barrel Proof Rye, Four Roses Barrel Strength)
9 | Incredible | Extraordinary (GTS, 13 Year MGP or Canadian Rye)
10 | Insurpassable | Nothing Else Comes Close (William Larue Weller)
Featured Products
Description:

The Aged & Ore Neat Traveler is a complete travel kit for spirits. We combined our widely praised Neat Glass with one of our 3oz Flight Bottles and housed them together in a custom EVA travel case. Perfect for a night away with your favorite pour. The tie
Description:

The Aged & Ore Bottle Flight is a premium set of 4 custom silicone wrapped glass bottles designed to transport and share samples of your favorite spirits. The flight bottles come in a custom EVA travel case that fits perfectly in any small bag. An Aged &
Description:

This Bundle combines two of our crowd favorite products, creating the ultimate travel bundle to bring along your favorite spirits and glassware. Bundle Includes: Neat Traveler (Gray) Bottle Flight (Gray) Note: This bundle is only available in gray and col
*Bourbon Culture is reader-supported. When you buy through links on our site, we may earn an affiliate commission.