*Bourbon Culture is reader-supported. When you buy through links on our site, we may earn an affiliate commission.
When Old Forester initially announced the specs on their 150th Anniversary Batches, I must admit that I was skeptical. Months prior to the release of this special bottling came the Old Forester Single Barrels (most of which were bottled at barrel strength). To say that I wasn't impressed by them is an understatement. This shouldn't have been a surprise to those devoted to the brand because Old Forester had either shied away or outright refused to bottle any of their products at barrel strength except for the extremely limited releases of King of Kentucky and President's Choice.
In fact, when asked about if Old Forester would ever consider releasing a cask strength product line, reps from Brown Forman continued to give canned answers that their products tasted better at certain proofs. They even pointed out that in the past, any whiskey bottled at barrel strength was traditionally looked upon as irresponsible of distillers to release to the public (due to the Temperance Movement of the time). As it turns out, the truth may have laid in the fact that many Old Forester products just aren't that good at such high proofs.
Old Forester's 150th Anniversary release
But Old Forester's 150th Anniversary release was being hailed as something different, something… more. There would be three separate batches that would be blended together and bottled at barrel strength (or in this case, "batch proof"). The barrels age were somewhere between 6 to 8 years old whereas OF's single barrel line has been plucking barrels around the 4 to 5 year mark.
Additional quirky specs include: all 3 batches were comprised of barrels chosen from a batch of 150 barrels and those barrels were made of staves seasoned
(air dried)
for 150 days. I personally did a double take on that last fact because I figured that the barrels that Brown Forman makes for their own products were aged at least 6 months (which would be around 180 days, which I believed was the industry standard).
So did Old Forester find the barrels that were truly cream of the crop? Let's take a look at this bottle of "Batch 3" to find out.
Tasting Notes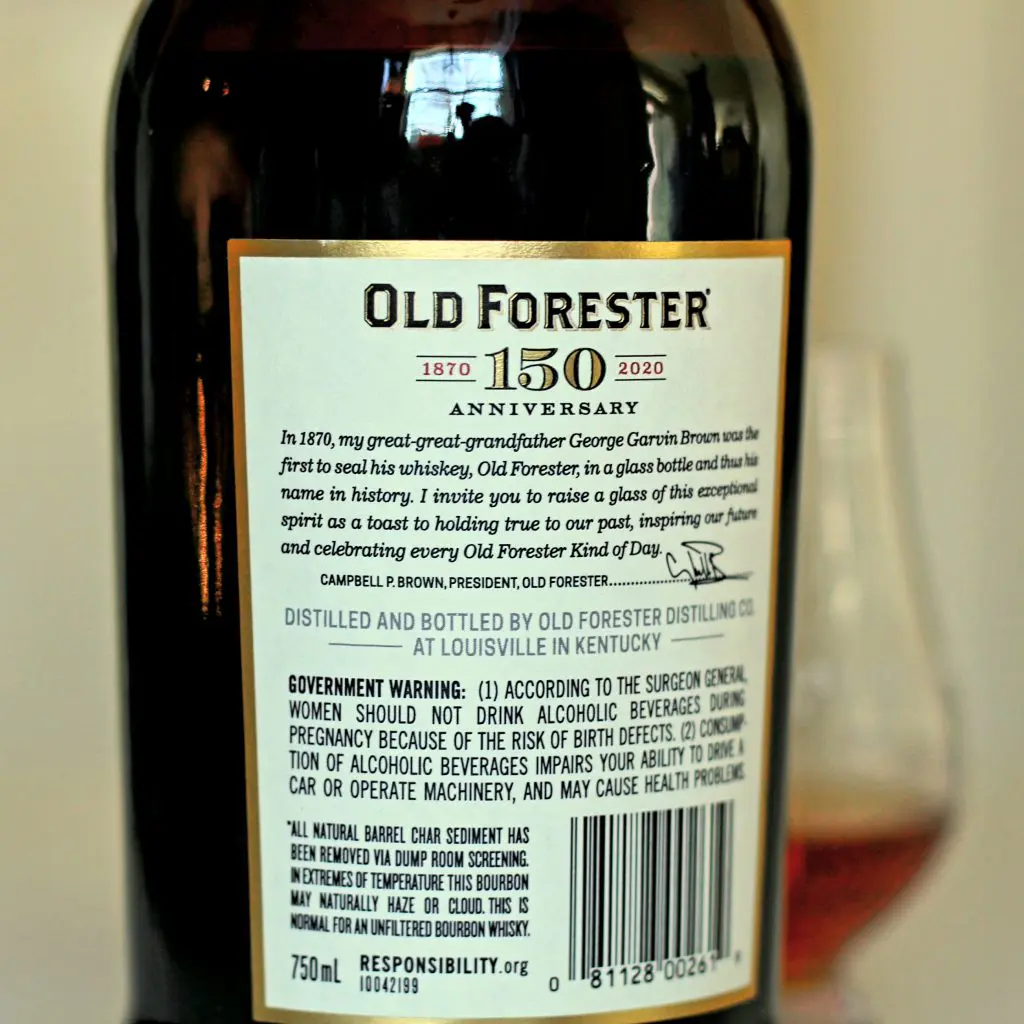 Nose: The nose on this one is definitely one of the "brighter" noses I've come across. Each aroma is straightforward and easy to identify. Banana bread, a scent I find a lot in Brown Forman products, is upfront with the complimentary scent of dried banana chips mixed with maraschino cherries. The nose is sweet and inviting with warm vanilla custard. There are candied nuts and sweet oak followed by some barrel char underneath it all to add depth and character.
Palate: Dark brown sugars and a wallop of prickly spices that I would find in high-rye MGP bourbon mashbills surprise me. In fact, with so many notes of cinnamon and pine needles, I can't believe how similar to a high-proof MGP bourbon this tastes. Woodsy-tasting notes of cedarwood and a heavy, fragrant oak add a richness that would make me believe I'm drinking a product that's at least 15 years old. But it's the sweetness of it all that really balances this out with bananas, cherries and raisins covered with a thick syrup. It's a fantastic and captivating sip every time.
Finish: For all of the spices I got on the tongue, the lingering flavors after the sip is complete seem to focus on the oak and semi-burnt sugars. Banana bread is still present but I'm getting some sour stone fruit like sour cherries and apricots (Old Forester claims this finish is more of a grapefruit). The finish, for being as strong as it is, tapers off with the perfect amount of heat. It never overwhelms.
Score: 9/10
This is an amazing product. For all the more I was bracing myself to receive a mouthful of drying oak, a lack of sweetness and uncontrolled heat, this batch came off as flavorful, delicious and extremely well rounded. It met every expectation I would have for a $150 bottle.
The syrupy character of the liquid stood out as a favorite of mine as it seemed to alleviate a common pitfall that I think many Old Forester products have: lack of sweetness. But with various sugars, syrups and molasses being found at every layer, it allowed the tannic notes like the wood and tobacco notes to shine without seeming too dominating.
Batch 3 had a very unique description according to Old Forester's press release, with notes of dill, melon, pine, green peppercorns, rosemary, anise and grapefruit all being described. If you're familiar with the bourbon world, those notes don't sound as much like an Old Forester product as they do an MGP product and maybe that's why this appealed to me the most. I'm not saying this was exactly like an MGP bourbon, though, as this batch pulled out some more unique notes that I simply don't experience in other bourbons. The sour fruit notes (as weird and unappealing as that sounds) were some of the biggest highlights of this dram followed by the intense array of high-rye tasting flavors. It really was more unique that I can put into words.
Final Thoughts
Batch 3 is one of my most favorite batches of all 3 released for the 150th Anniversary collection. It's unique, powerful and supremely entertaining. It does virtually nothing wrong and would be a staple in my bar for the rest of my life if I could afford to buy even more bottles. It's the one to seek out.
Rating Breakdown
1 | Disgusting | Drain pour (Example: Jeffers Creek)
2 | Poor | Forced myself to drink it
3 | Bad | Flawed (AD Laws 4 Grain BiB, Clyde Mays anything)
4 | Sub-par | Many things I'd rather have (Tincup 10 year)
5 | Good | Good, solid, ordinary (Larceny, Sazerac Rye)
6 | Very Good | Better than average (Buffalo Trace, OGD BiB)
7 | Great | Well above average (Old Ezra Barrel Proof, Old Weller Antique)
8 | Excellent | Exceptional (Michter's Barrel Proof Rye, Four Roses Barrel Strength)
9 | Incredible | Extraordinary (GTS, 13 Year MGP or Canadian Rye)
10 | Insurpassable | Nothing Else Comes Close (William Larue Weller)
Featured Products
Description:

The Aged & Ore Neat Traveler is a complete travel kit for spirits. We combined our widely praised Neat Glass with one of our 3oz Flight Bottles and housed them together in a custom EVA travel case. Perfect for a night away with your favorite pour. The tie
Description:

The Aged & Ore Bottle Flight is a premium set of 4 custom silicone wrapped glass bottles designed to transport and share samples of your favorite spirits. The flight bottles come in a custom EVA travel case that fits perfectly in any small bag. An Aged &
Description:

This Bundle combines two of our crowd favorite products, creating the ultimate travel bundle to bring along your favorite spirits and glassware. Bundle Includes: Neat Traveler (Gray) Bottle Flight (Gray) Note: This bundle is only available in gray and col
*Bourbon Culture is reader-supported. When you buy through links on our site, we may earn an affiliate commission.