Knob Creek Small Batch Bourbon has been a mainstay of the Jim Beam family of Small Batch bourbons since the early 1990's. Chances are high that every bourbon enthusiast has had a sip of this bottle at some point in their life.
It's so ubiquitous in the scene that Jim Beam has elected not to really change much about it for fear of ruining its reputation. It still uses roughly the same bottle shape, bottling proof and age (more or less) throughout those 30+ years.
A hiccup with Knob Creek's age statement 2016-2020
Knob Creek went through a brief period of time between 2016 and 2020 when they could not guarantee that every barrel used in their batches was going to be at least 9 years old. To be fair, this was a hardship that many distilleries in Kentucky faced.
Heaven Hill took the 12 year age statement off of Elijah Craig Small Batch in 2016 and outright killed off Heaven Hill 6 Year Old Bottled in Bond. Sazerac made moves to remove Eagle Rare's 10 year age statement (by putting it on the rear label temporarily) and demoted Very Old Barton 6 Year Old Bottled in Bond to an NAS, 100 proof version. Bleak times, indeed.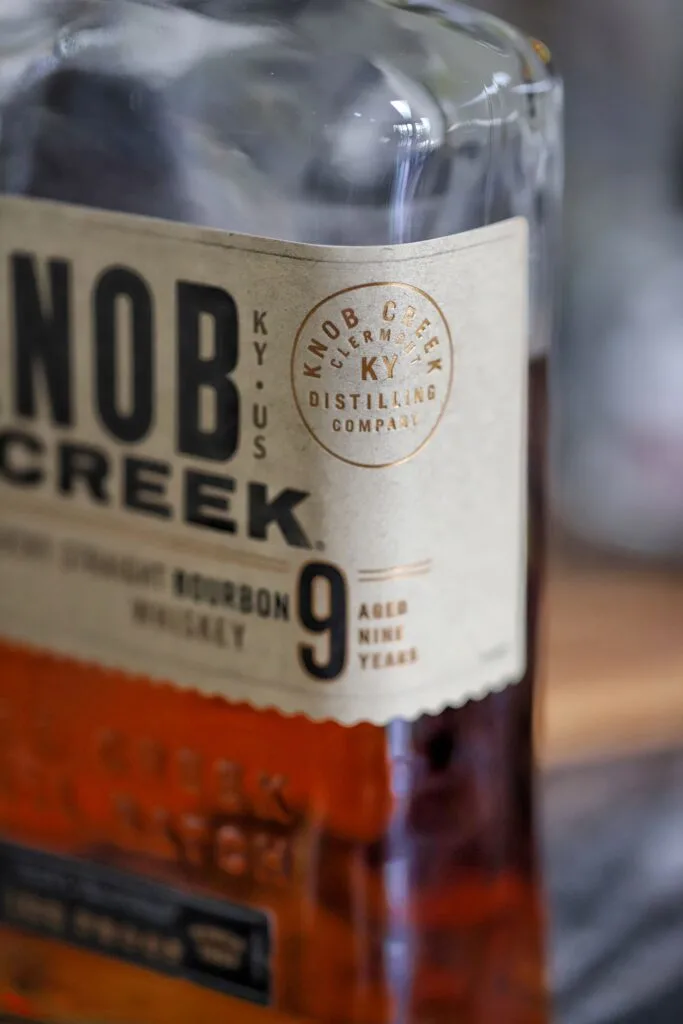 Thankfully, Jim Beam found a way to overcome its inventory shortages and has been able to reintroduce the 9 year age statement. In fact, now that the age statement is back, it sets atop all the other labels as one of the best values in bourbon when age, proof and price are factored together. Only George Dickel Bottled-in-Bond challenges it.
To my knowledge, Knob Creek uses the low-rye Beam mash bill which I don't think anybody really knows what it is. Some people throw out 75/13/12, some throw out 77/13/10 and some even say that it's been rocking the 78.5/13/8.5 "mystery tote mash bill" that people have been arguing the origin of for years now.
Regardless, it still comes off the still at 130 proof, gets barreled at 125 proof in Char #4 barrels and is aged between the 2nd and 6th floors of Jim Beam's 7 story tall warehouses. This ensures that evaporation remains somewhat in check while it ages for almost a decade.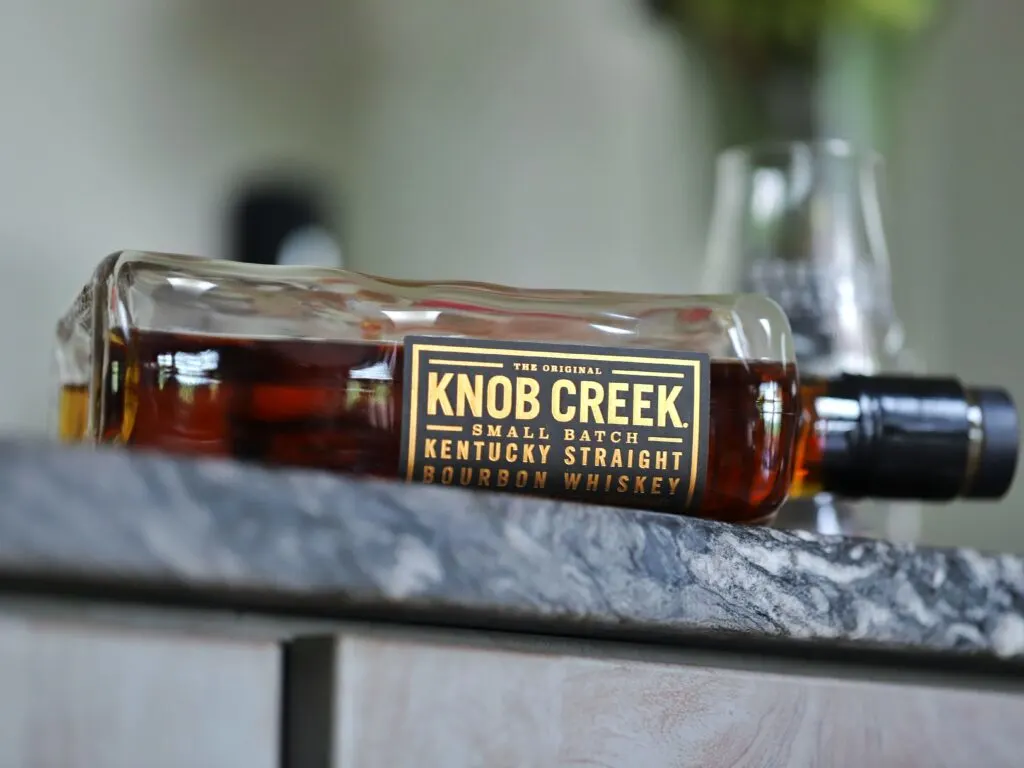 Knob Creek wouldn't be an industry-wide darling if it tasted bad or didn't have a palatable flavor profile, so it's time for me to find out what exactly makes it so likable. Read on as I sample this neat in a glencairn.
Tasting Notes
Nose: Traditional Jim Beam notes show off all 100 of its proof points. Caramel, peanut butter and vanilla stand out the most. For being 9 years old, the oak isn't as powerful as I thought it would be. It's still present in small amounts though.
The sweetness is somewhat one-dimensional because it centers around caramelized sugars. There aren't any fruit flavors that catch my attention either. Baking spices can be found, but are somewhat subdued. I'd say nutmeg stands out the most.
Palate: Eminently sippable. 100 proof is perfect on a bottle like this. I've had 90 proof bottles that taste hotter than this too. It just goes to show what a low-rye content will do for a bourbon. The yeast that Beam uses is responsible for the nutty flavors within.
I've heard some speculate that the taste is similar to hazelnuts, but to me it's straight up roasted peanuts. Baking spices combine with ground pepper to give each sip more character. Caramel and Flan combine to make it all a very sweet affair. I can't really find a fault with it, aside from the lack of fruit. Knowing that now would make it easy for me to pick this out in a blind tasting.
Finish: After the sip is complete, the flavors become sweeter and more subdued. Strangely, the tannins show themselves to be a little bit stronger too. Increased amounts of oak and a hint of tobacco leaf can be found. The nuttiness remains. It's really more of the same with the baking spices and vanilla melting away quickly.
Score: 6.1/10
For all of its simplicity, there is a beauty that shines through from this bottle. It's simple, sweet and has a great supporting cast of flavors. It's not what I would call complex, but it does everything well. I'm glad they brought the age statement back, but honestly, it's not like it became massively more oaky or refined.
The team that batches these barrels together do a great job too. I know I didn't put this in the review, but I had a chance to sample a NAS Knob Creek Small Batch from 2018 and I could barely find any difference between the two. That's the hallmark of a consistent label.
Final Thoughts
I have a memory early in my bourbon drinking days of being TDY in the Army down in Owensboro, Kentucky. We had been training the 206th Engineer Battalion and when the day was over, we'd go find a local place to eat.
I forget where we were at but I saw they had a flight of bourbon to sample, so I got it. I can't remember the names of all the ones I drank that day, but the one that stood out as my favorite was Knob Creek Small Batch. It's something I still think about whenever I'm tasting this or any of the other half-dozen labels they've rolled out with over the years.
Knob Creek Small Batch is the quintessential bourbon that every drinker should try before moving on to other ones – and it's the perfect bourbon to still keep on your bar just in case you need a reminder. A reminder of what? That bourbon doesn't have to be so complicated to be enjoyed. I would like to hope everyone has a bourbon that can do that for them, but Knob Creek Small Batch is mine.
Featured Products
Description:

The Aged & Ore Neat Traveler is a complete travel kit for spirits. We combined our widely praised Neat Glass with one of our 3oz Flight Bottles and housed them together in a custom EVA travel case. Perfect for a night away with your favorite pour. The tie
Description:

The Aged & Ore Bottle Flight is a premium set of 4 custom silicone wrapped glass bottles designed to transport and share samples of your favorite spirits. The flight bottles come in a custom EVA travel case that fits perfectly in any small bag. An Aged &
Description:

This Bundle combines two of our crowd favorite products, creating the ultimate travel bundle to bring along your favorite spirits and glassware. Bundle Includes: Neat Traveler (Gray) Bottle Flight (Gray) Note: This bundle is only available in gray and col
*Bourbon Culture is reader-supported. When you buy through links on our site, we may earn an affiliate commission.