*Bourbon Culture is reader-supported. When you buy through links on our site, we may earn an affiliate commission.
2019 saw the high-water mark of the Knob Creek single barrel program where it seemed like every store that could do a pick was going to get a 14 or 15 year old barrel. Coupled with its low retail price (around $50), enthusiasts didn't know whether to celebrate or be skeptical. How could Kentucky bourbon that was this old and this high in proof be so cheap? Surely something had to be wrong with it.
So many enthusiasts waited. Then those older barrels ran out.
Knob Creek 12 Year – Just a better 9 year Small Batch?
That was a peculiar time for the famed Jim Beam brand. Why were they having such a fire sale on those old barrels? It was – and remains to this day – the best value in bourbon. But Beam had another peculiar release in that same year that may people overlooked – Knob Creek 12 Year.
Knob Creek 12 Year was strange because not only did it contain younger bourbon than most of those aforementioned single barrels, it was also bottled at a lower proof and had a higher price tag.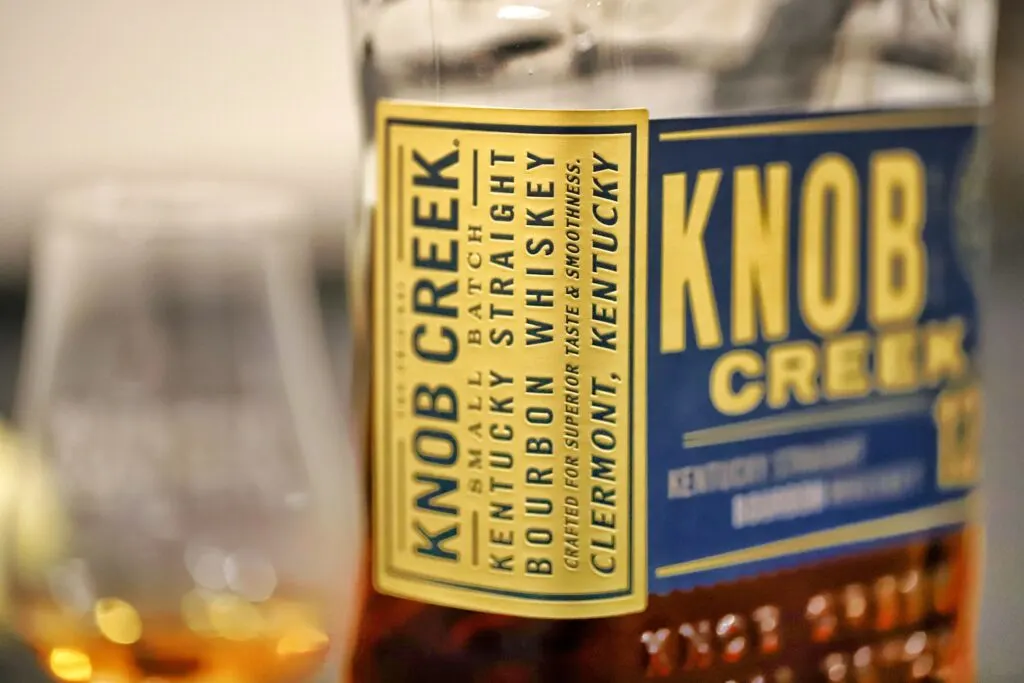 Its launch should have been a warning to enthusiasts everywhere that the teenage barrels used in the single barrel program weren't going to be around forever. And when they ceased offering single barrels older than 9 years old the following year, Knob Creek 12 Year suddenly moved to the top of the food chain (aside from the limited edition 15 year red label version).
Many enthusiasts scoffed at the idea of buying Knob Creek 12 for $60. They wanted their older, higher proofed barrels back. To this day, I'm sure many are holding off on trying Knob Creek 12 Year as an act of defiance to what was taken from them. I like to speculate that the people that do buy this bottle only got into bourbon after 2020 – because they didn't know what they were missing.
But is Knob Creek 12 Year really that bad? And do Jim Beam enthusiasts avoid it? I'm hoping to find that out today. Jim Beam hints that there are barrels much older than 12 years in each batch (with some reaching as high as 15 years). Of course you won't find that written on any label, but this seems like something the blenders at Beam frequently do.
What I'm hoping to find out is just how much of an impact those older barrels make. I also want to know if there is any reason to avoiding buying the 12 year label. Is it really worth the $60 price tag? Or does it elevate the Knob Creek Small Batch brand to another level? Let's find out. I sampled this neat in a glencairn.
Tasting Notes
Nose: Old, seasoned wood and cigar box open up the nose in a way that was much older smelling than I was prepared for. Frankly, I'm surprised! Beam notes of caramel and vanilla can be found too. But the strangest thing comes from this sort of raisin/grape Kool-Aid note I'm finding. I've had this occasionally in some Eagle Rare store picks and it blows me away that a whiskey distilled from grain could smell so similar to grape brandy.
Palate: The oak and tannin scents transfer to the palate with flavors of seasoned oak. This is accompanied by the trademark Beam nuttiness and some vanilla cream. Baking spice flavors are courtesy of ground cinnamon. But it's the fruit notes that make me do a double take – Cherry licorice, candied orange peel and that awesome grape Kool-Aid flavor. Beam is almost never this fruity.
Finish: Fruit notes aren't as easy to find after the sip is complete. The spice and heat is held in check too. All I'm left with is lingering notes of vanilla, oak, caramel and sweet cedar wood. Not a bad way to go out!
Score: 7.8/10
I'm here to admit that Knob Creek 12 Year has surpassed all of my expectations. I was expecting to find similar notes as the 9 Year Small Batch (liquid candy bar with more oak) and what I got tasted almost like it was from a different distillery.
I've often lamented the lack of fruit notes in Beam products so often that I have begun to advocate for more barrel finishes just to get them. But Knob Creek 12 Year shows me that barrels with different profiles really do exist.
Just to make sure I wasn't imaging things, I poured myself a 14 year Knob Creek single barrel pick immediately afterwards. The aged notes on the single barrel stuck out as being more mature, but in a way it tasted a bit more flat compared to the Knob Creek 12 Year. Color me impressed.
Final Thoughts
The bottle I'm reviewing was purchased in 2022, a few years after Knob Creek 12 Year was released. The reason why I bring this up is because I want to dispel the potential argument that Jim Beam used only good barrels for the initial batches of Knob Creek 12 in an effort to draw in consumers before lowering the quality.
This is a thing a lot of producers have been guilty of. So this makes me think that the quality of Knob Creek 12 Year has always been this good. In time, I'll buy a newer bottle and double-check my hypothesis just to make sure.
Knob Creek moves up near the top of my list for excellent, obtainable bottles that you can find right now. Prices fluctuate (I've seen some as low as $58, others as high as $79) so shop around before pulling the trigger. But just know that this is a product that might be one of the best everyday bottles on the shelf with everything else considered.
Knob Creek has always been a favorite of mine. I've enjoyed the 15 and 18 year versions so it shouldn't come as a surprise that I like the 12 year version. Yet here I am, wondering how I got so much enjoyment out of such a simple bottle. If you find yourself with a palate similar to mine, then do yourself a favor and go buy a bottle right now.
Featured Products
Description:

The Aged & Ore Neat Traveler is a complete travel kit for spirits. We combined our widely praised Neat Glass with one of our 3oz Flight Bottles and housed them together in a custom EVA travel case. Perfect for a night away with your favorite pour. The tie
Description:

The Aged & Ore Bottle Flight is a premium set of 4 custom silicone wrapped glass bottles designed to transport and share samples of your favorite spirits. The flight bottles come in a custom EVA travel case that fits perfectly in any small bag. An Aged &
Description:

This Bundle combines two of our crowd favorite products, creating the ultimate travel bundle to bring along your favorite spirits and glassware. Bundle Includes: Neat Traveler (Gray) Bottle Flight (Gray) Note: This bundle is only available in gray and col
*Bourbon Culture is reader-supported. When you buy through links on our site, we may earn an affiliate commission.