2023– 96 Proof, 12 Years Old, All 103 barrels aged in Warehouse I, 5th Floor
2022 – 96 Proof, 11 Years Old, No warehouse information given
2021 – 104 Proof, 12 Years Old, All 119 barrels aged in Warehouse G
2020 – 98 Proof, 10 Years Old, No warehouse information given
2019 – 105 Proof, 11 Years Old, All 120 barrels aged in Warehouse I, 2nd Floor
2018 – 101 Proof, 12 Years Old, 93 barrels aged in Warehouse J, 3rd Floor and 27 barrels aged in Warehouse I, 3rd Floor
2017 (Florida, Georgia and Kentucky release) – 95.4 Proof, 12 Years Old, 93 barrels aged in Warehouse G, 4th Floor and 27 barrels aged in Warehouse K, 5th Floor
2017 (All other states including Kentucky release) – 96 Proof, 12 Years Old, 93 barrels aged in Warehouse G, 4th Floor and 27 barrels aged in Warehouse K, 5th Floor
2016 – 97 Proof, 12 Years Old, 93 Barrels aged in Warehouse K, 5th Floor
2015 – 100 Proof, 12 Years Old, No warehouse information given
2014 – 97 Proof, 12 Years Old, Barrels aged in Warehouse G and I
2013 – 98 Proof, 12 Years Old, Barrels aged in Warehouse I, 7th Floor
2012 – 97 Proof, 12 Years Old, Barrels aged in Warehouse H, 4th Floor
2011 – 98 Proof, 12 Years Old, Barrels aged in Warehouse H, 1st Floor and Warehouse I, 6th Floor
2010 – 95 Proof, 12 Years Old, Barrels aged in Warehouse K, 5th Floor
2009 – 97 Proof, 12 Years Old, Barrels aged in Warehouse B, 5th Floor and Warehouse J, 8th Floor
2008 – 94 Proof, 12 Years Old, Barrels came from Warehouse H, 6th Floor
2007 – 94 Proof, 12 Years Old, no Warehouse information given
2006 – 96 Proof, 13 Years Old, Barrels aged in Warehouse H, 7th Floor
2005 – 96 Proof, 12 Years Old, Barrels aged in Warehouse H, 7th Floor
2004 – 94 Proof, 8 Years Old, Barrels aged in Warehouse L
2003 (Fall Release) – 89 Proof, 13 Years Old, No Warehouse information given
2003 (Spring Release) – 93 Proof, 12 Years Old (possibility of being 13 years old), No warehouse info given
Summary:
Youngest Birthday Bourbon: 2004 (8 Years Old)
Oldest Birthday Bourbon: 2006 Release (13 Years Old, confirmed)
Lowest Proof Birthday Bourbon: 2003 Fall Release (89 Proof)
Highest Proof Birthday Bourbon: 2019 (105 Proof)
In-depth information on each release
2023
Not a lot was given on Old Forester's website, but I was able to find out that the 2023 OFBB consisted of 103 barrels which were filled on May 5, 2011. They were aged in Warehouse I on the 5th floor for 12 years.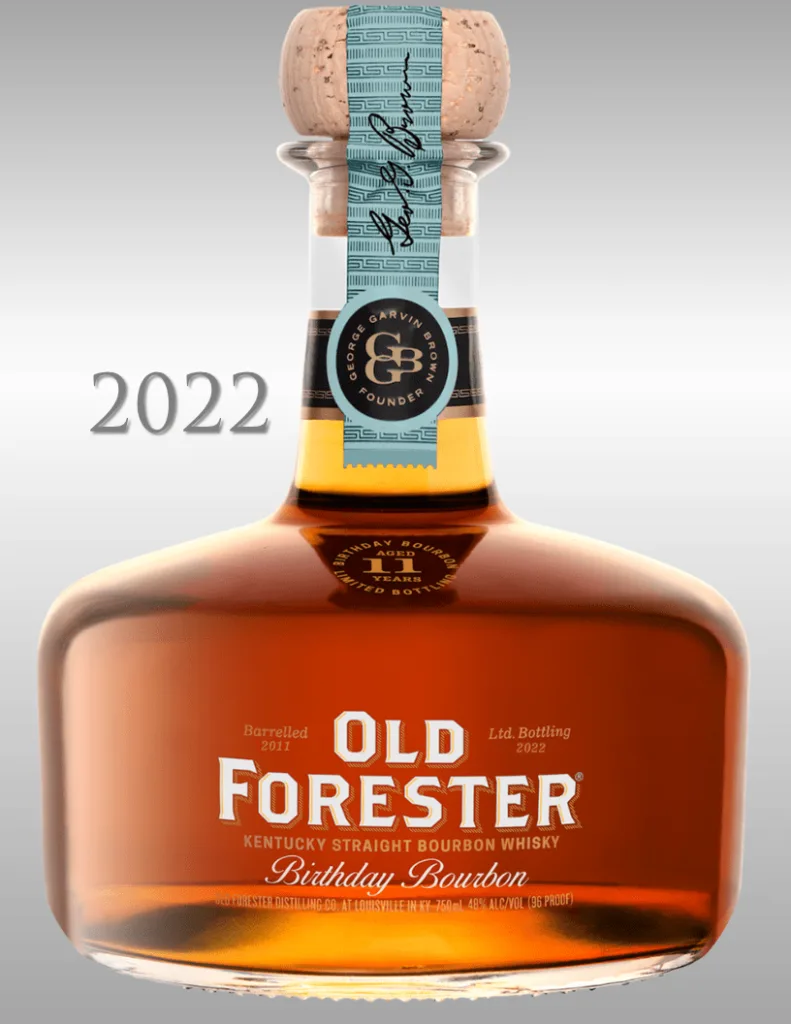 2022
The 2022 Birthday Bourbon drops in proof to 96 and loses a year of age from the previous year's. No warehouse information or barrel/case numbers were given for this release.
2021
The 12 year age statement and the high proof return for this year, coming in at 104 proof. The batch size increased to 119 barrels filled on April 16, 2009, and matured in Warehouse G. Otherwise, no other information was provided.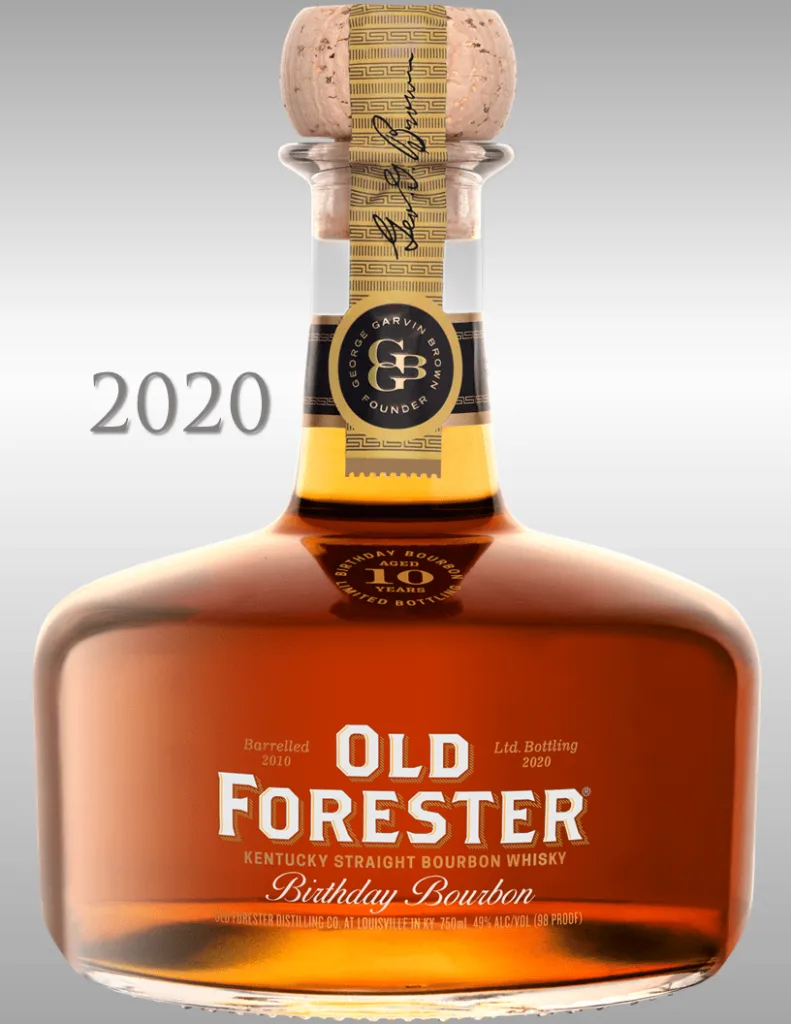 2020
The 2020 Birthday Bourbon was the youngest Birthday Bourbon released since 2004 – coming in at only 10 years old. It also saw a significant drop in proof compared to the last two releases, being bottled at 98 proof. The barrels selected must have had lower-than-usual evaporation rates because this whole batch used only 95 barrels which were filled on June 5th, 2010. Master Taster Jackie Zykan and Master Distiller Chris Morris selected all of the barrels.
2019
This year's expression is bottled at 105 proof, making it the highest proofed Birthday Bourbon yet. It is also the first one to outright wear an age statement of less than 12 years. Old Forester Master Distiller Chris Morris and Master Taster Jackie Zykan felt these barrels were something special. The team chose 120 barrels for the release, representing a full day of production at the distillery. The barrels were laid down on May 15, 2008 and aged on the second floor of Warehouse I.
2018
For the second year in a row, Old Forester published that they pulled 120 barrels to make this year's release. They were all distilled on June 9, 2006. They came from the 3rd floor on the northwest side of Warehouse J (93 barrels) and the remaining 27 barrels matured together on the 3rd floor, northwest side of Warehouse I.
This is the first year that Old Forester talks about evaporation percentages noting that just 39 percent of the total volume was retreived and five barrels were found to be totally empty.
Roughly 2,400 (six bottle) cases will be available for purchase nationwide. It is offered at 101 proof, the highest to date for this annually released Bourbon.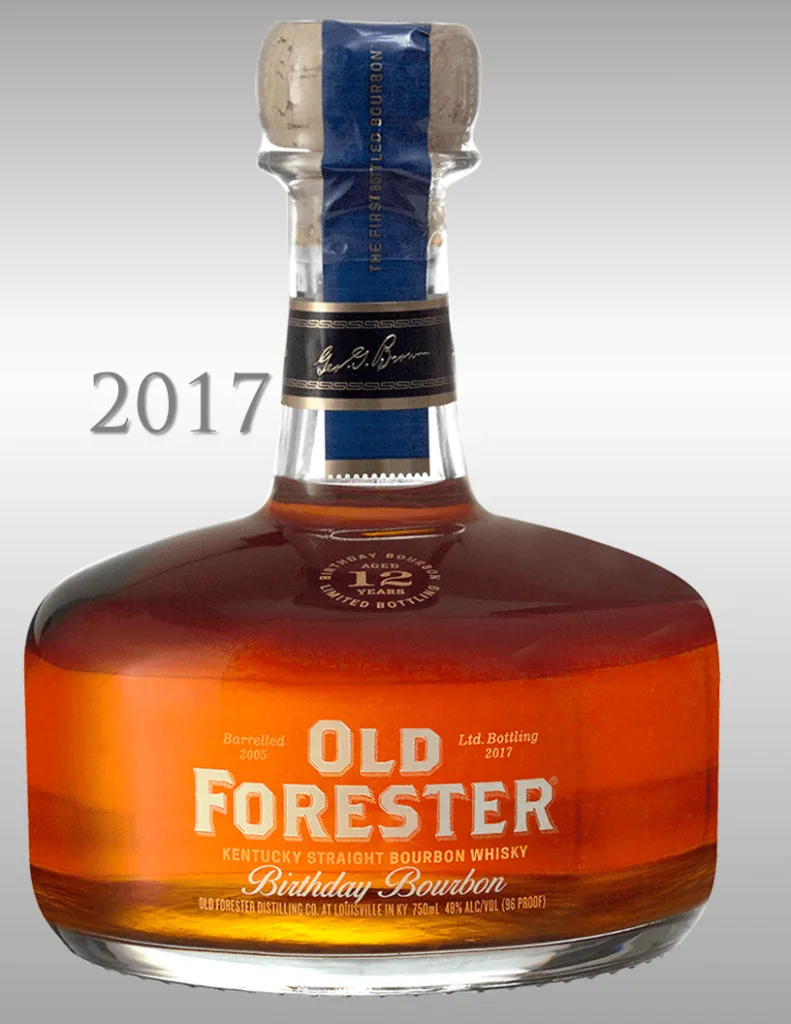 2017
Old Forester tells us that the 2017 Birthday Bourbon barrel selection was drawn from a total of 120 12-year old barrels from different warehouses and floors. This is the first time we get to hear total barrel numbers. They indicate that the distillation date was May 27, 2005.
93 barrels matured together on the 4th floor of G warehouse, while the remaining 27 barrels matured together on the 5th floor of K warehouse. Several barrels from both lots basked in the sun, highlighting the effects of maturation along an external wall in Old Forester's heat cycled warehouses.
2017 is the first year since 2003 when there are two separate bottlings of Birthday Bourbon (well, kind of). They claim that during the transfer of Bourbon from the holding tank to the bottling line, alcohol vapors were lost during bottling, causing the proof to drop. This resulted in a majority of the bottles being filled at 96 proof while a small amount were bottled at 95.4 proof. This distinction is identifiable in the proof statements on the bottle.
The 2017 Old Forester Birthday Bourbon will be on shelves with a suggested retail price of $79.99. Florida and Georgia will receive the 95.4 proof expression and remaining states will receive the 96 proof expression. Kentucky is the only state which will receive both expressions, with the 96 proof expression shipping first.
2016
Old Forester reiterates that each barrel in the Birthday Bourbon selections annually are drawn from the same day of production. For the 2016 release, they note that all barrels were produced on June 4, 2004. The 2016 release saw 93 barrels uniquely matured together on the 5th floor of Warehouse K. The lot was positioned near a window facing west allowing them to be sun kissed, yielding a deeper oak mouthfeel. I've seen the window layout of these warehouses and have to point out that only a few barrels of the 93 could have possibly seen sunlight from the windows (in any meaningful way, at least).
They go on to say that this warm location provides this year's release with a deep, rich, oak forward personality. The 2016 release is noted that the suggested retail price will be $79.99. 2,400 (six bottle) cases will be available for purchase nationwide which is up from 2,200 cases from last year. This makes it the largest quantity of Birthday Bourbon bottled so far.
2015
This year's release sets a new record for the highest proofed OFBB release yet at 100. Chris Morris (the Master Distiller at the time) stated that "This particular lot of barrels is unusual because it matured in the same warehouse location instead of multiple sites. The lot aged near a window and close to a heat cycling duct, exposing all of the barrels to very high temperatures, resulting in the very robust, intense wood-derived characteristics…" This is interesting because it seems to indicate that for the years that Old Forester does not tell us about all of the warehouses that the barrels came from, the reality might be that a majority of them stored the barrels. They also indicate case count for this year, say that "only 2200 (6 bottle) cases" went on sale.
2014
Extremely little exposition was given to this year's release. Old Forester notes that the barrels were matured in the middle floors of Warehouse G and I which resulted in a very even temperature exposure.
2013
Old Forester notes that "for the 2014 release (of note, the website probably made a typo and meant "2013 release), the fermenter set had a higher pH setting, which created a distiller's beer that was fruitier and less sour than typical batches." This is interesting because it hints to the fact that distillers can adjust things on fermenters to create different profiles. Is this why some distillers have such fruity tasting whiskies and others don't?
They also mention that once it was distilled and barreled, it was matured in Warehouse I on the 7th floor, where exposure to high summer temperature advanced the ripening of the rich fruit base.
2012
This is the first year that Birthday Bourbon uses a new font for their bottle. This font still lives as of the time of this writing. Old Forester claims that the malt ratio was increased in the mash bill before putting it into the fermenter, which resulted in a noticeably nutty spirit (of note, the mash bill is normally 72/18/10). Once barreled, the barrel was stored high up on the 4th floor of Warehouse H, where it experienced a balanced maturation. I'm unsure why the describe the 4th floor as being "high up" when it's literally in the middle of the floors. They go on to say that the lofty location gave an unusual amount to the Angel's Share, resulting in a richly intense flavor concentration.
2011
Old Forester talks about their cooperage a lot, but this is the first time they've went into detail on where their oak is being harvested from. In this release, they claim to know that the barrels used to mature the bourbon from this year's release was matured in barrels crafted from Northern and Ozark terroir sourced white oak. They claim it resulted in the development of some rich fruit notes (Ozark) and deep, dark char (Northern) characteristics. There must have been a ton of testing to know what flavors certain oaks produce. I'm skeptical about the fruit notes being a product of the oak, too. I think it's more of a product of fermentation, distillation and esterification. They note that the barrels were stored in Warehouses H and I, on the 1st and 6th floors. 98 Proof becomes the new "highest proof in a Birthday Bourbon" up until that point.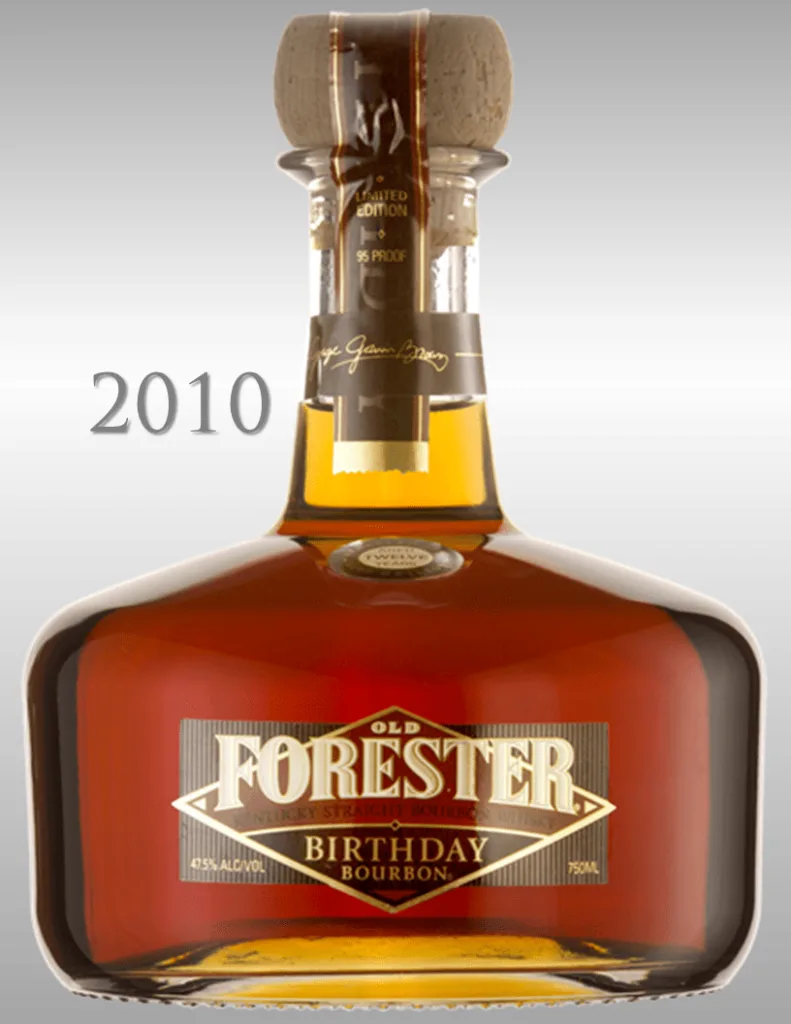 2010
Old Forester notes that the barrels selected for this release were evenly matured together in the very middle of Warehouse K, on the 5th floor in ricks 42, 43, and 45, surrounded by open space. This is the first time we've seen barrels sourced from Warehouse K for Birthday Bourbon. Rick location is intriguing seeing as how Old Forester never talks about their ricks. They mention that this environment allowed the barrels to easily breathe during the maturation and develop a rich fruit and spice character. Of note, the label on the bottle changes the wording from "Distilled YEAR" to "Barreled YEAR."
2009
Old Forester notes that the barrels used for this year's release were stored in the small Warehouse B and larger Warehouse J, on the 5th and 8th floors respectively. Of note, this would be one of the only instances that barrels from Warehouse B were used (at least, that they've told us). The upper floor locations exposed the barrels to a great degree of heat during the summer months resulting in a rich, complex maturation profile. It is also barreled at 97 Proof, which is the highest proof for a Birthday Bourbon up until this point.
Old Forester claims this results is bourbon filled with rich caramel layers with a combination of milk and dark chocolate notes dusted with brown sugar. A sprinkling of brown spice and a hint of orange peel round out the sweet character.
2008
Not much was said about this release aside from the fact the barrels were all selected from the 6th floor of Warehouse H, an upper floor where heat builds. Old Forester claims this made for a more robust, complex flavor profile.
2007
Old Forester states that this vintage is a balance between the 2006 and 2007 expressions. They claim that the 2005 had heavy cinnamon and baking spice notes while the 2006 had a pronounced mint note. So they batched the 2007 to represent the best of these two years, with a mint note that cools the warm cinnamon spice. Of note, since this was distilled in the Spring of 1994, it could be assumed this is also a 13 year old release.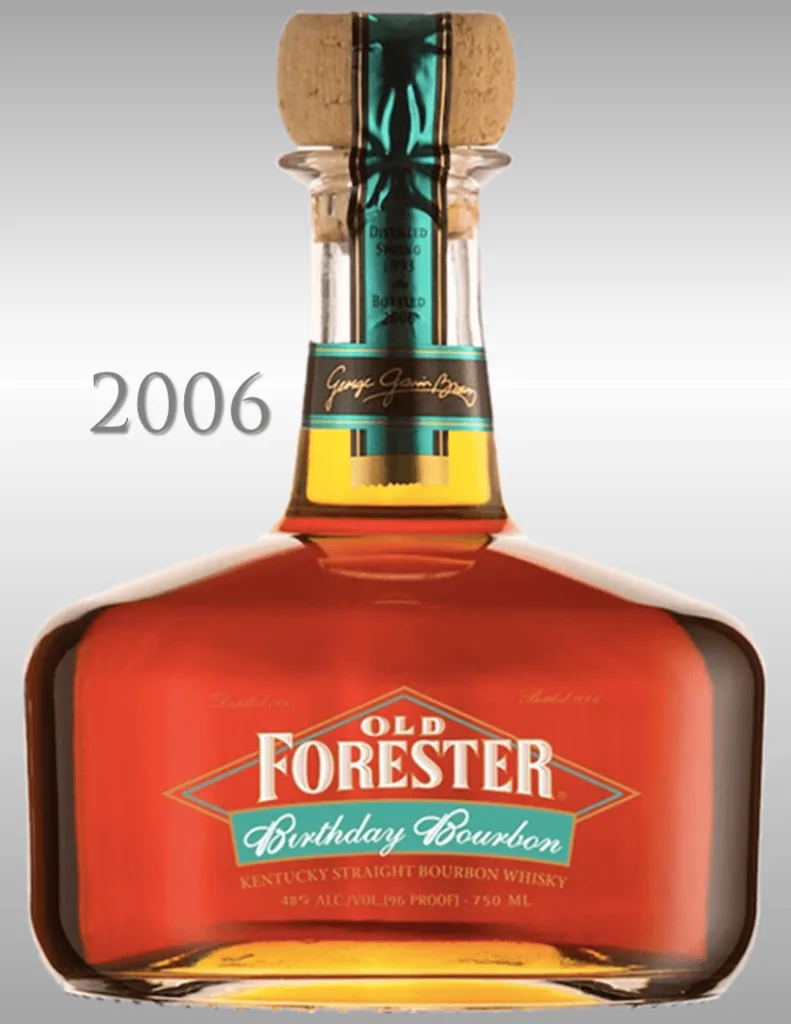 2006
Old Forester notes that this lot of barrels was distilled and barreled 1 week prior to the 2005 Birthday Bourbon, but was matured for an additional year. By my calculations, this might make this release the oldest Birthday Bourbon we've seen bottled at 13 years old. They also claim it was aged in the same exact warehouse location. The vintage was presented at the same proof as our 2005, allowing Birthday Bourbon fans to compare and contrast the flavors with the previous years.
2005
Old Forester notes that they used a different malted barley supplier for the barrels of this Birthday Bourbon. The new barley produced a slightly lighter bodied spirit than usual. Barrels were stored on the 7th floor of Warehouse H, where they were exposed to extremely warm temperatures and dry conditions. The lighter bodied spirit and warehouse condition resulted in a higher than average Angel's Share loss, but I'm not sure how a lighter bodied spirit translates to more Angel's Share loss? Does that mean that the secret to high-yield barrels is to make a really heavy-bodied spirit? They claim that the final product concentrated the rich toasted and charred oak notes.
2004
Old Forester provided the tidbit that Master Distiller Chris Morris allowed the warehouse crew to select the vintage from his list of barrel candidates. At least when this was written, it made it the only release where the union selected the Birthday Bourbon barrels for that year. The barrels chosen were only aged 8 years, making this the youngest Birthday Bourbon ever produced. Old Forester notes that this spicy, complex bourbon was entered into Warehouse L during a cycling period, which would indicate it was distilled closer the winter of 1995. The interior temperature of the warehouse was warm and humid so the pores of the charred white oak barrel were open.
2003 Fall
Old Forester notes that all of the barrels in this release "were in a low heat cycling." This is the first kind of indication that not all floors are treated equally when it comes to heat cycling. They point out that they were not exposed to rising heat or sunlight; rather, they were in lower, cooler floors. They claim the character of the bourbon results in a softer, less sweet character. Of note, this is the lowest proofed Old Forester release ever, coming in at 89 proof.
2003 Spring
The first and only time that a Birthday Bourbon was released in the Spring. After that, it would be released in the fall (September 2nd to be exact). Old Forester notes that all the barrels were aged in accelerated heat cycling warehouses. They were in the sunlight, by windows, creating prominent caramel spice notes.
2002
The very first Old Forester Birthday Bourbon. The barrels were soaked into thunderstorms prior to being filled which abbreviated the normal initial Angel's Share process. Old Forrester made a point to let us know they don't normally let barrels get wet. I want to know how they possibly kept track of this one weird weather fact 12 years later.
Featured Products
Description:

The Aged & Ore Neat Traveler is a complete travel kit for spirits. We combined our widely praised Neat Glass with one of our 3oz Flight Bottles and housed them together in a custom EVA travel case. Perfect for a night away with your favorite pour. The tie
Description:

The Aged & Ore Bottle Flight is a premium set of 4 custom silicone wrapped glass bottles designed to transport and share samples of your favorite spirits. The flight bottles come in a custom EVA travel case that fits perfectly in any small bag. An Aged &
Description:

This Bundle combines two of our crowd favorite products, creating the ultimate travel bundle to bring along your favorite spirits and glassware. Bundle Includes: Neat Traveler (Gray) Bottle Flight (Gray) Note: This bundle is only available in gray and col
*Bourbon Culture is reader-supported. When you buy through links on our site, we may earn an affiliate commission.