*Bourbon Culture is reader-supported. When you buy through links on our site, we may earn an affiliate commission.
Social Media have been a great boon to distilleries since their inception. The world becomes a little bit smaller when you join a group of like-minded enthusiasts for the brands you love. And nobody has a bigger or rowdier following than Jack Daniel's.
I've joined many Jack Daniel's Facebook groups over the past few months. They are the opposite of many Kentucky bourbon groups. What I mean by that is they focus almost entirely on the basic releases – I'm talking anything that wears a black label. To a certain extent, I think Jack Daniel's knows that whiskey enthusiasts that chase limited releases and drink their whiskey from glencairns are the minority. But they still find a way to cater to us. Over the past 10 years, the amount of new products they've rolled out with has continued to grow. Barrel proof offerings, Triple Mash, Rye Whiskey variations, Distillery Series and their annual Special Releases – all show a dedication to diversification. The variety of labels they've given to us is nothing short of remarkable.
This review is going to solely concentrate on Jack's rye whiskey, though. In 2020, Jack gave us a preview of what their rye whiskey tasted like in barrel proof form. Enthusiasts were stunned by how good it was. How was it that Lynchburg Tennessee was making rye whiskey better than some Kentucky distilleries?
Jack Daniel's Single Barrel Barrel Proof Rye Whiskey
Thankfully, Jack didn't stop at the 2020 release. It turns out that they increased production of their rye whiskey a little bit more. Now in 2023, we're witnessing the launch of their new single barrel barrel strength rye whiskey program.
My sources tell me that only 50 barrels were made available for the initial picks in 2023. I don't know who they all went to, but some were sold in the gift shop this past summer. Luckily, a friend of mine was in Lynchburg while they still had some available. Gift shop ones can be differentiated from the rest by the wooden barrel necktag inscribed with the letter "S." Ones chosen by groups will receive the same bronze neck chain that their Tennessee Whiskey picks have for years now.
Another friend of mine led a group to pick 2 barrels of rye whiskey with him back in June (reviews on those will be coming soon). Based on the pictures they took, we can see that the barrels are aged anywhere from 6 to 7.5 years old. This is good information to have because these single barrels do not carry a "distilled on" date like other distilleries do (they do carry a bottling date which doesn't help much). The only way you'll know your bottle's age is if you speak with the person who picked the barrel.
I'm going to be honest, I'm not seeing a big difference between these single barrel picks and the 2020 Limited Release version of barrel strength rye. The Special Release version was believed to be around 6 years old. Based on when Jack first started to distill rye whiskey (2012), there's no way it could have been 8 or more years old. That means that these single barrel picks all the same stats as the Special Release version. Even the proofs are similar. The secondary market value of those 2020 bottles is destined to tank.
But enough about comparing and contrasting – how does this taste? Let's find out. I sampled this neat in a glencairn.
Tasting Notes
Nose: Initial scents are a mix of sweet and spiced. Caramel mixes with nutmeg, cinnamon, fennel and ginger. Herbs come off like a fresh stick of mint gum. Fruit comes by way of Christmas fruitcake and lemon poundcake. As a stranger note, I swear I keep picking up on this scent that's a bit like talcum powder. It's unique but doesn't take away from the enjoyment I get from nosing this glass.
Palate: Caramel sweetness that tastes almost like a chili oil has been added to it because of the growing heat on my tongue. There's herbal notes like peppermint and fruit notes like cherry, sweetened apricot and a tiny bit of bubblegum. Baking spice notes like cinnamon, nutmeg and vanilla also show back up. What surprises me the most is I even find a hint of chocolate. That's unexpected but is definitely a treat.
Finish: More of the same on the finish. Sweet, oaky notes still carry a lot of heat with them while the finish gets – oddly – a little bit bready. I normally pick up the latter note in younger whiskies, strange. Heat comes by way of ground peppercorns and cinnamon Red Hots. Herbal mint flavors also continue to linger. The finish is a bit on the simple side, but still actively smolders on your tongue long after it's complete.
Score: 8.2/10
Each sip of this single barrel is bursting with intense flavors. For sure, this drinks hot, but it's not the punishing kind of hot; it's actually quite rewarding. There's just something about a high-proofed Jack Daniel's whiskey of any kind where you can tell it has some heat but it's the kind that won't chase you away. That's this single barrel in a nutshell.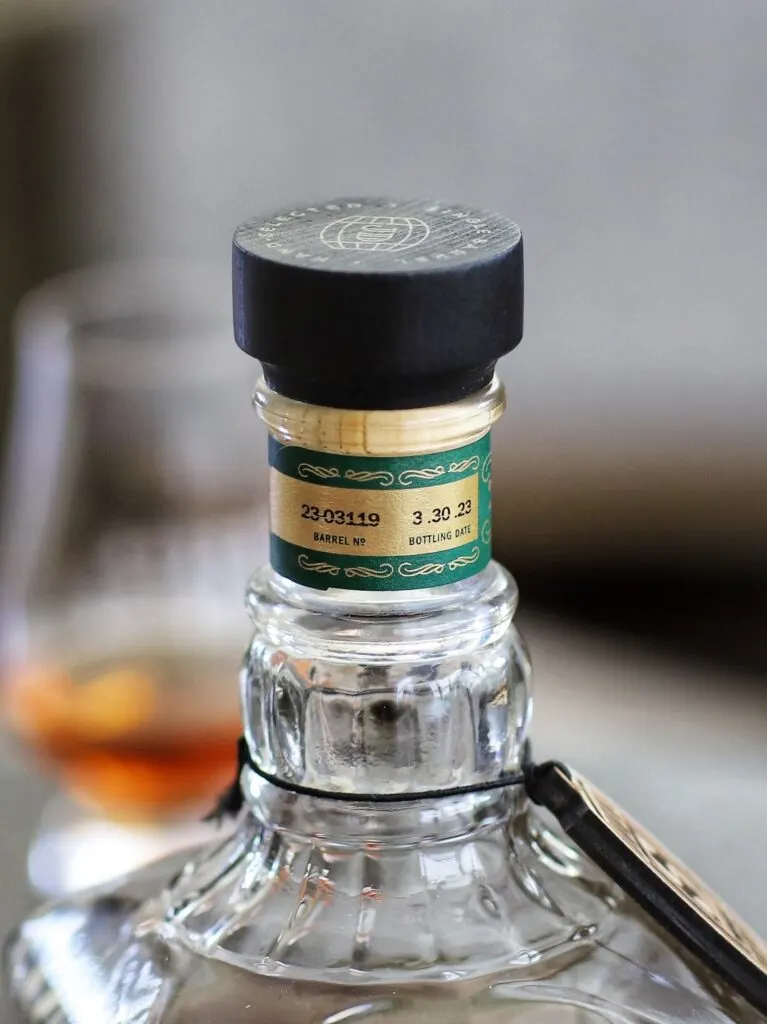 I think the one thing that surprised me so much about my session with this bottle is how much the rye flavors come through. I looked back in my notes on the 2020 Special Release and noted how the rye traits I'd typically find were absent. So either my palate has changed or Jack Daniel's has selected some barrels that exemplifies the rye grain traits a bit more. With single barrels, you never can be sure.
Final Thoughts
Buying this bottle is a no-brainer if you see one. Even secondary prices seem justified to me (which are hovering around $130 for most bottles and $200+ for HAZMAT ones at the time of writing). This rye whiskey easily satisfies rye-lovers and may also be sweet enough to lure in enthusiasts who don't care much about rye. I seriously don't think there are any downside to these picks.
I applaud Brown-Forman's decision to release Jack Daniel's rye as barrel proof store picks and can only hope that they will expand the program to Old Forester's Barrel Strength Rye Whiskey in the coming year. If there is one thing that Brown-Forman does exceptionally well, it's their brand's rye whiskey. So even though you might not have ever considered Jack to get your rye fix in the past, it deserves your attention today.
Featured Products
Description:

The Aged & Ore Neat Traveler is a complete travel kit for spirits. We combined our widely praised Neat Glass with one of our 3oz Flight Bottles and housed them together in a custom EVA travel case. Perfect for a night away with your favorite pour. The tie
Description:

The Aged & Ore Bottle Flight is a premium set of 4 custom silicone wrapped glass bottles designed to transport and share samples of your favorite spirits. The flight bottles come in a custom EVA travel case that fits perfectly in any small bag. An Aged &
Description:

This Bundle combines two of our crowd favorite products, creating the ultimate travel bundle to bring along your favorite spirits and glassware. Bundle Includes: Neat Traveler (Gray) Bottle Flight (Gray) Note: This bundle is only available in gray and col
*Bourbon Culture is reader-supported. When you buy through links on our site, we may earn an affiliate commission.