*Bourbon Culture is reader-supported. When you buy through links on our site, we may earn an affiliate commission.
One of the great surprises during the bourbon release season in 2018 was a little known bottle from Jack Daniel's called the Heritage Single Barrel. It was allocated but so little was known about it that they were easy to find. As the word spread and reviews popped up after the holiday season about what a sleeper that bottle was, more enthusiasts put it on their radar the following holiday season. I think the bourbon community felt like since the Heritage Barrels were all so well received that this would become a permanent annual release. But in the middle of 2020, Jack Daniel's quietly sent out a press release (or took the advice of one of our articles) that they were done with the Heritage Barrel and were now going to be releasing a Barrel Proof Rye Whiskey at the end of the year instead.
Jack Daniel's already sells two versions of rye whiskey: an 80 proof and a 94 proof single barrel. But a barrel proof offering was something that many enthusiasts have been clamoring for ever since they released a small "Taster's Series" bottling of their barrel proof rye that was limited only to the state of Tennessee. Coming out in only single barrel form (just like the Heritage Barrel series), it was evident that Jack Daniel's wanted to come out swinging with this release.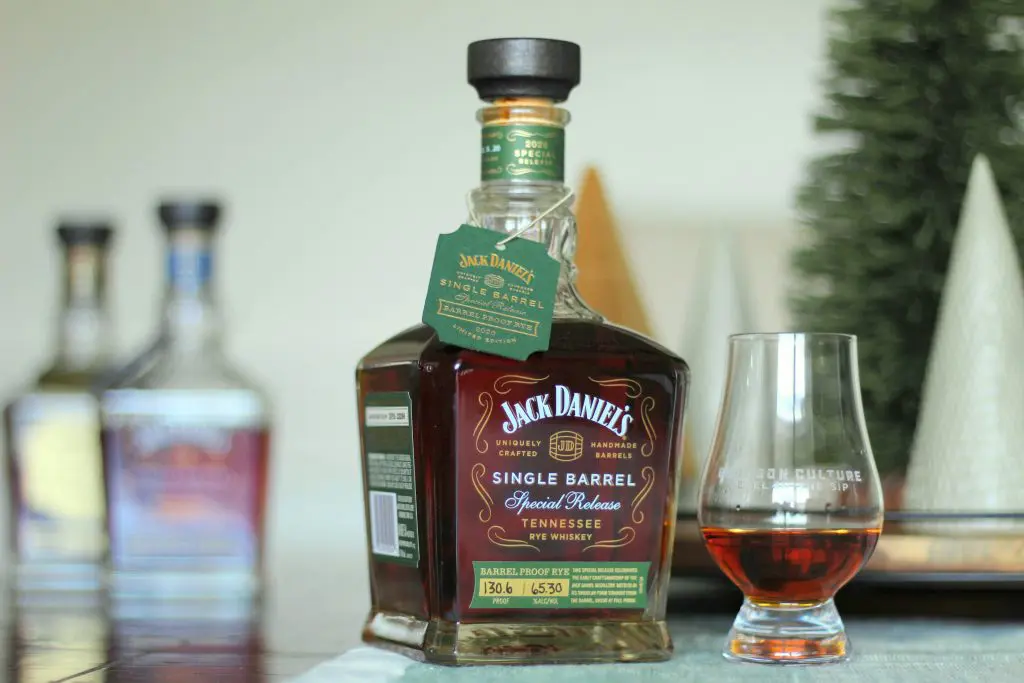 Whereas the previous Heritage Barrels were technically a "Full Proof" offering (where it went into the barrel at 100 proof and was then proofed back down 100 when they bottled it), JD Barrel Proof Rye likely entered the barrel at 125 proof and only went up from there during aging. The single barrel I am reviewing today is barrel number 20-06883 and was bottled at sweltering 130.6 proof.
I have always been very curious about what a rye whiskey would taste like going through the Lincoln County Process (also know as LCP, which is the act of filtering the distillate through 10 feet of sugar maple charcoal) and bottled at barrel proof. In previous reviews, I noted that the experimental, high rye mashbills (25% rye) coming out of Cascade Hollow/George Dickel lost some of the vitamin notes and gained more peppery spice after it went through their own version of the LCP. The strange thing was that the LCP seemed to strip out a lot of the floral and botanical notes that would normally come from the rye grain while leaving all of the pepper and spice notes. Would Jack Daniel's rye result in the same thing? Time to find out! I sampled this neat and in a glencairn.
Tasting Notes
Nose: The absence of major heat on the nose is going to trick a lot of people into thinking this is dangerously drinkable (spoiler alert, it is). I get a lot of heavy sweets like chocolate chip cookies, Raisinettes and sweet Banana's Foster. Even through all of the heavy baked goods notes, I still can pull out a large amount of vanilla and perfume-like scents. There's a touch of virgin walnut oil and a little bit of mint. The nose is absolutely intoxicating, but really doesn't come off as a rye whiskey.
Palate: The mouthfeel is immediately thick, rich and full-bodied. It is almost like I'm drinking a bottle of syrup. There are heaps of brown sugar, roasted almonds, Banana Runts Candy and Big League Chew Bubblegum. The spearmint flavor along with cinnamon powder and smoldering chili pepper add a wallop of spicy bite throughout the whole session, but is much more manageable than you'd think. I'm impressed to also find a little bit of orange and grapefruit rind (the latter seems to be present in more and more Brown-Forman whiskies I notice). But what I wasn't expecting to find are some aged, tannic notes like oak staves and pipe tobacco.
Finish: It's tough to come down off of the high that the palate gave you, but toasted oak combining with sweet, sticky Banana's Foster delivers the perfect pairing of dominant flavors. There is a good amount of Winterfresh gum and cooling menthol on the end too, but the finish is most notable for it's long lasting and enjoyable richness.
Score: 8.6/10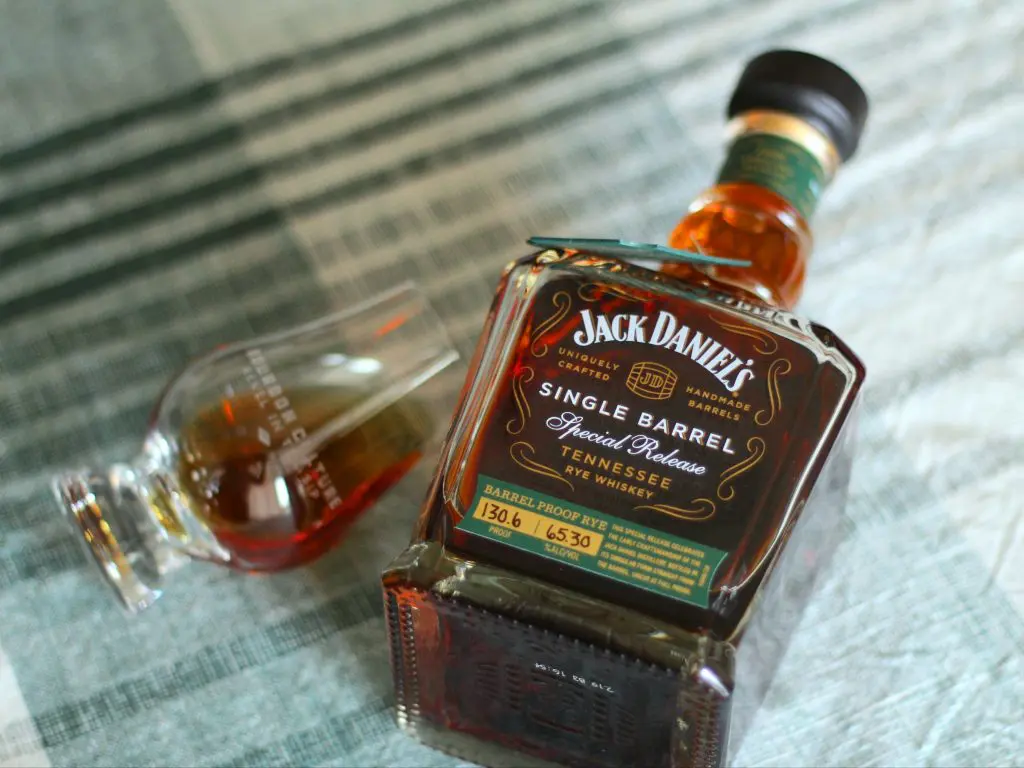 Words aren't hard to come by in describing this rye whiskey. Large, tongue dominating flavors make this the heavyweight rye whiskey you never knew you needed. But after drinking this a few times, I will admit that this came off as more of a high-rye bourbon than it did a rye whiskey. Not that that's a bad thing! It still makes it unique because Brown Forman products typically don't come off like they contain much, if any, rye in the mashbill. So believe me when I say that even if you were expecting a rye whiskey, this may not scratch your itch. But is it an absolutely incredible whiskey? You betcha.
Final Thoughts
After the announcement of Heritage Barrel being cancelled, I was saddened that my favorite Jack product had disappeared. But what I wasn't expecting was just how soon it would be replaced by a new favorite: Jack Daniel's Barrel Proof Rye. Now the question remains: how will this compare to the upcoming Old Forester Barrel Strength Rye Whiskey?
Ratings Breakdown
1 | Disgusting | Drain pour (Example: Jeffers Creek)
2 | Poor | Forced myself to drink it
3 | Bad | Flawed (AD Laws 4 Grain BiB, Clyde Mays anything)
4 | Sub-par | Many things I'd rather have (Tincup 10 year)
5 | Good | Good, solid, ordinary (Larceny, Sazerac Rye)
6 | Very Good | Better than average (Buffalo Trace, OGD BiB)
7 | Great | Well above average (Old Ezra Barrel Proof, Old Weller Antique)
8 | Excellent | Exceptional (Michter's Barrel Proof Rye, Four Roses Barrel Strength)
9 | Incredible | Extraordinary (GTS, 13 Year MGP or Canadian Rye)
10 | Insurpassable | Nothing Else Comes Close (William Larue Weller)
Featured Products
Description:

The Aged & Ore Neat Traveler is a complete travel kit for spirits. We combined our widely praised Neat Glass with one of our 3oz Flight Bottles and housed them together in a custom EVA travel case. Perfect for a night away with your favorite pour. The tie
Description:

The Aged & Ore Bottle Flight is a premium set of 4 custom silicone wrapped glass bottles designed to transport and share samples of your favorite spirits. The flight bottles come in a custom EVA travel case that fits perfectly in any small bag. An Aged &
Description:

This Bundle combines two of our crowd favorite products, creating the ultimate travel bundle to bring along your favorite spirits and glassware. Bundle Includes: Neat Traveler (Gray) Bottle Flight (Gray) Note: This bundle is only available in gray and col
*Bourbon Culture is reader-supported. When you buy through links on our site, we may earn an affiliate commission.