*Bourbon Culture is reader-supported. When you buy through links on our site, we may earn an affiliate commission.
You may have noticed a trend of entry-level bourbons being reviewed by me this past month. All too often I went straight for flagship bottles while neglecting basic offerings. But flagship bottles are usually allocated and harder to find whereas entry level bottles should be a lot easier. This is not the case with Smoke Wagon as even their base level bourbon has been tricky to find. Prices are all over the place for this bottle as well, ranging from $30 to $55 depending on the store. The Smoke Wagon brand continues to rise in popularity as consumers are eagerly grabbing up everything they can with the "crossed revolvers" on the front.
Let's first talk packaging. Smoke Wagon's other offerings typically come in a dark tinted bottle with beautiful raised Sagebrush reliefs. A wax seal near the top completes the look as one of the most beautiful bottles on the market right now. But Smoke Wagon Straight Bourbon gets put into a tall, clear glass bottle. The stickers that are used for the label do provide some label congruity, but it's not nearly as fancy. And that's okay! We expect an entry-level bottle to have to cut costs somehow.
Smoke Wagon Straight Bourbon
The bourbon inside is mainly around 4 to 5 years old, this is the same age as the next bottle in Smoke Wagon's lineup; "Small Batch." Despite the ages of both of those labels being roughly the same, Smoke Wagon Straight Bourbon is bottled at only 92.5 proof whereas Smoke Wagon Small Batch is bottled at 100 proof. I happened to like Small Batch quite a bit, rating it a 7/10, so how close does Straight Bourbon come to it? Let's find out.
Tasting Notes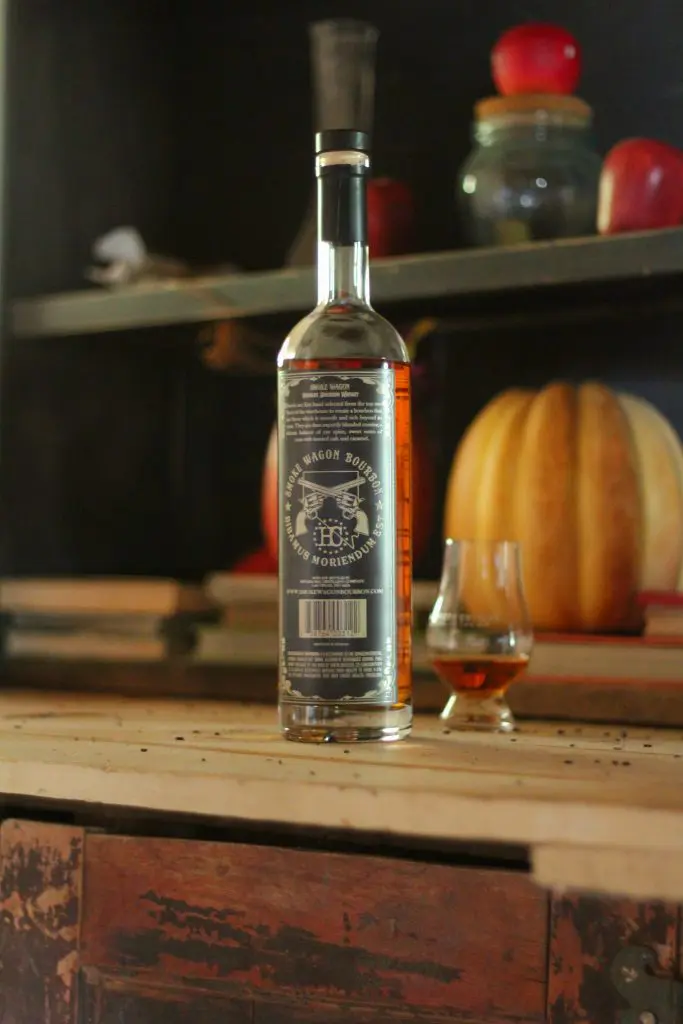 Nose: Light fruit scents like apples, raisins and pears come first. Cinnamon rolls with vanilla buttercream icing add a nice layer of sweetness while I am somewhat surprised to find a kind of charred wood scent as well.
Palate: Initially, I get some raw, grainy notes, but they're not distracting. In a way, the taste is reminiscent of Kellogg's Corn Pops. Some of the fruit notes return with the sweetness of cherry juice with additional sweetness coming from caramel baking chips and vanilla custard. There's a nice bit of spice with tobacco juice as well as a hi, tobacco juice, vanilla custard and cinnamon.
Finish: An interesting mix of baker's chocolate, oak and toffee settle on the tongue after the sip is done. There are a few peppery flakes here and there too. Despite the fruit on the nose and palate, I'm not tasting any that stick around on the finish. It's still a pleasant finish without too much spice or heat in the end.
Score: 6.2/10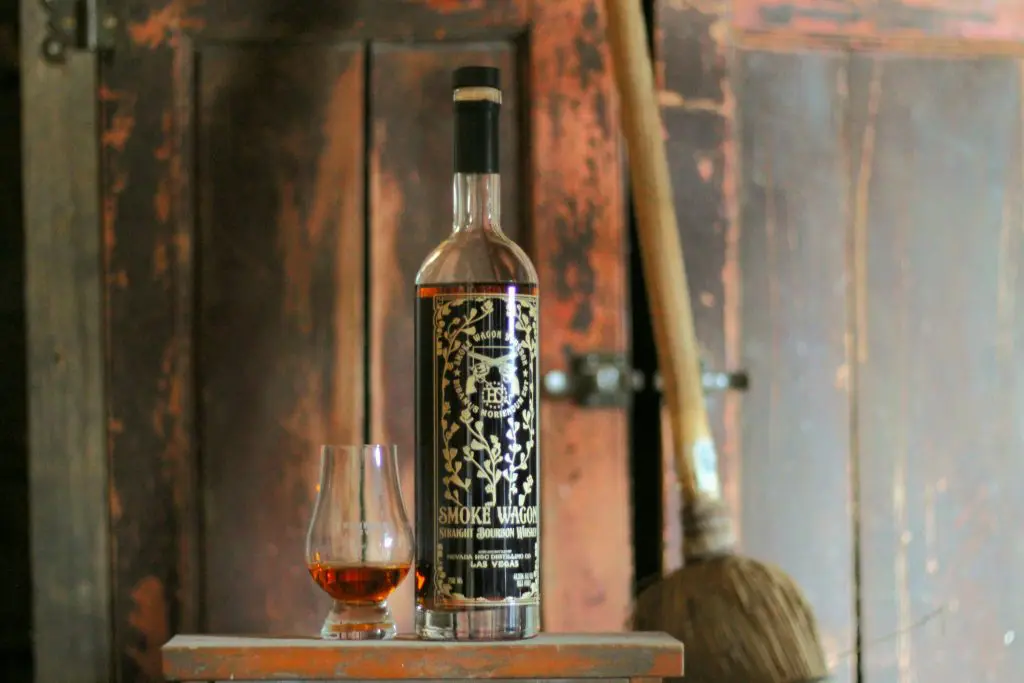 Smoke Wagon Straight Bourbon was never designed to be a "wow" bottle in the lineup. It was designed to be affordable enough so that people could dip their toes into the Smoke Wagon family of bourbons to see if they liked it first. After tasting this, I would gladly put my seal of approval on this bottle and recommend it to friends and family.
There was a bit more complexity than I'd normally find in a bourbon of this age and mashbill (Smoke Wagon always utilizes MGP's high-rye bourbon mashbill), but it has a balance that you'd hope for with a younger whiskey. The finish could be a little better as I found it seemed to sacrifice bright notes for more tannins and acidity.
Final Thoughts
In the end, this was a fun bottle to get, but after I tasted it, I would rather throw down an extra $5 to $10 to buy a bottle of Smoke Wagon's Small Batch instead. For the small price increase, it's much more rewarding.
Ratings Breakdown
1 | Disgusting | Drain pour (Example: Jeffers Creek)
2 | Poor | Forced myself to drink it
3 | Bad | Flawed (AD Laws 4 Grain BiB, Clyde Mays anything)
4 | Sub-par | Many things I'd rather have (Tincup 10 year)
5 | Good | Good, solid, ordinary (Larceny, Sazerac Rye)
6 | Very Good | Better than average (Buffalo Trace, OGD BiB)
7 | Great | Well above average (Old Ezra Barrel Proof, Old Weller Antique)
8 | Excellent | Exceptional (Michter's Barrel Proof Rye, Four Roses Barrel Strength)
9 | Incredible | Extraordinary (GTS, 13 Year MGP or Canadian Rye)
10 | Insurpassable | Nothing Else Comes Close (William Larue Weller)
Featured Products
Description:

The Aged & Ore Neat Traveler is a complete travel kit for spirits. We combined our widely praised Neat Glass with one of our 3oz Flight Bottles and housed them together in a custom EVA travel case. Perfect for a night away with your favorite pour. The tie
Description:

The Aged & Ore Bottle Flight is a premium set of 4 custom silicone wrapped glass bottles designed to transport and share samples of your favorite spirits. The flight bottles come in a custom EVA travel case that fits perfectly in any small bag. An Aged &
Description:

This Bundle combines two of our crowd favorite products, creating the ultimate travel bundle to bring along your favorite spirits and glassware. Bundle Includes: Neat Traveler (Gray) Bottle Flight (Gray) Note: This bundle is only available in gray and col
*Bourbon Culture is reader-supported. When you buy through links on our site, we may earn an affiliate commission.