*Bourbon Culture is reader-supported. When you buy through links on our site, we may earn an affiliate commission.
Unless you live in Kentucky, the most expensive bottle of Evan Williams you've ever seen has probably been the American Hero's 1783 edition or the old Single Barrel Vintage kind. Rarely does the 23 Year version actually reach a shelf, so that doesn't count. Altogether, Evan Williams is a brand designed to cater to the budget-minded enthusiast who doesn't want to spend much over $25 per bottle.
But for overseas markets like Japan, they might not know that Evan Williams is a cheap brand. For years now they've had a 12 year old version of it. Outwardly, it looks kind of fancy due to the fact it's been dipped in gold wax and wears an eye-catching red label. But if you peel back that wax and you'll find the same black plastic screw cap that the rest of the brand uses. The bottle is also the same as the bottled-in-bond version too. The proof on the 12 year stands out as one of the highest you can get in the standard Evan Williams lineup (baring the 23 Year version) – coming in at 101 proof.
How did a Japanese market bottle get back to the United States?
I'm not quite sure when it began, but for a few years now this bottle has been available at the Evan Williams experience in downtown Louisville. You had to ask the gift shop attendant and they'd reach under the counter to get it. Nowadays, you have to purchase a ticket to the tour to have the right to buy the bottle at the end. The price will set you back $149.99.
Seeing as how this is rare and has specs that no other bottle of Evan Williams has, I guess I can see how they arrived at this price point. Still, there are plenty of 12 year old bottles – even ones bottled at cask strength – being released for much less money. So Evan Williams 12 Year is automatically a bad value if you start to compare it to other bottles out there like Knob Creek 12 Year, 1792 Aged 12 Years and even some single barrels of Bulleit. And that's just staying within similar proofs. Elijah Craig Barrel Proof gives 12 years of age at barrel proof for only $70 (at retail) and Old Bones 15 Year is under $130.
Part of the price probably factors in scarcity, which is how we ended up here. I think that to a certain extent, Heaven Hill artificially manufactures the scarcity of this product in a bid to keep its price high. But if I'm wrong about that, it'll show me with how good it tastes. So let's peel back some wax and get to pouring! This was sampled neat in a glencairn.
Tasting Notes
Nose: The nose starts out with silky sweet caramel and a decadent vanilla custard. There are fruit notes of dates/raisins which smell like they've been dipped in milk chocolate. There's also a nice amount of seasoned oak scents too. The nose is very approachable but it leaves me yearning for a little bit more proof to amp up these scents.
Palate: Softer baking spice flavors like ground cinnamon and a bit of nutmeg accompany vanilla extract. The raisins on the nose are nowhere to be found, but cherries and dates are present. Sweetness comes by way of Cadbury Caramellos and honey graham crackers. Oak is present but doesn't have the same punch as other 12 year bourbons I've had. It's overall not terribly complex, but doesn't have anything fundamentally wrong with it.
Finish: The finish turns a bit one-dimensional with drying oak and hard caramel candies. The fruit and spice doesn't leave its impact. Tannins are also somewhat mute too, which is a real bummer for a 12 year old product. Some oak shines through, but nothing that hints to its 12 year time in a barrel.
Score: 7.6/10
This bottle has quickly seen its contents reduced by half in the very short time I've owned it. It's so drinkable that it's hard to put down. Many of my friends are also interested enough in it that they ask for a pour when they see it on my shelf. That points towards it being a recognizable bottle and brand that people are curious about. That fact alone should make it a priority in your collection if you desire to have bottles that other people want to take a drink from.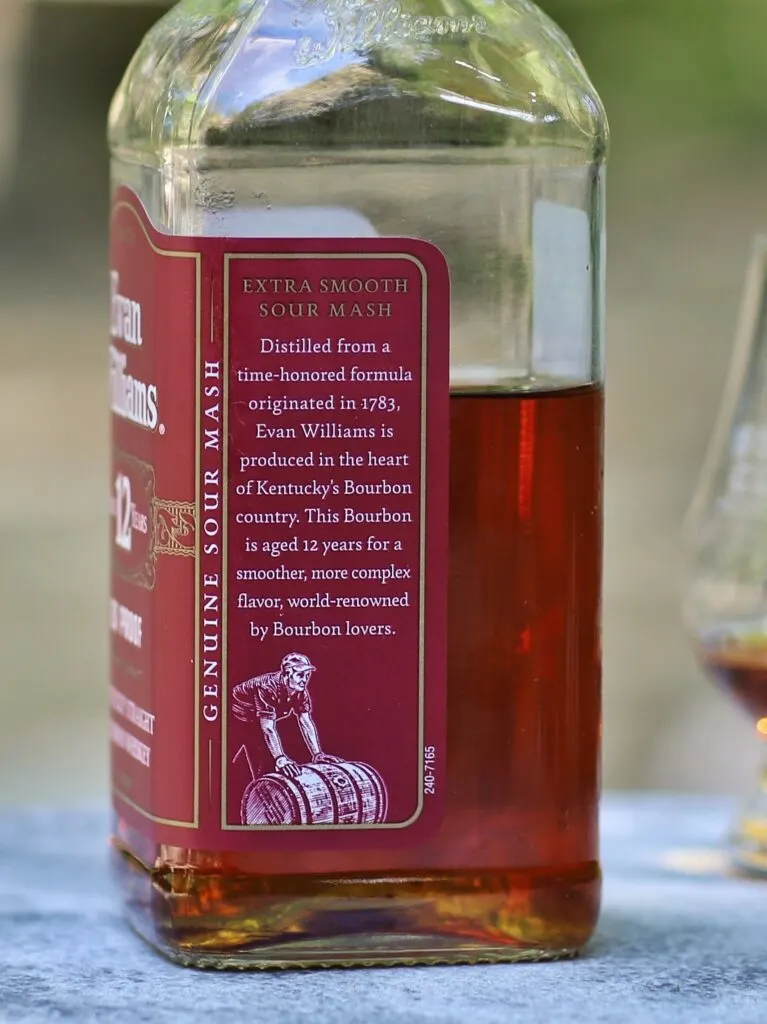 All of this drinkability doesn't necessarily mean that it's superior to other bourbons out there. For instance, I personally believe that there is more complexity to be found in certain single barrels of Henry McKenna 10 Year Bottled-in-Bond (which comes from the same distillery and is slightly younger). Yes, those are single barrels, so you might be rolling the dice on their quality, but the price for a bottle is $50-60 at retail making it a far cheaper option. Even the secondary value of $80 allows you to buy two instead of just one bottle of Evan Williams.
Final Thoughts
There is one issue with Evan Williams 12 Year. You see, there's a competitor out there that demolishes it every time in a head-to-head comparison. Its name is Wild Turkey 12 Year 101 (which, ironically, is an East-Asian export too). "When did this get turned into a comparison review?" you might ask. It's not, but it's worth mentioning that whenever I brought the EW12 and the WT101/12 to get-togethers, that 9 times out of 10, the guests would declare the Wild Turkey as superior to the Evan Williams. I agree with them. And since the Wild Turkey is roughly $160 on the secondary market, that makes these two in direct competition with each other for your money.
The choice is easy in the end. If you're looking for a somewhat rare export version of Kentucky bourbon for around $150, grab the Wild Turkey before the Evan Williams. You'll thank me later.
Featured Products
Description:

The Aged & Ore Neat Traveler is a complete travel kit for spirits. We combined our widely praised Neat Glass with one of our 3oz Flight Bottles and housed them together in a custom EVA travel case. Perfect for a night away with your favorite pour. The tie
Description:

The Aged & Ore Bottle Flight is a premium set of 4 custom silicone wrapped glass bottles designed to transport and share samples of your favorite spirits. The flight bottles come in a custom EVA travel case that fits perfectly in any small bag. An Aged &
Description:

This Bundle combines two of our crowd favorite products, creating the ultimate travel bundle to bring along your favorite spirits and glassware. Bundle Includes: Neat Traveler (Gray) Bottle Flight (Gray) Note: This bundle is only available in gray and col
*Bourbon Culture is reader-supported. When you buy through links on our site, we may earn an affiliate commission.