*Bourbon Culture is reader-supported. When you buy through links on our site, we may earn an affiliate commission.
Evan Williams 23 Year Old Bourbon represents the top of the food chain for Evan William's releases. Depending on how you view it, it also is in the top of the food chain as far as any Heaven Hill releases are concerned. Nothing quite matches it's age, proof and the fact it's been continuously available for 5 decades.
This elusive bottle has been hard to get for a number of years. A majority of these blue-wax bottles have been sent to Japan for consumption. For over 2 decades, Evan Williams 23 year has been available for purchase in the United States only at the Heaven Hill Distillery Gift Shop (since at least 2005) and the Evan Williams Experience in downtown Louisville (since 2013). It might have been for sale for longer than that, but that's as far back as I could find anyone commenting they bought one on US soil.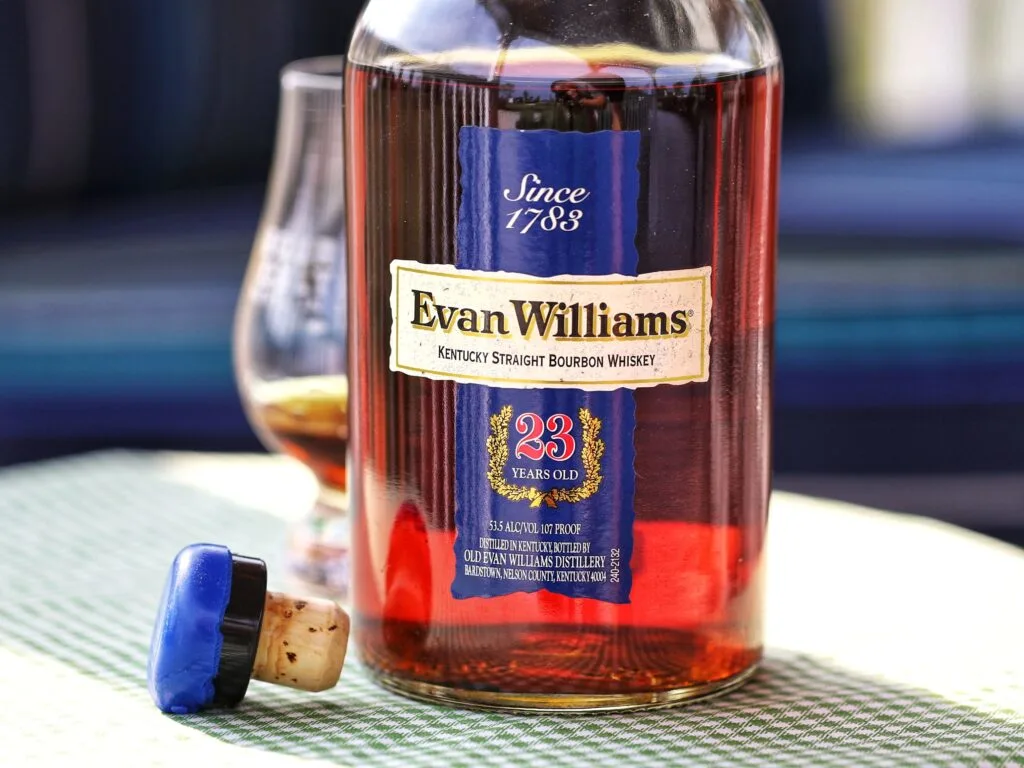 The odd part is that even back in 2005, the price for a bottle in the US has remained the same – about $350. Worldwide conversion rates back in the day made a bottle of Evan Williams 23 around $180 in countries like France and a little over $200 in Japan. What's peculiar is that there has been no change in the price for bottles sold in the United States. This means that the price was just set that high because they could, not because they were factoring in any worthwhile metric to determine value.
Timeline of Evan Williams 23 through the decades
I can only find mention of Evan Williams 23 Year first coming to market 1987. Back then, the bottle wore a small, circular sticker near its neck that indicated the vintage it was distilled in (in this example, it was 1966). The bottle shape was different, but even back then it wore a coating of its signature blue wax.
Caption for picture: Notice the wax drip. This was patented by Maker's Mark in 1985, yet it wasn't until 1997 that litigation between Jose Cuervo and Maker's Mark saw the rest of the spirits industry begin to discontinue the free-flowing drip pattern on their wax dipped bottles.
There was one hiccup that aficionados of Evan Williams 23 will note: the period of time between *maybe* 2017 until present day may not contain bourbon not entirely distilled by Heaven Hill inside of it. This is because the Heaven Hill fire of 1996 resulted in more than just the loss of the DSP-KY-31 distillery, it also burnt down many warehouses full of bourbon.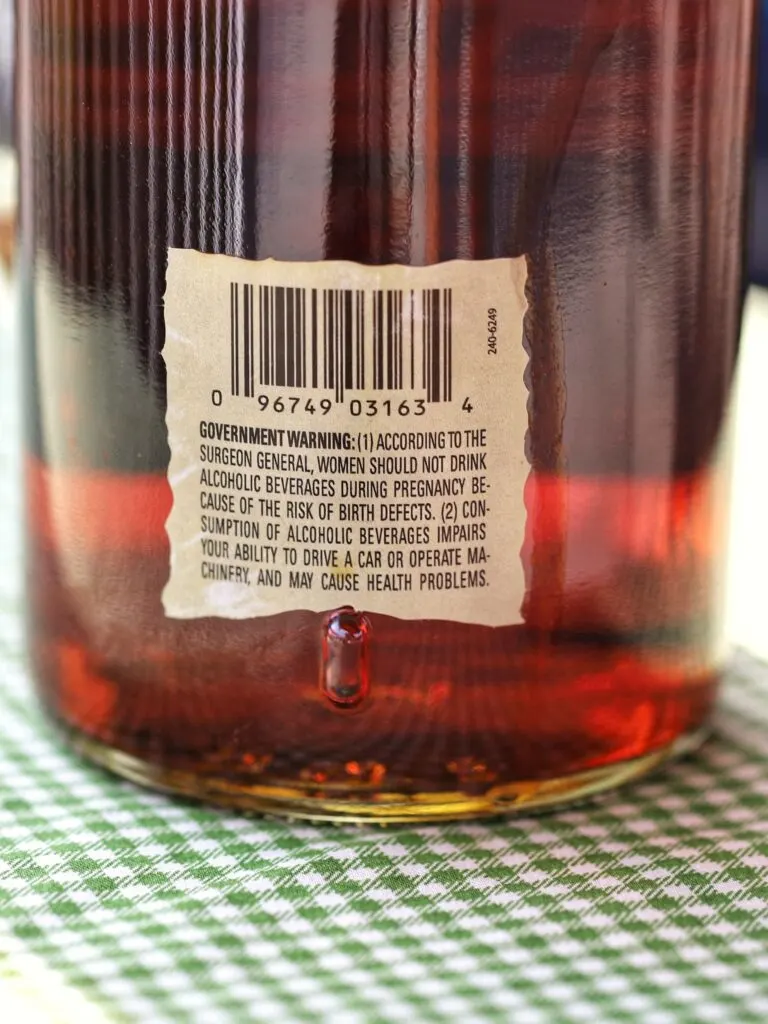 Most enthusiasts know that Heaven Hill received help from brands like Jim Beam and Old Forester to distill their recipes until they found a way to begin distilling again in 1999. But few people know that Heaven Hill also purchased a large amount of barrels that were already filled and aging from those producers too. This was in an effort to keep their brands afloat in aged bourbon until their own distillery could begin pumping out whiskey again.
Those barrels, therefore, may have made their way to the ripe old age of 23 years and been added into a bottle like this. The chances are slim, but it was an Evan Williams giftshop employee that first introduced this bit of knowledge into the whiskeyverse back in 2019.
Evan Williams 23 Year Bourbon
To reach the age of 23 years, the conditions for a barrel to not become overly oaked have to be just right. Therefore, it's probably a given that these barrels have been aged on the lowest floors of Heaven Hill's rickhouses. I spoke with Bernie Lubbers about if the brick warehouses at Bernheim would be an area best suited for that, but he claimed that very little Evan Williams ever comes from those brick warehouses. He said that Evan Williams 23 Year barrels are likely aged in the lowest levels of their existing rickhouses to prevent as much evaporation as possible.
Evan Williams 23 has an interesting distinction among the other 23 year old bourbons that are sold (or were recently sold) – it's bottled at the highest proof. And it's not even close. Pappy 23 year is bottled a smidge over 95 proof while the now-defunct Elijah Craig 23 Year was bottled at 90. Even Heaven Hill's Heritage Collection 27 Year Bourbon was bottled at 94.7 proof, which was actually its proof straight from the barrel. What I'm trying to say is that it's no small feat to be aged for this long and still have enough proof to be bottled at 107 (which technically is not barrel proof for this release, meaning they add water).
So what can we expect from this bottle that is about as old as you can get in terms of bourbon? Let's find out. I would like to note that the bottle of Evan Williams I am reviewing was bottled in 2019. I sampled this neat in a glencairn.
Tasting Notes
Nose: Did you think the first scents I would talk about would be wood? Because you're right. Smelling this bourbon is like walking into an antiques store that only sells furniture. Wood of every kind – oak, varnish and wood polish. Also, and this is going to sound weird, but I get a slight touch of crayons? Is this because of the wax somehow? I don't think so because why doesn't my Maker's Mark have that scent? Anyway, there is also some sweet scents by way of butterscotch and chocolate chips. I like the nose a lot, but I can't help but feel it's just a little bit on the flat side. 23 years in a barrel will probably do that.
Palate: The wood notes on my tongue absolutely dominates every other flavor. That doesn't mean I can't find any others, but they're all as old and (somewhat dry) as the oak is. Flavors of dry leather, root beer and stale dates pile on. Baking spices come courtesy of nutmeg and allspice. There's a nice vanilla creme note too. Overall, the mouthfeel is thick, but for me it doesn't really roll around easily. The consistency is almost sticky – like an oxidized honey. Weird.
Finish: A rather long, rich and satisfying taste sticks in my mouth for a long time. I'm surprised to find that the finish is not as dry as I was thinking it would be. Don't get me wrong, there is still plenty of bitter oak, stale cinnamon stick and dry leather, but hard caramel candies keep things just sweet enough. The age that remains is its own kind of reward – the kind you can bask in because 99% of the bourbon you're drinking probably comes nowhere near this level.
Score: 8/10
This bourbon is as unique as they come with an amazing nose that allows you to study what whiskey this old is like. I'm struggling to recall an experience with anything this woody, so at least it's got that going for it. The proof helps it stand out from other old, bitter and oaky Orphan Barrel releases, but that brand is about as close as you'll get to the experience of Evan Williams 23 Year.
My rating of an "8" mostly revolves around the experience of tasting an older bourbon like this, enjoying the nuanced oak and not finding any offensive notes from it. I do not see it ever getting much higher than this because all of the flavors and scents are so limited in what they can provide. The fruits have long-since disappeared and there's no aggressive spice. Lighter and livelier notes (like the kind that come from the rye grain) are also gone, reducing its complexity.
Final Thoughts
For the few people I know that have tried or bought a bottle of Evan Williams 23, they all have pretty much the same response to "how do you like it?" The answer is "it was good, but nothing I need to pursue again." These are my feelings as well. Evan Williams 23 is the equivalent of a "garage queen" for your liquor shelf. Everyone loves to look at it and talk about it, but when you get down to the nitty gritty, there's not much character underneath all of that blue wax.
Still, I couldn't blame you for wanting to get a bottle (or a taste) for yourself, but I think you'll find far more enjoyment spending that money on other bottles out there.
Featured Products
Description:

The Aged & Ore Neat Traveler is a complete travel kit for spirits. We combined our widely praised Neat Glass with one of our 3oz Flight Bottles and housed them together in a custom EVA travel case. Perfect for a night away with your favorite pour. The tie
Description:

The Aged & Ore Bottle Flight is a premium set of 4 custom silicone wrapped glass bottles designed to transport and share samples of your favorite spirits. The flight bottles come in a custom EVA travel case that fits perfectly in any small bag. An Aged &
Description:

This Bundle combines two of our crowd favorite products, creating the ultimate travel bundle to bring along your favorite spirits and glassware. Bundle Includes: Neat Traveler (Gray) Bottle Flight (Gray) Note: This bundle is only available in gray and col
*Bourbon Culture is reader-supported. When you buy through links on our site, we may earn an affiliate commission.