*Bourbon Culture is reader-supported. When you buy through links on our site, we may earn an affiliate commission.
Hancock's Single Barrel Reserve Bourbon is an odd duck in the Buffalo Trace Mashbill #2 lineup. Ancient Ancient Age (AAA) is aged around 3 years and bottled at 90 proof while Elmer T. Lee (ETL) aged for around 6 years old and is also bottled at 90 proof. AAA is batched and ETL is a single barrel.
So when you notice that Hancock's Single Barrel Reserve is bottled at 88.9 proof and is roughly that same age, how much different is the bourbon inside that it needs a separate label?
COVID pricing has recently doubled ETL's value to around $225 on the secondary market, making Hancock's look like a steal for $90 or so. But is this oddball something you should seek out if you want your Buffalo Trace MB #2 fix?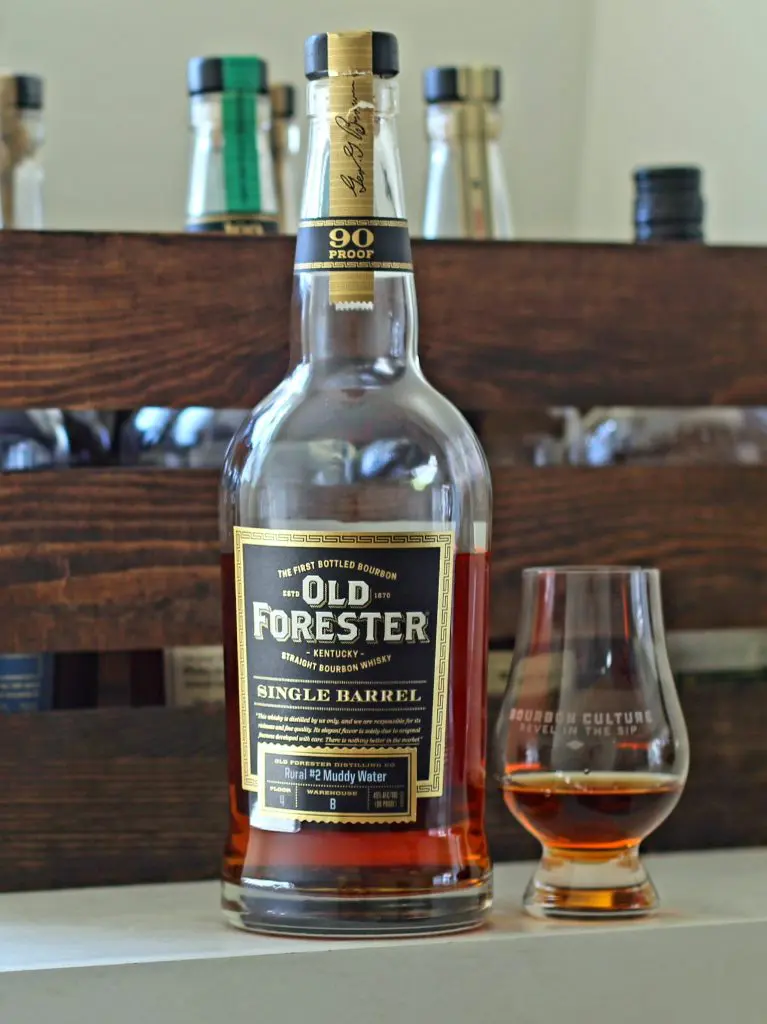 I decided to put it up against another single barrel bourbon that is affordable ($45), roughly the same age (4-5 years old) and bottled at basically the same proof (90): Old Forester Single Barrel Bourbon. Although the 90 proof version is going away to make room for the new 100 proof and barrel strength versions, there are still plenty of them setting on shelves out there and they may be heavily discounted if you find it.
The Old Forester SiB I have today came from Rural Inn and was their second pick called "Muddy Water" So if you saw both of these in a store, which one should you spend your cash on? I decided to sample both semi-blind to find out for myself.
Blind Glass 1
Nose: The nose on this one is sweet and buttery like pie crust with cherry filling. There's some light brown sugar as well. It's a very simple, yet nicely sweet nose.
Palate: Some fruit scents appear on the tongue immediately. Pears and cherries come out first and are spiced with notes of cinnamon, cloves, black pepper flakes and even some cardamom.
Outside of the fruit, there is very little sweetness on this one, with a sort of thin wash of caramel sauce on the tongue. Throughout the dram, I picked up on an astringent wood taste from time to time. I should note that none of the flavors are particularly bold, probably owing to the proof.
Finish: The caramel sweetness increases a little on the finish, but isn't enough to cover up the peppery aftertaste and tannic drying oak. This dram goes downhill quickly.
Score: 5.8/10
Blind Glass 2
Nose: A large amount of fruit scents are immediately recognized: toasted orange peel, cherry juice and grenadine. The scent of baked goods is also present, like freshly baked scones and dark brown sugar. Interestingly, I also get the scent of marshmallow fluff in a jar.
Palate: The mouthfeel is more viscous than Glass 1. Flavors of apples, cherries and dates keep with the theme of the fruit forward nose. The oak spice scent is light, but enjoyable as well.
Finish: A pleasant finish of cedar wood and a tiny bit of unsweetened herbal tea. It's not what I would describe a sweet finish, but it is pleasant enough. The fruit flavors are somewhat muted on the finish, perhaps owing to the overall low proof.
Score: 6.5/10
Reveal:
Glass 1: Old Forester Single Barrel
Glass 2: Hancock's President's Reserve
Winner: Hancock's President's Reserve!
In my other Old Forester reviews, I have continued to find an unfortunate trend among their products; a dry, over-oaked and astringent note that is present throughout. My thoughts have always been that this stems from their use of heated warehouses which supposedly age the whiskey quicker. But when OF bourbon gets proofed down, a lot of those traits disappear or become more hidden.
This did not happen with this single barrel. The lack of sweetness throughout coupled with those drying characteristics made for a dram that started out good but quickly declined as I drank it.
The Hancock's Reserve, on the other hand, benefitted from its strong heritage of quality products. The Buffalo Trace lineup (to include Age International's Mashbill #2 products) appeal to enthusiasts for a reason: their sweet, fruity distillate seems to hit all the right notes with the varied palates of drinkers everywhere.
And even though this bottle is supposed to command a $40 suggested retail price, it's increasingly hard to find as enthusiasts swoop in to scoop these up and flip for twice as much money.
Final Thoughts
So beware, the Hancock's is clearly the winner here, but it is definitely not worth much over it's retail price. If you're looking to spend $100 on it, I would advise you to consider just buying Blanton's instead.
Rating Breakdown
1 | Disgusting | Drain pour (Example: Jeffers Creek)
2 | Poor | Forced myself to drink it
3 | Bad | Flawed (AD Laws 4 Grain BiB, Clyde Mays anything)
4 | Sub-par | Many things I'd rather have (Tincup 10 year)
5 | Good | Good, solid, ordinary (Larceny, Sazerac Rye)
6 | Very Good | Better than average (Buffalo Trace, OGD BiB)
7 | Great | Well above average (Old Ezra Barrel Proof, Old Weller Antique)
8 | Excellent | Exceptional (Michter's Barrel Proof Rye, Four Roses Barrel Strength)
9 | Incredible | Extraordinary (GTS, 13 Year MGP or Canadian Rye)
10 | Insurpassable | Nothing Else Comes Close (William Larue Weller)
Featured Products
Description:

The Aged & Ore Neat Traveler is a complete travel kit for spirits. We combined our widely praised Neat Glass with one of our 3oz Flight Bottles and housed them together in a custom EVA travel case. Perfect for a night away with your favorite pour. The tie
Description:

The Aged & Ore Bottle Flight is a premium set of 4 custom silicone wrapped glass bottles designed to transport and share samples of your favorite spirits. The flight bottles come in a custom EVA travel case that fits perfectly in any small bag. An Aged &
Description:

This Bundle combines two of our crowd favorite products, creating the ultimate travel bundle to bring along your favorite spirits and glassware. Bundle Includes: Neat Traveler (Gray) Bottle Flight (Gray) Note: This bundle is only available in gray and col
*Bourbon Culture is reader-supported. When you buy through links on our site, we may earn an affiliate commission.