*Bourbon Culture is reader-supported. When you buy through links on our site, we may earn an affiliate commission.
Indiana liquor store behemoth, Big Red Liquors, tried something new in 2017 when they announced that they would be releasing their own label of bourbon. There were a couple of reasons why they wanted to this, but the primary reason was because they wanted to draw attention to their newly launched "VIP" points program. If you signed up to be a part of this program, you could also enter your name into a lottery to have it printed on the front label of their very first bottling (this is why the label on the front has so many names).
Inside the bottle, Big Red Liquor sourced a handful of barrels from MGP that were all around 8 years old. They then had them blended together and proofed down to 114 proof. At $50, it was an incredible value considering the going rate for MGP bourbon at or near cask strength is usually around $10 per year aged.
This bottle is usually referred to as "VIP #1" because shortly after it came out, Big Red did a second release taking the same bourbon and finishing it in stout beer barrels. So how does VIP #1 taste? I was lucky enough to obtain the very last bottle in their system so that I could try it out. I sampled this neat and in a Glencairn.
Tasting Notes
Nose: A very rich, if somewhat unremarkable experience. There's scents of vanilla pound cake along with cherry pie filling and melted caramel. Seasoned oak gives away the fact that you're not drinking a young bourbon here.
Palate: Werther's Original Candies and a thin maple syrup sweetness coat the tongue while spicy cracked black pepper and cinnamon give off some heat. There are cherries and raspberries that add an important layer of fruit followed by a little tobacco and oak for depth.
Finish: The oak is sweet and carries some nice spice, but stops short of drying out your tongue. The fruits that linger around, like stewed cherries, are a nice touch and play well with some old, worn leather notes. Cinnamon spice also adds a little more complexity that helps end each sip on an interesting note.
Score: 7.4/10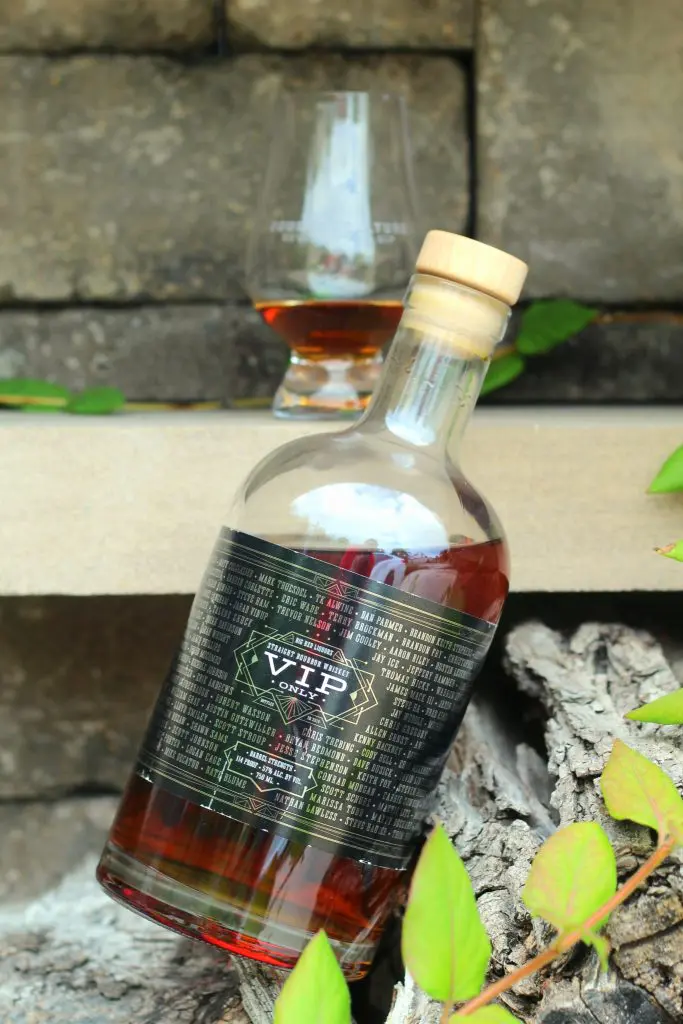 For being a blend of 8 year old barrels, this is a very nice sipping bourbon. Nothing particularly unique stood out to me, but I was happy to find all of my favorite MGP flavors that I love. For the price, it's an awesome deal that simply can't be found anymore.
It's also a fun bottle to have on the shelf and one that is a cool discussion point when drinking with friends. I spoke earlier about there being a second VIP release that came out a year after this one did, but then the VIP label suddenly stopped.
Final Thoughts
I would hope that in the future, Big Red Liquors would release a third bottling to help continue this interesting concept of a local liquor store releasing their own labels when they find a niche worth exploring. Until then, it looks like Big Red will continue on by collaborating with other producers looking to carry on the MGP value-label tradition.
Rating Breakdown
1 | Disgusting | Drain pour (Example: Jeffers Creek)
2 | Poor | Forced myself to drink it
3 | Bad | Flawed (AD Laws 4 Grain BiB, Clyde Mays anything)
4 | Sub-par | Many things I'd rather have (Tincup 10 year)
5 | Good | Good, solid, ordinary (Larceny, Sazerac Rye)
6 | Very Good | Better than average (Buffalo Trace, OGD BiB)
7 | Great | Well above average (Old Ezra Barrel Proof, Old Weller Antique)
8 | Excellent | Exceptional (Michter's Barrel Proof Rye, Four Roses Barrel Strength)
9 | Incredible | Extraordinary (GTS, 13 Year MGP or Canadian Rye)
10 | Insurpassable | Nothing Else Comes Close (William Larue Weller)
Featured Products
Description:

The Aged & Ore Neat Traveler is a complete travel kit for spirits. We combined our widely praised Neat Glass with one of our 3oz Flight Bottles and housed them together in a custom EVA travel case. Perfect for a night away with your favorite pour. The tie
Description:

The Aged & Ore Bottle Flight is a premium set of 4 custom silicone wrapped glass bottles designed to transport and share samples of your favorite spirits. The flight bottles come in a custom EVA travel case that fits perfectly in any small bag. An Aged &
Description:

This Bundle combines two of our crowd favorite products, creating the ultimate travel bundle to bring along your favorite spirits and glassware. Bundle Includes: Neat Traveler (Gray) Bottle Flight (Gray) Note: This bundle is only available in gray and col
*Bourbon Culture is reader-supported. When you buy through links on our site, we may earn an affiliate commission.