*Bourbon Culture is reader-supported. When you buy through links on our site, we may earn an affiliate commission.
30 Gallon, Rural Inn Pick 2019
Backbone Bourbon Company may be one of the most prolific bottlers of MGP bourbon and rye whiskey on the market right now. I say this because they seem to have bottled every mashbill that MGP produces, distributes them to a large number of states (perhaps as many as 20) and has a vast single barrel program to boot.
So while I may be smitten with bottlers like Smoke Wagon and Belle Meade, finding single barrels from them is next to impossible. Speaking of single barrels, Backbone does something unique beyond just buying aged single barrels from MGP outright. In some instances, they will buy the barrels very young and transport them to other warehouses in Kentucky that they've leased space at and age them even longer. Sometimes, they have been known to re-barrel them into smaller casks (usually 25 or 30 gallon sizes). This results in giving MGP bourbon with some noticeably different flavor profiles than it would normally have.
Rural Inn has been consistent customers of Backbone single barrels for a few years now. In late 2019, I had the opportunity to pick this 30 gallon single barrel that used a high-rye mashbill and was aged for 5.5 years. Being a 30 gallon barrel, the yield on it in the end was only 90 bottles. So how does it taste? I sat down with my trusty Glencairn to find out.
Tasting Notes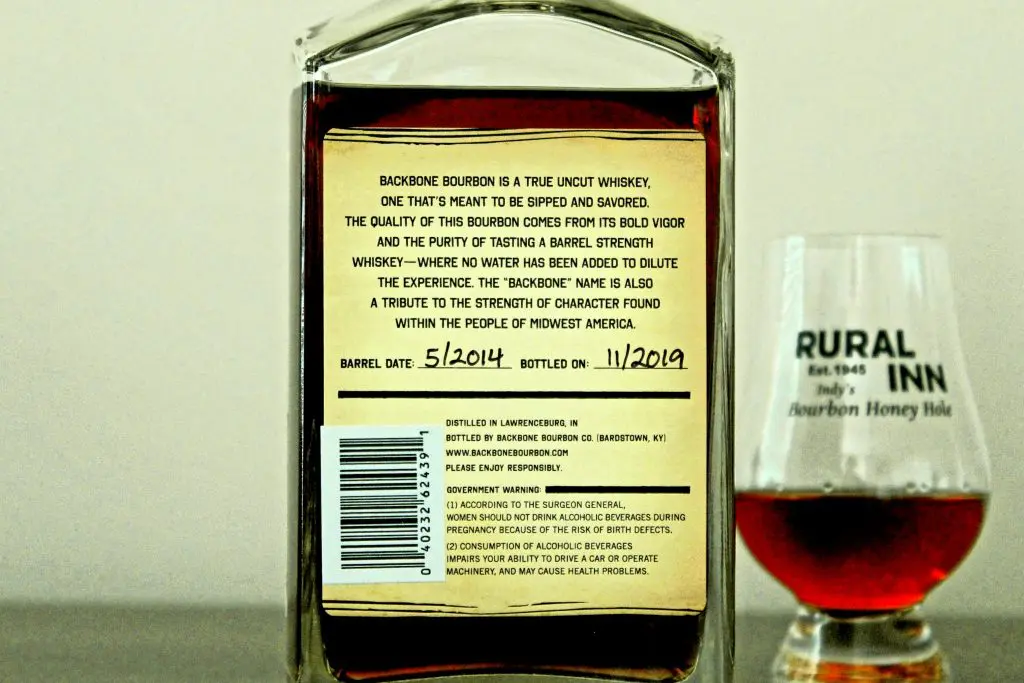 Nose: The sweet notes on this one are intense. Maple syrup and brown sugar cookie scents mingle with what can only be described as "melted orange creamsicle." Orange isn't the only fruit scent I find because there's also an aroma that reminds me of spiced peaches from a can. Dry tobacco leaves also add a little bit of depth as well.
Palate: Sweet maraschino cherries and oranges mix with lots of dark brown sugar sweetness. There's a lot of baking spices floating around like cinnamon, nutmeg and a kick of red pepper flakes. Vanilla cupcakes round out the sweet traits but there is an overall heat that makes each sip a bit hotter than I'd like it to be. However, it's still manageable for experienced drinkers.
Finish: The finish speaks to the high-rye content of this mashbill. There is lots of peppermint and sweet mint coupled with the taste of pine needles. Lingering flavors of oak and slightly burnt brown sugar also hang around as well for a sip that represents all of the classic MGP traits.
Score: 7.7/10
Rich, complex and a little rough around the edges if you're not careful. The flavors were all well-developed and the nose continued to get better right up until the glass was finished.
Overall it was a very tasty bottle that got high points for the fun fruit flavors it showed off. But it took a hit on the ratings scale as the heat would occasionally overpower the flavor enjoyment.
Final Thoughts
Sure, 124.2 proof does not sound like a mellow sipper, but I've had other single barrels at this age and proof from MGP that weren't as hot to taste. But it's nothing that a little air-time or water couldn't fix. In the end, it's another solid showing from the guys at Backbone that continue to bottle up some great whiskey at a great price.
Rating Breakdown
1 | Disgusting | Drain pour (Example: Jeffers Creek)
2 | Poor | Forced myself to drink it
3 | Bad | Flawed (AD Laws 4 Grain BiB, Clyde Mays anything)
4 | Sub-par | Many things I'd rather have (Tincup 10 year)
5 | Good | Good, solid, ordinary (Larceny, Sazerac Rye)
6 | Very Good | Better than average (Buffalo Trace, OGD BiB)
7 | Great | Well above average (Old Ezra Barrel Proof, Old Weller Antique)
8 | Excellent | Exceptional (Michter's Barrel Proof Rye, Four Roses Barrel Strength)
9 | Incredible | Extraordinary (GTS, 13 Year MGP or Canadian Rye)
10 | Insurpassable | Nothing Else Comes Close (William Larue Weller)
Featured Products
Description:

The Aged & Ore Neat Traveler is a complete travel kit for spirits. We combined our widely praised Neat Glass with one of our 3oz Flight Bottles and housed them together in a custom EVA travel case. Perfect for a night away with your favorite pour. The tie
Description:

The Aged & Ore Bottle Flight is a premium set of 4 custom silicone wrapped glass bottles designed to transport and share samples of your favorite spirits. The flight bottles come in a custom EVA travel case that fits perfectly in any small bag. An Aged &
Description:

This Bundle combines two of our crowd favorite products, creating the ultimate travel bundle to bring along your favorite spirits and glassware. Bundle Includes: Neat Traveler (Gray) Bottle Flight (Gray) Note: This bundle is only available in gray and col
*Bourbon Culture is reader-supported. When you buy through links on our site, we may earn an affiliate commission.