*Bourbon Culture is reader-supported. When you buy through links on our site, we may earn an affiliate commission.
In late 2018, Barrell Craft Spirits released Dovetail, a finished whiskey that was so successful, that it spanned 5 different batches (and possibly more as of the time of this writing).
Finished whiskey and bourbon have been a thing for years, but this bottle polarized many people due to its numerous finishing barrels that it went through instead of just one.
Dovetail quickly became Barrell's number one selling bottle in 2019 and possibly even in 2020. For the many people that loved it, it showcased that not only was Barrell the king of blending bourbons, but they were quickly becoming one of the top finished whiskey producers as well.
Barrell Armida
In July of 2020, Barrell quietly filed the label for "Armida" to the TTB. The label gave away what this bourbon was finished in, but I was curious why it was named as such.
I searched all over the internet to find out if Armida was a kind of spirit or wine produced elsewhere in the world, but was surprised to find that it was chosen by Joe Beatrice as a homage to his mother's formal name.
As to why the Tennessee bourbon inside was finished in Pear Brandy, Rum and Amaro barrels, it's because the team at BCS thought up all of the flavors that they loved in a bourbon and went to work on replicating them by finishing the bourbon using 3 separate casks.
With only 3,700 bottles produced, this is actually on the small side of batches recently produced by Barrell. The team took over a year to develop this unique whiskey which usually means there must be something special within. So how does it taste? Let's dive in. I sampled this neat and in a glencairn.
Tasting Notes
Nose: The pear brandy barrel is immediately apparent with the scent of roasted pears dominating the most. There is also a sweet cinnamon raisin bread topped with melted butter aroma that really draws you in.
The rum is sweet, yet funky and will throw off any person who is blind sampling this one into thinking they might be smelling a rum. One of the more interesting notes is banana's foster, which could be coming from the rum finishing barrel.
I can't escape this floral scent that smells like blossoming mums. The nose is altogether intense and deeply satisfying.
Palate: The rum hits hard on the tongue right away. It's sweet, but not overly sweet. The herbal notes spring up here and there and remind me of drinking a Canadian Rye Whisky.
This must be the Amaro that I'm tasting because the mint and oregano taste are two flavors I've never experienced on any Tennessee bourbon (which makes up the base).
The mouthfeel gets thicker and stickier with each sip, which may be helping subdue the proof sting that would normally be lurking at 112 proof.
The palate is rich and nuanced and my notes continue to compile newer layers as I'm sipping. Layers of cooked pears, bananas, orange peels and apples make the experience feel like I'm grabbing fruits off of the trees in northern orchards and island orchards simultaneously.
Eventually, I pick up notes of cinnamon and other baking spices, but detect little very little vanilla or caramel from the bourbon overall.
Finish: The Pear Brandy reveals itself again with apples and pears as the dominant note after the sip is complete, but it's the sticky-sweet nature of the blackstrap rum that really hangs around the longest.
The Amaro barrel finish makes its biggest splash right here in the finish with a bouquet of floral notes like rosemary and oregano with some savory spices.
If I was drinking this blind, I'd think that this contained a very high rye content because I also begin to get some pine needles as well. There's also a drying bitterness that doesn't remind me of oak as much as it does crushed stone or graphite. It's not off-putting, but is interesting to detect.
Score: 8.3/10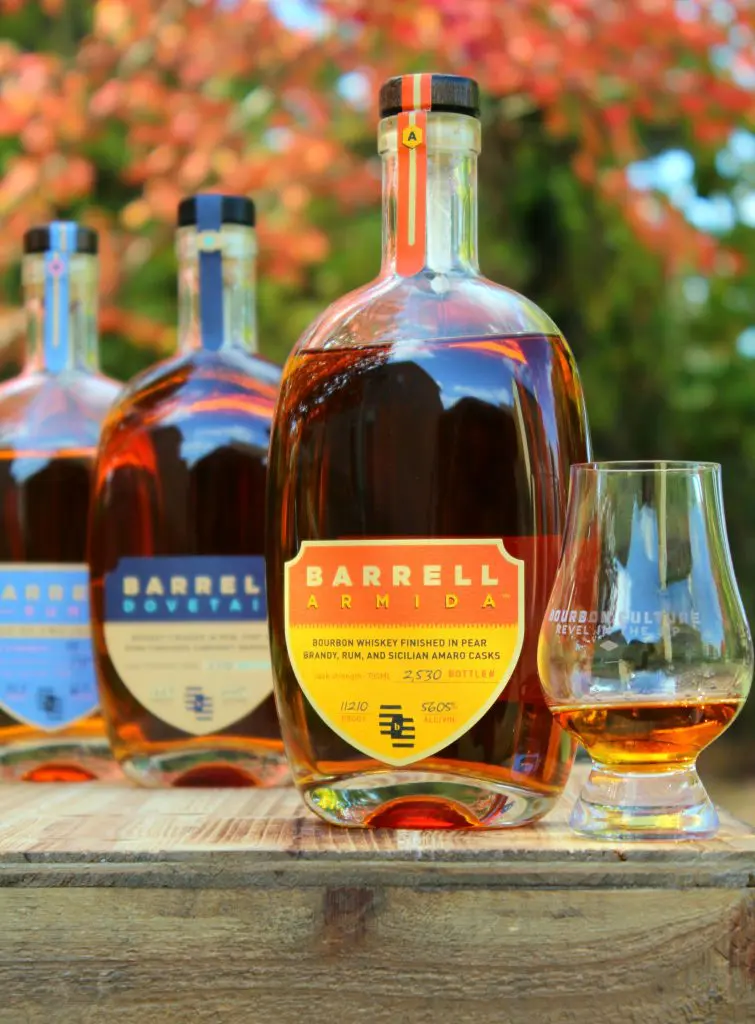 As I continue to drink more bourbon and rye whiskey, I find myself struggling to identify any new flavors or scents that are unique to those spirits.
That leaves me thirsty for something that was finished in a wine, beer or other spirit's barrel. I yearn for sips that live on the cutting edge and are full of surprises.
Barrell Armida really stands out among the rest as being the combo breaker that I needed to help refresh my palate and challenge my senses. I will give a warning, however, to drinkers of non-finished whiskies and bourbons: this bottle may not be for you.
In fact, if I was given this blind and asked to identify what kind of spirit it was, I may not have even picked a whiskey in my top 3.
The flavors and scents of pear and rum are just too intense to think anything else. This is fine with me though because I always rate my spirits with how much I enjoy them rather than by which category they fall in.
Final Thoughts
The bottom line is Barrell Armida will challenge and reward your senses with a wide array of flavors and aromas not typically found in bourbons or ryes.
If Barrell Dovetail is truly hanging up it's cape, then Barrell Armida may be the next hero we deserve from the company that is challenging the tastes of whiskey drinkers nationwide.
Rating Breakdown
1 | Disgusting | Drain pour (Example: Jeffers Creek)
2 | Poor | Forced myself to drink it
3 | Bad | Flawed (AD Laws 4 Grain BiB, Clyde Mays anything)
4 | Sub-par | Many things I'd rather have (Tincup 10 year)
5 | Good | Good, solid, ordinary (Larceny, Sazerac Rye)
6 | Very Good | Better than average (Buffalo Trace, OGD BiB)
7 | Great | Well above average (Old Ezra Barrel Proof, Old Weller Antique)
8 | Excellent | Exceptional (Michter's Barrel Proof Rye, Four Roses Barrel Strength)
9 | Incredible | Extraordinary (GTS, 13 Year MGP or Canadian Rye)
10 | Insurpassable | Nothing Else Comes Close (William Larue Weller)
Featured Products
Description:

The Aged & Ore Neat Traveler is a complete travel kit for spirits. We combined our widely praised Neat Glass with one of our 3oz Flight Bottles and housed them together in a custom EVA travel case. Perfect for a night away with your favorite pour. The tie
Description:

The Aged & Ore Bottle Flight is a premium set of 4 custom silicone wrapped glass bottles designed to transport and share samples of your favorite spirits. The flight bottles come in a custom EVA travel case that fits perfectly in any small bag. An Aged &
Description:

This Bundle combines two of our crowd favorite products, creating the ultimate travel bundle to bring along your favorite spirits and glassware. Bundle Includes: Neat Traveler (Gray) Bottle Flight (Gray) Note: This bundle is only available in gray and col
*Bourbon Culture is reader-supported. When you buy through links on our site, we may earn an affiliate commission.