*Bourbon Culture is reader-supported. When you buy through links on our site, we may earn an affiliate commission.
It may be hard to believe, but Wyoming Whiskey has been in the distilling business since 2009. Their lineup is somewhat small and is mainly centered around a wheated mashbill bourbon (68/20/12). In their early days, they enlisted the help of former Maker's Mark Master Distiller Steve Nally to get their operation up and running. Since then, Steve has moved on to Bardstown Bourbon Company while Wyoming Whiskey continues to grow and enter new markets.
Their small batch whiskey is bottled at 88 proof and has a batch number that is hand-written on the back along with the date that it was bottled. Early batches were not typically well received. There is a story that the owner of WW scrambled to buy back all of the bourbon from the initial release that he sold in early 2013. Realizing that the bourbon was not up to his standards, he made an attempt to buy back all of the first release bottles from bars and liquor stores with the promise that future batches would be better.
Wyoming Whiskey
Most early reviews still panned the first releases even though the product was claimed to be aged 5 years and should have had all the right specs in place to make a tasty bourbon. This bottle I'm reviewing today says that it's batch 51 and was dumped in the middle of 2018. As of 2020, batches as high as 120 could be found on the shelves. I mention this because there may be some significant batch variances between yours and mine.
So how good is Wyoming Whiskey? Would it compete with the big guys in Kentucky (and Indiana)? Let's find out. I sampled this neat and in a Glencairn.
Tasting Notes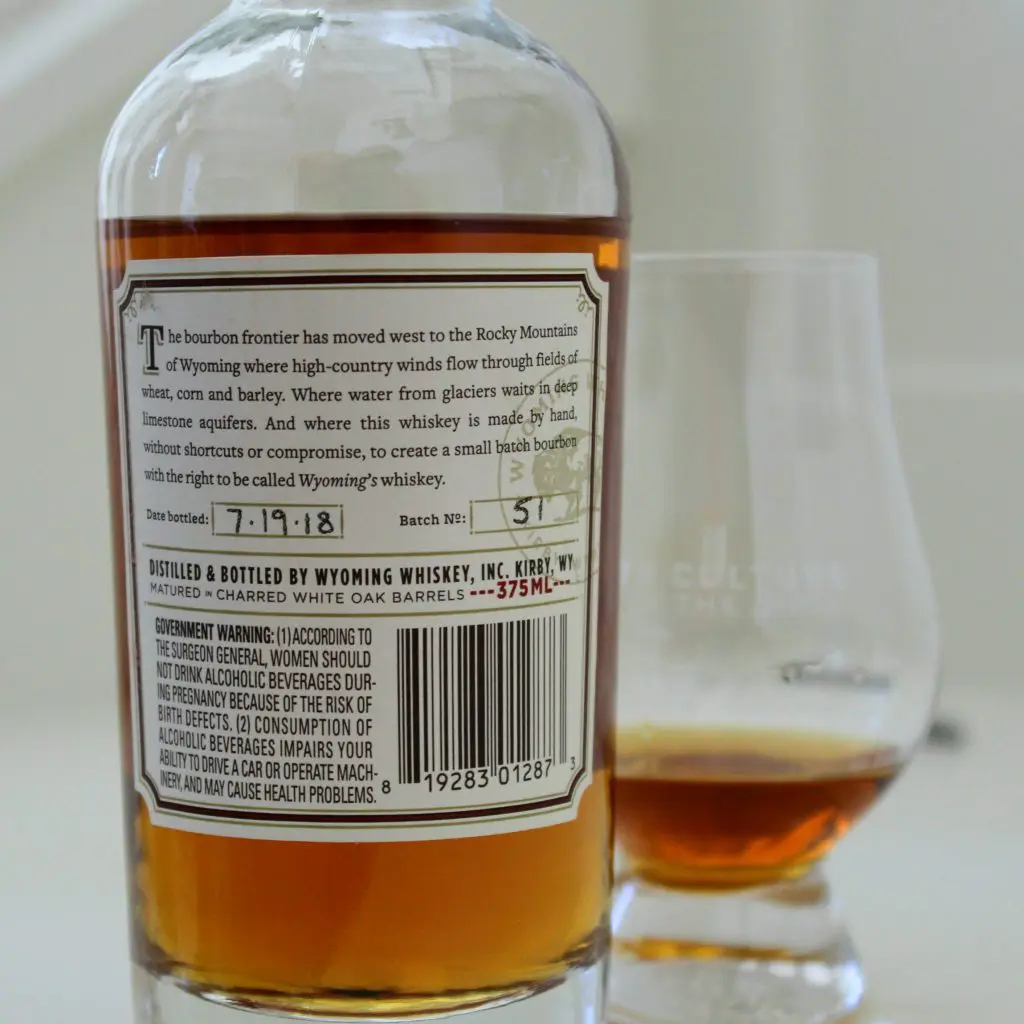 Nose: Initially I get a wallop of green apples, but slowly it starts to evolve into cinnamon spiced apples. There's some nice vanilla and caramel notes which are pleasant and expected. But as I continue to nose it, I can't help but to keep running into this vegetal note that is really off-putting. It's a note I'd expect to find in some rums, but not a bourbon.
Palate: A mouthful of yeasty bread is one of the first things I taste. This normally denotes a young distillate for me and it's hard to avoid. There are some noticeable flavors of cherry juice, fresh mint and a little bit of heat with some peppercorns. The sweetness is not nearly as developed as I was expecting, with a thin wash of caramel.
Finish: The heat on the finish increases slightly more than what was on the palate. There is some cinnamon, licorice and a little bit of drying oak. The finish doesn't last that long and is somewhat forgettable.
Score: 4.8/10
What I really wanted in this wheated bourbon was a contender that could take on the gold standard of young, low proof wheaters: Weller Special Reserve. Weller Special Reserve may be impossible to find in most states, but there are a few out there that consistently have it on the shelves for $23. In fact, the secondary for WSR is not much more than the retail price of Wyoming Whiskey (around $40).
With that perspective, I can say that WW's bourbon does not yet live up to the quality of Weller's entry level product. The Weller seems years ahead in terms of taste and refinement, whereas the Wyoming bourbon still has a decent amount of harshness and lacks much of the sweetness one would expect with a bourbon of this age. I would place the blame on the climate or even the barrels that they use, but I don't know this to be the exact reason.
Final Thoughts
Wyoming Whiskey's story and all of the specs of their whiskey was enough to lure me into buying a bottle from them, but the experience was less than I hoped it would be. Maybe as their distillate ages and their techniques become more refined, the whiskey will improve.
Additionally, a higher proof may actually cover up some of the youthful characteristics of this whiskey (higher proof and barrel proof versions do exist on an extremely limited basis). But for the time being I cannot recommend that this is a better buy than Weller Special Reserve, which for now, continues to be the king of entry-level wheated bourbons.
Rating Breakdown
1 | Disgusting | Drain pour (Example: Jeffers Creek)
2 | Poor | Forced myself to drink it
3 | Bad | Flawed (AD Laws 4 Grain BiB, Clyde Mays anything)
4 | Sub-par | Many things I'd rather have (Tincup 10 year)
5 | Good | Good, solid, ordinary (Larceny, Sazerac Rye)
6 | Very Good | Better than average (Buffalo Trace, OGD BiB)
7 | Great | Well above average (Old Ezra Barrel Proof, Old Weller Antique)
8 | Excellent | Exceptional (Michter's Barrel Proof Rye, Four Roses Barrel Strength)
9 | Incredible | Extraordinary (GTS, 13 Year MGP or Canadian Rye)
10 | Insurpassable | Nothing Else Comes Close (William Larue Weller)
Featured Products
Description:

The Aged & Ore Neat Traveler is a complete travel kit for spirits. We combined our widely praised Neat Glass with one of our 3oz Flight Bottles and housed them together in a custom EVA travel case. Perfect for a night away with your favorite pour. The tie
Description:

The Aged & Ore Bottle Flight is a premium set of 4 custom silicone wrapped glass bottles designed to transport and share samples of your favorite spirits. The flight bottles come in a custom EVA travel case that fits perfectly in any small bag. An Aged &
Description:

This Bundle combines two of our crowd favorite products, creating the ultimate travel bundle to bring along your favorite spirits and glassware. Bundle Includes: Neat Traveler (Gray) Bottle Flight (Gray) Note: This bundle is only available in gray and col
*Bourbon Culture is reader-supported. When you buy through links on our site, we may earn an affiliate commission.