*Bourbon Culture is reader-supported. When you buy through links on our site, we may earn an affiliate commission.
I can't say enough good things about Luxco recently. This company is out there improving their products and their portfolio every day and keeping prices of their stuff so low, that I honestly don't know how they're turning a profit.
Everyone who's familiar with them knows that Luxco sources their distillate from Heaven Hill. And then they distilled their own products at Heaven Hill using their own Master Distiller, John Rempke. Now John is in the saddle at Luxco's own beer still making the future of the company every day.
In previous reviews, I continue to marvel at the fact that every Luxco product I've tasted seems to actually be BETTER than the product it's based off of in the Heaven Hill lineup. Bored with Larceny's low proof and lack of flavor?
Luxco has you covered with David Nicholson 1843 with a higher proof, more flavor and the same price as Larceny.
Old Fitzgerald BiB Decanter's hard to find and super pricey? Luxco has single barrels of the same mashbill, at the same proof for half the price (and all are aged 10 years old!)
Heaven Hill Select Stock or William Heaven Hill releases super pricey and rare bottles? Lux Row Double Barreled is arguably a better tasting alternative at half the price.
Oh, and it comes in a bottle that's light years more attractive than the dumpy looking bottles I previous mentioned.
NJBYC, 2020
The crazy thing is, Luxco never sits on their laurels. This year's new products are literally single barrels of Heaven Hill's ryed and wheated bourbon mashbills.
Today I'm going to be focusing on a single barrel of the ryed bourbon mashbill which is being sold under the Ezra Brooks name. The bourbon you see here is a single barrel that was picked by the New Jersey Bourbon and Yacht Club and aged just over 4 years old and bottled at 107 proof.
These single barrels will come in a variety of proofs as they're released, but at a price of $30, they're essentially priced right at what a bottle of Elijah Craig Single Barrel is, albeit younger and with more proof.
However, age is not always the great decider in whether or not a bourbon tastes good or not, so let's see whether or not this bottle is one that should get passed by on the shelves or if it deserves your hard earned cash. I sampled this neat and in a Glencairn.
Tasting Notes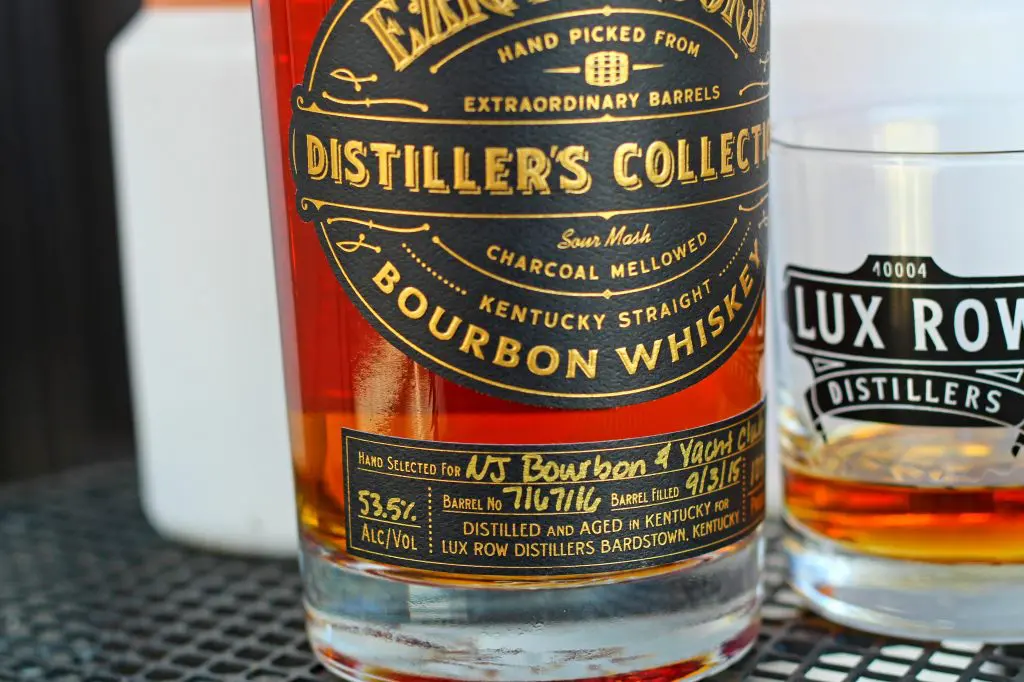 Nose: Some typical Heaven Hill bourbony scents of caramel and vanilla. The high proof means you don't have to strain to find other notes that are interesting like a handful of raisins, candy corn and some interesting rye notes like star anise and citrus rind. There's also some baking spices that make this smell like a freshly baked coffee cake.
Palate: I always associate Heaven Hill with a nutty taste, so it's no surprise to me that I'm tasting some almond brittle at the start, but the spice in this one, like a very sharp cinnamon and ground peppercorns can't be ignored.
In fact, the spice on the tongue is quite unlike the usual sweeter character of typical HH offerings. But that's a good thing if you like your bourbon to have that spice.
Sweetness comes secondary, but there is still many notes of toffee, wherthers candies, grainy sweet corn and some citrus peels (mainly orange).
Finish: For being so young, I'm not getting a lot of raw ethanol notes that could stick around and burn as you were trying to enjoy it. There is sticky toffee sweetness, oak spice and tobacco.
I am a little surprised to find some fruit notes at the end that I wasn't necessarily detecting before like apple pie filling, toasted orange zest, cherry juice
Score: 6.9/10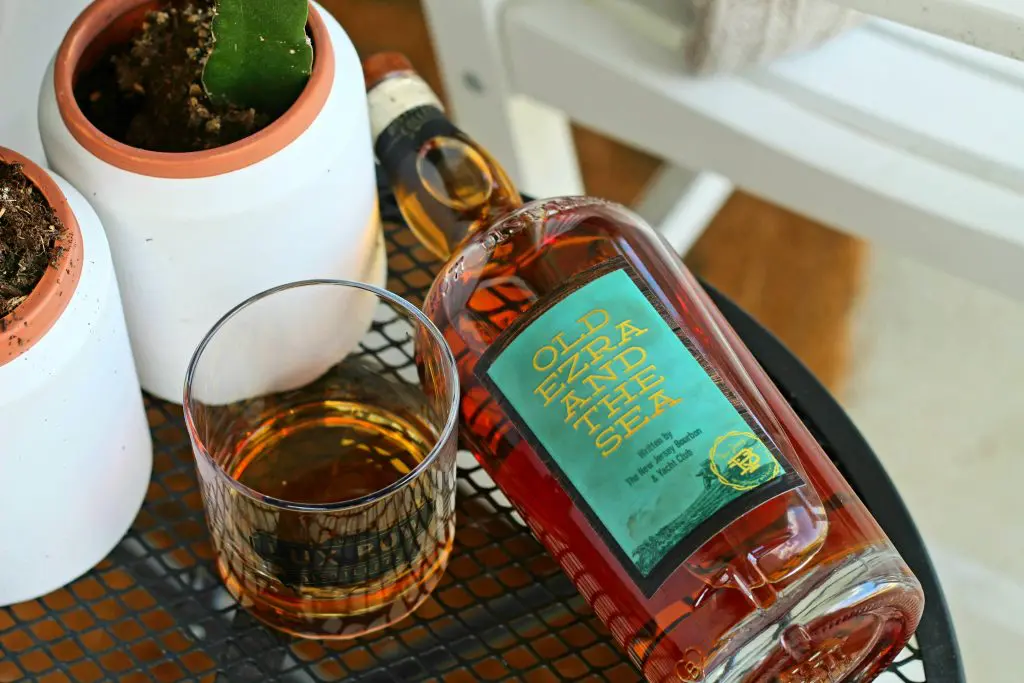 It is difficult to tell if these barrels were still distilled by John Rempke or if they were straight up plucked from the many warehouses within Heaven Hill.
I would argue that there is a good chance that they were distilled by John using maybe a slightly different mashbill (or maybe barrels with a #4 char instead of HH's typical #3 char). Based on taste alone, I would believe this because it seems to have a very different character from Elijah Craig.
In fact, I would say that this bottling has more character than Elijah Craig, various Evan Williams and even a few Henry McKennas. The lack of age does allow some unchecked heat to come through, but the spicy nature and other fun flavors make every sip interesting. And at a price point of $30, that is not a sentence you can often say about other bottles in this category.
Final Thoughts
If you're a fan of Heaven Hill products and are looking for something a little bit extra, or if you're just a fan of bottles that taste great and are under $30, then Luxco has a bottle just for you.
Ratings Breakdown
1 | Disgusting | Drain pour (Example: Jeffers Creek)
2 | Poor | Forced myself to drink it
3 | Bad | Flawed (AD Laws 4 Grain BiB, Clyde Mays anything)
4 | Sub-par | Many things I'd rather have (Tincup 10 year)
5 | Good | Good, solid, ordinary (Larceny, Sazerac Rye)
6 | Very Good | Better than average (Buffalo Trace, OGD BiB)
7 | Great | Well above average (Old Ezra Barrel Proof, Old Weller Antique)
8 | Excellent | Exceptional (Michter's Barrel Proof Rye, Four Roses Barrel Strength)
9 | Incredible | Extraordinary (GTS, 13 Year MGP or Canadian Rye)
10 | Insurpassable | Nothing Else Comes Close (William Larue Weller)
Featured Products
Description:

The Aged & Ore Neat Traveler is a complete travel kit for spirits. We combined our widely praised Neat Glass with one of our 3oz Flight Bottles and housed them together in a custom EVA travel case. Perfect for a night away with your favorite pour. The tie
Description:

The Aged & Ore Bottle Flight is a premium set of 4 custom silicone wrapped glass bottles designed to transport and share samples of your favorite spirits. The flight bottles come in a custom EVA travel case that fits perfectly in any small bag. An Aged &
Description:

This Bundle combines two of our crowd favorite products, creating the ultimate travel bundle to bring along your favorite spirits and glassware. Bundle Includes: Neat Traveler (Gray) Bottle Flight (Gray) Note: This bundle is only available in gray and col
*Bourbon Culture is reader-supported. When you buy through links on our site, we may earn an affiliate commission.