*Bourbon Culture is reader-supported. When you buy through links on our site, we may earn an affiliate commission.
For a lot of enthusiasts out there, the secret to grabbing that special bottle has more to do with preparation than with luck. There are resources online that many people use to find out when new bottles come out. These "release calendars" list the specific month (and sometimes day) that specific bottles "drop."
When I scroll through these calendars, I typically sort the bottles I see into three groups. The first group are bottles that I believe will be easy to find. The second group are bottles that will take a lot of work to find. The third group contains bottles that I know I will never find.
Buffalo Trace Antique Collection bottles frequently fall into the latter. Unless I win one in a raffle or lottery, my chances of buying (or even tasting) one is virtually nil.
And I'm okay with that! Many reviewers and hobbyists pout and complain that they can't get their hands on a particular allocated release, but I have learned to accept it and move on. With so many new releases each year, there is always going to be something out there that is easier for me to chase.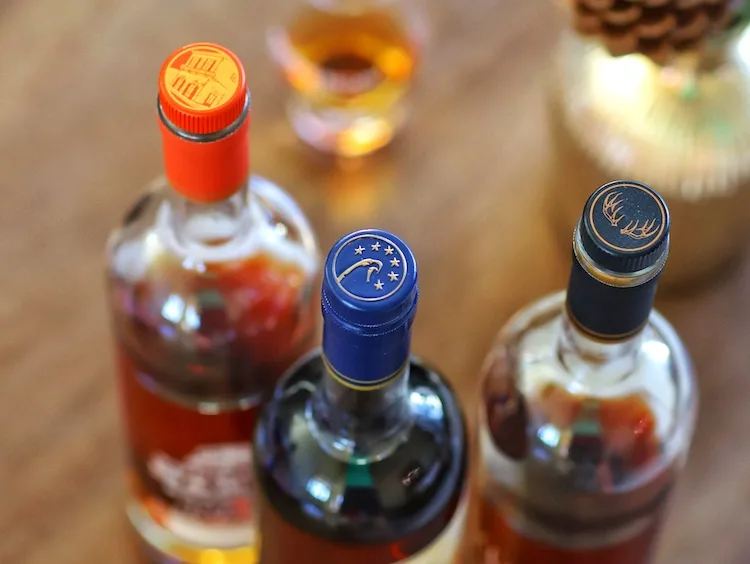 But sometimes you meet a friend who has the access to some of those bottles you never thought you'd be able to taste. These friends are what makes the whole bourbon scene feel like such a community.
Bourbon is all about sharing and it creates friendships among people who may never have met or interacted in the first place. Today I'm getting my first ever drink of Eagle Rare 17 because of a friend who is as giving as he is kind.
Eagle Rare 17 is one of the five annual releases in the Buffalo Trace Antique Collection and among the top 2 rarest (Sazerac 18 Year Rye Whiskey being the other). In the past, it was bottled at 90 proof (the same proof as the 10-year-old version) but was changed to 101 proof in 2018.
The 2021 release comes in at 18 years and 6 months old
This was a nod to the original bottle's proof when it was first released by Seagram's in 1975. The 17-year age statement is meant to indicate that's the youngest the bourbon will be. In truth, it's always been much older than that. The 2021 release I'm reviewing today comes in at 18 years and 6 months old.
That's almost unheard of in any modern bourbon. As such, its only competitors in 2021 appear to be Michter's 20 Year, Elijah Craig 18 Year and the Pappy Van Winkle 20 and 23-Year versions.
But age is not everything in bourbon. Many times, extreme age can cause the oak influence to overtake all other flavors. This is commonly referred to as being "over-oaked."
Many reviews that cover previous Eagle Rare 17 releases are chock full of descriptions that describe it as being too oaky or "flat." I can see that being the case but for a distillery with such acumen, it's hard to believe Buffalo Trace tasters would let poor barrels into this batch. I needed to try this one for myself to find out the real truth.
Thanks to my good friend, that's exactly what I intend to do. So pull up a seat and let's see what awaits inside this year's ER17. I sampled this neat in a glencairn.
Tasting Notes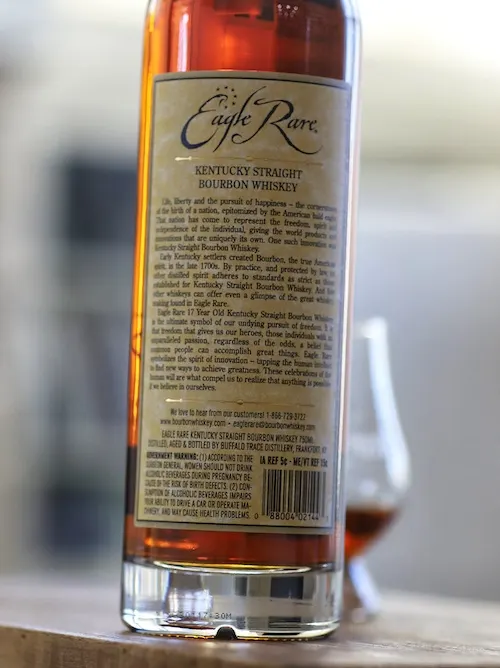 Nose: The nose on this dram is divine. I find it to be a work of art in how well the aged notes are working here in harmony. Vanilla beans are the most distinct scent followed by cherry pie complete with buttery crust. Notes of cinnamon dust coupled with fragrant, pipe tobacco and sweet oak give it an aged and spiced depth.
Brulée'd sugar, candied orange peel, blackberry jam and a hint of peppermint candy give both a sweet and fruity character to each sniff. What I find interesting is the faint amount of herbal and saltwater taffy notes that I pick up that I would not normally associate with Buffalo Trace Mash Bill #1. They add complexity that I would normally not expect from this kind of pour.
Palate: A really delicious and fascinating wood note shows age without overpowering the mouth with tannins. Notes of blackberry, lemon and cherry lend a lush, fruity punch that accompanies toasted sugars. I'm surprised with the amount of citrus zest I can taste because I would normally associate that with a younger whiskey.
I think it keeps each sip from being too one-dimensional. The mouthfeel is buttery and the fruits all taste jammy. This is just an all-around masterpiece of flavors that seems to come off stronger than the 101 proof would hint.
Finish: The finish is where the 18+ years in a barrel really show their mark. Oak, barrel char, leather and tobacco all share an equal amount of the stage, demonstrating the age of this bourbon. There are some sweeter notes like candied citrus peel and toasted brown sugar but it's the tannins that really show off. I also find a bit of cinnamon and anise spice too.
Rating: 9.9/10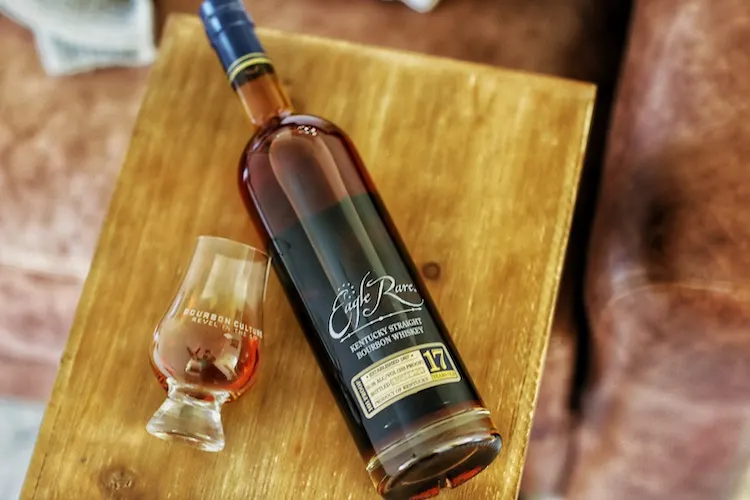 To me, this year's Eagle Rare 17 is simply amazing. I have read about previous year's releases being boring, containing too much oak or falling flat. I can see where descriptions like that come from with each sip, but I also don't think they apply to this year's release.
Everything seemed perfectly balanced and full of flavor. If I was blind tasting this, I may even have thought this was a Michter's 20 due to it tasting like it was higher in proof than it actually was.
Final Thoughts
Scoring just short of a perfect 10 was the fact that the finish didn't have the perfect balance that the palate did. What it had was still brilliant, but it did lean a bit more towards the bitterness of the tannins.
Still, for such an old bourbon, that is to be expected and probably a reason to seek it out for most drinkers. I was just amazed at being able to sense so much fruit after just under two decades in wood.
For a couple years now, I couldn't understand why anyone would pick Eagle Rare 17 as a preferred bottle over George T. Stagg (which is 15 years old). The GTS's stronger proof seemed like a no-brainer if you wanted to indulge yourself in flavor country.
But after my time with ER17 it became obvious that this is a pour for people that appreciate precision and finesse over brute strength. I always thought of the "rare" in Eagle Rare as a bit of a boast, but when it comes to Eagle Rare 17 Year, it's a perfect fit.
Ratings Breakdown
1 | Disgusting | Drain pour (Example: Jeffers Creek)
2 | Poor | Forced myself to drink it
3 | Bad | Flawed (AD Laws 4 Grain BiB, Clyde Mays anything)
4 | Sub-par | Many things I'd rather have (Tincup 10 year)
5 | Good | Good, solid, ordinary (Larceny, Sazerac Rye)
6 | Very Good | Better than average (Buffalo Trace, OGD BiB)
7 | Great | Well above average (Old Ezra Barrel Proof, Old Weller Antique)
8 | Excellent | Exceptional (Michter's Barrel Proof Rye, Four Roses Barrel Strength)
9 | Incredible | Extraordinary (GTS, 13 Year MGP or Canadian Rye)
10 | Insurpassable | Nothing Else Comes Close (William Larue Weller)
Featured Products
Description:

The Aged & Ore Neat Traveler is a complete travel kit for spirits. We combined our widely praised Neat Glass with one of our 3oz Flight Bottles and housed them together in a custom EVA travel case. Perfect for a night away with your favorite pour. The tie
Description:

The Aged & Ore Bottle Flight is a premium set of 4 custom silicone wrapped glass bottles designed to transport and share samples of your favorite spirits. The flight bottles come in a custom EVA travel case that fits perfectly in any small bag. An Aged &
Description:

This Bundle combines two of our crowd favorite products, creating the ultimate travel bundle to bring along your favorite spirits and glassware. Bundle Includes: Neat Traveler (Gray) Bottle Flight (Gray) Note: This bundle is only available in gray and col
*Bourbon Culture is reader-supported. When you buy through links on our site, we may earn an affiliate commission.