*Bourbon Culture is reader-supported. When you buy through links on our site, we may earn an affiliate commission.
West Fork Whiskey surprised their fans in March 2021 by releasing a new product within their Old Hamer line. This extension would be called "Hugh Hamer." The name was chosen because Hugh was one of the two brothers who had started the brand over a century earlier. This line was intended to be different from the regular Old Hamer releases because it would involve finishing the bourbon in various barrels in an attempt to find complimentary flavors to go along with the corn-forward nature of the bourbon they were sourcing from MGP.
The first Hugh Hamer release used port wine barrels to finish their bourbon in. I was under the assumption that West Fork would stick with the various wine barrels for the foreseeable future. But in May of 2021, they announced that the second release would be finished in a second new charred oak barrel.
This "double barrel" treatment has surged in popularity lately with many distilleries using the technique to add additional layers of oak and sweets and to improve the taste of young whiskey. The reason why it can help is that it introduces even more more tannins and oak sugars (like caramel) to blanket any youthfulness that the bourbon had. From what I've tasted from other distilleries, this process works more times than not.
West Fork was already starting with four- to five-year-old bourbon made from a mashbill of 99% corn and 1% malted barley. In their Old Hamer releases, I found it to be a very competent bourbon that didn't taste overly youthful. A lot of this surely had to do with the fact that MGP makes excellent products and the fact that the guys at West Fork saw enough potential in it to source lots of these barrels.
So how does this double-barreled version of Old Hamer taste? Would the second barrel influence the profile that much? I set off to find out. I sampled this neat in a glencairn.
Tasting Notes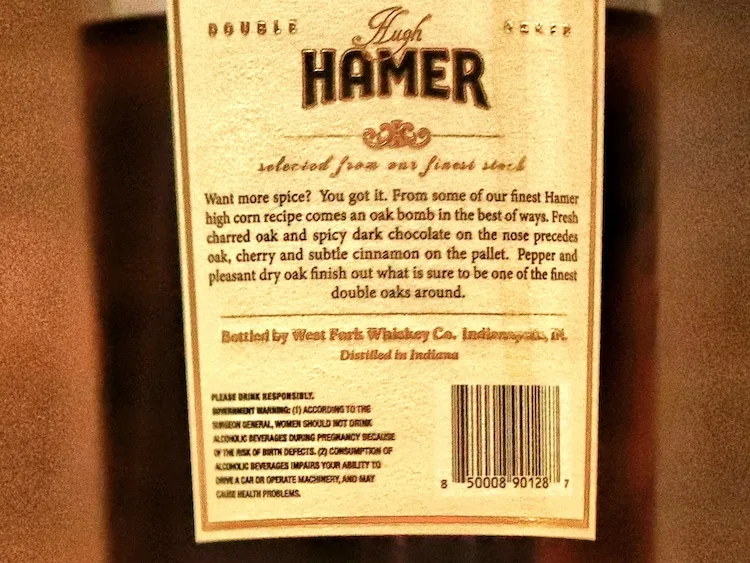 Nose: The wood on this one is immediately apparent and really jumps out at you. The corn sweetness comes by way of melted Halloween Candy Corn while toasted and charred marshmallows amp up the sweetness even more.
Toffee is a big player here too as the nose comes off as much more mature than the age would suggest. Notes of vanilla are blanketed more than usual, but probably because the oak is so powerful.
Palate: Creamy, oak soaked and vanilla heavy. The flavors are thick and coating and are once again dominated by wood. This isn't necessarily the aged wood found in double digit aged bourbons, but it's also not youthful or bitter.
It's just tannin heavy and brings forth some extra sweetness with notes of charcoal briquet here and there. Caramelized sugar and cinnamon pops in your mouth and eve a little bit of apple fritter can be found.
Finish: Loads of wood stick around yet remain pleasantly sweet in your mouth. There are more lingering notes of toasted and charred marshmallows from the nose. The downside (or upside, depending on who you are) is that the finish is a bit of a one trick pony with oak still running the show. That's okay though, I'm digging it. The more I drink it, the more this sort of "Cinnamon Toast Crunch" flavor begins to expose itself. It's very nice, but simple.
Score: 7/10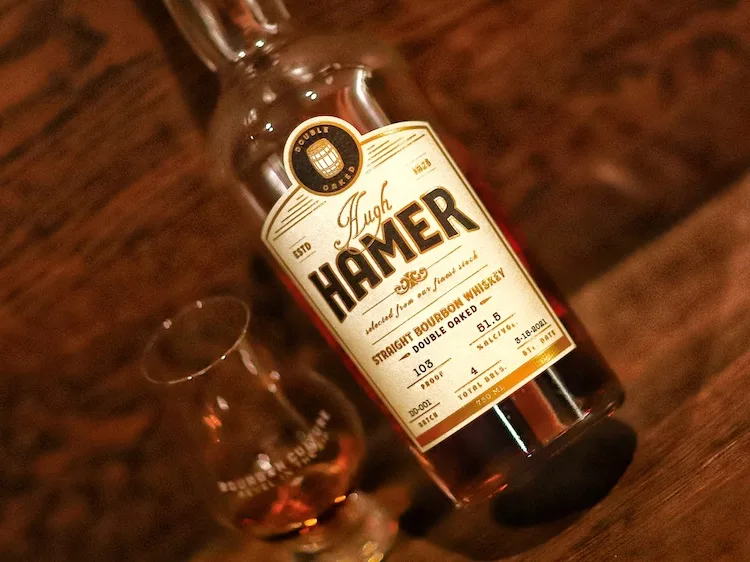 Sweet, oaky and charming, this was a really nice pour that I would highly recommend for those that like their bourbon to be uncomplicated, yet powerful in delivery. This would also be a bourbon for people who love the richness and oak-forward notes found in Elijah Craig Barrel Proof without the extra 20-30 proof points to set your mouth on fire. It's not going to have a lot of subtle fruit notes or exotic rye spice notes, but its charm comes more from its simplicity. There are times where you don't want to drink bourbon just to analyze every little thing about it. You want the flavors and aromas to make their point from the very first sip. This bottle of Hugh Hamer delivers exactly that.
Final Thoughts
The double barrel technique works exceptionally well with this high corn bourbon because the base spirit is already a sweet caramel delight that doesn't come off as young, but also doesn't come off as matured either. The secondary barrel definitely makes this feel more mature than what it is while bringing along some fun marshmallow notes too. It was like getting two bourbons in the bottle for the price of one.
I took a sneak peek at West Fork's aging warehouse to know they have a lot of really cool projects coming up over the next 12 months involving the Hugh Hamer name, so keep your eyes peeled for the next one. As for this bottle of Double Oaked, it is destined to become a mainstay of the line meaning if you didn't find it in 2021, you just have to wait a little bit longer for another batch to be released. This is one that absolutely needs to be on your shelf!
Ratings Breakdown
1 | Disgusting | Drain pour (Example: Jeffers Creek)
2 | Poor | Forced myself to drink it
3 | Bad | Flawed (AD Laws 4 Grain BiB, Clyde Mays anything)
4 | Sub-par | Many things I'd rather have (Tincup 10 year)
5 | Good | Good, solid, ordinary (Larceny, Sazerac Rye)
6 | Very Good | Better than average (Buffalo Trace, OGD BiB)
7 | Great | Well above average (Old Ezra Barrel Proof, Old Weller Antique)
8 | Excellent | Exceptional (Michter's Barrel Proof Rye, Four Roses Barrel Strength)
9 | Incredible | Extraordinary (GTS, 13 Year MGP or Canadian Rye)
10 | Insurpassable | Nothing Else Comes Close (William Larue Weller)
Featured Products
Description:

The Aged & Ore Neat Traveler is a complete travel kit for spirits. We combined our widely praised Neat Glass with one of our 3oz Flight Bottles and housed them together in a custom EVA travel case. Perfect for a night away with your favorite pour. The tie
Description:

The Aged & Ore Bottle Flight is a premium set of 4 custom silicone wrapped glass bottles designed to transport and share samples of your favorite spirits. The flight bottles come in a custom EVA travel case that fits perfectly in any small bag. An Aged &
Description:

This Bundle combines two of our crowd favorite products, creating the ultimate travel bundle to bring along your favorite spirits and glassware. Bundle Includes: Neat Traveler (Gray) Bottle Flight (Gray) Note: This bundle is only available in gray and col
*Bourbon Culture is reader-supported. When you buy through links on our site, we may earn an affiliate commission.