*Bourbon Culture is reader-supported. When you buy through links on our site, we may earn an affiliate commission.
Just as the Summer of 2021 was hitting its record highs, West Fork Whiskey decide to turn up the heat too. For their third Hugh Hamer release (which focuses on finishing barrels), the crew obtained some peach brandy barrels and filled them with high-corn bourbon that they source from MGP.
If you've not read my previous reviews of Old Hamer/Hugh Hamer products, then you might not realize that MGP distills a 99% corn, 1% malted barley bourbon (not Light Whiskey) and has been selling them for a few years now. These barrels are believed to be somewhere between 4 and 5 years old.
Producers finishing bourbon in brandy barrels have been nothing new for the past couple years, but only recently has peach brandy began to be a thing. It's amazing that nobody has thought of it until recent times because peach is such an instantly recognizable and likable flavor.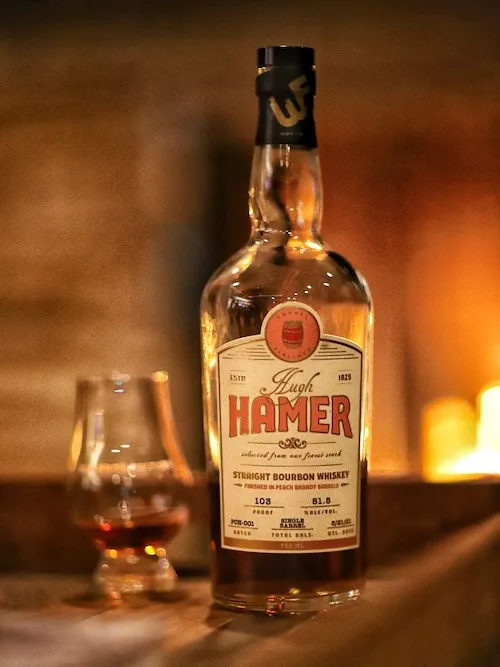 Brandy made from grapes and sourced from France can impart some slightly funky and mineral-y notes and I know many drinkers that don't care for them, but that's why distillers have turned their eyes towards making a brandy for every type of fruit out there.
As I stared at this bottle before me, the main question I had was just how much influence did the tasters at West Fork allow the bourbon to take on before bottling it up?
This can be an issue with producers that don't have experience in secondary cask finishing and this was only West Fork's third attempt, so I had reason to be uneasy. However, for the price of around $50, it seems like a risk worth taking. So let's see if they have another hit on their hands or not. I sampled this neat in a glencairn.
Tasting Notes
Nose: There's no denying it, this smells immediately like a peach pie. But since the warm cornbread scent of the underlying bourbon is so headstrong, it's like those two baked goods are combined as one. Notes of vanilla and melted butter are also present, but really there is no escaping the endless assault of peaches and no desire on my part to pull my nose out of the glass.
Palate: Juicy peach flavors hit first. The sweet and syrupy goodness of peaches is not totally dominant as the corn-forward bourbon notes pile on more caramel sweetness and cinnamon spice. Strangely, there is a bit of mint, but it might also be the slightly youthful ethanol that hides in the background. That might also be a byproduct of the grain-forward bourbon too. Other flavors remind me of raspberry keytones and a little bit of oak.
Finish: The peach flavors actually get a bit more subtle on the finishs. This allows notes of slightly overbaked cornbread, caramel sweetness and a bit of drying oak set in. The finish is moderately long but keeps you wanting to come back for more as soon as its done.
Score: 7.7/10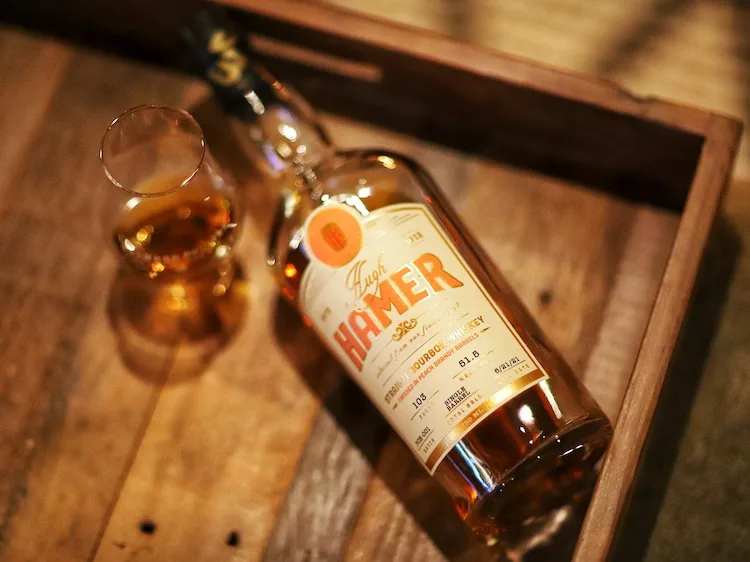 It's hard to find a person who doesn't like the taste of peaches. No matter what form they take, there is always something deeply satisfying and immediately recognizable about their sweetness. I actually prize any bottle of whiskey where I can find a faint peach note (usually I've found them in certain Buffalo Trace products), but it's always been so insignificant it makes you wonder if you're just imagining it's there.
But there's no imagining the peach in this bottle of Hugh Hamer because it's with you every step of the way. The only thing I could think of to improve this would be if West Fork had used an older bourbon. I think that layering dark, heavy tannins with the light, fruity flavors of peach would be even more of a knockout than what was in this bottle.
Final Thoughts
I personally don't see this as a polarizing bourbon because it's just so likable, but I know some purists will. There are some drinkers out there that don't want their oak juice to taste like anything except oak juice, and that's fine.
This bourbon might not be for you. But West Fork isn't making this a standard release either (sadly), so the nature of the season it was released in was perfect. It disappeared from the shelves as quickly as it was set out.
The Hugh Hamer line will continue to experiment with other barrel finishes in the future, but if I could ever advocate for one thing, it would be for them to always find a way to make this an annual release during the summer months. It's just the perfect complement to any summer evening. The best part is that just by pouring yourself a glass of this during the long and gloomy winter months, it immediately cheers you up to know that summer is just a sip away.
Ratings Breakdown
1 | Disgusting | Drain pour (Example: Jeffers Creek)
2 | Poor | Forced myself to drink it
3 | Bad | Flawed (AD Laws 4 Grain BiB, Clyde Mays anything)
4 | Sub-par | Many things I'd rather have (Tincup 10 year)
5 | Good | Good, solid, ordinary (Larceny, Sazerac Rye)
6 | Very Good | Better than average (Buffalo Trace, OGD BiB)
7 | Great | Well above average (Old Ezra Barrel Proof, Old Weller Antique)
8 | Excellent | Exceptional (Michter's Barrel Proof Rye, Four Roses Barrel Strength)
9 | Incredible | Extraordinary (GTS, 13 Year MGP or Canadian Rye)
10 | Insurpassable | Nothing Else Comes Close (William Larue Weller)
Featured Products
Description:

The Aged & Ore Neat Traveler is a complete travel kit for spirits. We combined our widely praised Neat Glass with one of our 3oz Flight Bottles and housed them together in a custom EVA travel case. Perfect for a night away with your favorite pour. The tie
Description:

The Aged & Ore Bottle Flight is a premium set of 4 custom silicone wrapped glass bottles designed to transport and share samples of your favorite spirits. The flight bottles come in a custom EVA travel case that fits perfectly in any small bag. An Aged &
Description:

This Bundle combines two of our crowd favorite products, creating the ultimate travel bundle to bring along your favorite spirits and glassware. Bundle Includes: Neat Traveler (Gray) Bottle Flight (Gray) Note: This bundle is only available in gray and col
*Bourbon Culture is reader-supported. When you buy through links on our site, we may earn an affiliate commission.