*Bourbon Culture is reader-supported. When you buy through links on our site, we may earn an affiliate commission.
In my previous review of Hudson's other new whiskey, Bright Lights, Big City, I outlined the recent transformation Hudson Whiskey has gone through after being purchased by William Grant & Sons in the spring of 2017.
WG&S is a whisky powerhouse in Scotland and owns the brands Glenfiddich, Balvenie and Tullamore DEW just to name a few. They wanted an American brand to add to the portfolio and Hudson Whiskey seemed like the ticket to entry without spending an arm and a leg.
Hudson had been creating spirits for almost 15 years at that point and had a cult following, especially in areas local to their homebase of Tuthilltown, New York. Their operation was still somewhat small and their aging process was set up more for rapid aging (by using barrels as small as 3 gallons) to speed up how quickly their products could get to the market.
But with a fresh infusion of capital and larger distillery equipment incoming, their output began to rise. Their barrel size also began to rise as well (with 53-gallon ones becoming standard).
Now that a more standard sized barrel was being used, it would take time for the effects of the barrel and aging to begin to show in the whiskey. Hudson patiently waited until late 2020 to finally roll out with their new whiskey while simultaneously rebooting the old labels.
Manhattan Rye
The whiskies also carried new names. Their rye whiskey ditched the name "Manhattan Rye" and was now called "Do The Rye Thing." I looked into it and can confirm that it's a name that nobody else was using for a whiskey. Their other whiskey, a bourbon named Bright Lights, Big City, was similarly named with words that don't necessarily conjure up images of whiskey in the minds of most people.
But the packaging was clean and simple with very bold font. It does grab your eye on a store shelf, but maybe not for all the right reasons. In a sea of paper labels wearing the colors of browns and greens, these labels stand out as very new looking.
But if you can look past the bottle, as most will, then what brought you to this review in the first place is to find out how good this rye whiskey really is. Hudson has had a while to perfect their rye and that kind of whiskey typically doesn't need as long to come to age, so my hopes were higher when tasting this than they were with the bourbon. Would New York rye create a profile I had never tasted before? I'm not sure, but let's find out. I sampled this neat in a glencairn.
Tasting Notes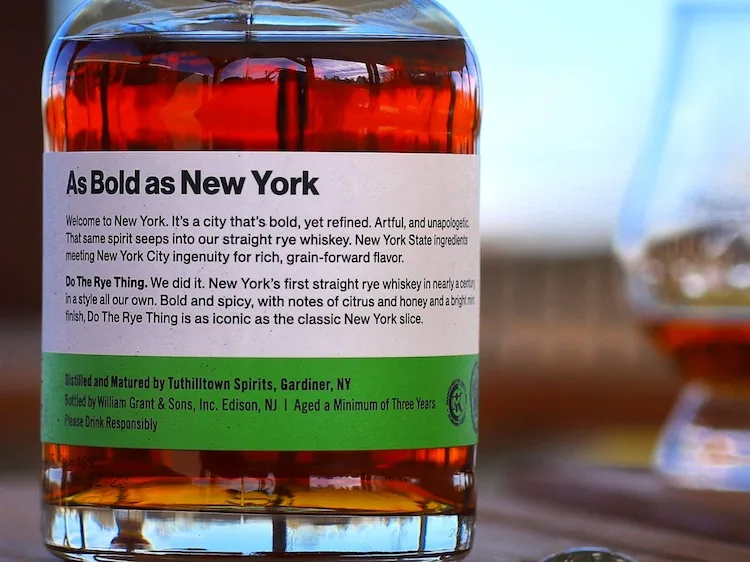 Nose: Fresh sawn wood and cardboard meets a bit of potpouri. The nose seems fragrant, but those aren't notes I was expecting right off the bat. Unbaked sugar cookie dough couples with vanilla and cinamon to show that this whiskey has some underlying sweetness.
Palate: The tastes I find in this rye whiskey are unlike any I have tasted before. For every familiar flavor there is an unfamiliar flavor. Spearmint and peppercorns greet my tongue but I also find notes of magic markers.
Green apple tartness meets notes of damp forest floor. Lemon peel and charred wood spar with notes of hay and cattail shoots (I have no idea where the hell I got this note from, but I swear I did). The flavors keep morphing back and forth.
Finish: The finish is excessively bitter with citrus peel leading the way. There is a touch of vanilla on the end, but it can't cover up the taste of wet cardboard and sour oak. It is not pleasant.
Score: 3/10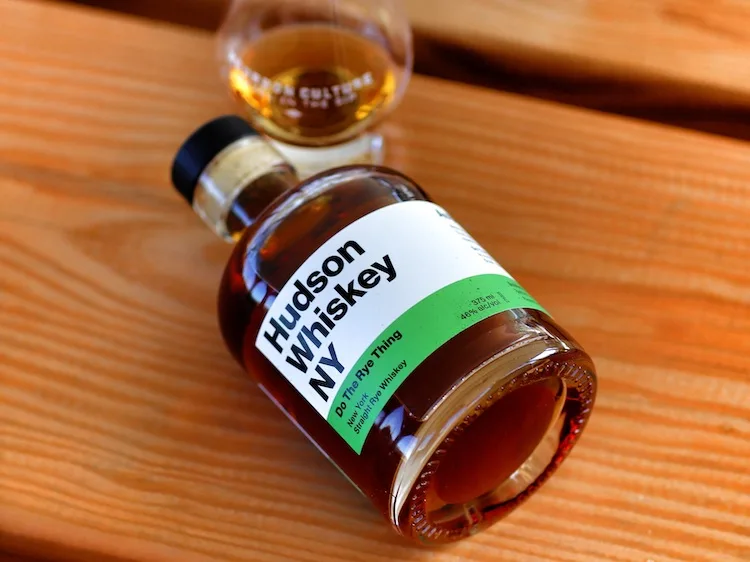 Do The Rye Thing has a problem with inconsistency. For every desirable flavor or scent, there is one that tastes off. But if you're straining to find the good while having to fight off the bad, then you can't really say that you're enjoying your whiskey.
There is no doubt that this rye whiskey needs some more time in the barrel. Youthful notes like magic marker, wet cardboard and all things "green" come from a lack of age. Those harsh compounds disappear after time in the barrel and Hudson should recognize that 3 years was not enough time to have them filter out.
Alternatively, it could be the source of grain that is just no good to make a rye whiskey with. All too often, a craft distillery will paint themselves into a corner by saying they'll only use local grains in an effort to appeal to their audience. But what they find out is that the local grain may be much worse in quality than what they could find (for cheaper) on the open market.
Grain can be affected year by year by too much rain or a drought and by the amount of time it was dried before being milled. To say you're only going to use local grain runs the risk of creating a bad batch of whiskey just because you said you were going to. The grain has as much to do with the end product as the barrels do.
Final Thoughts
So who knows what the future holds for Hudson Whiskey? Their parent company will surely keep an eye out and invest as much resources as they can to make sure that the whiskey continues to improve, but what if it doesn't?
Hudson could run into the same issue that High West faced a couple years ago when they began to taste their own rye whiskey that they were making to replace the 16-year-old Barton rye whiskey that they ran out of.
They deemed theirs was a failure and they're now having Bardstown Bourbon Company distill and age the next generation of rye whiskey in Kentucky rather than keep trying to force a square peg into a round hole. Will William Grant & Sons be forced to the same conclusion too?
Ratings Breakdown
1 | Disgusting | Drain pour (Example: Jeffers Creek)
2 | Poor | Forced myself to drink it
3 | Bad | Flawed (AD Laws 4 Grain BiB, Clyde Mays anything)
4 | Sub-par | Many things I'd rather have (Tincup 10 year)
5 | Good | Good, solid, ordinary (Larceny, Sazerac Rye)
6 | Very Good | Better than average (Buffalo Trace, OGD BiB)
7 | Great | Well above average (Old Ezra Barrel Proof, Old Weller Antique)
8 | Excellent | Exceptional (Michter's Barrel Proof Rye, Four Roses Barrel Strength)
9 | Incredible | Extraordinary (GTS, 13 Year MGP or Canadian Rye)
10 | Insurpassable | Nothing Else Comes Close (William Larue Weller)
Featured Products
Description:

The Aged & Ore Neat Traveler is a complete travel kit for spirits. We combined our widely praised Neat Glass with one of our 3oz Flight Bottles and housed them together in a custom EVA travel case. Perfect for a night away with your favorite pour. The tie
Description:

The Aged & Ore Bottle Flight is a premium set of 4 custom silicone wrapped glass bottles designed to transport and share samples of your favorite spirits. The flight bottles come in a custom EVA travel case that fits perfectly in any small bag. An Aged &
Description:

This Bundle combines two of our crowd favorite products, creating the ultimate travel bundle to bring along your favorite spirits and glassware. Bundle Includes: Neat Traveler (Gray) Bottle Flight (Gray) Note: This bundle is only available in gray and col
*Bourbon Culture is reader-supported. When you buy through links on our site, we may earn an affiliate commission.