*Bourbon Culture is reader-supported. When you buy through links on our site, we may earn an affiliate commission.
E.H. Taylor Single Barrel
E.H. Taylor has a wide ranging lineup of bottled-in-bond products that span a large amount of mashbill recipes and ages. EHT Small Batch sets at the bottom of the totem pole with it's more sought-after Single Barrel version priced slightly above it. The Single Barrel version is known by many to be "hit or miss" due to the nature of Single Barrels, but is still very sought after for the off-chance that it could be a real honey barrel of basically 100 proof Buffalo Trace. Since there is only one or two releases of Single Barrel EHT around the US per year, it disappears pretty quickly, leaving many enthusiasts feeling left out in the cold.
But what if there were a more readily available version of EHT Single Barrel that didn't have to be chased down for $100 on the secondary market?
John J. Bowman Single Barrel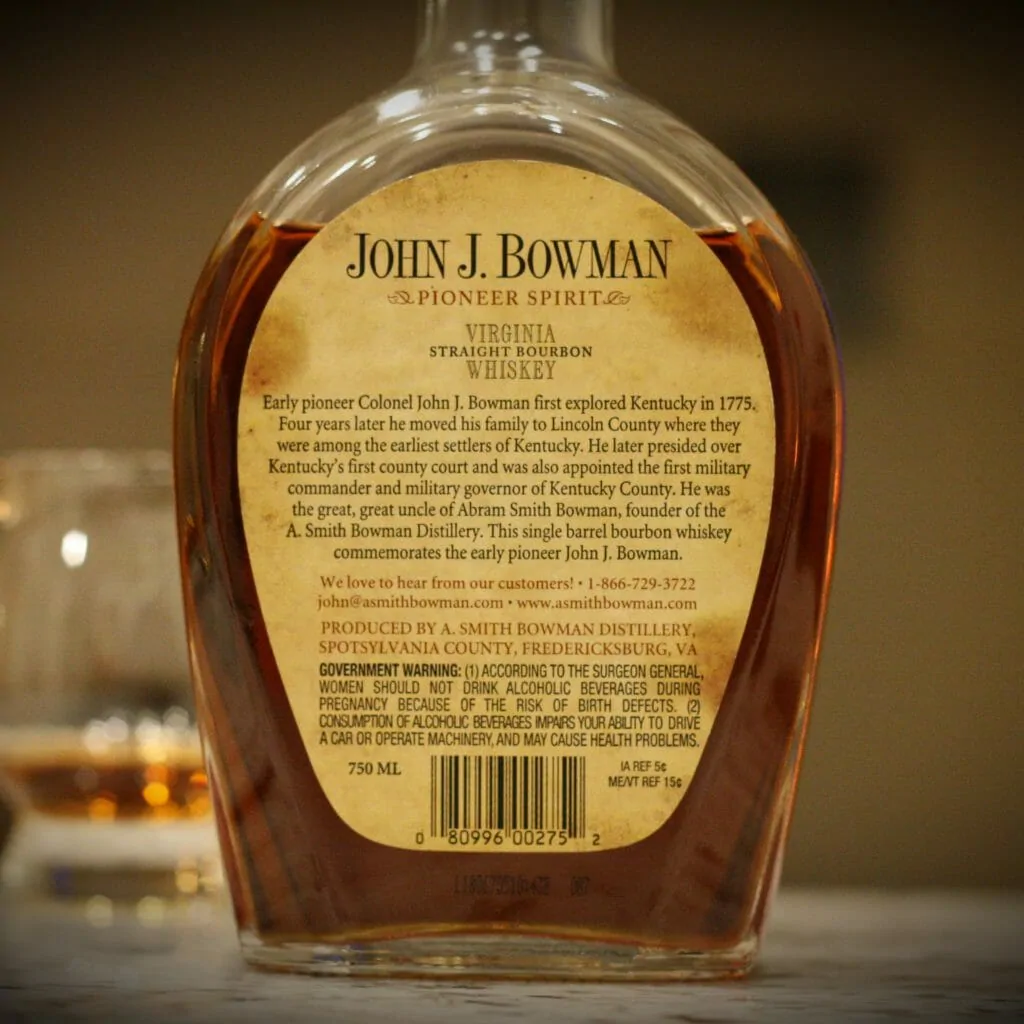 Enter John J. Bowman Single Barrel. Produced by the Bowman Distillery in Virginia, and still owned by the same Sazerac parent company that owns Buffalo Trace, it has long been rumored that Bowman Distillery actually uses Buffalo Trace Mash Bill #1 for their base distillate and then distilling it one more time before barreling it and storing it in warehouses on pallets instead of on racks like a traditional distiller.
Although no age statements are given, I'm assuming that both of these bottles are less than 10 years old, but probably more than 7 years old. I don't have any proof to back this up, but when speaking to a handful of bourbon aficionados, there is very little disagreement when those sorts of ages are speculated on.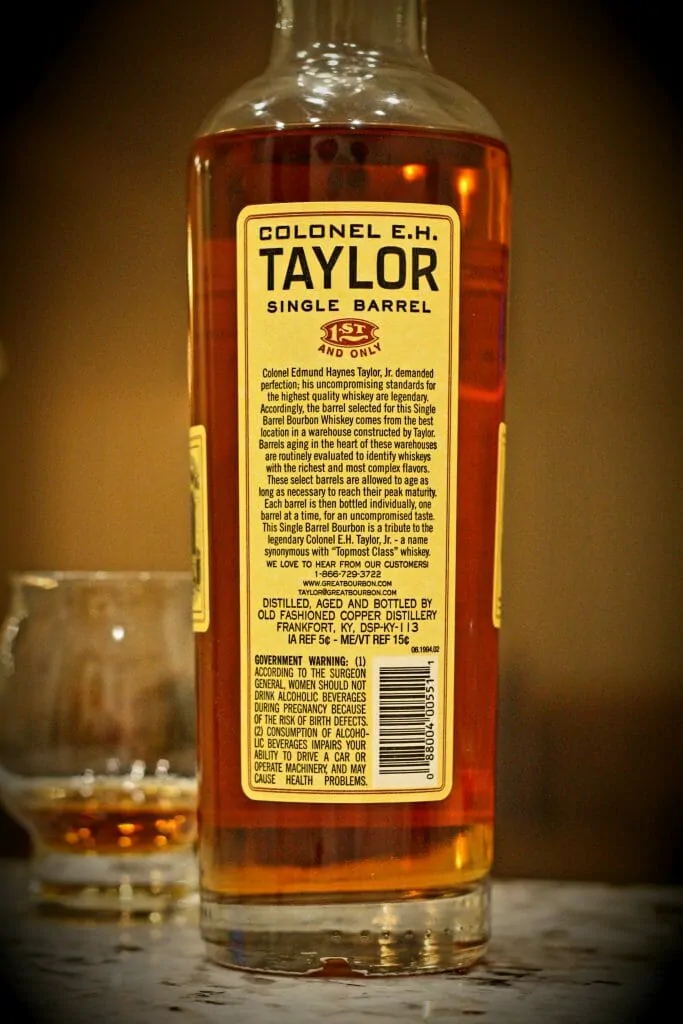 With both of these bottles retailing around the $60 mark, but the EHTSiB being more rare and usually found marked up to $80-100, is the John J. Bowman equal to or better than it? I decided to find out in a semi-blind tasting that was had both of these poured neat and in a glencairn.
Tasting Notes: Glass #1
Nose: The nose is a sweets lovers paradise of dark brown sugar, nectarines and vanilla frosting.
Palate: If the nose was any indication of how sweet this would get, the palate only proves it moreso. Maraschino cherry, some butterscotch pudding, some orange marmalade and faint peach cobbler make this dram a sensation much like eating a dessert. The mouthfeel is pleasant with a medium viscosity.
Finish: A little bit of heat and rye spice are present, but not obstructive and gently fade away. Citrus zest does stick around for a while. There is a nice sweet jammy aftertaste that incorporates the citrus.
I also started to notice grenadine syrup begins to come through along with a slight menthol cooling effect. Still, very sweet, fruity and layered.
Score: 7.8/10
Tasting Notes: Glass #2
Nose: A nice baked goods nose with scents of caramel and cinnamon. In fact, it's more like a bread pudding with chunks of spiced apples in it.
Palate: Here we go with those great fruit flavors again:Cherry pie, peaches, crème brulee, and simple syrup. The palate seems to have a bit less "bite" (heat, rye spice) than glass #1. The viscosity in the mouthfeel is about the same as Glass #1.
Finish: The fruit flavors seem to change from the palate as I now get oranges instead of peaches like a nice toasted orange zest. The cherry is still there and a there's a faint amount of rye spice at the end.
Score: 7.8/10
REVEAL:
Glass #1: EH Taylor Single Barrel
Glass #2: John J. Bowman Single Barrel
Winner: Tie!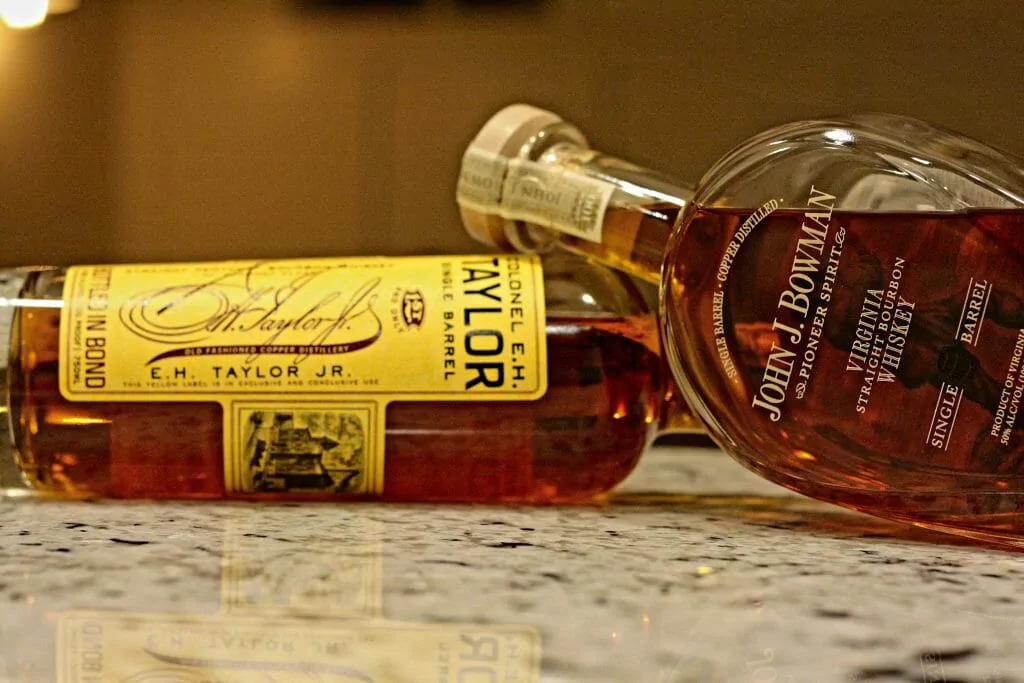 This contest was too close to call. Both were delicious, sweet and had no real flaws that I could pick out. They both provided tons of fruit flavors which I always seem to find in Buffalo Trace products. I also liked that upon the reveal, that I noticed that the EHTSiB had the same butterscotch notes that I find with EHT Barrel Proof. That's always a treat for me and must be one of the notes they go for when they pick these barrels.
Final Thoughts
My conclusion is that if you like EHTSiB, you'll also like the John J. Bowman Single Barrel. There is very little difference between them and I think they're a good example of how sweet and fruity Buffalo Trace can be. With the hype on Buffalo Trace products only increasing and the EHT line as a whole becoming harder to find, that the John J. Bowman line is your best chance to not only taste great BT distillate, but actually being able to find it as well.
Ratings Breakdown
1 | Disgusting | Drain pour (Example: Jeffers Creek)
2 | Poor | Forced myself to drink it
3 | Bad | Flawed (AD Laws 4 Grain BiB, Clyde Mays anything)
4 | Sub-par | Many things I'd rather have (Tincup 10 year)
5 | Good | Good, solid, ordinary (Larceny, Sazerac Rye)
6 | Very Good | Better than average (Buffalo Trace, OGD BiB)
7 | Great | Well above average (Old Ezra Barrel Proof, Old Weller Antique)
8 | Excellent | Exceptional (Michter's Barrel Proof Rye, Four Roses Barrel Strength)
9 | Incredible | Extraordinary (GTS, 13 Year MGP or Canadian Rye)
10 | Insurpassable | Nothing Else Comes Close (William Larue Weller)
Featured Products
Description:

The Aged & Ore Neat Traveler is a complete travel kit for spirits. We combined our widely praised Neat Glass with one of our 3oz Flight Bottles and housed them together in a custom EVA travel case. Perfect for a night away with your favorite pour. The tie
Description:

The Aged & Ore Bottle Flight is a premium set of 4 custom silicone wrapped glass bottles designed to transport and share samples of your favorite spirits. The flight bottles come in a custom EVA travel case that fits perfectly in any small bag. An Aged &
Description:

This Bundle combines two of our crowd favorite products, creating the ultimate travel bundle to bring along your favorite spirits and glassware. Bundle Includes: Neat Traveler (Gray) Bottle Flight (Gray) Note: This bundle is only available in gray and col
*Bourbon Culture is reader-supported. When you buy through links on our site, we may earn an affiliate commission.