*Bourbon Culture is reader-supported. When you buy through links on our site, we may earn an affiliate commission.
Chattanooga Whiskey Distillery has recently started bottling their own distillate as they transition from sourced bourbon to their own "High Malt" variety (heads up: it's actually very good!). But about a year ago, they had been sourcing some MGP bourbon before their own bourbon was finished aging. I've been seeing some of these MGP-sourced Single Barrels being sold on MGP Facebook groups but they were little known about because the distribution of them tended to stay in Southern States like TN, GA, AL and MS, who also have strict no-shipping rules.
Alabama Bicentennial Single Barrel
Luckily, I got my hands on an "Alabama Bicentennial" Single Barrel that was bottled at 112.1 proof. Most people have assumed that these Single Barrels were in the 8 to 10 year old range, which is a great range for MGP because the baking spices and tannins aren't as aggressive and it leaves some room for the brighter and fruitier qualities of MGP's bourbon to come shine through. Let's see how this stacks up. I sampled it neat and in a glencairn.
Tasting Notes
Nose: A great dessert nose of cinnamon sticks, cherry blossoms, cigar box, brown sugar, toasted orange and lemon rinds. I'm also super pumped to detect the faint scent of brownies
Palate: The chocolate amplifies! The "brownies" on the nose was not a fluke, except this time it's like tasting like melted chocolate chips. There's a strong charred oak coats the tongue, scorched toffee and more cinnamon also shine through for some sweetness.
Finish: The finish displays some of the beautiful tannic qualities of MGP bourbon with notes like cigar tobacco, tobacco ash and seasoned oak. There's also a nice amount of sweetness and citrus that it keeps the tannins in check. This is a big, deep bourbon.
Score: 8/10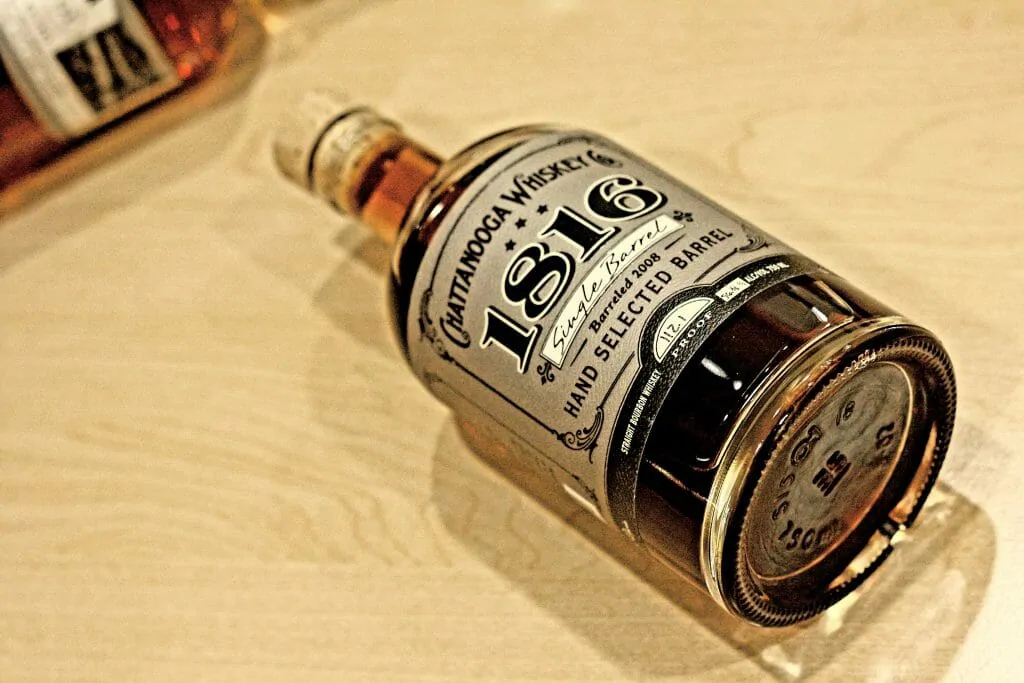 There are few bourbons out there that really indulge me with chocolate on the nose or tongue. Even fewer that have a sweeter chocolate taste (but baker's chocolate is common). But this one has it all, which is surprising for MGP. Otherwise, a lot of traditional MGP qualities shown through like lovely wood of all kinds, cinnamons and tobaccos. The surprising (but in a good way) bit of charred or burnt notes led to more depth rather than a mouthful of cinders, which was a unique surprise with this bourbon. I'm guessing this is around 10 years old and also if it isn't MGP's low rye (21%) version of their bourbon. Regardless, it's got great depth because a lot of these flavors and aromas are very richly layered.
Final Thoughts
It's sad that Chattanooga has stopped sourcing this MGP juice, because this is actually one of the better single barrels I've had from MGP. But with the direction they're heading now, it's safe to say that their own distillate has the ability to grab people's attention who are seeking out these same flavorful, layered characteristics that makes whiskey drinking so enjoyable.
Rating Breakdown
1 | Disgusting | Drain pour (Example: Jeffers Creek)
2 | Poor | Forced myself to drink it
3 | Bad | Flawed (AD Laws 4 Grain BiB, Clyde Mays anything)
4 | Sub-par | Many things I'd rather have (Tincup 10 year)
5 | Good | Good, solid, ordinary (Larceny, Sazerac Rye)
6 | Very Good | Better than average (Buffalo Trace, OGD BiB)
7 | Great | Well above average (Old Ezra Barrel Proof, Old Weller Antique)
8 | Excellent | Exceptional (Michter's Barrel Proof Rye, Four Roses Barrel Strength)
9 | Incredible | Extraordinary (GTS, 13 Year MGP or Canadian Rye)
10 | Insurpassable | Nothing Else Comes Close (William Larue Weller)
Featured Products
Description:

The Aged & Ore Neat Traveler is a complete travel kit for spirits. We combined our widely praised Neat Glass with one of our 3oz Flight Bottles and housed them together in a custom EVA travel case. Perfect for a night away with your favorite pour. The tie
Description:

The Aged & Ore Bottle Flight is a premium set of 4 custom silicone wrapped glass bottles designed to transport and share samples of your favorite spirits. The flight bottles come in a custom EVA travel case that fits perfectly in any small bag. An Aged &
Description:

This Bundle combines two of our crowd favorite products, creating the ultimate travel bundle to bring along your favorite spirits and glassware. Bundle Includes: Neat Traveler (Gray) Bottle Flight (Gray) Note: This bundle is only available in gray and col
*Bourbon Culture is reader-supported. When you buy through links on our site, we may earn an affiliate commission.