*Bourbon Culture is reader-supported. When you buy through links on our site, we may earn an affiliate commission.
Walk into any bar in the United States and you're going to see a bottle of Bulleit Bourbon on the shelf. Walk into most of the bars in the US and you're going to see a bottle of Buffalo Trace too. The Bulleit is there by design – it was made specifically to be a bartender's best friend.
It's cheap price is a main factor in why it is poured into so many drinks around the world every day. The proof and age make it stand out. Jim Beam White Label is also extremely cheap, but it's 10 proof points less than Bulleit and uses barrels with the bare minimum of aging to be called "Straight" (which is four years old) without including an actual age statement.
Buffalo Trace is a slightly more expensive bourbon mainly because of the extra age. If you ever take a tour of Buffalo Trace, the tour guide will tell you that 7-to-9 year old barrels go into each batch. This extra age results in less alcohol burn and a more refined taste.
Bulleit claims their standard orange label uses 5 to 8 year old barrels in each batch. I'm somewhat skeptical because of how light the color looks compared to a bottle of Buffalo Trace.
So what separates these two bourbons and which one is the superior pour for your next drink? Let's find out.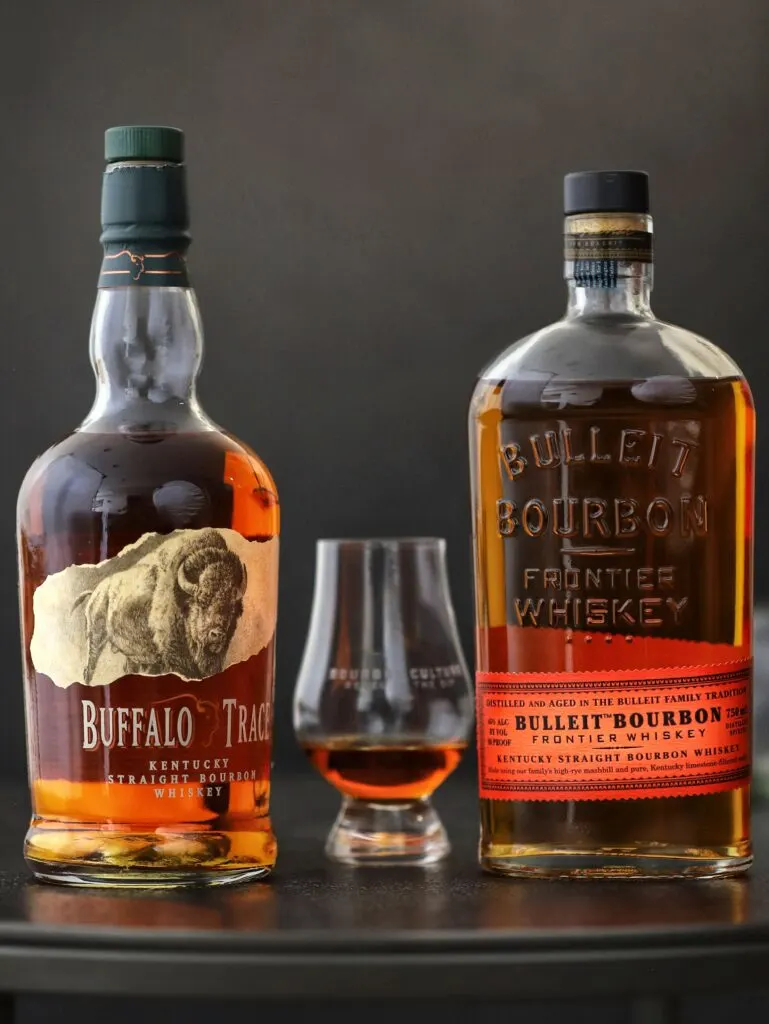 Bulleit is a brand made by spirits powerhouse Diageo. Diageo owns so many brands that it's hard to keep them all straight. Just a couple of the biggest ones you've heard of (regarding whiskey) are Crown Royal, Johnnie Walker and George Dickel.
To list the rest would simply be too much to write in this article. All Bulleit, whether we're talking about the bourbon or rye whiskey kind, is currently sourced from other distilleries that aren't owned by Diageo. Up to five years ago, Bulleit Bourbon contained bourbon that was primarily sourced from Four Roses Distillery in Lawrenceburg, Kentucky.
Bulleit Mashbill
Bulleit had specified that a high rye bourbon mashbill was used – 68% corn, 28% rye and 4% malted barley. Whether or not they actually wanted that exact recipe is up for debate. It just so happens to be the average of Four Roses two standard mash bills if you blend together equal parts of their high rye bourbon (35% rye) and low rye bourbon (20% rye). But what do I know? I'm just a whiskey reviewer.
Bulleit claims their high-rye mash bill results in a more flavorful bourbon. Generally speaking, they are right. Rye grain has a big impact on how a bourbon will taste outside of just oak, caramel, vanilla and whatever else corn and oak can create while it ages in a barrel. It will impart more fruit and spice and over time makes a whiskey more complex.
Buffalo Trace Mashbill
Buffalo Trace, on the other hand, uses far less rye in their mash bill. They have never revealed what their mash bill is, but many enthusiasts believe it to be in the neighborhood of 10%. This has not stopped its popularity though.
Buffalo Trace, and the many products that come from this same mash bill, are extremely popular. Buffalo Trace is known to have a sweeter profile along with very distinct fruit notes (most say it reminds them of cherries). I've even had a few single barrel picks of Buffalo Trace that have impressed me with even more fruits being recognized.
Buffalo Trace has barely spent any money advertising until recently. They are pretty much the Ferrari of the bourbon world and get by on their reputation alone. They have also had issues keeping their bottles in stock due to the huge fandom of their products.
In certain states, finding a bottle of Buffalo Trace can be almost impossible due to unequal allocations. Bulleit doesn't seem to have that problem. It's everywhere. This makes its appeal much less than Buffalo Trace.
This is why Diageo has spent so much money advertising it or even placing it in TV shows and movies. In fact, you can spot the bottle in Yellowstone, How I Met Your Mother (and Father), Ray Donovan and The Circus. The odd part about those appearances is that they never seem to portray any of Bulleit's higher-end offerings like their 10 Year Old Bourbon, Distiller's Select, Single Barrel or Barrel Proof.
Age Advantage
I was considering putting a bottle of the 10 Year Bulleit up against Buffalo Trace for this comparison only because I felt the age advantage Buffalo Trace has over standard Bulleit could be a factor. In the end, I decided to keep standard Bulleit because the prices matched up better.
Here was the average price for each bottle around Indianapolis at the time of this writing: Bulleit – $27, Buffalo Trace – $29, Bulleit 10 Year – $47. I know that in some markets, Buffalo Trace is much more expensive.
I've heard some control states charging between $35 to $40 for a bottle. At this price point, it might be worth your time to consider a 10 year old Bulleit. But I'll cover that comparison at another time.
Now that we know the facts of what separates these two bourbons, it's time to taste them to see which one you should pick the next time you're at the store. I sampled these two back to back in a glencairn.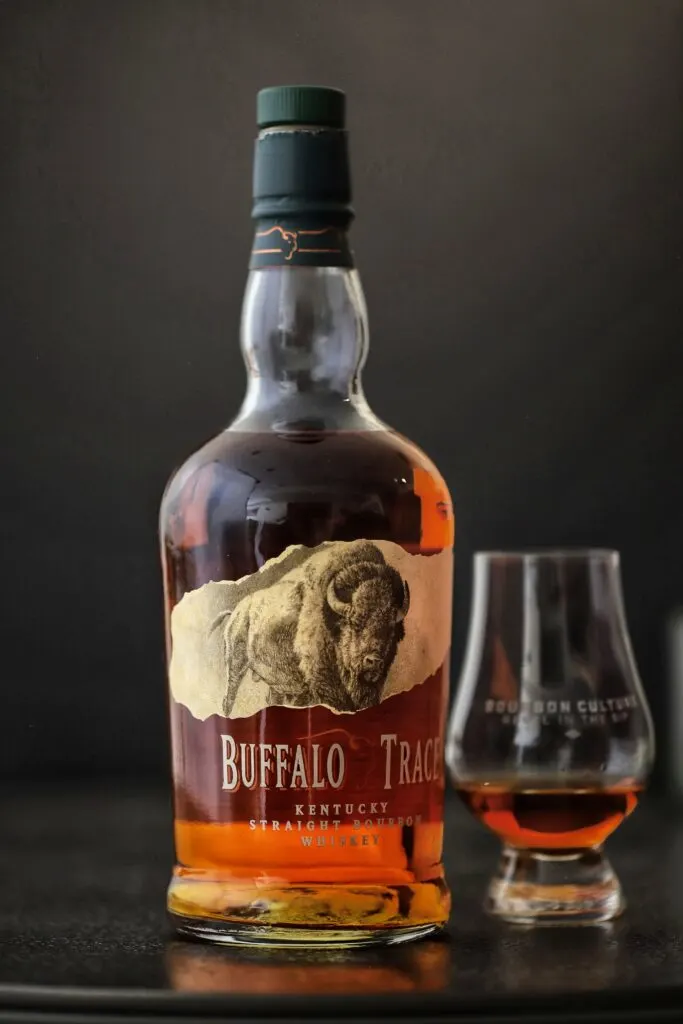 Buffalo Trace Tasting Notes
Nose: Sweet and fruity notes that remind me of the color "red." Cherries, raspberries and grenadine syrup. There's a touch of vanilla and caramel which makes the nose pleasant and inviting to both inexperienced and experienced drinkers alike. Even some oak is hiding around the corner on each sniff.
Palate: The sweet cherry effect dominates with flavors of cherries along with flat Faygo orange soda with a touch of creaminess. I am finding sweet notes of caramel and a little bit of tannins (like oak) too.
Finish: A sweet, lingering flavor of muddled cherries and oranges with a sweet caramel sticks around on the tongue, much like an Old Fashioned. There's very light oak and some vanilla. Overall, this is a very pleasant finish to a very pleasant bourbon.
Score: 6.2/10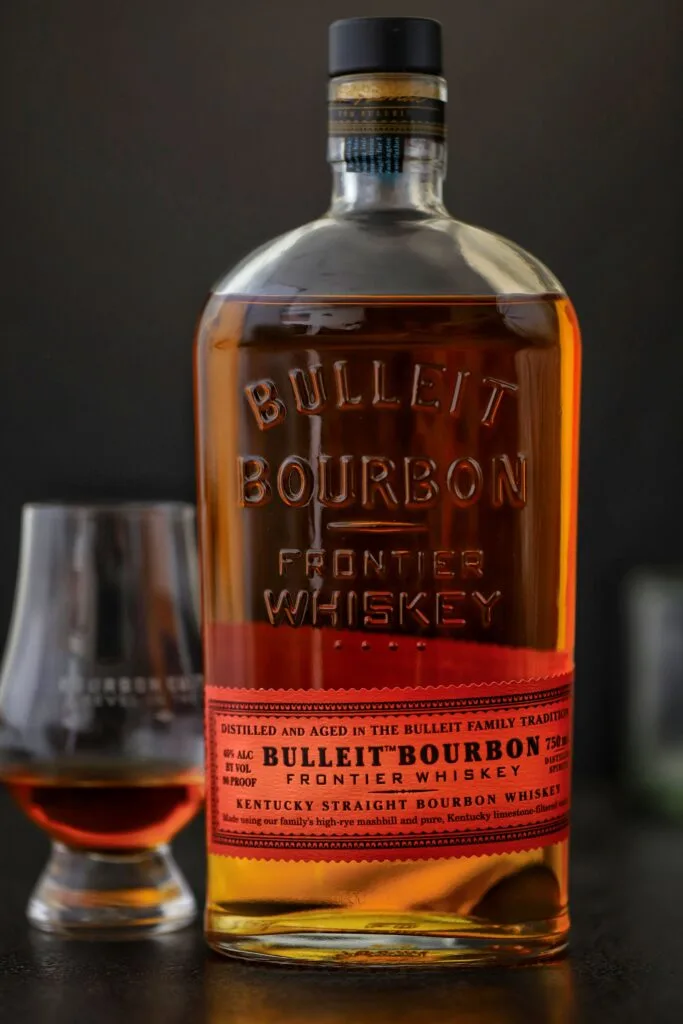 Bulleit Bourbon Tasting Notes
Nose: Honeyed sweetness meets a bit of fruit by way of fresh cut apples, citrus, apricots and cherries. Vanilla and a little bit of oak poke around while the scent of licorice (probably from the high-rye mash bill) provide an unexpected twist. The nose is a bit muted but overall pleasant.
Palate: The sweetness still leans more towards honey than outright caramel. It is sweet, but not as sweet as the Buffalo Trace in my opinion. Basic bourbon flavors like vanilla, cinnamon and a bit of oak/leather offer a bit of backbone to the overall drink while spices like cinnamon, anise and clove hint to the high-rye character underneath.
Finish: The finish is short to moderate in length probably attributing to its lower proof and age. Citrus and honey take command while the aged, tannic notes are put into the background. The spices on the tongue are nicely controlled, but nothing is specifically unique to how the whole dram finishes.
Score: 5.7/10
For all the more I like a high rye bourbon, Buffalo Trace can't be beat. It's got such a great balance of sweets, fruit and tannins. The lack of spice didn't bother me too much either. I think a lot of people lean towards liking a sweeter bourbon even if they claim the opposite.
Buffalo Trace is proof of that. Variations by batch may vary but overall this is the face of their brand. They know that if they skimp out on quality that many consumers might not explore the rest of their portfolio. Bulleit knows that their product is probably going to be poured into cocktails, so it is my opinion that they aren't as concerned with people who are drinking it neat (by itself with no water added).
Final Thoughts
I'm not telling you to not get the bottle of Bulleit, but I am telling you that for the versatility, status and very small upcharge over its competition, that Buffalo Trace is the way to go. This is the one your guests will appreciate more whether or not you're pouring straight, with an ice cube or in a cocktail. But let me tell you a little secret.
If you're looking for a bourbon that will truly stick out in a cocktail, you're going to want one with a much more of an oaky punch. If that sounds like it's more up your alley, then check out my review on Smoke Wagon Small Batch Bourbon. It might just change your mind – and cocktail – for good.
Featured Products
Description:

The Aged & Ore Neat Traveler is a complete travel kit for spirits. We combined our widely praised Neat Glass with one of our 3oz Flight Bottles and housed them together in a custom EVA travel case. Perfect for a night away with your favorite pour. The tie
Description:

The Aged & Ore Bottle Flight is a premium set of 4 custom silicone wrapped glass bottles designed to transport and share samples of your favorite spirits. The flight bottles come in a custom EVA travel case that fits perfectly in any small bag. An Aged &
Description:

This Bundle combines two of our crowd favorite products, creating the ultimate travel bundle to bring along your favorite spirits and glassware. Bundle Includes: Neat Traveler (Gray) Bottle Flight (Gray) Note: This bundle is only available in gray and col
*Bourbon Culture is reader-supported. When you buy through links on our site, we may earn an affiliate commission.